More often than not, a successful filmmaker's first credit is not something they're remembered for. What little fame is carried by Stanley Kubrick's Fear and Desire, Martin Scorsese's Who's That Knocking at My Door, and Steven Spielberg's Duel lays in the subsequent accomplishments of their directors.
Say Anything... bucks that tradition, for this 1989 romantic dramedy made for a fine directorial debut by Cameron Crowe, who had already made a name for himself as the writer and adapter of Fast Times at Ridgemont High. Crowe has only written/directed five films since: Singles, Jerry Maguire, Almost Famous, Vanilla Sky, and Elizabethtown. Though a few of them have won more notice and accolades for him, some would argue none has been as satisfying as his first auteur experience.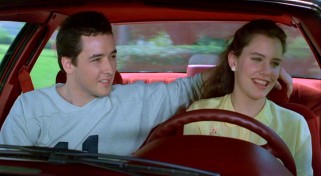 Say Anything... opens with an ordinary Seattle high school's Class of 1988 graduating. Amidst the yearbook signing and parties, Lloyd Dobler (John Cusack) decides to make a move. He asks out valedictorian Diane Court (Ione Skye), and with a little bit of prodding she says yes. This comes as a surprise and achievement to their classmates. Dating Diane, the ultimate combination of brains and beauty, has been considered unattainable, especially for an average guy like Lloyd.

He may be gentlemanly and witty, but he's also a bit awkward. And neither his current pastime (kickboxing) nor his future ambitions (which are basically to not follow his abroad father's footsteps into the army) hold any weight next to Diane's plans, which include studying in England on fellowship.

While Lloyd's family is basically out of the picture (a briefly-seen Joan Cusack plays his big sister, a single mother), Diane's proud, protective father (John Mahoney, "Frasier") is very much a part of her life. Since his divorce and her choosing to live with him, Mr. Court has made keeping Diane on a fast track to success an around-the-clock job. It's his other job, running a nursing home at which Diane works, that has made him the subject of a federal investigation into unpaid taxes and fraudulent practices. While Mr. Court doesn't view Lloyd as any kind of serious threat, he does disapprove of the relationship and encourages its termination, seemingly out of jealousy over his Daddy/daughter time being reduced.

That it juggles a father's fallout with a teen romance is a good indication that Crowe's film is no trivial puppy love fluff. In the hands of another filmmaker and lesser young leads, it could and probably would have been just that. But Crowe treats the coupling and loose third wheel with thoughtfulness, intelligence, and humanity. Such qualities are more readily found today than in the 1980s, when even the best of films outside of the period/awards bait mold tended to get silly and engage frivolity. Say Anything... doesn't do that and yet it is easily identified as a comedy and delivers plenty of amusing moments.
The film's biggest shortcoming may be that it is mushy in a handful of places. They're quite similar to the scattered sentimental cringes noticed on returns to Jerry Maguire. Here, they mostly manifest in Lloyd's sounding board, jilted singer/songwriter Corey (Lili Taylor) and hopeless romantic D.C. (Amy Brooks), who both seem platonically enamored with Lloyd and supportive of his pursuits. Also, Crowe occasionally seems all too conscious that he's hit upon an interesting idea, as when Lloyd hears and then refuses advice from a group of dumb guys (among them, Jeremy Piven and Loren Dean) who spend their Saturday nights sitting outside a gas station. Such trifling drawbacks may not do much to hinder one's full enjoyment of this utterly entertaining work, but they're enough to render Say Anything... a good film instead of a great one.
Even a good film with a moderate following can still be appreciated and recognized decades later as Fox made clear last week with the release of this 20th Anniversary Edition DVD, also accompanied by Say Anything's Blu-ray debut. In a promotional push unusually dramatic for a catalog title reissue, Fox paraded a mob of "Lloyd Dobler look-alikes" wearing tan trench coats and wielding '80s boomboxes through lower Manhattan last Tuesday, culminating with a Times Square performance by indie band Lloyd Dobler Effect. To prove I'm not making this up (I think I must be), you can see videos from this staged event on YouTube.
DVD Details

1.85:1 Anamorphic Widescreen
Dolby Digital 5.1 (English), Dolby Surround (English),
Dolby Mono 2.0 (Spanish, French)
Subtitles: English for Hearing Impaired, Spanish
Closed Captioned; Extras Not Subtitled
Release Date: November 3, 2009
Single-sided, dual-layered disc (DVD-9)
Suggested Retail Price: $14.98 (Reduced from $19.98)
Black Eco-Friendly Keepcase
Also available on Blu-ray Disc
VIDEO and AUDIO
Say Anything appears in 1.85:1 anamorphic widescreen and it looks excellent. While the soft palette and adolescent fashions both make the late-'80s production era evident, no picture issues do. This clean, sharp DVD impresses even on fairly large high-definition screen. Offered in both Dolby Surround and full 5.1, the serene soundtrack only really comes to life for the numerous inspired song samplings, including of course the much-parodied, supposedly iconic scene of Lloyd playing Peter Gabriel's "In Your Eyes" from his boombox. While I was unable to compare this presentation to the 2002 Special Edition, I would imagine they're similar, although a new master may have been struck for the Blu-ray version.
BONUS FEATURES, MENUS and PACKAGING

Bonus features begin with an audio commentary by Cameron Crowe, John Cusack, and Ione Skye, recorded for the 2002 DVD. Before it starts, the group gives us an audio introduction (21:08) that plays over production stills. In it, they discuss the project's origins (inspired by a persistent kickboxer named Lowell) and casting processes (Skye came to the film from a Zappa family recommendation, while Cusack put his quest for adult roles on hold).

The commentary itself is full, warm, and rather great. The trio discusses cast and crew members as their efforts come up. They really enjoy watching the movie, which sometimes hinders commentaries, but not here since they never stop talking, specifically about lines and scene deliveries they enjoy. Among the many inside revelations are that Crowe favorite Eric Stoltz worked as a production assistant in addition to filming his small part,

that Julia Roberts was nearly cast in a supporting role, and that Siskel and Ebert's enthusiastic reaction changed everyone's sentiments on the film. This is well worth a listen for anyone who likes the film.

"A Conversation with Cameron Crowe" (9:25) is the first of two new featurettes. Here, the filmmaker discusses his eye-opening first directing experiences and other aspects of production that have stuck with him. It's a solid little interview.

"I <3 (Love) Say Anything..." (7:25) lets a few of the movie's fans express what they appreciate about it. You'll recognize some of them, like Weird Al Yankovic and "Reno 911!" creators/cops Robert Ben Garant and Thomas Lennon. Others are comedians probably quite excited to be asked to sound off. It plays remarkably like a VH1 show (think "Best Week Ever" and "I Love the [Decade]"), serving up some laughs but feeling a bit crass to accompany this fine film.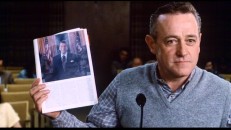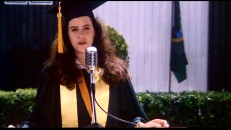 Next, one of the most extensive collections of unused footage is divided into three groups. Five alternate scenes (11:05) show us variations on Lloyd's rainy phone call and a reunion, but mostly supply unused takes of the famous boombox scene (which does not play Peter Gabriel) that Cameron Crowe comments upon. Among the ten Deleted Scenes (13:17) are more of the Vahlere party (most notably an instance of a teacher played by Homer Simpson voice Dan Castellaneta hitting on Diane), more at the nursing home, and Mr. Court convincingly testifying to expand his needed personal care business.
There are lots of good moments both there and in the thirteen Extended Scenes (24:38) which distinguish extensions by displaying the theatrical cut shots in black & white. Elongated sequences include Diane's valedictory speech, Lloyd's dinner at the Courts' house, Lloyd and Diane's in-car discussions, Diane's lunch with her mother (Lois Chiles), and Diane's conversation with a guarded IRS agent (Philip Baker Hall).
A 7-minute "Vintage Featurette" promotes the film in a tidy, press-friendly fashion with clips and insightful comments from Crowe and the cast.
In the way of more conventional marketing, we get two similar 2-minute, 15-second original theatrical trailers and eight distinctive 30-second TV Spots.
Finally, a Photo Gallery offers 76 pictures, most of which are publicity stills, although a few offer behind-the-scenes looks at Crowe directing.
The inspired main menu offers an animated yearbook whose stills take turns appearing in full motion. That design and the pen cursors are carried over to submenus, sans animation and music.
There are no inserts within or slipcovers above the standard eco-friendly keepcase. The disc loads with a promo for modern Fox and MGM romance movies on DVD and Blu-ray.
CLOSING THOUGHTS

Say Anything... marked the last -- and some would say best -- of John Cusack's likable 1980s teen romantic comedies.

It also marked the first -- and some would say best -- of Cameron Crowe's directing efforts. Even if the convergence of those two niches means nothing to you and the keywords "teen romance" would ordinarily turn you away from a film, chances are you'll still enjoy this endearing, memorable tale.

Fox's 20th Anniversary Edition DVD doesn't add much in the way of bonus features, but the film's 2002 release was already solid in that department, especially in its exceptional near-hour of deleted/extended/alternate scenes. The 17 minutes gained in two featurettes add slight value, but not enough to prompt a second purchase. If you're buying into Blu-ray, you'll be happy to know that edition includes an exclusive trivia track and 22-minute retrospective and is selling for just a few dollars more on Amazon. Otherwise, I'd recommend non-owners to check out either fine DVD version.

Buy Say Anything... from Amazon.com:
20th Anniversary Edition DVD / 20th Anniversary Edition Blu-ray / Original Special Edition DVD