Over the past few decades, high school has been a popular subject for TV shows. From lighthearted Saturday morning diversions to primetime sitcoms, several series have followed teenagers through the trials and tribulations in the years between childhood and adulthood. "Popular", from Touchstone Television, covered this ground in a rather unique way. Utilizing a one-hour Friday night timeslot on the WB, the series opted for a dramedy format far from adolescent soap opera "Dawson's Creek." "Popular" was darkly comedic, self-aware, and willing to tackle "relevant issues." Despite some glowing reviews and a cult following, the series was cancelled after just two seasons.
Chronology and constantly-continuing storylines make it difficult to jump in at the start of Season 2, but nonetheless, that's what this reviewer did. Going through these episodes, one can begin to piece together much of what happened before, but it's still probably a good idea to see the premiere season (which is reportedly better) first.
The two young protagonists of "Popular" are Brooke McQueen (Leslie Bibb) and Sam McPherson (Carly Pope), both now juniors at Kennedy High School in San Francisco, California. Though Brooke and Sam were originally from different social circles, Season 1 centered on each being pushed in the other's life when Brooke's father Mike (Scott Bryce) and Sam's mother Jane (Lisa Darr) became romantically involved. And so, Brooke, a cheerleader and the most popular girl in school, and Sam, a thoughtful unpopular girl who writes for the school newspaper, unwillingly became sisters.
Season 2 picks up by addressing some of the previous May's cliffhangers. The return of Brooke's mother, who had been out of her life for years, complicates matters for everyone, especially when she and Mike contemplate getting together again. Things are less complicated for Brooke and Sam, who begin their junior year as friends occupying common social ground with most of their acquaintances mutual.
Seven of those acquaintances comprise the "regular cast" and each gets a fair amount of screen time. Heading the sect of cheerleaders (known as "The Glamazons") are the bitchy Nicole Julian (Tammy Lynn Michaels) and the bizarre Mary Cherry (Leslie Grossman), who have reputations for being fashionable, unfriendly, and vain. Also now a Glamazon is Carmen Ferrara (Sara Rue), a hefty "wannabe"-turned-cheerleader. At the opposite end of the spectrum, there is Lily Esposito (Tamara Mello), a cause-conscious vegetarian. Providing a male perspective are: down-to-earth football star Josh Ford (Bryce Johnson), who begins the season as Brooke's boyfriend, his massive but lighthearted teammate "Sugar Daddy" (Ron Lester), and Harrison John (Christopher Gorham), Sam's best friend whose social status effortlessly rises throughout the year.
With such a diverse mix of personalities and the hour-long format, it's easy for one to familiarize with the characters, each of whom is given a fair amount of storylines and development. Patterns emerge. Romances blossom and die. Brooke and Sam test each other's friendship. Nicole cattily schemes to stay close to the top and dish out pain and embarrassment to those below. And there are plenty of ridiculous plots involving Mary Cherry, whose Southern accent, unique mispronunciations, and mental ineptitude suggests she is not of this planet. Many episodes revolve around Miss Bobbi Glass (Diane Delano), the gang's sadistic chemistry teacher whose return surprises the class (who had her for Biology the year before). Miss Glass is another bold individual, who puts down her students at a rapid pace in a near-yell.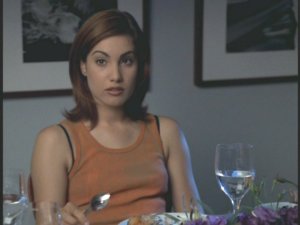 Between Miss Glass's chemistry class (and she is just about the only teacher we ever see), the backstabbing and cliques, Kennedy High is a pretty intense and mean-spirited place. This acerbic atmosphere renders the show none too appealing. I can appreciate the efforts that went into making something different from the romanticized high school of other television programs. But "Popular" is still romanticized in its own way, albeit a cruel,

quick-witted post-modern WB hour-drama romanticization. I find little to relate to and far less to like about its comprehensively-constructed world.

Undoubtedly, the world of "Popular" is thoroughly and skillfully designed. Creators/executive producers Ryan Murphy and Gina Matthews have since taken their talent onto other projects, most notably, the FX show "Nip/Tuck" and the feature film 13 Going on 30 respectively. Clearly, a lot of thought went into creating and developing the characters and plots; Murphy wrote a good number of Season 2's scripts. In spite of this effort and attention, there's a fair amount of predictability to the writing and the gag of fast-paced harsh dialogue grows tiresome quickly. Nonetheless, the acting is very good. It's difficult to separate the actor from the personality; each convincingly conveys their part and, as with any hour-long drama, is given time to find nuance in their performance.

Another big problem with the show is that it's so uneven. The first few episodes juggle sudsy parent drama with the high school hipness. If it's trying to connect with two different audiences, the clashing styles are bound to alienate half of them half the time. The seemingly sincere approach to the parents and serious subplots is drastically juxtaposed with dark comedy. Later, comedy seems to exit the equation altogether, and you get episodes that are heavily dramatic.

That would be fine, only that some of the show is just so ridiculous that it's hard to take things seriously when it tackles subjects like cough syrup highs, eating disorders, alcoholic family members, and leukemia. And that's just the first half of the season.
Its clashing tone seems to aspire for both hilarity and the profound. In recent years, I can immediately think of one hour-long high school series that successfully provided that mix: "Freaks and Geeks." That NBC program launched the same year as "Popular", but didn't get to see its second season. This fact does not go unnoticed by the Kennedy High class, though. There is a Bring Back "Freaks & Geeks" Club at school. Having endured over 15 hours of "Popular", which lacks most of the heart and skill of that other series, I can't help but echo that sentiment.
In the end, "Popular" was cancelled for not living up to its title. Its ratings plummeted pretty consistently throughout the 2000-01 season. There is a wide range of constituents which make up "Popular"'s cult following, so the show clearly possesses appeal for some. Personally, I found this series unfortunately unsavory. While well-defined, the characters were unidentifiable and on the whole, unlikable. While comprehensive, I found the storylines unsatisfying. While promising, the blend of comedy and drama proved uneven.
It's worth noting that a few songs included in the Season 2 episodes when the first aired have reportedly been replaced. Having not seen the original airings, I can't attest to that or provide specifics, but that's not an encouraging practice. One can understand the challenges of clearing music, though, particularly when music is as ubiquitous as it is on this show.
There is a firm chronology to the show and therefore production order is the same as airdate order, which is of course, the one and only way to present the series and how it is presented here. Each episode runs between 43 and 45 minutes and is accompanied by an average of six chapter stops (usually coinciding with commercial breaks).
A fair amount of the show's value surely lies in following the storyline and discovering what happens next. If you're unacquainted with the show, but think you'd like to check it out, perhaps you should stop reading synopses after a few episodes to leave the inherent surprises ahead.
DISC 1

1. Timber! (Originally aired September 22, 2000)
While Brooke and Sam are back in school recounting their summer adventures, their parents are sorting their relationships out. At school, the kids are surprised to see Miss Bobbi Glass back in chemistry class. She quickly dismays them with her plans to cut down the "Forever Tree" a 200-year-old oak outside Kennedy High. Sugar (who's just carved his love for Exquisite into the tree's bark) and cause-conscious Lily stay up in the tree to prevent Glass's plans to cut it down. Meanwhile, eternally bitchy Nicole tries to crush the spirits of everyone auditioning for the Glamazons including Carmen and Mary Cherry. Brooke and Josh re-evaluate their relationship.

2. Baby, Don't Do It! (Originally aired September 29, 2000)
Miss Glass gives everyone a baby with a computer chip inside to illustrate the challenges of parenthood and discourage teen pregnancy. Brooke, whose baby is kidnapped, finds it difficult to reveal to Josh her plans to move to San Francisco. Emery's twin 14-year-old sisters get some popularity training from Nicole and Mary Cherry as they throw a party.

3. Citizen Shame (Originally aired October 6, 2000)
Problems at home encourage Carmen Ferrara to move in with Sam and her mother in the hotel room they're getting used to. Brooke really hits it off with her SAT seminar teacher but their afternoon at a bar gets increasingly odd.

Meanwhile, the silly third plot has Miss Glass' rich Australian uncle (also played by Diane Delano) visiting and expecting to see offspring, so Miss Glass hires Nicole to pass off as her daughter.

4. The Sweetest Taboo (Originally aired October 13, 2000)
There's a new jock in town named George Austin and he's unsubtly introduced as Sam's romantic interest. Of course, at first she thinks he's just a jock getting special treatment and he thinks she's a bigot when it comes to athletes. George's arrival makes Josh feel threatened as starting quarterback, and his life is further complicated by his mom getting a job at school and getting close to Coach Krupps. Meanwhile, Nicole comes up with a way to blackmail Principal Krupps and get her place back on the Glamazons.

DISC 2

5. Joe Loves Mary Cherry (Originally aired October 20, 2000)
Miss Glass divides the class into molecule pairs for a chemistry assignment. Brooke is paired with George, which has Sam feeling threatened. Josh gets coupled with Lily, and the two surprisingly hit it off over vegetarianism and a gay chimpanzee. Meanwhile, Nicole continues to choreograph her return to popularity by trying to turn Brooke and George into an item and break Mary Cherry's heart through Harrison à la Dangerous Liaisons.

6. Style and Substance Abuse (Originally aired November 3, 2000)
Brooke decides to run for class president, leaving the homecoming queen race a 4-way competition between Carmen, Nicole, Mary Cherry, and a newly looks-conscious Sam. Carmen has the full support of Miss Glass, who is still overcoming her past high school demons and letting Carmen stay at her place. As one of the "serious issues" that the show tackles, cough syrup consumption becomes a central topic in the presidential race, as that's what the kids are doing these days. With a Kennedy student dead from the act, Brooke encourages reform while Harrison speaks out against the school's newly-installed mandatory drug test policy and gets encouragement from Josh and Lily.

7. Ur-Ine Trouble (Originally aired November 10, 2000)
The repercussions of the cough syrup controversy of last episode are seen, with Josh and Lily fessing up to their transgressions. Miss Glass continues to support Carmen in the race for homecoming queen, against the fearsome triad of Nicole, Mary Cherry, and Miss Glass' classmate, a bitter 4-time queen. Harrison's headaches and reliance on pain killers are part of a serious medical problem, but he just wants to concentrate on the class president election against Brooke.

8. Misery Loathes Company (Originally aired November 17, 2000)
Brooke grapples with the return of her eating disorder, while Sugar Daddy gets treatment for his weight. They both wind up at the same hospital that is providing frustration and chemotherapy for Harrison. In one of the lighter subplots in a few episodes, Mary Cherry lures Sam into writing "One Sour Cherry", a scathing life story to get back at her mother, who's writing her own book. The hospital scenes are rather uncomfortable.
DISC 3
9. Are You There, God? It's Me, Ann-Margret (Originally aired December 8, 2000)
At the hospital, Harrison meets God (guest star Ann-Margret) and asks her to perform a miracle for his roommate. Carmen joins the support group Ala-Teen and is surprised to see Nicole there. Both struggle with their mothers' alcoholism in different ways. Meanwhile, Sam, Sugar Daddy, Lily, and Josh get parts in the school play. At the realization that their parts require nudity, Lily and Josh worry about the prospects of being seen by each other and dabble in herbal enhancers and enlargement exercises.
10. The Consequences of Falling (Originally aired December 15, 2000)
It's a Christmas episode, and "Popular" does It's a Wonderful Life with a very bitter Harrison. His guardian angel-in-training takes him to the year 2012 in a steely blue-toned world where he was never born. Harrison gets to witness what his classmates are up to at the time of their ten year reunion. While the change in style isn't unwelcome, this unoriginal episode is particularly inane.
11. Fire in the Hole (Originally aired January 19, 2001)
Miss Glass has the class put on a full-blown musical to educate kindergartners and more about the danger of STDs. Harrison, recovered and back in school for the first time in months, is looking to lose his reputation as a virgin, but he's unsure about taking up Josh and Sugar on the gift certificate to a prostitute they bestow upon him. Meanwhile, Sam wants to cross over to the side of sexual experience, but George may be keeping something from her.
12. The Shocking Possession of Harrison John (Originally aired January 26, 2001)
Harrison is showing off a new attitude that's ticking off everyone around the school; his behavior is not unlike that of his bone marrow donor. The girls decide to have his demons exorcised. Meanwhile, Sugar "breaks up" with Josh who he feels has been spending too much time with Lily. Their relationship is re-evaluated, with a couple of apt homages to Cameron Crowe films. Nicole is upset to discover that she was adopted.
DISC 4

13. Mary Charity (Originally aired February 2, 2001)
Pictures week is here, and Mary Cherry gets a shock; her mother has unpaid debts and the authorities impound Mary's entire illustrious wardrobe. Lily helps Mary adjust to a life of poverty. In order to reverse a disappointing decline in yearbook sales, Sam and Carmen set out to help "poor" students by getting them to look their best for their photos. Brooke realizes she has feelings for Harrison while they prepare to look less than great for their pictures and they become an item.

14. The News of My Death Has Been Greatly Exaggerated (Originally aired February 23, 2001)
An outcast student has died in a car accident and Kennedy High has a wide range of emotional responses to this unexpected tragedy. Some just want a day off, while others feel regret and responsibility for what went wrong.

E-mails that Harrison wrote while in the hospital but never sent out reach their intended recipients, and Harrison's genuine feelings for Sam finally come out in the open. Nicole also gets an e-mail from Harrison, while she's pursuing what she thinks might be her birth mother. Finally, Josh and Lily's relationship hits a snag: he's got a mullet.

15. It's Greek to Me (Originally aired March 2, 2001)
The girls take up a college representative's invitation and plan on attending a frat party. Sam and Lily hit a roadblock sneaking out and get stuck at home playing board games with the parental units. Nicole tries to figure things out between her two mothers, while looking at her college prospects. And the guys try (unsuccessfully) to crash the frat party.

DISC 5

16. Fag (Originally aired March 9, 2001)
The "Popular" gang tackles prejudice in this more intense than usual episode. When an effeminate new student walks into an environment of gay-mocking, Lily decides to take action and start a Gay and Lesbian Support Group. The only ones who join (reluctantly) are her friends, and their presence in the group yields unease and violence. Lily takes Miss Glass, who is antagonistic about the club but questioning her sexuality, to get answers and they get beat up. The regular characters are the only enlightened ones around, and they tackle the prejudices against weight (Sugar Daddy), interracial romance (Sam and George), and Jewish people (Brooke's college guy, returning).

17. Coup (Originally aired March 16, 2001)
Brooke falls asleep and spends the night at Jamie's place, and when Sam tries to cover for her, they both get grounded. Nicole choreographs her way back to the top, by manipulating class president April Tuna and transforming the Pep Squad into a special alternative to the Glamazons, who she has cancelled. To make their records more appealing to colleges, Josh and Harrison join Stayin' Alive, the John Travolta club.

18. The Brain Game (Originally aired April 27, 2001)
Looking to recapture her status, Mary Cherry puts together a team to be in "The Big Head Challenge", a game show hosted by Ed McMahon. Among the participants are Mary's mom Cherry Cherry (guest star Delta Burke) who is at Kennedy trying to undo her poor reputation, and Josh, who is having a tough time studying for the SATs with everyone else. Carmen takes salsa dancing lessons from Pablo ("Saved By The Bell" star Mario Lopez), who she likes even though he doesn't speak English.
DISC 6
19. I Know What You Did Last Spring Break! (Originally aired May 4, 2001)
Everyone comes back from spring break, and a nosebleed from Harrison has the Center for Disease Control arriving and Kennedy High locked down. Harrison and Sam get confined in a room together and sort out their feelings. The gimmick is that a masked madman begins terrorizing the students with the repeated catchphrase which makes up the episode title;
the gang recalls what they did on spring break when their MTV plans fall through. Crossed romances and melodrama ensues. (There's a now off-color pre-9/11 Osama bin Laden reference, which rightfully goes unedited.)

20. You Don't Tug on Superman's Cape...You Don't Spit Into the Wind...You Don't Pull the Mask Off the Ol' Lone Ranger...and You Don't Mess Around with Big Bertha Muffin (Originally aired May 11, 2001)
Brooke and Sam try to sort out their problems and realizing Harrison is to blame, they team up to get back at him with the silent treatment and emotion-toying. Josh's mother gets a job that will require them to move to Minnesota, and so he considers staying with his father, until he and Lily come up with an alternative. In the ridiculous storyline, Mary Cherry hits Big Bertha Muffin's car and tries to pretend Nicole is responsible, setting up a big over-the-top confrontation.

21. Promblems (Originally aired May 18, 2001)
Brooke and Sam help deliver Jane's baby, and then come up with a solution to their love triangle with Harrison: they decide to go to prom as a threesome. Newlyweds Josh and Lily experience growing pains after moving into Miss Glass's basement. Mary Cherry discovers her identical twin sister B-Ho from the Bronx. Nicole's bitchiness knows no bounds as she schemes to go to prom with George. The series ends in a terrible 'cliffhanger' fashion, one which will never be clarified.

For an interesting read of what might have happened in Season 3, check out the always-useful TV Tome.

VIDEO and AUDIO

"Popular" is presented in its original 1.33:1 broadcast aspect ratio and the picture quality is without incident. As these episodes are only four years old, it's not too surprising that they are not inflicted by age or poor source material. They were shot on film, which gives them a distinguished look. Sharp, detailed, and perfectly clean, "Popular"'s video pleases as it displays the often-dark palettes satisfactorily.

The Dolby Surround track is more active than sitcoms and older television programs, but still not the dynamic experience you might expect from a modern-day feature film. Music is a key element, and both the score and pop selections are rendered well. (Unfortunately, some of the latter have apparently been modified.) Dialogue is crisp, volume levels are consistent, and there's really nothing to complain about as far as this sound presentation goes. There's even a surprising amount of bass in some segments.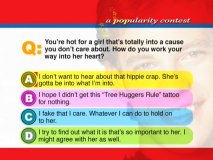 BONUS FEATURES

Two episodes are accompanied by optional audio commentary, though each features fewer participants than did Season 1's set. Disc 3's "The Shocking Possession of Harrison John" reunites cast members Leslie Bibb, Bryce Johnson, and Chris Gorham.

Discussion is amiable and informative, as this trio reflects on cast members, standards & practices, lighting, fashions and hairdos, changes from Season 1 to Season 2, plans for future seasons, and which season they prefer.

"The Brain Game", on Disc 5, offers commentary with just Bibb and Johnson. Johnson takes off less than twenty minutes in, leaving Bibb to speak solo for the remainder of the show. She does her best to keep the track going on her own, but there gets to be a lot of dead space and some narrating of what's on screen. During those dead spaces, the show's dialogue fills in. The group atmosphere lent more insight, but Bibb is easy to listen to and even if she doesn't have so much to say, her recollections from the set are interesting.

The only other bonus feature is "A Popularity Contest", which oddly resides on Disc 4. It's actually well-designed and quite a bit of fun. Though it makes it seem like it will tell you if you're popular or not, it's really a personality quiz which poses you four different responses to hypothetical situations. There's a different test for members of each gender, and when you're done, you are told which character of that gender you're most like. There are appropriate little clips from the show sprinkled throughout, and after you're done with the personality questions, you're tested on facts from Season 2 which have scrolled past in between each question. While it doesn't lend insight into the series and it's pretty short, it's clear that effort went into this and it's a fun and inspired little extra.

From a bit of research, it sounds like there were scenes that were filmed but deleted for time on some episodes. Unfortunately, these are not included anywhere on the set.

Sneak Peeks reside on Disc 1 for the now-available Felicity: Season 4 and Sweet Valley High: Season 1, plus upcoming Boy Meets World: Season 3 and Scrubs: Season 1. The Sneak Peeks menu adds DVD previews for The Golden Girls: Season 2, Home Improvement: Season 2, Alias: Season 3, and a spot for "Hope & Faith" on ABC's TGIF.

MENUS and PACKAGING

The Main Menu on each disc is animated and features footage that looks like it could have come from the opening credits, only it doesn't. Each disc's Main Menu is different, although the music is the same.

The six discs that make up "Popular": The Complete Second Season are housed in three separate clear slim keepcases, each of which features unique cover art on the front, two discs inside (each disc features a different female character), and episode descriptions and credits on the back. Volume 1's cover art features Brooke and the popular students, Volume 2 has Sam and the less popular, and the entire clan adorns Volume 3. These three slim cases fit comfortably in a colorful cardboard box. The only insert is a mail-in certificate for a $10 rebate. To get this money back, it looks like you have to have purchased Popular: Season 2 first, and then pick up the First Season set between March 8 and September 30, 2005. I don't think too many fans will be taking this approach, which makes offer not the most valuable one.
CLOSING THOUGHTS
Fans of "Popular" will be glad to revisit this series that hasn't been on the air in years. While the show presentation is satisfactory, the bonus features are sparse. I can't recommend the show to those unacquainted with it. Much more interesting and likable characters have roamed the halls of high school television series, and these episodes offer unsavory plot lines, frustrating arcs, and an uneven blend of mean-spirited comedy and heartless drama.
More on the DVD / Buy from Amazon.com / Buy Season 1 DVD from Amazon.com