Revolutionary Road director Sam Mendes again turns our attention to a thirtysomething American couple. That is the main thing his latest film, Away We Go, has in common with his previous one. Revolutionary was Oscar bait, receiving limited release on the last week of last year.

Away We Go was alternative programming this summer, opening the same week as the Transformers sequel. Revolutionary was based on a classic Richard Yates novel; Away comes from an original screenplay, the first attributed to husband and wife Dave Eggers and Vendela Vida. Revolutionary was set in the 1950s; Away is contemporary. Revolutionary starred respected thespians Leonardo DiCaprio and Kate Winslet. Away stars John Krasinski and Maya Rudolph, actors most known for their work on NBC comedies ("The Office" and "Saturday Night Live", respectively).

Despite the differences, perhaps most notably style and tone, both films received good critical marks that identified them as coming from a skillful filmmaker. Mendes, who won an Academy Award for his debut (1999 Best Picture American Beauty), does not noticeably bring less effort to this lighter, quirkier, more comedic movie.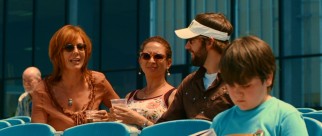 Krasinski and Rudolph play Burt Farlander and Verona De Tessant, an unmarried but serious couple who learn they're expecting a first child. A visit to Burt's parents (Catherine O'Hara, Jeff Daniels) drops a bombshell perhaps even bigger than pregnancy; Mr. and Mrs. Farlander are finally realizing their dream of living in Belgium. They'll be settled in Europe a month before their grandbaby is due. Parental proximity was the only thing keeping Burt and Verona where they are (her parents died a decade ago). Since he's an insurance futures salesman over the phone and she's an illustrator for medical textbooks, their work can travel with them. With no local friends or responsibilities worth showing us, Burt and Verona decide they're ready for relocation.
To help them decide where best to raise their unborn daughter, the couple travels around for short stays with friends and acquaintances with nuclear families. The goal is to consider these people a reflection of their locations and determine a worthy place to lay roots. Burt and Verona's journeys are what qualify the movie as a comedy. Beginning with her former colleague Lily (Allison Janney), a loud, wildly unfit Phoenix mother with a defeatist husband (Jim Gaffigan), the experiences are generally nightmarish and bizarre. There's also a batty professor (Maggie Gyllenhaal) and her condescending husband (Josh Hamilton), hippie parents who shudder at the sight of a stroller. Even the Montreal couple (Chris Messina, Melanie Lynskey) that's seemingly content and grounded has its demons to battle.
It's easy to lob certain complaints at the film, specifically it design. Yes, it's episodic, contrived, and a little too confident of the value of looney people. But the stops of this travelogue (announced by large intertitles) add up to something meaningful and almost profound. The lesson: life's big milestones -- commitment, marriage, parenthood -- come quickly and often without warning. Burt and Verona don't feel adequately prepared to deal with it all and their exposure to other family units only multiplies their reasonable fears.

Away We Go exploits the value of quiet moments, reveling in the intimacy and mind wandering that life affords us so much more than the movies. Such scenes, most backed by Alexi Murdoch's folk rock,

go a long way to help us identify with Burt and Verona as intended. Their first impressions on us, starting with an awkward bit of cunnilingus, put them at a distance. The other people in their lives are bolder in their oddness and dysfunction, but without a point of entry, the viewer is apt to feel like an outsider at a gathering in a world gone mad.

By allowing drama and poignancy to gradually and tastefully seep in, Mendes seems to achieve most of his apparent goals. The film is knowingly offbeat in an accessible indie fashion to which all of the actors are able to adapt (Rudolph most impressively and transparently). The laughs are pretty sparse for something billed as a comedy. But the thoughtful substance and steady direction smooth out many of the kinks and allow us to enjoy this relatively small film with a refreshingly big brain.

From a business perspective, the film may not have been small enough to support that brain. Although Universal's independent arm Focus Features distributed in just 500 North American theaters, the movie carried an estimated budget of $17 M, or almost twice the earnings generated thus far from the U.S. and a handful of European markets (the film opens in Mendes' homeland, the United Kingdom, today). Universal brings Away We Go to DVD and Blu-ray on September 29th.
DVD Details

2.35:1 Anamorphic Widescreen
Dolby Digital 5.1 (English, Spanish, French)
Subtitles: English for Hearing Impaired, Spanish, French
Not Closed Captioned; Video Extras Subtitled
Release Date: September 29, 2009
Single-sided, dual-layered disc (DVD-9)
Suggested Retail Price: $19.98 (Reduced from $29.98)
Black Keepcase
Also available on Blu-ray Disc
VIDEO and AUDIO
Away We Go appears in 2.35:1 widescreen. It is artistically shot, but not the most stunning film visually. Colors sometimes seem to have a deliberate drabness to them, but the element remains absolutely clean, sharp, and well-defined. The Dolby 5.1 soundtrack largely limits itself to the front channels, but it does open up and flare on scenes and montages where a song is prominently sampled.
BONUS FEATURES, MENUS and PACKAGING

Although generically titled, "The Making of Away We Go" (16:10) proves to be a substantive, revealing companion to the film. Bases are covered with an ordinary mix of sound bites, clips and B-roll, but the interviewed parties seem more invested here,

as they discuss revolving casts through different parts of Connecticut, rehearsing to perfect a scene, and the movie's appealing themes.

"Green Filmmaking and Away We Go" (6:35) dispenses some interesting information, but its subject matter (making the shoot an environmentally-friendly one) inevitably gives it a public relations feel. We learn about the various steps taken to minimize production's carbon footprint, from using canteens for water and recyclable wood on sets to eating with utensils made out of corn starch.

Last and longest is a feature audio commentary recorded by director Sam Mendes with writers Dave Eggers and Vendela Vida. Theirs is a pretty good track, which coasts on spontaneous observations and production anecdotes. Clearly pleased with the film, the trio discusses a wide variety of topics, including the obvious (characters, actors' performances, production design, filming locations) and the slightly more noteworthy (edits and deleted scenes, clearing The Sound of Music, a song change, who wrote what in the couple's 2005 draft). It's not chock-full of excitement, but it is above par and an interesting 90-minute listen for those already interested.

The DVD loads with promos for Focus Features, The Limits of Control, Sin Nombre, Blu-ray, and "The Office": Season 5.

The main menu animates the doodlings of the poster and cover artwork, while a piece of Alexi Murdoch's "All My Days" is looped. Chalk up another one for the environment, the DVD's keepcase is free of inserts.
CLOSING THOUGHTS

You can probably predict how much you'll like Away We Go by your feelings toward similar films, ones that are offbeat and artsy

but still fit for near-mass consumption with a recognizable cast and sufficient production values. Some may consider it too small and real, while others will accuse the filmmakers of simply playing "indie" in the wake of the hip, decorated and profitable Juno.

But Sam Mendes' calculatedly quirky piece has enough merit to be considered apart from its genre/class. Witty and at times poignant, it owes much to the actors who find the right way to bring the astute, relevant script to life. My opinion of the film bounced between "good" and "great", and even in the end when the sum becomes greater than the episodes that make it up, something kept me from being fully delighted. Still, there's more than enough going for it to endorse a viewing. Should it tickle you more than it did me, Universal's DVD fits the bill with its fine featurette and commentary fulfilling the making-of requirements.

More on the DVD / Buy from Amazon.com / Buy on Blu-ray from Amazon.com