Intrigued by the notion that an entire ABC Family original series could be built around a young man without a belly button, I reviewed the first season of "Kyle XY" two and a half years ago. I was pleasantly surprised, but not enough to spend Christmastime last year getting through Season 2's full 23-episode order.

For its third season on the air, "Kyle" was cut back to just 10 episodes. That's the kind of ABC Family viewing load I can handle without going mad, so I decided to jump back in, having missed all that happened in the two stretches that made up Season 2.

Season 1 relied heavily on a single question: "Who, or perhaps what, is Kyle XY?" We saw the teenaged boy (Matt Dallas) awaken, naked and wet in the woods, and discovered his unusual powers as he attempted to fit with the Tragers, the ordinary Seattle family that adopted him. The mystery about Kyle has since been cleared up; he is a top-secret science experiment equipped with certain sensory and intellectual gifts. And he's not the only one. Season 2 introduced Jessi XX (Jaimie Alexander), a comparably-aged female with powers, questions, and a navel-less abdomen similar to Kyle's.

While the presence of such lead characters should firmly establish this as science fiction, "Kyle XY" is primarily a teen melodrama by Season 3. The sci-fi angle is always there, but it is mainly an afterthought meant to supply ongoing but rarely focal suspense.
The real focus is on kids, whether manufactured or born, and their adolescent love lives. Love triangles, love squares, and all sorts of other geometric romantic entanglements can be found here. The season's main triangle centers on the noble, selfless Kyle. His status as an item with innocent pianist Amanda Bloom (Kirsten Prout) comes to an end when she becomes threatened and dumps him. The source of such jealousies is the fragile yet tenacious Jessi, who is clearly crushing on kindred spirit Kyle, apparently unbeknownst to everyone but us.
After her surrogate mother (The Breakfast Club's Ally Sheedy, following up three Season 2 guest appearances with a final one here) disappears, Jessi is given an open-ended, Kyle XY-type welcome from the Tragers. That brings the experiments and their electricity near. But it also has Trager mother Nicole (Marguerite MacIntyre), evidently weary of even the illusion of incest, forbidding Kyle and Jessi from getting romantic near the end of the run.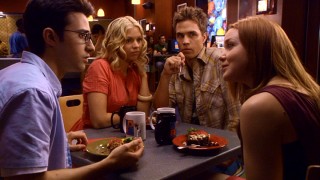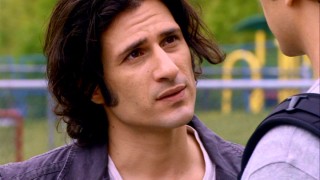 The two non-engineered, non-adopted Trager kids also aren't hard up for some teenaged romance. Aspiring songwriter Lori (April Matson) rebounds from separation from her former main squeeze Declan (Chris Olivero), turning her attentions to college nerd Mark (Josh Zuckerman). Mark's secret extracurricular activity complicates the relationship, as does the fact that Trager dad Stephen (Bruce Thomas) forbids it. Dad is less restrictive when it comes to Lori's younger brother Josh (Jean-Luc Bilodeau) whose relationship with cancer-surviving, computer gamer Andy (Magda Apanowicz) becomes openly sexual. Single regular characters immediately find replacement love interests, with two additional recurring characters emanating from the same secret science society as Mark.
That secret society is the show's go-to source of mystery, excitement, and conflict. Its name, Latnok, is shorthand for the kind of action and evil conspiracy that "Kyle XY" spends most of its time deliberately avoiding. The face of Latnok is Season 3 introduction Michael Cassidy (Hal Ozsan), a suave Englishman who repeatedly reaches out to Kyle hoping he'll join them in their research work. Responsible for the high-octane hijinks which open this season, Cassidy is never cleared of suspicion, no matter how friendly and sincere he seems to come across.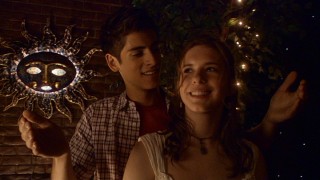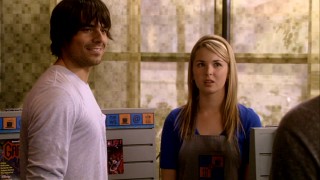 Removed from its intriguing premise in story and tone, "Kyle XY" appears to be running low on good ideas. What would end up being its Final Season doesn't offer a whole lot to enjoy beyond tangled teen romances.

With two exceptions, the actors portraying said teens are all in their mid-to-late 20s. While most of them are youthful enough to believe in the roles, the casting is part of a larger creative regression.

The production never shakes its elementary feel. The dialogue is cheesy and it renders every teen character who utters it less than believable. Casually dropped cultural references are off-key. (That Andy likes old school "Star Trek" is far-fetched to put it mildly.) The show strives for realism, tackling issues like alcohol and sex that arise for real teenagers (but not most basic cable TV ones). While occasionally it hits upon something genuine, for the most part the universe portrayed is very sterile, with manufactured and surmountable obstacles being far easier to find than real-world concerns. There's also something quaint about the kids having one local hangout/workplace; smoothie shop/cyber cafe The Rack is this show's equivalent of Arnold's and The Max.

Although the main focus, teen life, has these serious conceptual woes, the show could still be redeemed by its peripheral elements. Unfortunately, they are no better than the rest and even harder to take seriously. The action is cheesy. In fact, calling it action is an overstatement. There is never any consequence to the faster-paced, less-talkative stretches. At least the show doesn't lean on such content too heavily. I'm not really sure how it could. The powers of the series' heroes -- holographic memory, vision adjustments, photorealistic artwork, and limited telekinesis -- are quite minimal and not conducive to powerhouse set pieces.

One of the show's biggest problems is its titular character. In Season 1, Kyle XY was a personality who invited curiosity, analysis, and speculation. I longed to figure out what he was and how he came to be. By Season 3, he is a bland hero, physically and intellectually potent but mentally dull. At least, that's how he feels played by Matt Dallas, whose adept initial handling of the character now just appears to have been stiff, unpolished acting. Compared to Jaimie Alexander's more complex, passionate rendering of Jessi, Dallas' monotonous delivery and blank face don't seem to be characterization as much as apathy and lack of imagination. Worst of all is Kyle's infrequent narration, which is utterly vapid and unnecessary. With appeal drained from its title character, it's no surprise that the show never really hits its targets.

Just in time for Christmas gift-giving comes "Kyle XY": The Complete Third Season/Final Season, a 3-disc set providing the abrupt, inconclusive conclusion brought about by an unforeseen axing via dwindling viewer ratings. Synopses appear below, which you can read without encountering any major spoilers.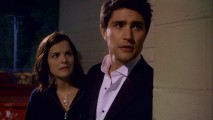 Disc 1

1. It Happened One Night (42:00) (Originally aired January 12, 2009)
The season picks up in the aftermath of prom. Jessi helps Kyle try to locate the abducted Amanda. Josh and Andy deliberate their decision to remain chaste.

Lori and Declan deal with their break-up. And Michael Cassidy introduces himself as Jessi's neighbor.

2. Psychic Friend (43:33) (Originally aired January 19, 2009)
Fallout from disclosures and discoveries has feuds break out between Kyle and Amanda, Lori and Hillary (Chelan Simmons), and Josh and Andy. Worried by a street fair psychic's warning of impending danger, Kyle asks Jessi to look after Amanda.

3. Electric Kiss (44:00) (Originally aired January 26, 2009)
Jessi's presence raises concerns for the Trager family and for Amanda, who suspects a Jessi/Kyle romance may be blossoming. With the effects of Amanda's abduction lingering and a critical piano recital approaching, Kyle hopes he can disintegrate an implanted Latnok device without electrocuting her.

4. In the Company of Men (43:22) (Originally aired February 2, 2009)
Kyle, Josh, and Declan enjoy a wild night of male bonding at the one local bar that doesn't card minors. Lori and Jessi wind up getting coffee with Cassidy, unaware of his doings.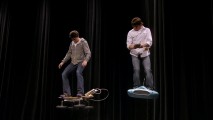 Disc 2
5. Life Support (43:20) (Originally aired February 9, 2009)
Kyle, Josh, and Nicole get into a car accident, requiring Kyle to help a young pregnant woman (guest Jessica Harmon) give birth alongside a highway. Nicole meanwhile is rushed to the hospital with life-threatening injuries. Kyle looks to obtain the one substance that could save his adoptive mother's life, but it will come at a price.
6. Welcome to Latnok (43:58) (Originally aired February 16, 2009)
When the kids secretly learn about Nicole's staggering hospital bill, they come up with ways to raise money. At Latnok, Kyle rushes to perfect a levitation experiment for a cash prize. Josh and Andy rent out Jessi's unsupervised apartment by the hour.
7. Chemistry 101 (43:29) (Originally aired February 23, 2009)
Assigned to create a theme for a Latnok party, Kyle and Jessi invent physiological compatibility necklaces. Andy tries to get Josh a new girlfriend to take her place. Kyle investigates Cassidy to see if his suspicions are warranted.
8. The Telltale Heart (43:46) (Originally aired March 2, 2009)
Kyle helps a sickly Jessi retrieve a suppressed memory to help them figure out what happened to her mother. Lori and Hillary reconcile enough to join forces against Declan. Josh considers ways to get Andy to stay.
Disc 3
9. Guess Who's Coming to Dinner (43:50) (Originally aired March 9, 2009)
Dark, hidden secrets are revealed at Cassidy's dinner with the Tragers, leading to a dramatic aftermath. Josh tries to give Andy the perfect final night together.
10. Bringing Down the House (44:07) (Originally aired March 16, 2009)
With help from Amanda, Kyle and Jessi follow through on their elaborate plan to discover and thwart Cassidy's big evil mission for Latnok. The series ends with an Empire Strikes Back-style bombshell cliffhanger.
VIDEO and AUDIO
Once again, "Kyle XY" receives the cinematic presentation now expected of modern TV drama DVDs with 1.78:1 anamorphic widescreen picture and Dolby Digital 5.1 sound. The video is quite good. It's utterly clean, detailed, and consistent, although a touch softer than ideal. The soundtrack is crisp and intelligible, but it neither seizes nor misses great opportunity to provide directionality and atmosphere. In short, while there are no complaints to lodge about the DVDs' technical quality, that's become common enough to barely notice and appreciate.
BONUS FEATURES, MENUS and PACKAGING

Disc 1 is entirely void of extras. Disc 2 supplies an audio commentary by executive producers David Himelfarb and Eric Tuchman on "Life Support", one of their favorite episodes from the series. This good track serves up interesting tidbits about this episode (conceived as a two-parter and seemingly influenced by Juno) and about the show at large. The remarks cover filming experiences, the prominent use of a one-time guest star, and the big "Kyle XY" themes dealt within. Fans ought to give this a listen.

A second audio commentary, on series finale "Bringing Down the House", teams up Himelfarb with co-executive producer Julie Plec. Plec dominates this discussion and is a little too proud of the show. Besides repeatedly lamenting that the episode was never meant to end things (and revealing Matt Dallas' shirtless scene request), the remarks logically lean towards "Kyle XY" as a whole. Comments about where the show was heading (coupling Kyle and Jessi, exploring his sexuality, and so on) and why it went where it did (having to respect the leading demographic

of teen females, actor age differences keeping Kyle and Amanda's relationship innocent) are interesting enough not to mind the praise dealt out for everyone (culminating with a roll call of significant contributors).

The set's top-billed extra is the Disc 3 featurette "'Kyle XY': Future Revealed" (12:34), which a cover sticker claims "completes the Kyle XY Story." That's hardly true. Those expecting this to make up for the cancellation that rendered the season's cliffhanger the show's end are apt to be disappointed. The set's three commentators -- producers Himelfarb, Tuchman, and Plec -- share a few thoughts on the show's big plans, including resolving Kyle's ongoing love triangle and further exploring Cassidy and Kyle's genetic family. Relying too much on Season 3 clips, the piece doesn't say much and its interview subjects do little to hide their bitterness at the unexpected plug-pulling.

The last supplement is a group of 12 deleted scenes (12:30), which can be played individually or collectively. Typical for tightly-produced TV, nothing monumental is found among these extensions, variations and deletions, the longest of which runs 2 minutes. Some minor plot points are gained, as are moments merely hinted at. The lot, whose color timing remains unfinished, can be viewed with optional audio commentary by Himelfarb and Tuchman. They do an excellent job of explaining why each bit was cut, whether for tone, timing, unimportance, or content, and don't shy from poking fun at some of them.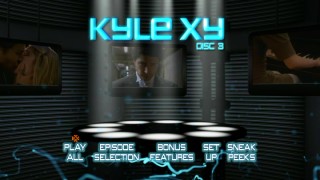 Disc 3 loads with promos for "Make It or Break It": Season One, Surrogates, and Blu-ray Disc. The platter's Sneak Peeks menu holds additional trailers for Tim Burton's Alice in Wonderland, Tron: Legacy, "Greek": Chapter Four, Extract, and 10 Things I Hate About You: 10th Anniversary Special Edition.
Each disc's main menu rotates us around montaging monitors while score plays and light beams dance.
Like Season 1 and a growing number of not overly voluminous TV show sets, the Final Season of "Kyle XY" is housed in a clear standard-sized keepcase. Episode/bonus feature titles and cast photography shows through on the reverse interior. The case is held in a cardboard slipcover, which simply reproduces the artwork below with a few minor embossing touches. Booklets promoting Blu-ray and upcoming TV DVDs are included.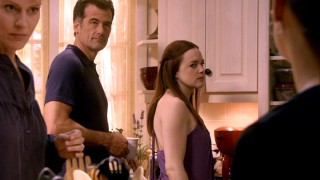 CLOSING THOUGHTS
Though it began as a compelling sci-fi puzzle, "Kyle XY" ends as a pretty unremarkable teen romance drama, whose mysteries are peripheral and inferior to the mediocre main course. For all its shortcomings (high among them, dodgy acting and uninspired writing), the series remains easy to watch and not often cringeworthy bad. But those qualities weren't enough to keep things going, and the show's cancellation without finality stands as a brush-off for fans and creators alike.
Supplying a fine presentation and a decent offering of extras, this Season 3 DVD is really only for completists. If you're interested in the show, you'd be wise to start with its earliest episodes, which probably rank as its best ones.