Varsity Blues is set in the fictional town of New Canaan, Texas, where high school football is a way of life. Life is good for New Canaan because the Coyotes remain undefeated well into the 1998 season under the leadership of star quarterback Lance Harbor (Paul Walker). The team is coached by tough, tenured Bud Kilmer (Jon Voight), who has 22 district championships and the school's stadium to his name (complete with a statue of his likeness).
Protagonist Jonathon "Mox" Moxon (James Van Der Beek) doesn't much buy into the hoopla. Seeing no playing time as the team's second string quarterback, Mox is content to read Kurt Vonnegut tucked inside his playbook from the bench. He's counting down the games and hoping to get accepted at Brown University.
Mox's life changes when a severe ligament injury requires golden boy Harbor to miss the rest of the season. Reluctantly promoted to the starting line, Mox enjoys success on the field. He also discovers that the perks go beyond vocal support from fans. Immediately, he's getting a free six-pack of beer without asking.

And Harbor's girlfriend Darcy (Ali Larter, "Heroes") still wants to claim she's dating the star quarterback, even if the position has changed hands.

Mox's rise in rank to hometown hero is supplemented by a number of subplots. His massive friend/teammate of big heart and little brain, Billy Bob ("Popular"'s Ron Lester), has health and self-esteem issues. His pre-stardom girlfriend Jules (Amy Smart) grows wary of his changes. And the sex ed teacher (Tonie Perensky) is moonlighting as a stripper.

The film wanders in and out of respectability. Seemingly out of duty to the MTV Films banner it carries, there are drunken teen antics, most embodied by law-breaking wiseass Tweeder (Scott Caan). At the same time, the movie considers things like what the future holds for high school jocks and how one breaks free from small town limitations. It is all fairly routine and predictable, whether we're on the field busting heads, partying it up, or being thoughtful. The movie neither gets ridiculous enough to dismiss nor smart enough to take seriously.
When Varsity Blues was released to theaters in January of 1999, most of the best-known high school football dramas didn't yet exist. The kindred Friday Night Lights wasn't a movie or a TV series, just a nonfiction book. Star James Van Der Beek had a year of fame thanks to "Dawson's Creek", but hadn't yet become inseparable from the part. Director Brian Robbins only had a rap documentary and Good Burger to his name and not the long line of critical dogs he's since racked up, most recently two of Eddie Murphy's stinkier comedies. It is easy to see why the film had less baggage and more appeal ten years ago, when I first saw it.
And yet, the film is about the same as I remember it: peppered with profanity and '90s alt rock, a mixed bag of drama, and more comedy flopping than not. By no means is this a great film. But only occasionally does it seem to be aiming for that. More often, it's a watchable and diverting movie that plays into high school fixtures and fantasies, flattering no Texan with its portrayal of people but speaking to the athletic adolescence that many revel in.
Once the studio least likely to include bonus features, Paramount now seems the one most likely to revisit catalog titles. They reissued Varsity Blues last month in a Deluxe Edition DVD, with a twice as pricey Blu-ray counterpart granting the film its high-def debut.
DVD Details

1.78:1 Anamorphic Widescreen
Dolby Digital 5.1 (English, French, Spanish),
Subtitles: English for Hearing Impaired, French, Spanish
Closed Captioned; Video Extras Subtitled and Captioned
Release Date: September 15, 2009
Single-sided, dual-layered disc (DVD-9)
Suggested Retail Price: $14.98
Black Keepcase with Side Snaps in Embossed Cardboard Slipcover
Also available on Blu-ray Disc
VIDEO and AUDIO
As on its first DVD, Varsity Blues appears in 1.78:1 anamorphic widescreen and Dolby 5.1 sound. I was unable to compare the releases, but on its own merits, the Deluxe Edition doesn't disappoint. You'll notice grain on a handful of isolated shots, but for the most part, picture stays sufficiently clean, sharp, and vibrant. The soundtrack satisfies even more, with its crisp, active distribution of music and gridiron noises. It isn't as directional as a more recent film might be, but it does just fine.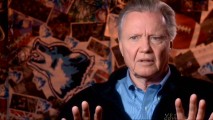 BONUS FEATURES, MENUS and PACKAGING

A solid supply of supplements begins with an audio commentary by director Brian Robbins and producers Tova Laiter and Mike Tollin. Three minutes in, they seem to have run out of things to say. Fortunately, they soon recover for a light but steady track of small observations. The three are candid and detailed as they tackle subjects like casting, test audience reactions, studio notes, the freedom of an R rating, and the friendly production atmosphere. They share thoughts on the film's two most iconic moments, poking holes at the famed whipped cream bikini scene (it's actually shaving cream)

and doing their "I don't want your life" impressions. They regularly lay praise on Mark Isham's score, mention Ashton Kutcher's audition, and discuss several deleted scenes (more on those later). On the whole, the track is surprisingly engaging for featuring three people from whom you wouldn't go out of your way to attend a free 105-minute lecture.

Moving to the video front, "Football is a Way of Life: The Making of Varsity Blues" (17:45) gives us a decent look at production. The cast predominantly speaks in old EPK interviews, while some retrospection is had in new on-camera interviews with Robbins, Laiter, Tollin, Jon Voight, and writer Peter Iliff. Robbins really talks up his own work, while Iliff tries to impress with his autobiographical and creative claims. A section dealing with Van Der Beek's popularity clearly dates itself and the lack of more present-day participation limits this.

"Two-a-Days: The Ellis Way" (7:45) focuses on the cast's physical training, serving up footage from practice sessions, remarks from actors on prior sports experiences, and insights from regularly-employed film football coordinator Mark Ellis and other players consulted. All of it comes from the '90s and ends up mildly interesting.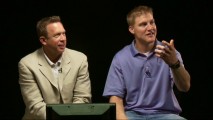 All-new featurette "QB Game Analysis" (15:12) has less going for it. Ellis gets together with Josh McCown, a Texas high school quarterback who's now in the NFL. The two comment upon scenes and freeze frames from the movie, noting the play, actors' forms, and the phenomenon of high school football. It's pretty cheesy and, for those not versed in football strategies and techniques, utterly boring.
More of a human interest piece, "Billy Bob with No Bacon" (4:38) catches up with actor Ron Lester. Seventeen plastic surgeries later, Lester is now one-third of his Varsity Blues size and looks and sounds nothing like he used to. As his 1999 EPK footage is compared to this video, he discusses his weight loss, with "father figure" Voight also sounding off on the matter. Lester's dramatic transformation certainly intrigues, although the piece steers clear of the obvious downside, which is that Lester has been sparingly cast since becoming ineligible for fatty roles.
Last but not least is the one extra from the original DVD, Varsity Blues' 2½-minute theatrical trailer. It's interesting, especially since it features a number of moments not seen in the film.
Sadly, they're not found anywhere on the DVD either. Deleted scenes had been among the original bonuses announced for this disc, as was Ali Larter's audition. Neither made the cut, though. That's a shame because they'd have surely raised the platter's value.
Menus are silent, static screens resembling the cover art design. A trailer for active Paramount TV show DVDs plays at the head of the disc. This Deluxe Edition of Varsity Blues comes with a cardboard slipcover that's sleek, silver-foiled, and embossed. There is nothing inside but the disc.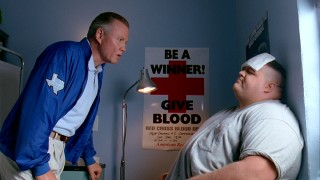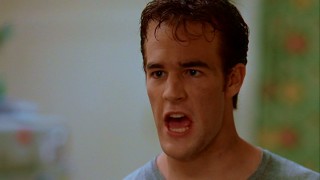 CLOSING THOUGHTS

Although it's only ten years old, you can tell that Varsity Blues is one of those movies that nostalgia will factor into one's appreciation of. I'm not sure that it's had much effect on me, however.

Maybe if I was seeing the film for the first time today, I'd be more bothered by its shortcomings and its uneven blend of predictable sports triumphs and sophomoric antics. Redneck characters, broad accents and all, this football drama remains pretty easy to take and, in stretches, to enjoy.

A decade after being slow to provide bonus features, Paramount seems slow to revisit moderately popular flicks like this. Still, it's nice to see a studio not putting all its eggs in the Blu-ray basket, even if it's a studio simultaneously pulling staggered release stunts. While nothing extraordinary, the DVD stands as a clear upgrade to Varsity Blues' original disc and it comes at about a low starting price as you'll find. If this is a favorite of yours, you probably ought to unload your original DVD and pick up this one. If you've only been meaning to add this to your collection all these years, there is now better reason to.

More on the DVD / Buy from Amazon.com / Buy on Blu-ray from Amazon.com