Review by Aaron Wallace
Chances are that you're familiar with stories like "Snow White," "Rapunzel," and "Little Red Riding Hood." After all, who isn't? Such is the legacy of Jakob and Wilhelm Grimm, whose enchanted tales of myth, magic, and intrigue are among the world's most recognized and enduring. Their stories have been fodder for countless motion pictures, so a grand adaptation of their lives on film seems like a logical and promising endeavor. That is the intention of Terry Gilliam's The Brothers Grimm.
The film works in fantasy more than fact -- this is no biopic, nor does it pretend to be. The idea is that the brothers were scam artists, perpetuating hoaxes of magical terror and convincing towns that they alone could save them. Of course it isn't long before an actual curse comes along and they are summoned by officials in French-occupied Germany to purge evil. It seems that in the course of this one adventure, all of the brothers' most famous stories have their origin. Throughout their mission, the brothers keep a journal in which they log their encounters, with the implication being that the stories we cherish today survived because of it.
The Brothers Grimm is a mess of a film. Rather than taking the time to develop plot or characters, it is content with stringing together flashy action scenes, indicated to be "big moments" by the score, in hopes of exciting viewers enough for them to forget about story. The narrative staggers from one scene to the next with little connection made between them. Indeed, you'd be hard-pressed to summarize exactly what happens. Bits and pieces of various Grimm stories are thrown together in an attempt to convince viewers that all these ideas could have come from one journey, resulting only in confusion and disjointedness. Excessively graphic, the film tries to compensate for a lack of substance by randomly employing disturbing incidents of grimness or gunfire. Plot turns come without reason or cause and the characters' plights go unfounded.

Their traits and desires are dictated to the audience rather than illustrated for them to infer. When the brothers fight, viewers have no reason to care. Moreover, when the movie reaches its climax, the audience is disinterested and has no compulsion to keep watching. It's even unclear as to exactly which obstacle has been overcome upon the weak and nonsensical resolution.

Director Terry Gilliam brings an expected eccentricity to the project, but it merely clashes with the tone rather than spices it. As Wilhelm and Jacob, respectively, Matt Damon and Heath Ledger deliver bland performances as they fall victim to this cinematic quagmire. The rest of the cast doesn't fair so well. Peter Stormare annoys as he uncomfortably straddles comedy and antagonism as Cavaldi, an Italian torture artist whose role in the film repeatedly changes. The very same can be said for Lena Headey's performance as Angelika, the subject of a bizarre romantic subplot that only resurfaces when the story needs something else to turn to and an odd note to end on. The cast is wholly unimpressive, though to be fair, their ability to shine is severely hampered by the poor material that has been dealt them.

Of course even the most unpleasant movies usually have something going for them. Aside from a few poorly-rendered effects and questionable cinematography that sometimes gets the lighting all wrong, the film has a strong visual presence that is reminiscent of the majestically spooky appearance of a Tim Burton film (perhaps he should have helmed this project instead). The score, too, is wonderfully thematic and garners a recommendation in soundtrack form. These two components work together so well that they actually weaken the movie as they underscore how badly everything else misses the mark in comparison and leave viewers yearning for a film that could have capitalized on this project's potential.

DVD Details

1.85:1 Anamorphic Widescreen
Dolby Digital 5.1 (English, French)
Subtitles: English, Spanish
Closed Captioned
Release Date: December 20, 2005
Single-sided, dual-layered disc (DVD-9)
Suggested Retail Price: $29.99
Black Keepcase
VIDEO and AUDIO
Video quality is as pristine as should be expected from a hot-off-the-big screen flick. Grimm's aesthetically striking set design is well-serviced by this 1.85:1 anamorphic transfer, which delivers rich colors without defect. The audio delivery, too, is quite pleasing. The Dolby Digital 5.1 Surround track is well-mixed with clear, crisp sound that makes full use of a good home theater system. It's the kind of audio/video presentation that makes one wish it wasn't wasted on tripe.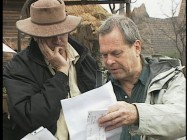 BONUS FEATURES

How does a movie like The Brothers Grimm get approved and win over a group of respectable cast and crew? Gilliam at least partially answers that question in the opening of his feature-length audio commentary track. He didn't care for the script himself, he says, but he took it because he was out of work. Of course, it then underwent revision, but apparently still ran into problems, as he reveals

that it began as an MGM project until the studio pulled out and Miramax/Dimension swooped in to sweep up the pieces. That's the most interesting information conveyed in the track and Gilliam's commentary isn't the easiest listen. Lulls in observation are few and far between, however, and his comments are filled with nuggets of trivia. It's hard to pin down exactly how he feels about the movie, but many of his ideas about how things were supposed to turn out clearly don't translate to film in the way that he sees them.

The rest of the bonus features are fairly straight-forward. "Bringing the Fairytale to Life" is a brief making-of featurette filled with interviews and behind-the-scenes footage, mostly pertaining to what the stars and heads of crew were going for in the film. Self-praise abounds, but those involved seem to have genuinely enjoyed making the film. As he does in the commentary, Gillian talks about his changed attitude towards Disney, which he originally disliked for making Grimm tales gentler until he discovered that the brothers themselves had made similar revisions to their own work. This of course prompts the rolling of numerous stills, clips, and DVD covers from Disney animated classics.

Another featurette, "The Visual Magic of The Brothers Grimm" is probably the most interesting piece on the DVD. In it are discussions about how some of the visual effects and scenery of the film were achieved. Particular attention is paid to the CG-rendered wolf and the final scene involving the evil witch (Monica Bellucci).

Finally, there are 12 deleted scenes. Unfortunately, none of them help to make any more sense of the movie and at nearly two hours, the theatrical cut is long enough as it is. Other than one elaborate action scene involving a bewitched tree (reportedly the most expensive scene in the film), these are inconsequential asides. Gilliam provides optional audio commentary on each deleted sequence, which is actually more interesting than the feature commentary, as he explains what he likes about each scene and why it had to go. These can be selected individually or played all at once.

The moody main menu plays a haunting section of the score as it sweeps through character images and wicked tree branches to the menu options. The other menus are all still and silent. Inside the case there is a scene selections insert with an advertisement for other DVDs on the backside.

The disc opens with previews for Flightplan, Underclassman, and Dark Water on DVD. None of these or any other previews are selectable from the main menu.
CLOSING THOUGHTS
2005 is now behind us and those looking to crown the year's worst film have a worthy contender in The Brothers Grimm. Terry Gilliam's would-be fantasy endeavors to dazzle but manages only to bore. Attempts to blend Grimm stories into one film have been made before and with more success (TV miniseries The 10th Kingdom and Stephen Sondheim's play, "Into the Woods," for example, both outperform Grimm). The DVD presentation is top-notch in terms of the video transfer and soundtrack and the standard bonus features are all here. Given that's all in service of a woeful blunder, however, it's not easy to recommend. Do yourself a favor and stay away from this one.
More on the DVD / Buy from Amazon.com