After years of directing music videos as part of team "Hammer & Tongs", Garth Jennings made his feature debut on 2005's The Hitchhiker's Guide to the Galaxy.

That project carried both the brand recognition and burdensome expectations of a quarter-century's worth of Douglas Adams fans. For his second film, Jennings went much lower-key and more original, helming the indie dramedy Son of Rambow from his own script.

Set in 1983 England, Rambow tells the story of Will Proudfoot (Bill Milner), a quiet boy whose small, fatherless family belongs to The Brethren, an exclusive and strict sect of fundamental Christians. At school, Will falls in with Lee Carter (Will Poulter), an unparented troublemaker. After seeing parts of Lee's self-bootlegged copy of original Rambo movie First Blood, Will is inspired to take his active imagination -- ordinarily confined to a colorful notebook with flipbook corners -- in new directions. The tough Lee welcomes the company of Will, a polar opposite in personality, if only to help realize his submission for the Young Film Maker's competition of BBC children's program "Screen Test."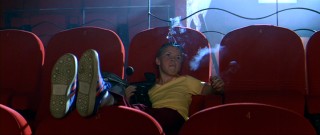 Will provides a creative blueprint that's part storyboard, part script. Lee provides the camera. They're joined by Didier Revol (Jules Sitruk), a French exchange student treated like a rock star and blissfully acting the part, along with his entourage of adoring, accommodating British classmates. The group's project, ultimately bearing the same name as the film that houses it (the unneeded "w" added for legal reasons), is heavily inspired by Sylvester Stallone's action movie. The children's rendition of Rambo is actually much easier to take and enjoy than its bloody source film, as daring stunts and goofy ideas (a scarecrow antagonist, a flying dog) stand in for post-Vietnam sadism. Nothing seems too unreasonable or ambitious for a bunch of pre-teens to tackle, rendering their efforts noble but laughable.
Actually, though Son of Rambow is advertised as a comedy, there aren't many laughs to be had. Whereas Hitchhiker's thrust Jennings into heady humor where elaborate visual effects were inevitable, here he's the other end of the spectrum, working on a simple, lightweight piece. The pacing is relaxed, the jokes are hidden, and the predictable story tends to float. I'm pretty much describing the exact opposite of Hitchhiker's. And yet, while I don't enjoy it anywhere near as much as Jennings' first film, my reaction to Rambow isn't negative overall.
This is a harmless, sometimes even sweet, journey into childhood fancies. Set in a distinct time and place, the period will be lost on most viewers and, in fact, practically the entire cast. But even if you don't get wistful at the idea of exuberantly conceived home movies and even if you think Rambo sucks, you will find yourself getting mildly involved in these boys' benign adventures.

Helping you do that are commendable performances by Milner and Poulter, the newcomers playing the two lead boys.

Despite getting an endorsement from Sylvester Stallone himself and the support of about three-fourths of critics, Son of Rambow was barely a blip on the radars of American theaters, earning under $2 million here compared to over $8 M overseas. Is it really any surprise? That a tiny British film -- with no big stars, no high concept, no flashy source, a story most appreciated by thirtysomethings but featuring tweens, released in no more than 152 theaters during the start of summer blockbuster season -- didn't set the States ablaze? No, it isn't.

That makes it an odd arrangement but low-stakes gamble for Paramount to release the Son of Rambow DVD this week exclusively to Best Buy stores in the US. It is available for sale and rental in all the conventional outlets in Canada, but when the same can be said for the United States remains to be seen.
DVD Details

2.35:1 Anamorphic Widescreen
Dolby Digital 5.1 Surround (English, Spanish),
Subtitles: English, French, Spanish
Closed Captioned; Video Extras Subtitled
Release Date: August 26, 2008
Single-sided, dual-layered disc (DVD-9)
Best Buy Price: $14.98 (Reduced from $19.99 SRP)
Black Keepcase with Side Snaps
VIDEO and AUDIO
Son of Rambow appears only in 2.35:1 widescreen, the aspect ratio it had in theaters. It boasts some nifty filmic tricks but for the most part looks unremarkable and even distant while suggesting a feel that should be anything but. The Dolby Digital 5.1 soundtrack is quiet and forgettable. Subtitle tracks are offered in English, French, and Spanish and a handful of French dialogue is translated in secondary subtitle tracks.
BONUS FEATURES, MENUS and PACKAGING

Bonus features begin with an audio commentary by the old Hammer & Tongs duo and the film's two young stars: writer/director Garth Jennings, producer Nick Goldsmith, and actors Bill Milner and Will Poulter.

Theirs is a lively, screen-specific discussion that sheds light on development, revisions, test audience reactions, goofy onscreen occurrences, and even minor touches of CGI. To ensure the track stays interesting, Jennings plays some random canned music, the actors' mothers are briefly brought in, and goofy dubbing exercises are conducted. It's all a bit of fun and yet informative too.

"Boys will be Boys: The Making of Son of Rambow" (26:00) is the main video bonus. It's more interesting than your typical featurette, giving us the four commentary participants casually shooting the breeze on a boat as well as plenty of glimpses of rehearsal and set footage. It adds up to a thorough, interesting overview of production, as it sets out to.

The final two extras are, appropriately enough, homemade action movies. Aron (10:45) is a short film made by director Garth Jennings back in 1986. Though apparently fitted with a professional new score, the film is every bit as amateurish and incoherent as the one made in Son of Rambow. Not only does that supply some laughs and smiles, but it shows Jennings was clearly inspired by himself.

Next is "Son of Rambow website winner", a 5-minute short made by a Dunn family in, if the camera date is accurate, 1996. This is slightly more polished and, despite a girl in a leading role, offers more machismo with staged violence, drug money, government agents, and witty gags. A visit to the site that hosted this contest reveals that this winner is called Mission Improbable (which seems to confirm the production date).

Both shorts would have benefited from a lack of legal-mandated digital blurs and a gain of an introduction to make more sense of them.

The menus take a basic yet sensible approach with film strips holding stills and the title logo's Impact font Word Art feel for page headers. Menus are static and, with the exception of the instrumental-accompanied main menu, silent. There are no in-case inserts.

The disc opens with trailers for American Teen, The Duchess, and The Love Guru. The same play from the menu's "Previews" listing after previews for Shine a Light and Drillbit Taylor. Rambow's own sharp trailer is sadly absent.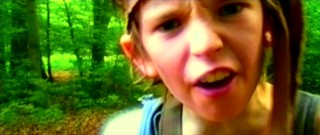 CLOSING THOUGHTS
Son of Rambow aims to be poignant and fun, but it achieves little of the former and only some of the latter. A limited audience will really appreciate this, including kids of the early '80s who dabbled in amateur filmmaking. Most should find it mildly diverting and charming enough if forgettable. Paramount's DVD delivers adequate though unimpressive picture/sound plus a modest though satisfying set of extras. If you want to own it now, though, you'll either have to venture into those blue and yellow Best Buy stores or import from Canada, making the "wait and see" approach advisable.