Though Rodney Dangerfield lived to be 82 and had long been a household name for his comedy skills, he never made a lot of movies. Among his few starring roles, the one best known and liked would almost certainly have to be Thornton Melon, the wealthy, uncouth protagonist of the blockbuster 1986 comedy Back to School.

Never a very good student as a kid, Thornton nevertheless grew up and struck it rich, as the brain behind an empire of Tall & Fat Clothing Stores. When his loveless marriage to an unfaithful wife (Adrienne Barbeau) comes to an end on the night of their fifth anniversary party,

Thornton decides to visit his son Jason (Keith Gordon) at his new home, Grand Lakes University, before the fall semester begins. Surprises are in store: Jason isn't really in a fraternity or on the diving team. Bigger than those fibs is the news that Jason is planning to drop out of college altogether while citing his father's success as proof of higher education's unimportance. To that, Thornton has a response; he'll attend college with his son.

The university's cleverly-named Dean Martin (Ned Beatty) is reluctant to admit a freshman who's pushing 60 without a high school diploma, class records, and a formal application, but he's convinced otherwise when Thornton donates enough money to cover the establishment of a business administration school. In short: 23 minutes in, the film has justified its "old rich guy enrolls in college" premise and is ready to have fun with it.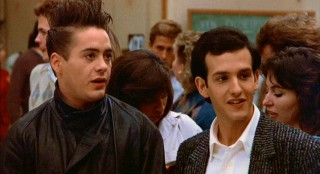 And have fun, it does, taking situations that in reality would be labeled strange, nightmarish, disturbing, or outright criminal and playing them for laughs on the plentiful charms of the brutish Dangerfield. Thornton flirts and parties with willing coeds, gets NASA scientists and even Kurt Vonnegut (cameoing as himself) to do his homework for him, initiates a football team bar brawl with the help of his tough chauffeur (Rocky's Burt Young), catches the eye of the school's diving coach (M. Emmet Walsh), and sets his sights on his pretty English teacher (Sally Kellerman).
Of course, there's a foe, presented in the serious British business professor Philip Barbay (the reliable Paxton Whitehead). And naturally, some tension arises between Thornton and his good-natured son, whose college experiences boil down to a quirky, anti-establishment roommate (20-year-old Robert Downey Jr. in his immediate precursor to a short "Saturday Night Live" stint), a diving team nemesis (William Zabka, slightly toning down his Karate Kid act), and a sweet love interest (Terry Farrell).
It should go without saying that Back to School isn't a movie you watch for the surprises. For that matter, even if it were, they'd be a non-issue on the multiple leisurely re-viewings the movie lends itself to. The film proves to be diverting and often quite entertaining throughout. It is a Dangerfield vehicle through and through, with each scene serving as a forum for the comedian's stand-up-type material and jokes. The one-liners flow and Dangerfield's acting is really just his stage persona transposed to a college campus, surrounded by collegians and faculty. The movie is satisfactory through its plotting, its obligatory romance, and its appropriate conclusions. Back to School can't really be classified as a hilarious or brilliant movie, especially on a return trip, but like a good stand-up act, it's worth coming back to and coupled with the standard but fun story, it never disappoints.
The charismatic supporting cast helps the movie be more than just a prime showcase for Dangerfield's brand of comedy.

Good work is provided all around, from now-director Gordon's benign turn as Dangerfield's ought-to-be-more-embarrassed son to pre-addiction Downey Jr.'s solid oddball shtick. Making especially memorable impressions among a cast that's filled with familiar faces are Edie McClurg's stenographic secretary and stand-up icon Sam Kinison as an intense history teacher with strong, lingering feelings on Vietnam.

Today, while Back to School still maintains a formidable presence among the class of esteemed, quoted, and oft-watched 1980s comedies, it's probably a surprise to some that the movie was such a box office success. The comedy's $91 million domestic gross exceeded those of Aliens, Ferris Bueller's Day Off, and Stand By Me, in addition to all but 5 films released that year. Attendance-wise, it was easily the pinnacle of Dangerfield's film career. He would later claim some noteworthy supporting roles (Natural Born Killers, Little Nicky), but outside of 1992's modest Sidekicks, the projects he subsequently headlined tended to get limited theatrical release or go straight-to-video.

No stranger to DVD, Back to School has turned up on disc no fewer than four times this decade. Outside of copyright dates, there's been little to distinguish most incarnations, which supplied non-anamorphic widescreen and fullscreen presentations of the film along with the theatrical trailer and sometimes, a "collectible" booklet of notes. Now, just three months after teaming up the movie with Dangerfield's 1983 comedy Easy Money as a 2-DVD Double Feature, MGM and distributor Fox treat School alone to an Extra-Curricular Edition DVD upgrade. The name doesn't mean much, but I suppose it might help to discern this release from any future DVD editions. On the same day, Back to School also surfaces alongside P.C.U. and Bio-Dome in a 3-movie Partying 101 Gift Set, part of MGM's new, low-priced, 9-volume College Essentials DVD line of loosely-related works.
DVD Details

1.85:1 Anamorphic Widescreen
Dolby Digital 5.1 (English), Dolby Digital Stereo 2.0 (English), Dolby Digital Surround (French), Dolby Digital 2.0 Mono (Spanish)
Subtitles: English, Spanish
Closed Captioned
Release Date: August 14, 2007
Suggested Retail Price: $19.98
Single-sided, dual-layered disc (DVD-9)
Black Keepcase with Cardboard Slipcover
VIDEO and AUDIO
Though the case doesn't say so, Back to School is finally enhanced for 16x9 televisions. (I suppose this somehow makes up for the past when the movie's packaging specified an anamorphic transfer that did not exist.) Apparently, there were framing issues with the film's previous DVD releases -- as if a cropped fullscreen transfer had further been cropped -- but I detected nothing of the sort here. The long-overdue anamorphic widescreen transfer is very good. While occasionally inconsistent, the colors are good on the whole. The element looks quite clean for the most part, with only the very rare intrusion standing out. There is a fair amount of grain for most of the runtime, but this is probably inherent to the mid-'80s mold from which School was made.
Four different sound formats are employed for Back to School's Extra-Curricular Edition. Dolby Digital 5.1 and Stereo are offered for the native English language. Each sounds similar, with the 5.1 soundtrack not making much use of the soundfield or feeling especially wider than the default selection. The mix is naturally heavy on dialogue, but there's also one of the first scores by Danny Elfman (who also appears in the film as the lead singer of real-life rock band Oingo Boingo), and it's as pleasant as his musical contributions usually are, though naturally quite a bit lighter. There are no noticeable shortcomings to the basic mix, but English subtitles are provided to fill in any gaps of uncertainty. Foreign tracks are provided in Dolby Surround (French) and two-channel Dolby Mono (Spanish).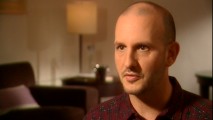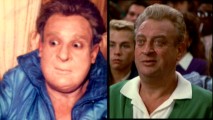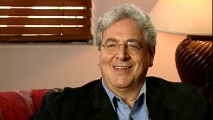 BONUS FEATURES, MENUS and PACKAGING

Most substantial among a modest slate of special features is "School Daze: The Making of Back to School" (17:05), a featurette which supplies new interviews with director Alan Metter; Harold Ramis (one of the film's seven credited writers);

actors Sally Kellerman, Keith Gordon, Burt Young, and William Zabka; producer Chuck Russell; and production designer David L. Snyder. Specific reflections and production stories from both the cast and key crew points of view combine with the obligatory film clips to yield a welcome and fairly insightful look back at the movie and its various personalities.

The six-minute featurette "Dissecting the Triple Lindy" discusses the film's standout diving sequence from concept to execution with prostheses and two stunt doubles (who are both heard from).

"Paying Respect: Remembering Rodney Dangerfield" (10:00) is a decent little retrospective on Back to School's leading man, which provides personal and professional comments from Dangerfield's widow Joan and Easy Money co-star Jeffrey Jones as well as Ramis and other School crew members. While not aspiring to paint a complete portrait, this succinct piece does contain excerpts of Dangerfield's well-known standup act and Easy Money in addition to School.

The last of the original bonus features, "Kurt Vonnegut in Memoriam" (1:10) very briefly recalls the author's participation in the film with clips and comments from producer Russell.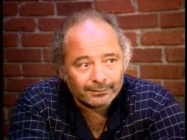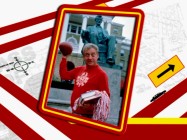 Two promotional package pieces from the time of theatrical release follow. "News Wrap: From Rocky to Rodney" (3:20) sits down with Burt Young to compare Back to School with his work in MGM's blockbuster Rocky series, while "Sports Wrap: Rodney - a Diving Force" (1:30) merely shows the Triple Lindy move with a brief behind-the-scenes set-up.
An underwhelming Photo Gallery houses 18 promotional stills, which it displays one by one at funny angles. Under Trailers and TV Spots, we're gladly treated to Back to School's theatrical trailer (1:35) and three 30-second TV ads for the film. Also found there are trailers for National Lampoon's Van Wilder: The Rise of Taj, Get Shorty: 2-Disc Collector's Edition, and, most appropriately, a Best of the '80s promo for the MGM's films of the decade on DVD.
The disc shows some creativity in its menus, which feature a college campus map layout. The Main Menu employs this theme along with a rotation of highlight clips set to match the location of its animated limousine. Packaged in a predictable cardboard slipcover which largely reproduces the keepcase artwork, the only insert is a double-sided ad for other comedies on MGM DVD.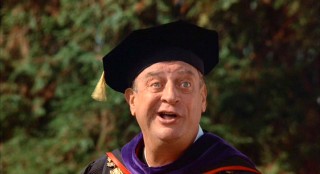 CLOSING THOUGHTS
Rodney Dangerfield fans shouldn't hesitate to add this Extra-Curricular Edition of Back to School to their DVD collections. It's unquestionably the finest release given to what is likely the comedian's finest hour as a leading man of film. But Dangerfield fans aren't the only ones this solid disc will attract; those with a soft spot for '80s comedies and college films will no doubt find much to like here. The DVD isn't perfect and the 40 minutes of extras won't satisfy those craving loads of bonuses or reasonably expecting some deleted scenes. As a movie that viewers are more apt to like than love, however, Back to School's treatment seems appropriate and correctly low-priced. It's also overdue.