In 2000, Winnie the Pooh had existed in print for seventy-five years and in Disney animation for over thirty. With that kind of longevity, it was easy not to notice that The Tigger Movie was a first: the Pooh universe's first all-new feature film released to theaters.

Walt Disney had acquired rights to A.A. Milne's rotund stuffed bear back in 1961. The 25-minute shorts that ensued were among the last animation Walt lived to see made and the second (Winnie the Pooh and the Blustery Day) posthumously earned him his final Academy Award.

Two more such featurettes came and, in between them, a 1977 feature collected and bridged previously-released content. (Though not a hit like previous company highs, The Many Adventures of Winnie the Pooh earned a place in the classic Disney canon and is rightfully well-regarded today.)

From there, Pooh and friends moved to television, supplying The Disney Channel with its earliest original programming in the human puppets of "Welcome to Pooh Corner" and then joining the ranks of Saturday morning cartoons in "The New Adventures of Winnie the Pooh." TV specials and direct-to-video works kept the franchise growing throughout the 1990s, as did a bevy of popular merchandise. Then it was back to the big screen in The Tigger Movie, which opened in February 2000 as the fourth cinematic release of Disney's TV/DTV animation department, later named DisneyToon Studios.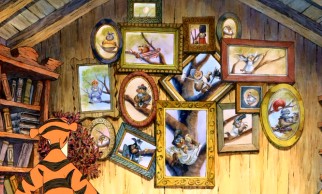 Tigger Movie was a first, but it wouldn't be a last. With a domestic gross of $45 million and a worldwide tally twice that, Tigger earned more than Fantasia 2000 and nearly as much as The Emperor's New Groove at only a fraction of the cost. Those numbers helped bring about Piglet's Big Movie in 2003 and Pooh's Heffalump Movie in 2005.
As the returns dwindled, Disney gave films and even direct-to-video productions a rest, only to reinvent the world in 2007's bright computer-animated Playhouse Disney series "My Friends Tigger & Pooh." There's a definite downward spiral to talk of Disney's Pooh this decade. But it seems neither audience nor owners have cared too much, both accepting the company's prevailing view that this universe is child's play to be aimed at, and appreciated then forgotten by, tots in their few preschool years.
Nine years sometimes falls just short of carrying nostalgia of real weight. But that's all it's taken for Disney to look back on The Tigger Movie and realize they had something special there. First came the news last month that the studio, having put "My Friends" to bed after two seasons, was developing a new hand-drawn animated Pooh film for theatrical release in 2011. Now, this August 4th brings a 2-Disc 10th Anniversary Edition DVD for Tigger Movie.
The milestone is prematurely celebrated; the movie came to DVD exactly nine years earlier. And acknowledging the second disc seems optional; it merely holds a digital copy, which the studio further brands "Disney File", of the film. Still, I appreciate the sentiment because A) The Tigger Movie is far better than you would suspect and B) this is the last theatrical animated Disney film released to DVD in general retail that we have yet to review here on UltimateDisney.com.
The Tigger Movie follows the design established in Many Adventures, opening in the bedroom of a boy (Christopher Robin) and proceeding to tell a tale from one of his storybooks. But before the omniscient Narrator (John Hurt) can turn our attentions to Winnie the Pooh, Tigger objects and demands he get to be front and center for once. And so he is. But his usual playmates -- Pooh, Piglet, Rabbit, et al. -- are either busy or fed up with his bouncing, which sets back winter preparation efforts and wrecks the home of Eeyore.
Soon, the very aspect touted to be "the most wonderful thing about Tiggers" -- that Tigger is the only one -- is reason for discontent. But, between the ramblings of Owl and the encouragement of idolizing young Roo, Tigger becomes convinced that there is a Tigger family tree out there somewhere which holds oodles of fun relatives just like him. Tigger's Hundred Acre Wood neighbors react to this idea with the best of intentions, starting with a search for striped, bouncy creatures. Then they draft a letter and, claiming to be his family, offer some nice general sentiments.
Receiving the note further inflates Tigger's hopes and reading betwixt the lines, he comes to expect an imminent visit. Pooh, Roo, and the others decide dressing up and acting like Tigger is their best bet. When that charade falls apart, Tigger sets off, braving the winter snow in search of the literal tree that must house his kind.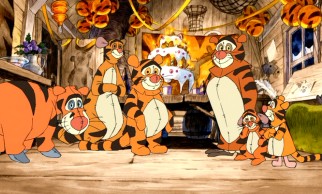 The Tigger Movie does right in just about every creative decision it makes. Its appealing world is instantly familiar from the Disney animation that's preceded it. And yet you'll notice the visuals are smoother and more polished than ever before. Even computer animation, something that seems so in contrast to the film's simple, artful 2-D, is tactfully integrated in scenes of snow and honeybees.

The vocal cast is spot-on, most having settled into the parts in TV and videos. The story maintains a style that's true to Milne's world. Misunderstandings and wordplay produces smiles in appreciative older viewers, while younger audiences will more vocally enjoy the broad personalities and physical comedy.

The film is a musical and not in the let's-sell-soundtracks and get-famous-names manner of many contemporaries. Songs advance the plot in catchy, rhythmic ways. If they somehow remind you of famous ditties from Disney's past, there is a good reason. Legendary songwriting siblings Richard and Robert Sherman reunited to compose five original numbers and co-write the nice Kenny Loggins-performed end credits theme. Although the Shermans hadn't regularly worked in film for a couple of decades, they return to the fray without missing a beat. Their new creations sound every bit as timeless, if not as instantly memorable, as the tunes they wrote for the parts of Many Adventures.

Ultimately, the film stays true to Disney's classic Pooh tales with a bit of the spunk and imagination of the fine '80s/'90s Saturday morning cartoon. It's also about as respectful of Milne's work as an Americanization could be. (In a neat touch, E.H. Shepard illustrations accompany the end credits scroll.) And though it may be too tame, slight, and folksy for the general public to embrace heartily, it satisfies in a pleasant low-key way.

I'm surprised that the movie's success (creatively more than financially) hasn't led to writer/director Jun Falkenstein getting more prominent work. In the years since, she's returned to storyboarding on Mulan II and little-known TV cartoons. Apparently, she was also in the helm of 2006's Curious George (seemingly a perfect fit) but backed out over a script that subsequently wasn't used. Her guidance probably would have improved the two Pooh films that followed Tigger to theaters.
DVD Details

1.66:1 Anamorphic Widescreen
Dolby Digital 5.1 (English, French, Spanish, Portuguese)
Subtitles: English for Hearing Impaired, French, Spanish
Closed Captioned; Most Extras Subtitled
Release Date: August 4, 2009
Two single-sided discs (1 DVD-9 & 1 DVD-5 DVD-ROM)
Suggested Retail Price: $29.99
White Keepcase in Embossed Cardboard Slipcover
VIDEO and AUDIO
As on its first DVD, The Tigger Movie appears in 1.66:1 anamorphic widescreen and Dolby Digital 5.1 sound. Both are extremely satisfactory. Aesthetically, the movie seems to represent an artistic apex for the franchise and the spotless transfer really shows off the vibrant, natural animation. The open soundtrack utilizes all the channels, supplying atmosphere and directionality as the film calls for them. I did a few A/B comparisons on the two DVD versions. I noticed no difference in the terrific video (although the earlier DVD's average bit rate is quite a bit higher), but the audio mix seemed to be amplified for a fuller, slightly more engulfing sound. The film can also be viewed in French, Spanish, and, though the case doesn't mention it, Portuguese.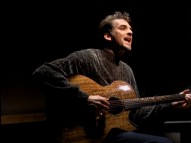 BONUS FEATURES, MENUS and PACKAGING
The contents of this new release illustrate that no real effort has been made to revisit the film. The only new bonus features are 19-20-year-old cartoon episodes and a digital copy of the movie. Everything else comes from the original DVD. Gladly, save for the things that have been updated (menus, promotional trailers, and the sing-along clip), nothing on the old disc has been dropped.
In his music video for "Your Heart Will Lead You Home" (4:48), Kenny Loggins enters a darkened, empty recording studio and, inspired by a short clip of the film, strums out this heartwarming song. We volley between clips of the sweatered, salt-and-pepper-goateed Loggins and silent scenes from the movie.
A sing-along song for "Round My Family Tree" (2:38) presents the visually imaginative musical sequence from the film with plain italicized subtitles providing lyrics. The feature had more worth on the old DVD, where as a product of Disney's Sing-Along videos, it included colorful, animated lyrics, Tigger's introductory narration, and a less abrupt end.
The first of four items in the Games & Activities section is a Tigger Movie Trivia Game. What renders this far better than similar quizzes is that when you answer all 16 questions correctly, you're treated to a video prize. Running 90 seconds, the clip is a short but informative lesson on Pooh's origins and author A.A. Milne.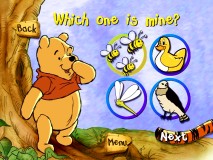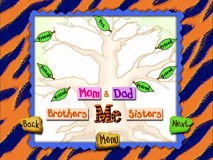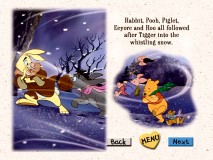 The "Thingamajigger Matching Game" asks you to pick the object that goes with the character. Eighteen such multiple choice challenges are conducted over three rounds of six characters. The last round does require literacy or a parent. Right answers are aptly rewarded with short clips.
"Round Your Family Tree" guides you through the process of creating a genealogy for your clan. It's a good idea for a worthwhile project.
The Tigger Movie DVD Storybook lets you re-experience the film in virtual book form. Once a Disney DVD staple but now long retired, this feature lets you navigate the 32 pages on your own or have it read to you with some sound effects and animated page turns in a nearly 8-minute video.
Next up are the DVD's most exciting additions, two episodes of Emmy-winning "The New Adventures of Winnie the Pooh." One disappointment becomes clear immediately; the aspect of the show most likely to be remembered by viewers -- the theme tune and title sequence montage -- is not included. End credits are preserved for each installment (on the first, they're extended to cover three other non-featured episodes), however, and the episodes also offer a Spanish language dub. As you'd expect, picture quality exhibits some wear and tear.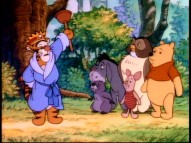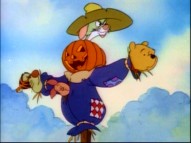 Upon learning that he's related to the king of the jungle, Tigger becomes the Hundred Acre Wood's monarch in Season 2 premiere "King of the Beasties" (11:40).

He rings in change with royal proclamations, but the reason for his rise (courage towards "jagulars") soon becomes the cause of his undoing. This one ties in nicely with the movie's relatives theme.

From 1990's Season 3, "Tigger's Houseguest" (10:39) tells of a tiny new friend Tigger makes that those around him believe to be imaginary. Might it have anything to do with the termite suspected of wreaking havoc on everyone's homes?

Finally, by some modern miracle, we get a Tigger Movie theatrical trailer (1:55), which is largely just a look at Tigger and Roo's Whoop-De-Dooper Loop-De-Looper Ali-Ooper Bounce as opposed to the standard preview that sampled Third Eye Blind's "Semi-Charmed Life."

The FastPlay-enhanced disc loads with trailers for Snow White and the Seven Dwarfs, Ponyo, Mickey Mouse Clubhouse: Mickey's Adventures in Wonderland, My Friends Tigger & Pooh: Tigger & Pooh and a Musical Too, and Disney Movie Rewards. The menu adds promos for Tinker Bell and the Lost Treasure, Little Einsteins: Flight of the Instrument Fairies, "Handy Manny", and The Princess and the Frog.

The new menus are adorned by pictures of characters and the Hundred Acre Wood in autumn. The ones you're most likely to visit boast some nice animation and all are accompanied by pleasing excerpts of Harry Gregson-Williams' score.

As mentioned earlier, all that Disc 2 holds is a digital copy of the movie. Really? There has been clamor to watch The Tigger Movie on computers and iPods? It really seems a bit wasteful to devote a disc to a feature most won't use and which expires in less than a year. Especially since Disney has, for whatever reason, repeatedly pared down planned two-disc sets to single-disc ones. Alas, for the Tigger Movie fan on the go for whom a DVD is just too bulky to transport, there you are, in your choice of WMV and iTunes formats.

The Tigger Movie's original DVD predated Disney's long love affair with the cardboard slipcover (alias O-Sleeve). This release rectifies that, with an embossed cover whose reflective gold foil border matches those on other recent digital copy-equipped Disney Deluxe Edition DVDs. Inside the case, a booklet provides your combination Disney Movie Rewards/Disney File activation code with instructions. A smaller insert advertises Kenny Loggins' new Disney album. No chapter listing is offered and, as usual, Disney reserves color for the digital copy disc, leaving the actual DVD a boring gray.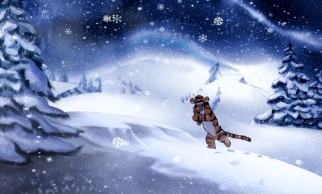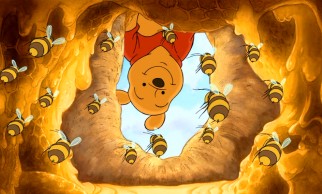 CLOSING THOUGHTS

This 10th Anniversary Edition of The Tigger Movie hardly sets an exciting precedent for other theatrically-released DisneyToon Studio features to get revisited. It returns to stores with a list price $10 above the price-dropped original release and adding only two "New Adventures" episodes and a digital copy.

Most will consider the episodes more cause for excitement than the portable copy, but even those could have been better presented. At least everything from the original DVD is retained (save for the superior sing-along), which means that if you wanted to own the movie, this is your best and now easiest bet.

And, though it might come as a surprise to you, The Tigger Movie is a winning movie that's well worth owning. In Disney's vast Pooh canon, only the original featurettes (bundled and fortified in The Many Adventures) and some of the "New Adventures" are better. This sweet, fun outing wins over all ages while staying true to the spirit of Milne's work as filtered through Disney animation. While I can't advocate spending $20 to rebuy this movie, this fine package is worth picking up for those who don't already own it.