David Lean was no stranger to epic films when he made Doctor Zhivago. The British director had recently helmed Lawrence of Arabia and not long before that, The Bridge on the River Kwai. Both of those widescreen dramas won the Oscar for Best Picture. Zhivago, adapted from Boris Pasternak's Nobel Prize-winning novel of the same name, was expected to follow suit in 1965. Though blocked from publication in his homeland of Russia, Pasternak's historical novel became a critically-lauded best-seller around the globe. Who better to film such a sweeping, grand-scale epic than the accomplished Lean?
Zhivago opens sometime around 1940. From the hordes of labor camp women working on a dam project, one is called in for a meeting with General Yevgraf Zhivago (Lean favorite Alec Guinness). Zhivago believes the young woman, Tonya (Rita Tushingham), may be his niece. While the girl doubts that, Yevgraf explains the significance of her possible ancestry, telling her the story of his half-brother, Yuri Andreyevich Zhivago.
Orphaned at a young age, Yuri is taken in by a family that knew his mother. We don't get to see Yuri's childhood, instead skipping to him grown into an adult (played by the mustachioed Omar Sharif). The educated young man is a poet and a newly-made general practitioner.

There seems to be little doubt as to Yuri's romantic future, since he is of comparable age to Tonya Gromeko (Geraldine Chaplin, daughter of Charlie), his adoptive family's daughter. When Tonya returns home from school, she and Yuri seem happy to fulfill their destiny.

But, there is another young woman whose life is shown in detail. Her name is Larissa (Lara for short) and she (Julie Christie) assists her dressmaker mother. Lara is a dear friend to Pasha (Tom Courtenay), a benign young activist advocating change. Though Lara is engaged to Pasha, she finds another man in her life in Victor Komarovsky (Rod Steiger), her family's wealthy advisor since her father's death. Komarovsky doesn't approve of a Lara-Pasha union and to prove it, he rapes her. In return, she shoots him at a Christmas party, but the act results in neither death nor punishment.

From here, the film relocates its character drama to the Eastern Front of World War I. Having crossed paths briefly but meaningfully twice before, Yuri and Lara find themselves working together as doctor and nurse on the many wounded in the war. They develop a friendship, but, despite a burst of temptation, nothing greater.
Yuri returns to Moscow and is immediately greeted by the changes the war has produced. His comfortable home is now being shared with thirteen other families. Fuel and food are in short supply. Possessions are claimed by the stern on-site government officials to whom Zhivago must answer. With help from his half-brother, the aforementioned Cheka officer Yevgraf, Yuri and Tonya take their young son Sasha (Jeffrey Rockland) and Tonya's retired father (Ralph Richardson) on a train, hoping to escape the urban hardship. The family heads for the countryside in the Ural Mountains. While surprised to find Varykino, the Gromeko estate, locked and boarded up by the state, the four make do with the small cottage nearby.
Life in the mountains is simple and calm, perhaps too calm for Yuri. One spring day, he rides into town and finds Lara working there as a librarian. Lara too has a young child, although her husband is out of picture, consumed with leading the communist revolution. Despite their respective baggage, Yuri and Lara consummate their mutual attraction. They continue to meet adulterously, even with Tonya expecting a second child. On one of his trips between women, Yuri is seized and forced into using his medical talents to serve the communist effort.
Years pass without Yuri being discharged and when he deserts the army, he does so as a frail, frozen man whose humanity is wasting away. In the perilous snow drifts, Yuri finds not his family but his mistress Lara, who helps him rekindle his passions.
On paper, Doctor Zhivago doesn't sound like the most compelling of films, at least not for anyone uninterested in the Russian Revolution. But David Lean's epic films are celebrated for putting human faces on immense canvases and this one does that while taking on more of a romantic leaning.
Like even the grandest of film epics, Zhivago has a narrow focus, allowing it to be more substantive than it otherwise would be. There are scenes gathering hundreds of protestors, soldiers, workers, and others where it seems an entire forest is in frame and in focus. Such sights pack more of a visual punch than most of the controlled soundstage shoots that Hollywood often relied on in its first few decades of feature filmmaking.
Belonging to really the last stretch of this kind of roadshow epic, Zhivago is marked by evidence of changing times with its edgier subject matter (the MPAA rated it PG-13 in 1995) and progressive styles. Things we take for granted in today's films, like fancy mobile camera work and snappy editing, can be readily found here, without undermining the film and its director's distinctly classical sensibilities.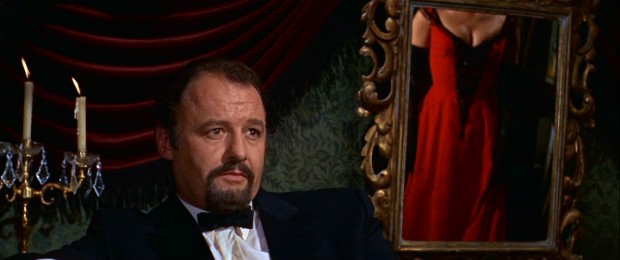 As ambitious as the film seems in some ways (its well over 3-hour runtime, counting overture and intermission, is a given and still a good 20 minutes shy of Lawrence's), there is a lot that Doctor Zhivago doesn't do. Such as linger on the few characters who really take shape. Title aside, it is a while before we recognize Yuri as the protagonist, for the film is quick to spend time establishing Lara and her beauty as the central elements. For that matter, we never get a clear sense of anyone, even Yuri. He's told to be an inspirational poet, but we hear not one of his verses. There are a few glimpses of his medical work, but the focus is never on his prowess. Even his conscientiousness and compassion are more implicit, as he resists the comrades' methods quite passively. Other characters don't even enjoy that much, some major ones disappearing without closure or notice.
I struggle to recognize what is pulling time and attention away from this seemingly critical character development. It really isn't the politics in play, which remain vague for those unversed in the history. Certainly, this is no celebration of communism, but nor is it a fierce condemnation of the structure as much as the methods by which it took flight. Terms like Bolshevik and White Army are dispensed without much clarity. Original audiences may have needed less explanation and I'm probably deficient in my knowledge of early 20th century USSR. At the same time, it seems like Lean's film only has so much interest in the anarchy and policy burdening Zhivago.
Does the film have greater interest in something else? Perhaps Yuri and Lara's affair. While it plays out quite briefly, its air lingers over the entire proceedings. The romance is certainly felt more than seen and when depicted, it is not with much of a critical eye. Lara's beauty seems to clear the ever-sympathetic Yuri of any wrongdoing, no matter how severe. The couple's codependency emerges as the film's strongest force.
Even as I hesitate to latch onto any single aspect of Doctor Zhivago that displays supreme proficiency, the whole is difficult not to like. Lean's film is remarkably engaging and perhaps most successful at evoking. The sights (like a climactic ice palace or a dying foreground sunflower) and sounds (chiefly, Maurice Jarre's balalaika-driven, Oscar-winning, hit-producing score) ensure that complex and compelling moods are felt throughout.

Rather than substituting for story and interaction (as sensorily engaging but superficial cinema sometimes does), such moods greatly complement the content they accompany, creating a not entirely vicarious journey through time and space that the viewer appreciates.

Zhivago's earliest audiences appreciated that journey, making it one of the highest-grossing films ever. Adjusted for theaters' steep ticket price inflation, this film apparently ranks eighth on the all-time list. Of the seven in front, only three predate it. Unfortunately for Zhivago, one of those three is The Sound of Music, whose more phenomenal earnings began accruing just nine months earlier.

That Rodgers and Hammerstein musical was not forgotten by the Academy of Motion Pictures Arts and Sciences, who awarded it Best Picture and Best Director over its perceived leading competitor, which strategically opened just days before Christmas. Though Sound of Music took home top honors, Zhivago ended up claiming the same number of Oscars, five in total, winning for adapted screenplay, costume design, cinematography, art decoration, and original score. In contrast to Lean's two prior epics (which had each earned lead and supporting acting nominations), Zhivago's only recognized cast member was supporting player Tom Courtenay, who wound up losing to A Thousand Clowns' Martin Balsam. Julie Christie did beat out Julie Andrews for the Best Leading Actress Oscar (preventing a feasible Andrews repeat), but that was for her performance in the smaller film Darling. Zhivago fared better at the Golden Globes, where it won Best Drama, Best Actor in a Drama (Omar Sharif), Best Director, Best Screenplay, and Best Score.

Doctor Zhivago took some time to turn up on DVD, finally arriving on the format in November 2001. As a result, its debut was a fine one, belonging to the esteemed class of Two-Disc Special Editions that Warner had recently introduced. This re-release, dubbed an Anniversary Edition (commemorating the film's 45th), is therefore acceptably comparable to the earlier one, down to supplying a double-sided feature presentation disc and a single-sided disc of extras. Since that original DVD went out of print some time ago, this one serves a real need.
DVD Details

2.35:1 Anamorphic Widescreen
Dolby Digital 5.1 (English, French), Dolby Stereo 2.0 (Spanish)
Subtitles: English for Hearing Impaired, French, Spanish
Not Closed Captioned; Extras Not Captioned or Subtitled
Release Date: May 4, 2010
Two discs (1 DVD-18 & 1 DVD-5)
Suggested Retail Price: $24.98
Black Keepcase with Cardboard Slipcover
Also available on Blu-ray Disc with Book and CD
and for rental and purchase On Demand
VIDEO and AUDIO
Although Doctor Zhivago was reportedly shown in the 2.20:1 aspect ratio in 70mm exhibitions, the DVD presents the film in its more widely used 2.35:1. As before, it is enhanced for 16:9 televisions. In comparing this DVD presentation to the 2001 one, I did not spot a world of difference. The newer transfer looks slightly sharper and grainier. A tiny bit wider than the old transfer (about seven pixels), the new presentation actually gains a small amount of picture on the sides and loses a pixel or two of height. Colors seem perhaps a touch richer on the new transfer. All things considered, I'm not sure that I preferred the new transfer over the older one. The differences are so minor that giving it much thought is futile (especially with a Blu-ray available).
One thing I did notice was that, Act II at least seemed more compressed than before. One might reasonably guess that this is the result of Side B gaining 40 minutes of supplemental video, but that ignores the fact that the new Disc 1 is a DVD-18 (dual-layered on both sides), whereas the old Disc 1 was a DVD-14 (devoting two layers to Act I and just one for Act II). The new Side B actually uses considerably more space (6.77 GB) than the earlier one (3.94 GB). While I wasn't able to get an average bitrate reading on Side B, Act I boasted a substantial increase (7.8 Mb/sec on new, 6.66 Mb/sec on old). But the difference in numbers doesn't accurately convey the minor disparity my eyes perceived.
| | |
| --- | --- |
| | |
| Screencap from Doctor Zhivago's 2001 SE DVD | Screencap from 2010's Anniversary Edition DVD |
Doctor Zhivago
's new DVD gains a little picture width, but offers a similar presentation to the satisfactory 2001 DVD.
Though I'm not convinced the new transfer is better (there were a few too many compression artifacts), you can't go wrong with either edition. The visuals are highly pleasing. A couple of shots seem overly grainy, but most are quite wonderfully clean and solid, enabling you to really appreciate the top-notch compositions and cinematography. While this isn't exactly the Golden Era of Hollywood, the film looks quite terrific for its ample age and seeing the poorly-aged cropped fullscreen clips in the Disc 2 documentary underscores the high quality of the feature presentation.
While I'm admittedly no audiophile, I could detect no difference between the Dolby Digital 5.1 soundtracks of the film's two DVD releases. Both were highly and equally satisfactory, particularly in their presentation of Maurice Jarre's prominent, distinctive score. Par for David Lean, there are also some potent sound effects, like rumbling trains and cavalry charges. New to this set is a Spanish dub in plain stereo, which joins a French 5.1 track. Sadly, this set drops the closed captioning of the former release, but then, most (myself included) prefer English subtitles and every line is clear enough not to have to check this out unless you're hard of hearing.
BONUS FEATURES, MENUS and PACKAGING

The DVD's one new bonus feature is "Doctor Zhivago: A Celebration", found on Side B of Disc 1. This new documentary gathers insights from a number of fairly famous modern filmmakers,

among them Spielberg producer Kathleen Kennedy, Ray director Taylor Hackford, Big writer Gary Ross, and even-numbered Star Trek movie director Nicholas Meyer. They have all at least one thing in common: they admire Doctor Zhivago considerably. The interview subjects, which also include Lean biographer Stephen M. Silverman, lavish praise upon the film and its makers. Presumably to get around some runtime legal issue, the piece is needlessly split into two acts. "Act One" (23:50) finds the speakers singling out the actors and characters, standout scenes, symbolism, and, above all else, David Lean and his economy of storytelling. "Act Two" (16:12) basically continues that format, touching upon the look and politics, and wrapping up with consideration of the film's initial reception and enduring legacy. It's a fine supplement which lives up to its title and echoes the sentiments that the film's fans hold.

For more of an insider's perspective on the film, we get the 2001 DVD's audio commentary. This features Omar Sharif and Lady Sandra Lean (nιe Cooke), the director's widow, recorded together, with the late Rod Steiger also chiming in on his own. Sharif and Steiger both repeat a number of the stories they share in Disc 2's documentary. Despite having two sessions to pool from, we still get plenty of dead air on the track, including the overture and intermission. Perhaps that is inevitable on a film of this age and length. We do get some juicy tales and interesting remarks regarding the casting of parts and Lean's methods and manners. Sharif repeatedly compares the film to Gone With the Wind and good-humored Steiger defends his character's valor to the end. While not the most essential or engaging track, there is enough here to merit a listen, although you might get more in less time from the set's two main documentaries.

Save for the updated label art, Disc 2 is identical to the previous DVD's second disc. Its extras begin with a Cast & Crew section. While you rarely see these and other text features on today's new DVDs, I find them welcome, especially on older films whose information isn't instantly dated. Disappointingly, we only get incomplete (and un-updated) filmographies and not biographies of seven cast members and director David Lean. But, five of the credits lists are bolstered by microphone graphics leading to unadvertised short audio clips of the page subject talking about Zhivago. The clip from Steiger's page, a radio broadcast on the premiere, runs several minutes and features a number of the actors.
The disc's central supplement is the documentary "Doctor Zhivago: The Making of a Russian Epic" (1:00:24), a program created for the film's 30th anniversary laserdisc in 1995. It is hosted and narrated by Omar Sharif, one of many relevant people interviewed here. Others include Geraldine Chaplin, Rod Steiger, screenwriter Robert Bolt, production designer John Box, composer Maurice Jarre, and costume designer Phyllis Dalton. This show offers a pretty thorough overview of this large $15 million production, starting with author Boris Pasternak, whose real-life Lara (mistress Olga Ivinskaya) is interviewed. It proceeds to discuss just about every facet of filming, devoting much attention to David Lean's craft and creating different seasons and scenes in Spain. You can tell that this program predates the DVD age, when such retrospectives became commonplace.
But, that's not necessarily a bad thing, since the less expected effort is easily appreciated. The program makes liberal use of vintage shorts and promotional footage that you gladly find elsewhere on this bonus disc.

A quartet of relevant, forgivably promotional short films from 1965 follow. Zhivago: Behind the Camera with David Lean (10:12) gives us one of the first accounts of production, touching upon the source, the screenplay, casting, sets, and crew. The piece complements its B-roll set footage with hyperbolic narration and some comments from the director.

David Lean's Film of Doctor Zhivago (7:12) discusses the book's unusual path to publication and then spells out the film's story.

Essentially a condensed version of Behind the Camera, Moscow in Madrid (4:25) talks up Lean and his cast members, while only briefly showing us some of the production footage the title suggests.

Pasternak (8:49) offers a brief biography of Doctor Zhivago's author. It begins with his refusal of the Nobel Prize he won, proceeds to tell of his life leading up to it, and ends with a promotional discussion and preview of the film.
Next, we get a fascinating collection of New York Press Interviews conducted over chatter in advance of Doctor Zhivago's much-anticipated premiere. Julie Christie (10:07) smokes and sips tea while questioned by three reporters about her career aspirations, her holiday plans, her expectations for the film, and her view of New York. (She dodges talking about her then-boyfriend artist Don Bessant.)
Four journalists take turns talking to Omar Sharif (18:50), asking him about seeing the film put together, his global experiences, finding suitably wintry European filming locations, and the (since realized) possibility that this could be his peak as an actor.
Geraldine Chaplin's screen test (3:14) finds the actress reading a letter and responding to it, much like she does in the final film.
Four vintage black and white shorts promote the film and its cast members. Despite their titles, "This is Julie Christie" (1:05), "This is Geraldine Chaplin" (1:08), and "This is Omar Sharif" (1:38) pay more attention to Zhivago than its stars. "Chaplin in New York" (2:14) provides more of a profile of Ms. Chaplin, who a narrator talks up as we see her modeling for photographs.
The lengthy Original General Release Trailer (3:40) takes time to credit actors and describe their parts while expounding upon the film's epicness (and overstating its Academy Award victories).
Finally, "Awards" gives us three pages accurately listing the five Oscar and five Golden Globe honors the film won.
While retaining the audio commentary and adding the new retrospective, this Anniversary Edition does drop the other bonus features found on the previous DVD's Disc One. That means we lose the music-only soundtrack that presented Maurice Jarre's bold score alone in 5.1. Sadly, isolated scores have become quite scarce in recent years, presumably due to piracy concerns. The DVD also drops the former set's Omar Sharif introduction (recorded for the laserdisc), a nice but nonessential 99-second clip that automatically preceded playback in addition to claiming a menu spot.
Per Warner's present standards, both DVDs are equipped with still menu screens, only the main/first page of which is scored. The Anniversary Edition's more modern cover artwork is repeated in an obligatory cardboard slipcover. There are no inserts.
CLOSING THOUGHTS

Doctor Zhivago is neither as dry as you might fear nor as lively as you might hope. Made in a similar fashion to David Lean's two earlier Best Pictures, this epic is perceived as a slightly lesser masterpiece. But it is easy to appreciate as an appealing product of a transitional era in cinema, when old-fashioned ambition gave way to modern styles and realism.

While you can find some faults in the film's storytelling and characterization, the presentation remains largely winning, its sights and sounds sticking with you for a long time to come.

For those who own the film's original DVD release, Warner's Anniversary Edition may produce less excitement than the concurrent Blu-ray debut (which includes a book and CD soundtrack sampler). But this is still one fine set and easily recommended to fans who never got around to picking up the 2001 Special Edition.

The new DVD drops a couple of small things from the previous one (more notably, the isolated score) and adds a sufficient admiration piece. Those disappointed that Warner couldn't make the film fit on a single-sided disc (as Paramount was able to for the equally long The Godfather Part II) may be glad to know that the Blu-ray does. I'm more bothered that the surviving talent wasn't reunited for a new retrospective and even that seems like a nitpick in light of the gladly retained 1995 documentary and 2001 commentary.

If you have never seen Doctor Zhivago, do, along with David Lean's other triumphs.

More on the DVD / Buy from Amazon.com / Buy on Blu-ray / Buy On Demand / Buy Original DVD