It is sort of bizarre to think that the summer blockbuster only dates back to 1975. Summer vacation for schools in America began in the 1840s. Movie theaters were a popular destination all the way back in the 1920s.

Somehow though, the movie industry didn't quite recognize a link between those two facts until Jaws, the hit movie credited with popularizing the word "blockbuster" and giving birth to a cultural phenomenon still extremely fashionable. There had been big movies before that had amassed huge revenues (Gone with the Wind, The Ten Commandments, etc.), but Jaws was somehow different, a film with enormous appeal to viewers of all ages that would dominate the box office and conversations all summer long and well beyond that.

Based on Peter Benchley's bestselling 1973 novel, Jaws tells the story of an unusually eventful July on New England's Amity Island. The film unforgettably opens with two teenagers going for a playful nighttime swim. The boy (Jonathan Filley), drunk, doesn't make it into the water far. The girl (Susan Backlinie), nude, does and becomes both the first victim of a killer shark and the subject of one of Hollywood's most iconic movie posters.
Upon discovering young Chrissie's partly devoured remains, police chief Martin Brody (Roy Scheider) instinctually responds by closing the beach. That decision does not sit well with Mayor Larry Vaughn (Murray Hamilton). Well aware of the season's economic importance to the beach town, Vaughn declares the death the product of a boating accident. Shortly thereafter, it isn't a boat that ends the life of another swimmer, this one a young boy. By now, Chief Brody recognizes Amity has a deadly serious shark problem, but he still faces resistance that limits his power to act.
Brody proposes a potential solution, which eventually Vaughn signs off on. Salty legendary local fisherman Quint (Robert Shaw) agrees to find and kill the giant Great White believed responsible for the deaths, for a quoted rate of $10,000, well above the $3,000 bounty the dead boy's mother has offered. Water-fearing New York City transplant Brody joins Quint on the mission, as does wealthy mainland oceanographer Matt Hooper (Richard Dreyfuss).
Nearly the film's entire second hour takes place aboard Quint's vessel, the Orca, where these three disparate men use their resources to rid the community of its panic-inducing threat.
Few movies have had anywhere near the impact of Jaws. Nearly forty years later, filmmakers continue to try to make quality all-audience blockbusters, which are almost always released close to the anniversary of Jaws' June 20th opening. To have restructured the industry, with a good deal of help from Star Wars (which reinforced the notion of a summer event movie on an even greater scale two years later), is nothing short of monumental. But consider the effect Jaws has had on sharks.

This movie single-handedly gave sharks the reputation of a bloodthirsty predator, one virtually indestructible and of potential danger to even shallow salt water. Not that Benchley's book and this film were completely far-fetched. In 1916, along the coast of New Jersey, four people were killed and one injured by sharks over the first twelve July days.

The affected region stretched more than half of the entire state's coastline, but still panic and a media flurry followed. Statistics show that on average, only around four people die each year from unprovoked shark attack. And only four of the more than 360 shark species have been credited with unprovoked human fatalities. And yet, we all seem to harbor some fear of sharks.

Credit for that must go to effective storytelling and exquisite filmmaking. The latter is the work of director Steven Spielberg, a 27-year-old who had cut his teeth on television and made his theatrical debut a year earlier on a little crime drama called The Sugarland Express. Jaws established Spielberg as a filmmaker of great skill and imagination, an artist whose work had tremendous commercial value. Clearly, this was no fluke. By the early 1980s, he had already surpassed Jaws' astounding returns with E.T., in between them captivating audiences with the exhilarating adventures Close Encounters of the Third Kind and Raiders of the Lost Ark. You can argue that there are directors working today who are better than Spielberg. What you cannot claim is that any director has had anywhere near the same level of success at making exciting, profitable crowd-pleasers.

Spielberg's reputation extends as far back as most of us can remember. It's at least twenty years too late for anyone drop his name as a filmmaker reference without feeling like a clichι. And yet, it seems to be easily forgotten or taken for granted that the director's success has been very well earned. Sure, Roland Emmerich can gross several hundreds of millions of dollars for a big budget alien invasion or doomsday film. Michael Bay can do the same with a franchise built on clanging metal giants. But neither of them nor many other qualified tentpole filmmakers can make a hit movie that also resonates profoundly on some deeply human level. Ticket sales weren't the reason that Spielberg had already directed three Academy Award nominees for Best Picture before even making a film that remotely fit an awards bait mold.

Made without any consideration of major accolades, Jaws is Spielberg at his very best and therefore cinema at its very best. This isn't just the first modern blockbuster. It remains one of the greatest films of its kind. The man vs. monster plot is not that remarkable when you consider how many stupid films also use it. But this is basically the definitive take on that material: a suspenseful tale pitting three compelling individuals against the terrifying unknown and its element. The film wisely keeps the shark unknown for as long as it possibly can, showing us little more than what those nervously watching from the sand might see. The restraint is critical and not merely because there isn't a shark to perform on cue. By the time we get our first clear look at the 25-foot fish, an unexpected jolt in a scene not set up for one, it is already the stuff of legend: an elusive, calculating, cold-blooded killer of women and children.
While many killer creature flicks suffer from clumsy exposition and underwhelming acting, this subgenre granddaddy is not among them. There isn't moment in this film you question or a creative decision you think could have been improved. Spielberg and the screenplay by Benchley and Carl Gottlieb allow these events to unfold in a way that maximizes our interest level.
It also helps to have three first class actors taking the lion's share of the never wasted dialogue. Englishman Shaw was the veteran, having appeared in such films as the Best Picture Oscar winners A Man for All Seasons and The Sting. He steals scenes with his flavorful, mutton-chopped shark hunter, arresting us with a somewhat unexpected and yet undeniably powerful monologue regarding the sinking of the USS Indianapolis (a monologue with which IMDb credits the actor and two others). It's a delightful performance deserving of real recognition, which it didn't get at the time. Sadly, a heart attack would take Shaw's life just three years later at the young age of 51. In the lead role, Scheider is one of those natural actors whom it's easy to take for granted. Close examination, however, reveals he does an incredible job of contributing atmosphere and tension. Dreyfuss, the young'un of the bunch at age 26 (just two years removed from playing a high school graduate in American Graffiti, yet already with gray streaks in his beard), adds something special and funny to the dynamic, excitedly and authoritatively voicing a number of thoughts the audience probably holds.
Some take issue with Jaws over the hydraulic shark of the climax looking fake. It's not an unfounded complaint, but it's not one that holds much weight. The film so excels that the shark is a fully realized character before we even see its eyes. If you are bothered by the mechanics, you probably haven't done your best to give the movie an open-minded viewing. (If you want a really fake shark, check out the cheap CGI of modern Syfy original movies.) Admittedly, that may be tough to do for the first time now, after being exposed to some of the countless parodies set to John Williams' theme music (or some variation on that). But I find that this is one of the rare movies to meet and even exceed the wildest of expectations. Much has changed in the world of film over the past thirty-seven years, but Jaws has withstood progress impeccably with its reliance on things that never go out of style: storytelling, characters, and suspense.
With another potent summer movie season winding down, Universal brings Jaws to Blu-ray this week as part of their 100th Anniversary campaign in a two-disc Blu-ray + DVD combo that also includes a downloadable digital copy and UltraViolet stream.
Blu-ray Disc Details

2.35:1 Widescreen (DVD Anamorphic)
Blu-ray: 7.1 DTS-HD MA (English), 5.1 DTS (French, Spanish), 2.0 DTS Mono (English)
DVD: Dolby Digital 5.1 (English, French, Spanish), Dolby 2.0 Mono (English) Subtitles: English for Hearing Impaired, French, Spanish
Not Closed Captioned; Extras Subtitled
Release Date: August 14, 2012 / Suggested Retail Price: $29.98
Two single-sided, dual-layered discs (BD-50 & DVD-9)
Blue Keepcase in Book-Like Cardboard Slipcover
Also available as New 1-Disc DVD ($19.98 SRP) and Amazon Instant Video
Previously released as Anniversary Collector's Edition DVD (July 11, 2000) and 2-Disc 30th Anniversary Edition DVD (June 14, 2005)
VIDEO and AUDIO
Jaws looks nothing short of stunning on Blu-ray Disc. It's tough to believe a movie so old can look so good. For the most part, this 2.35:1 transfer is sharp, vibrant, and immaculate. Some scenes are slightly less striking, but none are less than terrific. English soundtracks are offered in 7.1 DTS-HD master audio and a more faithful 2.0 DTS mono. I listened to the default former and was pleased with the results. There's only so much you can expect in a remix of a film originally made in mono, but this does a nice job of spacing out the elements, adding occasional directionality and other effects. It's nice for the Oscar-winning original mono track to be there as well for the audio purists, as it wasn't on the film's original DVD.
BONUS FEATURES, MENUS, PACKAGING and DESIGN
Jaws upholds Steven Spielberg's no audio commentary policy, but still manages to deliver one of the most loaded Blu-ray Discs you've ever seen. All extras appear in standard definition unless otherwise noted.
The extras begin with a reel of deleted scenes and outtakes (13:33), presented pillarboxed within a 1.78:1 frame. We don't often see deleted scenes from films this old, which adds some interest and the moments depicted are intriguing as well. There are thirteen deleted scenes plus outtakes from three scenes. The highlight: Quint singing along with a young flautist playing "Ode to Joy."
Next up comes the complete edit of "The Making of Jaws" (2:02:48), Laurent Bouzereau's feature-length documentary created for the film's 20th anniversary laserdisc in 1995. You can tell this predates the DVD era; it's a little stagnant and flabby, relying a bit heavily on talking heads. Still, fans balked when it was condensed to an hour for the film's first DVD. Those talking heads include Steven Spielberg, author/screenwriter Peter Benchley, screenwriter Carl Gottlieb, producers Richard Zanuck and David Brown, Richard Dreyfuss, Roy Scheider, Lorraine Gary, actress Susan Backlinie, and composer John Williams, among others. They discuss casting, unrealized plans (such as an idea to introduce Quint laughing at a screening of Gregory Peck's Moby Dick), and the filming of many sequences. It's chockfull of great information, but that information isn't presented in the most captivating way.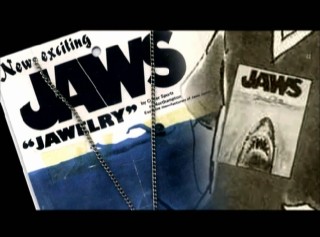 A newer feature-length, fan-made retrospective follows in the "The Shark Is Still Working: The Impact & Legacy of Jaws" (1:41:21). This previously unreleased documentary carries a 2012 copyright date, but appears to have primarily been produced around 2005. That explains the participation of deceased personnel and, to some degree, the letterboxed 1.78:1 presentation that a disclaimer defends.

This dynamite supplement interviews virtually everyone alive (as of 2005-ish) with a significant connection to the film. That includes Spielberg, Benchley, Gottlieb, producers Zanuck and Brown, Dreyfuss, Scheider (who also narrates), Williams, Gary, and nearly anyone else with a speaking part.

This covers a lot of fascinating ground you wouldn't necessarily expect. For instance, the man who narrated the effective trailer and the man who painted the iconic poster art are both singled out. Also given consideration: Spielberg's Oscar snub (complete with video of his genuinely disappointed reaction to the nominations), the abundance of tie-in merchandise (a stretch that will have you pausing and advancing one frame at a time), Gottlieb's making-of book, Bouzereau's laserdisc documentary, Universal Studios' Jaws ride, the Martha's Vineyard locals who found their way into the movie, the island's 2005 Jawsfest celebration, Quint's U.S.S. Indianapolis story, and the afterlife of the ships used in production. We also hear from famous fans including directors Bryan Singer, Eli Roth, Robert Rodriguez, M. Night Shyamalan, and Kevin Smith as well as the drummer from Anthrax.

As the title suggests, much attention is paid to the malfunctioning shark, which the filmmakers acknowledge was probably a blessing in that it left the threat unseen for much of the film. This fine documentary makes use of original and reissue trailers, 1974 production footage, outtakes, and even a New England television report from the set interviewing Robert Shaw. Though you wouldn't expect to need more than two hours of making-of on a single film, this wonderful inclusion proves otherwise and with very little overlap.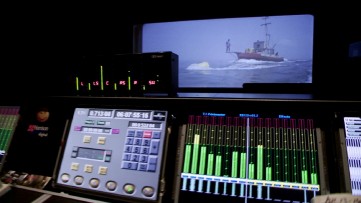 "Jaws: The Restoration" (8:28, HD) is a solid brand new featurette that details what went into this disc's fantastic feature presentation. Spielberg and Universal archivists explain a few of the painstaking processes to remove scratches from the original negative, get the colors just right, and expand the original monaural recordings to 7.1 channels. Demonstrations further our appreciation of their phenomenal efforts.
"From the Set" (8:56) is a little report for British television on the beginning of Jaws' production from May 1974. This priceless footage shows film history in the making, with Spielberg getting the central focus and a chance to share his thoughts.
A few odds and ends hardly updated from laserdisc days are held under the heading Jaws Archives. Each is presented as an HD slideshow, which can go a lot faster if you make use of the chapter skip button (and you should). The images disappointingly take up well under half your screen (nullifying the HD resolution) and fail to take advantage of Blu-ray's gallery technology. Most of the content isn't worth your time and effort.
"Storyboards" (29:45; 223 stills) map out some of the film's key scenes (mainly, the kills) shot by shot in black and white drawings and are only as interesting as they sound. Around a third of that gallery goes to concept illustrations and storyboards by production designer Joe Alves. An endless supply of black and white "Production Photographs" (48:34; 364 stills) show the cast and crew at work. "Marketing Jaws" (9:20; 70 stills) serves up posters, lobby cards, book covers, merchandise and assorted press clippings from multiple theatrical releases. "Jaws Phenomenon" (10:08; 77 stills) presents unremarkable posters, marketing, and press from outside the United States. More interesting are its Oscar campaign ads, box office boasts, and magazine cartoons.
The Blu-ray's extras conclude with Jaws' original theatrical trailer (3:15), pillarboxed in standard definition.

There's also a "What's New" BD-Live section of streaming trailers and company promos.

The DVD included here holds just a single bonus feature: the aforementioned condensed version of "The Making of Jaws", which is trimmed even further to just 50 minutes and 10 seconds. In a way, it's nice that a shortened edit is preserved for those who want it. Of course, it's unfortunate that this is the only extra on the DVD,

especially since this DVD is the same newly-packaged one sold on its own, replacing the already discontinued (and far more loaded) 25th and 30th Anniversary editions. You can still track those down pretty cheaply second-hand, but your best bet for buying Jaws will be this combo pack and being able to play Blu-rays.

The Blu-ray does not retain everything from Jaws' two DVD releases, but it does come close. Casualties from the 25th Anniversary Edition: a 12-question trivia game, "Shark World" animal facts, two additional theatrical trailers (one from a reissue), bios and credits for Spielberg and the three stars, six screens of production notes, a page of recommended Spielberg films, a 4-page chapter insert, and, via DVD-ROM, a screensaver hardly worth mentioning. Apparently the only item dropped from the 30th Anniversary DVD, which I did not own, is a 60-page commemorative photo journal.

On both discs, the menu resembles the one on my original DVD of the film, providing a little scored montage of clips from the opening scene before settling on the serene post-kill view of the ocean. The Blu-ray supports bookmarks, but annoyingly does not resume playback, which makes Universal's default screensaver feature a bit useful when it prevents your paused player from powering down.

Credit is owed to the packaging of Universal's 100th Anniversary releases. A glossy slipcover opens up to place Jaws in the context of the studio's output in the 1970s and shortly before. This Velcro-snapped front features some film images, facts, and original poster art. Inside the standard Blu-ray case, a 6-page booklet holds ads and codes for downloading the digital copy/UltraViolet and entering Universal's centennial sweepstakes (spoiler alert: your prize is probably going to be a $3 coupon towards a Universal DVD or Blu-ray).
CLOSING THOUGHTS
Nearly forty years later, Jaws is still just about the height of modern entertainment. This early Spielberg thriller remains riveting, tactful, and a cinematic delight from start to finish. Universal's Blu-ray Disc is just about everything you could ask for, from its spectacular remaster to one of the largest and most satisfying collections of bonus features ever assembled for a single film, which is highlighted by a standout new feature-length documentary. The lean new DVD and downloadable digital copies might add value for you, without inflating the cost. You could be selective enough to want a collection of no more than ten Blu-rays and still this extraordinary set would deserve a place on your shelf.
Support great cinema and this site when you buy Jaws now from Amazon.com:
Blu-ray + DVD / New DVD / Instant Video / 30th Anniversary DVD / 25th Anniversary DVD