To see Robin Williams at what is easy to call his Robin Williamsest, we must look back to the early 1990s, before his Oscar win for Good Will Hunting and the dark dramatic roles he subsequently took. Having already proven his versatility but not yet settled into overly maudlin dramedies, Williams wasn't reluctant to embrace the manic comedy stylings that got him recognized on "Mork & Mindy" and in stand-up routines.

The two films that really let Williams loose in the way he's most known for were Aladdin and Mrs. Doubtfire. It's probably not a coincidence that the comedies, released to U.S. theaters in successive Novembers, gave Williams his career high grosses, each earning over $200 million in North America and over $400 M worldwide. Nor is it happenstance that the two rank highly with the general public among the films starring the tireless funnyman.

The live-action one of the two, Mrs. Doubtfire, turns 15 this year and it is revisited on DVD this week in a two-disc set that Fox has dubbed a Behind-the-Seams Edition. In it, Williams plays Daniel Hillard who, interestingly, finds work as a cartoon voice-over artist. Taking a moral stand, Daniel quits his job in objection to a favorable depiction of smoking. He surprises his three children -- Lydia (Lisa Jakub), Chris (Matthew Lawrence), and Natalie (Mara Wilson) -- by picking them up from school and then, against the wishes of their mother Miranda (Sally Field), throwing a big party complete with a supply of petting zoo animals to celebrate the middle child's 12th birthday.

The improvised birthday party proves to be the straw that breaks the proverbial camel's back for Miranda, who is summoned from her demanding office job as an interior decorator to deal with the neighborhood disturbance. Unwilling to deal with Daniel's whims and lack of seriousness any longer, she seeks a divorce and more rapidly than expected. In light of his lack of job and accommodating living quarters, the court grants custody to Miranda, allowing only a weekly visitation to Daniel. It's an utter blow to a clearly loving father and one which Daniel seeks to remedy.
He does this by ensuring he'll get the housekeeping job for which Miranda is placing a classified ad in the newspaper. Not as Daniel Hillard, but as Euphegenia Doubtfire, a sexagenarian English woman with caregiving experience and impeccable ideals. With help from his make-up artist brother (Harvey Fierstein) and partner (Scott Capurro), Daniel decides on a style and handily pulls off the look of a plump older woman. If all goes well, neither the kids nor his ex-wife will know Mrs. Doubtfire's true identity, but he'll get to spend time with his brood, do some good by all, and earn the steady income he already needs.
It's a pretty terrific idea for a plot and one with relevance at a time when we're repeatedly reminded (by some mildly creative calculations) that half of all marriages end in divorce. Of course, dressing in drag and adopting a foreign persona are two ideas that lend themselves to great comic potential, and all the more when you have the talented Robin Williams doing them. Doubtfire gets tremendous mileage out of its central idea, which was born out of British author Anne Fine's 1987 novel Alias Madame Doubtfire. It's as if the writers (first-time scribe Randi Mayem Singer and Leslie Dixon), director Chris Columbus, and cast (especially the inventive Williams) all brainstormed possibly amusing ideas and fine-tuned them to guarantee the laughs.
So, we get Mrs. Doubtfire fumbling to explain things she shouldn't yet know, inventing backstories for herself and her late husband, learning to become the perfect nanny when domesticity is clearly alien. There's the social worker (Anne Haney) assigned to check up on Daniel, who shows up just in time for him to concoct covers and hold dual roles. There's Miranda's old friend turned affluent love interest (Pierce Brosnan, just a couple of years before becoming James Bond), who invites a thinly-veiled edge to surface in the otherwise grandmotherly Doubtfire. There are aptly chosen pre-recorded songs such as James Brown's "Papa's Got a Brand New Bag", The Four Seasons' "Walk Like a Man" and, most appropriately, Aerosmith's "Dude (Looks Like a Lady)."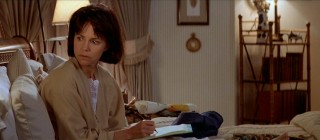 In the hands of a less capable star and less seasoned director, Doubtfire could have easily been a parade of wrong turns. But Williams and his formidable screen-sharers have such fun and success with the many smart ideas that it's an absolute pleasure to spend over two hours with these characters, laughing at the obstacles and occasionally thinking about the concepts in relation to life. Mrs. Doubtfire is one of the quintessential 1990s comedies and, though not as fresh today, it is still regularly hilarious and always entertaining, even as it approaches wearing out its welcome with a prolonged "two places at once" climax.
Mrs. Doubtfire won a slew of awards, including an Oscar for Best Makeup and Golden Globes for Best Motion Picture (Comedy/Musical) and Best Actor in a Comedy/Musical. In this country and worldwide, it handily became the second highest-grossing film among all 1993 releases, trailing only Steven Spielberg's behemoth Jurassic Park. The first part is more likely to surface in a promotional description of the movie, but it's the latter that's more impressive. Even today, with ticket prices and costs grossly inflated, the film still stands as one of the most profitable comedies ever, all the more when franchise sequels are disqualified. Such an outpouring of attendance is rare.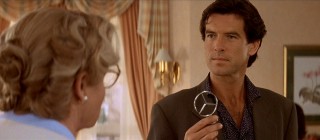 Though it wears its mid-'90s sensibilities on its sleeve, Mrs. Doubtfire hasn't aged too poorly. This is one of a handful of movies released last decade that seems destined to be remembered for a very long time. (Columbus' still-crowd-pleasing Home Alone is another.) Note, for instance, how it was one of just five '90s films to make the American Film Institute's yesteryear-slanted "100 Years... 100 Laughs" countdown.

Any complaints to be leveled at the film are minor ones. Divorce is one of those painful issues which the movie must take seriously. As far as I can tell, it strikes the right tone, or as right as one can that involves a custody-less father cross-dressing and adopting an alter ego to spend time with his kids. Some may find it too serious (though forays into sentimentality are both heartfelt and restrained), while others may find it not serious enough.

The other complaint is that the movie goes a bit heavy on the sex humor. It's a film which looks safe, but it really earns its PG-13 rating with what the MPAA terms "sexual references." Though much of the Williams-originating material will fly over young viewers' heads, it's not funny enough to warrant inclusion and mildly mars a film which otherwise is not only friendly to families, but healthy and rewarding too.

First released to DVD in October of 1999, Mrs. Doubtfire was long an obvious choice for revisiting. But in the years that followed, all it got was the same DVD with a faux gift wrap border around the cover. Fox finally announced this Behind-the-Seams Edition for release on May 8, 2007 alongside two-disc sets for other popular comedies from the studio. It was inexplicably delayed, though some copies made it to less-trafficked retailers. Now, nearly a year later, the Behind-the-Seams Edition finally makes it to stores without anything to suggest changes made or any reason for the delay in the first place.
DVD Details

2.35:1 Anamorphic Widescreen
Dolby Digital 5.1 (English),
Dolby Surround (Spanish, French)
Subtitles: English, Spanish
Closed Captioned; Extras Not Subtitled
Release Date: March 4, 2008
Suggested Retail Price: $19.98
Two single-sided, dual-layered discs (DVD-9s)
Black Keepcase with Cardboard Slipcover
Also available on Blu-ray Disc (May 13, 2008)
VIDEO and AUDIO
The package doesn't clarify it, but unlike on its former DVD incarnation, this time Mrs. Doubtfire's nearly 2.35:1 theatrical presentation is indeed enhanced for 16x9 displays. This is one of those films that get really butchered in pan & scan, so it's a relief that Fox hasn't bothered wasting any space on such a presentation. The picture quality here is rather terrific, allowing one to appreciate the wide frame-filling compositions. There is clear improvement over the previous disc, which had a laserdisc feel to it all around despite arriving 2½ years into DVD's existence.
The audio receives an upgrade as well, though it's a much smaller leap from the old disc's Dolby Digital 5.0 track to this 5.1 presentation. One is hard-pressed to note any difference. It's still a very front/center-oriented mix that only envelopes with the rare atmospheric effect and Howard Shore musical cue. There is nothing to complain about, though, as dialogue is utterly crisp and discernible, while subtitles and closed captions are also provided.
BONUS FEATURES, MENUS and PACKAGING

Disc One serves up two sets of extras under the shared header Cutting Room.

There are 18 deleted/extended scenes (32 minutes) and four alternate scenes (4:25). In a drastic improvement over the previous set, this substantial wealth of excised material can be viewed scene by scene if desired. The deletions are also now presented in 16x9-enhanced widescreen that resembles final product in picture quality. The alternate ones are non-anamorphic and rough looking, but they're short enough not to mind that.

The deleted content is generally on par with what's in the film, but its loss is understandable with the film already running over 2 hours. Among the most noteworthy cuts: a long, running subplot in which neighbor Gloria Chaney (Polly Holliday, only briefly seen in the final film) takes Mrs. Doubtfire's unorthodox garden advice, additional Daniel/Miranda bickering, a school dance preparation which employs Boyz II Men's early-'90s hit "Motownphilly" and Junior Walker & the All Stars' "What Does it Take (To Win Your Love)", Lydia's spelling bee, more complications at the restaurant, a bit more Robin Williams riffing, a laundry room snafu, and another moment with the interested bus driver (Sydney Walker). The original DVD had almost all this material, but it presented it in a less satisfactory way.

Disc Two's bonus features are separated into five sections named after moviemaking departments.

Production Office kicks things off with "From Man to Mrs: The Evolution of Mrs. Doubtfire" (26:30), a fine general making-of documentary. Comprised of set footage, movie clips, and cast/crew interviews from 1993 and 1994, the piece satisfactorily tackles the project's development, casting, make-up, Robin Williams' presence, and the balance of real-life drama with comedy. Sensibly, it can be viewed in the five distinct parts, but they're consistent and comprehensive enough to add up to a solid overview. Some of the footage of make-up tests, alternate takes, and deleted scenes overlaps with the rest of the set's extras, but that only adds to its grasp and makes it the ideal viewing choice if you have only a half-hour for bonus materials.

A Behind-the-Scenes Photo Gallery is the first of three navigable slideshows offered throughout the disc. It holds 80 images, a vast majority of which depict Chris Columbus directing.
"Aging Gracefully: A Look Back at Mrs. Doubtfire" (13:40) sits down with Chris Columbus and Robin Williams for distanced reflections on the film, their first of four collaborations to date. It's a great candid piece which touches on the movie's themes, its success and supposed timelessness, different edits (apparently, PG to NC-17 cuts were composed), and the possibility of a sequel and how it might be achieved.
Animation Studio directs our attention to the film's cartoon opening in materials carried over from the previous DVD. "A Conversation with Legendary Animator Chuck Jones" (4:15) lives up to its title, as the famous Looney Tunes director discusses his input and intentions. We then get to see the Robin Williams-voiced animated sequence uninterrupted in three forms: a rough Original Pencil Test (2:20), its full final version (5:10), and (new for this DVD) the final version with alternate (Jones-preferred, more stylized) backgrounds (5:50 with text intro). While cartoon buffs will get the biggest thrill out of this section, all should appreciate seeing this short Warner-inspired original creation on its own.
Make-Up Department supplies three items on the film's Academy Award-winning craft. After some brief comments from Williams, the ported short "Make-Up Application with Ve Neill" (4:05) lets 3-time Oscar winner Neill comment over footage of the actor's arduous daily session. With just 23 images, the Make-Up Photo Gallery is the set's smallest. New for this DVD, it naturally features shots of the various stages of Robin Williams' gender transformation.
Five Make-Up tests logically conclude the section. Running 17:50 with the "Play All" option, they represent a drastic expansion over the old release's short excerpts. The first three feature Robin Williams alone, riffing and testing accents while looking somewhat different but often no less convincing as an old woman. The last two team him with his on-screen family members.

Stage A holds only "The Improvisation of Mrs. Doubtfire" (36:50), a brand new feature which gives us alternate takes of seven scenes that illustrate Robin Williams' ad-lib talents and propensity for voices. For each scene, 2-5 takes are followed by the corresponding excerpt from the final film. The pieces offered are: the prank job application phone calls, Daniel's makeover reactions, Mrs. Doubtfire's "hot flashes" and recalling her husband's death, Daniel's believed private attempt at hosting a dinosaur TV show,

and, from the climactic restaurant business meeting, Daniel's suggestions for children's TV shows and efforts to cover his dual life. The language gets a bit racy in places, but thankfully it's not censored.

Finally, we come to Publicity Department, which kicks off with a pair of promotional pieces. They're likable for what they are, the "Original 1993 Featurette" (5:25) being a standard EPK-type blend of sound bites and set footage and the more exciting "Meet Mrs. Doubtfire" (5:20) balancing film clips with an interview of Mrs. Doubtfire by Robin Williams.

Five fun fullscreen Doubtfire previews follow in the way of three 1-2 minute trailers and two 30-second TV spots. Each takes a slightly different approach to marketing the film, from the family angle to the cross-dressing comedic moments to favorable critic's quotes. "Theatrical Posters" is an odd still of just two one-sheet designs (bordered by two fake movie posters), a tagline of which can be magnified. The section wraps up with a Publicity Photo Gallery, which supplies a little over 100 movie stills and press shoot shots.

A rather nifty Easter Egg is uncovered on the Publicity menu. Titled "Meet Mrs. Featherbottom", it treats us to an 80-second clip from a second season episode of "Arrested Development" in which Tobias (David Cross) becomes a cross-dressing nanny clearly inspired by Mrs. Doubtfire.
Unfortunately, the set commits a major blunder by losing the original DVD's audio commentary by Chris Columbus. Though remarkably rehearsed for a commentary, Columbus' was one of the most informative I encountered in my early days of DVD. The failure for it to be ported over here is unconscionable, considering the minimal space it would claim from Disc 1.

Illustrating that despite the long delay no changes were made to the DVD, a minute-long preview for last spring's The Sandlot: Heading Home plays upon Disc 1's insertion.

Rarely do today's DVD menus impress, so it is nice to report that the set boasts some inspiration in this department, with a mix of actors' heads and construction paper bodies.

The effect is most satisfactorily realized in the animated main menus, Disc 1 of which employs Daniel's "Marriage of Figaro" dub, and then Disc 2 of which revisits the scene as a movie set with Chris Columbus directing.

Like so many of today's high-profile DVDs, Mrs. Doubtfire is equipped by a cardboard slipcover, at least in initial pressings. The keepcase artwork essentially reproduces that of the o-sleeve. Inside the case, we get Hollywood Movie Money for the new Blue Sky-animated Horton Hears a Who film (good for up to $7.50 off a single admission), a double-sided ad for family-oriented Fox comedies given special DVD treatment, and an 8-page booklet. True to tradition, that last element is a sweet inclusion, as it devotes six pages to notes and quotes on the film's production and reception in addition to a list of chapters. It helps a little to overlook the fairly dull cover art.
CLOSING THOUGHTS
It's not clear why it took over a year from the original announcement for this Behind-the-Seams Edition of Mrs. Doubtfire to reach stores. It's also not clear why it had to drop the original DVD's fine audio commentary by director Chris Columbus. Beyond the senseless delay (now easy to overlook) and the one blunder (which isn't), this new two-disc set Fox genuinely delights with a now gladly enhanced transfer and an extensive collection of bonus features. Many of the supplements were produced at the time of release, but whether they were on the old DVD or not, they still provide great accompaniment to the feature. Speaking of which, this mid-'90s blockbuster comedy remains plenty entertaining, the result of a good script and a tour-de-force performance by Robin Williams at his best. Not only does this fine set deserve a spot in practically any DVD collection, but at the modest starting price tag, it's quite the steal to pick up and a no brainer for those upgrading.
More on the DVD / Buy from Amazon.com / Buy Blu-ray from Amazon.com




The Book: Alias Madame Doubtfire by Anne Fine