Ever since the 2004-05 season lifted ABC from ratings doldrums to prosperity, Disney's major television network has been more eager to put hour-long dramas on the air than anything else. Undoubtedly, the need to fill primetime slots must put some pressure on creativity. How many shows can keep viewers captive for an hour each week without

losing their edge, repeating themselves, or becoming too alike? In a climate where that question is easily asked, a premium has got to be placed on originality.

That's where "Eli Stone" comes in. This series begins with its title character, a self-centered thirtysomething lawyer in San Francisco, seeing pop singer George Michael appear to him and perform late-1980s hit "Faith." The fanciful vision is soon declared a side effect of a newly-discovered, inoperable brain aneurysm. Now that's not something anyone can claim to have already seen as a TV show starting point.

Before long, however, you'll realize that the protagonist's predicament is more familiar and conducive to an indefinite weekly series. The life-changing MRI find inspires Eli to life live a little better. (That's close to the original concept for "Everwood", co-creator Greg Berlanti's longest-running previous credit.) Eli is compelled to use his legal expertise to aid those in need, a change from his usual assignments of helping big corporations trounce mere individuals. Ranging from biplanes and dragons to bathroom beaches and boy choirs, his sensory hallucinations serve to guide him, providing decipherable direction towards one particular underdog he's meant to counsel. They also enable the series a touch of flourish, seen in elaborate "impromptu" song and dance numbers (mostly George Michael tunes), acupuncture-triggered flashbacks, and visual effects-driven sequences.
Though clearly not as original as at first glimpse, the show stands out for its admirable blending of present-day reality with fantastic and spiritual themes. It juggles those aspects while squarely fitting the popular mold of 21st century hour-long ABC program, complete with lots of pithy dialogue and the occasional scheduled surprise.
Signs of fatigue show up in the one-track design a few episodes in. For instance, the gag of Eli's engulfing visions giving way to an audience of bemused co-workers is clever at first. But it's overused and like the show's kin, "Eli" is far more skilled as a drama than a comedy, something I wouldn't classify it as, though others have. The pattern of goofy, random apparition granting another dose of pro bono work can probably only be executed so much. It's understandable then that what begins as a one-lead legal drama (somewhat unusual today) soon moves to an ensemble piece, providing two or more storylines involving the attorneys of large successful firm Wethersby Posner & Klein.
The demands of sustaining 43-minute runtimes with arcs that go even further requires "Eli" to dabble a bit in mundane material. Unless you're a stranger to network TV, you can guess what I'm referring to -- the start-stop romances, contrived complications, and moments of melodrama. We get all that here and though they provide welcome variety, they don't work on the same plane as the show's heart and soul: Eli's newfound social conscience. That gets adequately explored in well-conceived, unusual legal cases that play out in shades of gray, sharpened by the lead's new sense of mortality.
One thing I could certainly do without: writers' political views being inserted via snarky commentary. Sure, it's their show and their prerogative to equip characters with liberal stances. But manifesting largely in short jabs, the tact comes across as alienating, whiny, and detractive. I think most viewers would agree, regardless of their positions on current issues.
Jonny Lee Miller does well in the lead role, choosing to make Eli more identifiable and human than distinctive, all the while speaking in one of the most convincing American accents I've heard. Initially, Eli is focal in all threads, but as the show progresses, more time is spent with the inevitable supporting characters.
Doubt is quickly cast on Eli's relationship with fiancée and fellow lawyer Taylor (Natasha Henstridge), moving our hero closer to the single status that TV writers love to explore. Their engagement means that Eli's austere boss and father figure Jordan Wethersby (Victor Garber) is also would-be father-in-law. Rounding out the regulars are: Eli's sassy, exploited assistant Patti (Loretta Devine); pilot-introduced holistic specialist Dr. Chen (James Saito) who sees Eli as a modern-day prophet comparable to Moses; idealistic first-year lawyer Maggie (Julie Gonzalo) who frequently works alongside Eli and gently flirts with "love interest" status; alpha male attorney Matt Dowd (Sam Jaeger); and Eli's doctor/brother Nathan (Matt Letscher).
Purchased as a mid-season replacement, "Eli Stone" was welcomed into the ABC stable with open arms during the dry well months that followed the writer's strike. Thirteen episodes aired over the course of three months. That makes Disney's The Complete First Season DVD a modestly-priced four-disc set, arriving like nearly all its renewed brethren, in advance of the new season's debut (which is scheduled for October 14th).
Disc 1

1. Pilot (43:06) (Originally aired January 31, 2008)
Upon seeing George Michael and getting diagnosed with an inoperable brain aneurysm,

Eli feels drawn to switch sides and represent an old college fling (Laura Benanti) in a lawsuit that asserts her son's autism resulted from a vaccination.

2. Freedom (43:00) (Originally aired February 7, 2008)
Eli teams with Maggie to represent a married couple of illegal immigrants suing a conglomerate for making them infertile.

3. Father Figure (43:04) (Originally aired February 14, 2008)
New visions encourage Eli to get involved in an Iraq-enlisted National Guard soldier's custody battle, in which the opposing counsel is Eli's fiancée Taylor. Eli and Taylor also get together for a memorable engagement "gala."

4. Wake Me Up Before You Go Go (43:04) (Originally aired February 21, 2008)
Imagined pleas for help prompt Eli to represent a former coma patient (Chris Diamantopoulos) looking to reclaim his old life. Their attentions turn to the Catholic priest who granted an annulment. Meanwhile, Jordan represents a respected black lawyer (James Avery, Uncle Phil from "The Fresh Prince of Bel-Air") being sued for racial discrimination.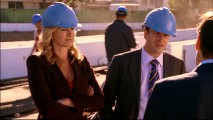 Disc 2
5. One More Try (43:05) (Originally aired February 28, 2008)
Eli returns to his old ruthless ways for a retrial of a case he won years ago involving a paraplegic, an SUV company, and a missing witness. Matt helps his now-lesbian ex try to maintain custody of the baby inside her gone-straight pregnant partner.
6. Something to Save (43:04) (Originally aired March 6, 2008)
As disbarment procedures against Eli begin, his aneurysm is made public. Matt and recently hired Keith (Jason George) represent Jayson Turk (Steve Harris), a Barry Bonds-type baseball player being investigated for a foul ball homicide and steroids.
7. Heal the Pain (43:04) (Originally aired March 13, 2008)
A recurring dragon drives Eli to take on a medical malpractice suit. Maggie takes first chair in the case, representing a teen orphan against Eli's brother's hospital. Matt and Keith continue to defend a star baseball player in his unusual homicide investigation.
8. Praying for Time (43:03) (Originally aired March 20, 2008)
Earthquakes warn Eli of danger as he and Taylor defend a successful real estate developer in a suit filed by an affected community. The Jayson Turk saga moves to trial, with the firm using an insanity by steroids defense.
Disc 3

9. I Want Your Sex (43:04) (Originally aired March 27, 2008)
The real George Michael shows up and hires Eli to help a high school student expelled for protesting an abstinence class with his hit song "I Want Your Sex."

Taylor and Dowd bond while representing a leukemic judge who needs a bone marrow donation from his estranged son to live. Four series regulars are absent in this episode.

10. Heartbeat (43:04) (Originally aired April 3, 2008)
Eli defends his brother Nathan in a medical malpractice suit alleging he fatally erred by rearranging an organ transplant list. Meanwhile, Eli experiences a bit of Nathan's life from 1997, shedding light on the previously unobserved death of their father.

11. Patience (43:04) (Originally aired April 10, 2008)
A vision of the future compels Eli to aid a convict (Sterling K. Brown) being denied a parole hearing. With help from Keith, widespread prison abuse is uncovered and contested. The lighter storyline finds Taylor and Dowd fighting for the rights of two gay zoo chimpanzees to stay together.

12. Waiting For That Day (42:50) (Originally aired April 13, 2008)
When visions of a catastrophic earthquake return with a specific time frame, Eli aligns with a dubious scientist to ask the city to shut down the Golden Gate Bridge. Managing partner Marci Klein (Katey Sagal) claims opposing counsel, using the case to encourage an ouster of Jordan. Also, Eli enlists Dowd to draft a living will in advance of his imminent surgery.

Disc 4

13. Soul Free (42:45) (Originally aired April 17, 2008)
The season ends with a jumpy narrative that bounces between Eli's last few workdays and his risky brain surgery. In the former, he represents a cancer patient (Richard Schiff) looking to die peacefully instead of continuing chemotherapy per his wife's wishes.
VIDEO and AUDIO

Between the prevalence of high quality studio DVDs and the rising production values of network television,

I expected to simply say "Eli Stone" looks and sounds terrific and move onto more interesting matters. While that's about right, I was ever so slightly disappointed by the video here. The element is clean and colorful, but it's sometimes a little grainier and softer than likely intended. Is Disney taking steps to make the increased resolution of Blu-ray more desirable? Is the studio's overfull fall slate of TV DVDs yielding sloppiness? A third explanation may be most reasonable: the set is excessively compressed. Three hours of video doesn't push the bounds of DVD-9, but it's still enough for one to wonder why each disc is several gigabytes shy of capacity. You won't wonder too much, though, because "Eli" does look and sound pretty great in 1.78:1 anamorphic widescreen and Dolby Digital 5.1. The soundtrack delivers crisp dialogue, a steady stream of score, and plenty of pre-recorded music that has to have been cleared.

BONUS FEATURES, MENUS and PACKAGING

Bonus features begin on Disc 3 with an audio commentary on "I Want Your Sex." It provides a whopping nine speakers in creators/executive producers Greg Berlanti and Marc Guggenheim; executive producer/director Chris Misiano; actors Jonny Lee Miller, Natasha Henstridge, Victor Garber, and Sam Jaeger; and writers Leila Gerstein and Wendy Mericle. With a group this big, it's not easy to identify commentators aside from the English-accented Miller and his fellow actors, but the subtitle track fixes that. The insightful off-the-cuff observations sustain interest while covering both general and screen-specific topics.

Two additional audio commentaries are found on Disc 4. Season finale "Soul Free" gets another audience of nine, with actor Matt Letscher replacing Garber, and writers Andrew Kreisberg and Courtney Kemp Agboh sensibly supplanting Gerstein and Mericle. This track stays more focused on the episode, though it also touches on the writer's strike. The group's warm camaraderie makes a listener feel slightly excluded.

The set's third, final, and least populous commentary accompanies the extended pilot episode, which is presented as a special feature (46:00). On this track, Berlanti, Guggenheim, Miller, Henstridge, and Jaegar are joined by director Ken Olin. Laughs flow on this more relaxed discussion, which tackles the series' conception and initial challenges but makes more of an impression for its speakers' Johnny Lee Miller impression, Hart's War jokes, and singling out of weird things noticed from having seen the pilot too many times.
The extended cut of the episode runs a little under 3 minutes longer than the aired version on Disc 1. Its biggest additions are a 30-second walk & talk between Eli and Dowd, a 70-second workout & talk-out scene between Eli and Taylor, and Dowd's 40-second closing summation. There are also some minor extensions not easily noticed, including the rooftop scene between Eli and Dr. Chen. They probably could have gotten by dropping the broadcast cut or presenting the changes as deleted scenes, but who can lament available space not getting wasted?
Next come seven deleted scenes (8:03). Like most of what made it into the show, each runs in the neighborhood of one minute and contains a dialogue between two characters. Clearly nonessential, the exchanges nonetheless add a bit of depth to the involved parties and their situations. It's also utterly evident where each deletion fits into the season, though no indications are provided. Two of the scenes are Maggie-Taylor chats, while three feature Eli turning to Dr. Chen for interpretation.
Four featurettes follow. The longest, "Turning a Prophet: The Creation of 'Eli Stone'" (12:12), provides mostly cast interviews and behind-the-scenes footage to remark upon the show's premise, characters, and talent. It's a good, diverting general piece.
"Acting on Faith: Eli and George Michael" (4:33) addresses the contributions of the British pop star.

We hear briefly from cast, crew, and Michael himself, but it feels like a mere promotion for his most extensive guest appearance.

"Creating Visions: The Effects of 'Eli Stone'" (5:35) discusses but more so demonstrates how green screen, CGI, and other efforts realize the images of Eli's fantastic hallucinations. It turns most of its attention to an earthquake-affected cab ride from Episode 12.

"Inside the Firm: The Natasha Henstridge Tour" (4:58) has the actress taking us around to see the large set's various locations, which are also depicted in use with apt show clips.

Last is "Eli Oops!" (3:30), a reel of outtakes of modest entertainment value which showcases actors forgetting lines, uttering bleeped profanity, and experiencing other unforeseeable goofs.
Disc One launches with previews for "Private Practice": The Complete First Season, "Samantha Who?": The Complete First Season, "Grey's Anatomy": The Complete Fourth Season, and "Lost": The Complete Fourth Season. Other Sneak Peeks are relegated to Disc 4. They promote WALL•E, The Chronicles of Narnia: Prince Caspian, "Brothers and Sisters": The Complete Second Season, "Desperate Housewives": The Complete Fourth Season, Miramax Films, and the new seasons of "Lost" and "ABC."
The menus provide a brief first-person tour of a computer-generated version of Dowd's office, before settling at the desk where fantasy elements and song regularly intrude.
The Complete First Season of "Eli Stone" comes packaged in a clear, standard-sized keepcase in which episode titles (but no synopses) and an extras list appear on the reverse side. The case slides into a redundant cardboard slipcover that features mild embossing effects. Two booklets found inside merely promote other new Buena Vista TV DVDs and Blu-ray.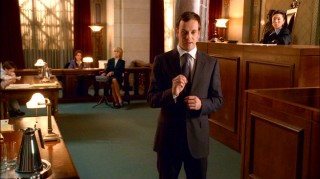 CLOSING THOUGHTS
A legal drama that plays close to ABC's present hour-long sensibilities but adds a stroke of whimsy, "Eli Stone" emerges as both different and good. If you're unsure of that, it was only too easy to see for yourself on ABC.com, which upon publication offered five Season 1 episodes. While I'm not certain that it's one to buy right away in a month loaded with new season sets of ongoing TV series, "Eli" does get treated to a solid DVD release. Picture quality could be a touch better but the bonus features are satisfying. And the price is right, particularly next to strike-abbreviated collections selling for much higher but barely running longer. At the very least, "Eli Stone" deserves a look.