DVDizzy.com | DVD and Blu-ray Reviews | New and Upcoming DVD & Blu-ray Schedule | Upcoming Cover Art | Search This Site


J. Edgar: Blu-ray + DVD + UltraViolet Digital Copy Review
J. Edgar

Theatrical Release: November 9, 2011 / Running Time: 137 Minutes / Rating: R / Songs List

Director: Clint Eastwood / Writer: Dustin Lance Black

Cast: Leonardo DiCaprio (J. Edgar Hoover), Naomi Watts (Helen Gandy), Judi Dench (Annie Hoover), Armie Hammer (Clyde Tolson), Josh Lucas (Charles Lindbergh), Dermot Mulroney (Colonel Schwarzkopf), Jeffrey Donovan (Robert Kennedy), Denis O'Hare (Albert Osborne), Stephen Root (Arthur Koehler), Zach Grenier (John Condon), Damon Herriman (Bruno Hauptmann), Lea Thompson (Lela Rogers), Ken Howard (Harlan Fiske Stone), Josh Hamilton (Robert Irwin), Jessica Hecht (Emma Goldman), Geoff Pierson (Mitchell Palmer), Michael O'Neill (Senator McKellar), Christopher Shyer (Richard Nixon), Jack Donner (Edgar's Father), Emily Alyn Lind (Shirley Temple), Amanda Schull (Anita Colby)
Buy It 2.21.12 on Blu-ray™ Combo Pack with UltraViolet Digital Copy and Download to Own

Buy J. Edgar from Amazon.com: Blu-ray + DVD + UVDC • DVD + UVDC • Movie-Only Blu-ray + UVDC • Instant Video
Since winning his second Best Director Oscar, for 2004's Million Dollar Baby, Clint Eastwood has seemingly made it an annual mission to earn more Academy Awards. While the accomplished 81-year-old probably and hopefully is not driven by a hunger for recognition, it certainly looks that way when you release a serious weighty drama in the final months of almost every year.

No prior Eastwood film has looked like awards bait as much as J. Edgar, a biopic of the powerful, enduring, and mysterious first director of the FBI. From the moment that Leonardo DiCaprio signed on for the title role in June 2010, the project seemed destined for prestige, attention, and accolades.

If you've been following Eastwood closely, though, you'll have noticed that while he remains one of the most respected individuals in the industry, and his every new release is given consideration his first thirty years behind the camera rarely enjoyed, the Oscars have been scaling back their admiration for his work in recent years. Morgan Freeman's Nelson Mandela in Invictus didn't win the statue everyone assumed in advance would be his. Hereafter picked up nothing but a Visual Effects nomination. And now J. Edgar, like Eastwood's biggest career hit Gran Torino, has been completely shut out by the Academy.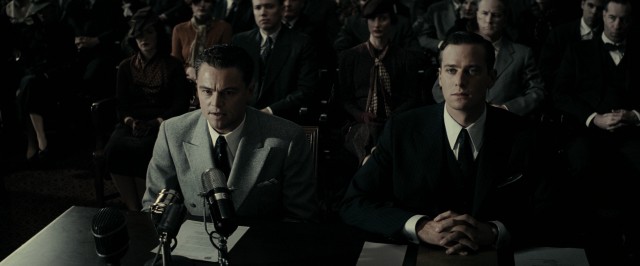 J. Edgar Hoover's work was essentially his entire life and Eastwood's movie charts that work as well as two relationships to come out of it. One is with Helen Gandy (Naomi Watts), who as a new employee shoots down Hoover's hasty marriage proposal but accepts the offer to become his personal secretary. Helen is a loyal assistant for life, the only person Hoover entrusts with compiling confidential files on important public figures. Hoover will use the files' information, often obtained by unethical and unconstitutional surveillance, as bargaining power, an unspoken potential blackmail that seems to provide him with enough job security to hold his position through eight presidencies and over 35 years.
Edgar's other confidante is Clyde Tolson (Armie Hammer), a fresh college grad he hires despite modest qualifications and questionable motives. Tolson will soon become Hoover's second in command at the FBI, although where Hoover soaks up the celebrity of his position, Tolson is a more private figure. The two will share every lunch and dinner for decades to come. The evident yet ambiguous love between the two men has long been the subject of speculation and the film tries to depict both possibilities, showing Hoover and Tolson as inseparable workmates but not shying from the indications of shared homosexual feelings between the two lifelong bachelors.
A third relationship given less time is that of Hoover and his mother (Judi Dench), with whom he lives until her death. Clearly the film's least documented subject, the mother is shown to be less than tolerant of her son and at least partially responsible for his suppressed desires and lack of social graces.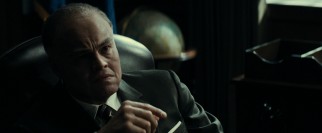 The film jumps around Hoover's career, drawing narration from his reflections to young biographers in the 1960s to romanticize his various dealings with crime investigation, from notorious mobsters to the high-profile kidnapping of famed aviator Charles Lindbergh's infant son. Such cases do not impassion Hoover to the extent of his foremost calling, the war against Communism.

Hoover sees aggressive prosecution of Bolsheviks and radicals, even deporting U.S. citizens on minimal evidence, essential to preserving America's freedoms. That cause could be viewed as a noble one, as should Hoover's influential advances in his profession, from creating a national fingerprint database to placing value on forensics. But the film is no one-sided celebration of the man. It paints Hoover in shades of gray, questioning his methods and certain convictions, like his obsession with exposing Martin Luther King Jr. as a fraud and a threat.

Undoubtedly, Hoover is a figure both significant and complicated. Both Eastwood's direction and the screenplay by Milk's Dustin Lance Black try to present as many facts and perspectives as their research and a 137-minute runtime allow. The efforts certainly sustain interest, as does DiCaprio's committed performance on which everything rests. The actor stretches himself here, ensuring his Hoover resembles the one that appeared in newsreels and documentaries. DiCaprio has reliably delivered strong work in good films and he invests in this role more fully than any since Howard Hughes. This was a perfect opportunity to recognize the actor's fine ongoing performances, but one the Academy passed up yet again while the Golden Globes did not. Leo will get more chances for Oscar love next year in Baz Luhrmann's The Great Gatsby and Quentin Tarantino's Django Unchained, both scheduled to open on Christmas Day.

Biopics that span multiple decades are usually a lock for technical recognition, particularly in the Best Make-Up category. However, that department has been one of the most common sources of criticism for J. Edgar. DiCaprio's transformation to a fat old man, achieved in the usual time-consuming way with prosthetics, is quite well done. The aging of Watts and Hammer, though, largely embellished with CGI visual effects, leaves a great deal to be desired, taking you out of the film's universe and displaying less attention and care than they should have.
In the past few years alone, Eastwood has directed actors considered some of the biggest movie stars around. And yet, curiously, Matt Damon, Angelina Jolie, and now Leonardo DiCaprio have each proven to be less of a box office draw for Eastwood than he himself was in Gran Torino and Million Dollar Baby. Despite their star power, four of Eastwood's last five movies (Torino being the exception) have ended up in the modest mid-$30 million range domestically, typically south of their respective production budgets. Eastwood got a slightly smaller budget here of $35 million and still J. Edgar just barely grossed that in North America (and matched it overseas). Eastwood's commercial struggles cannot be a great source of concern to his longtime home base of Warner Bros. Pictures, whose losses have been cancelled out many times over by the gains of his forty momentous years at the studio.
Eastwood's next project behind the camera will be the long-promised remake of A Star is Born with Beyoncι and possibly DiCaprio as leads. Before that can come to fruition, though, Eastwood will act again, this time for someone other than himself (his repeat producer and first AD Robert Lorenz, making his directorial debut), in September's father-daughter baseball scouting trip drama tentatively titled The Trouble with the Curve and co-starring Amy Adams.
Just over three months after opening in theaters to less favorable than anticipated reviews, J. Edgar comes to DVD, Blu-ray, and combo pack on Tuesday. We review the lattermost here.
Watch a clip from J. Edgar:

Blu-ray & DVD Details

2.40:1 Widescreen (DVD Anamorphic)
Blu-ray: 5.1 DTS-HD MA (English), Dolby Digital 5.1 (French)
DVD: Dolby Digital 5.1 (English, French) Subtitles: English for Hearing Impaired, French, Spanish
Not Closed Captioned; Extras Subtitled
Release Date: February 21, 2012
Suggested Retail Price: $35.99
Two single-sided, dual-layered discs (BD-50 & DVD-9)
Blue Eco-Friendly Keepcase with Cardboard Slipcover
Also available as standalone DVD ($28.98 SRP), movie-only Blu-ray ($29.98 SRP), and on Amazon Instant Video
VIDEO and AUDIO
J. Edgar is aided considerably by the reliable visual acumen of Eastwood and his regular cinematographer Tom Stern. The class and weight that the movie might otherwise be lacking is supplied by the film's grand, powerful look. The Blu-ray's 2.40:1 transfer presents that vision with nary an imperfection, giving us the dark, desaturated, nearly monochromatic palette with all the sharpness, clarity, and detail 1080p allows. As he has increasingly done, Eastwood himself supplies the score, and his music is perfectly suitable. The 5.1 DTS-HD master audio mix is fairly restrained, which maximizes the impact of the striking few instances of excitement (a house explosion, the rat-a-tat-tat of Tommy guns). Not all will appreciate Eastwood's style, but the Blu-ray's quality cannot be cited as anything less than perfection technically.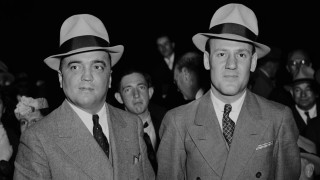 BONUS FEATURES, MENUS, PACKAGING and DESIGN

Though you'd think an ambitious historical drama such as this might lend itself to many making-of featurettes, Warner keeps the platter light with just a single supplement, the HD featurette "J. Edgar: The Most Powerful Man in the World" (18:10). Eastwood, screenwriter Black, cast members, and a few authorities discuss Hoover's life and enduring power.

They touch upon his contributions to the Library of Congress, the nature of his relationship with Clyde Tolson, his advances in criminal investigations, his complexities, and celebrity. This fine piece makes use of good historical footage and appropriate old movie clips, typically Warner's 1930s gangster movies.

The Blu-ray loads with promos for Blu-ray and WB Insider Rewards, which despite Warner's vast movie library, use many of the same clips. It's a shame that J. Edgar's trailer is not provided, but that has long been Warner's usual practice.

A rare new Warner Blu-ray without any exclusives, the featurette also turns up on J. Edgar's DVD, but not the DVD included in this combo pack. If someone can explain why the studio is still taking the time to author barebones versions of DVDs for combo packs even though the digital copies have changed from space-claiming files to UltraViolet streams, I'd love to hear it.

The static main menu of both discs give us a wider, full-color, less patriotic of version of the combo pack's cover art (resembling the DVD cover and above poster art), only the Blu-ray of which is scored.

The eco-friendly Blu-ray case is topped by a nice cardboard slipcover and holds an insert with your unique UltraViolet digital copy/WB Insider Rewards code.
CLOSING THOUGHTS
J. Edgar got a cooler reception than expected. Though it's not a great film, I'd rank it on par with and maybe even slightly above Eastwood's previous two efforts (Invictus, Hereafter), which still puts it at the higher end of modern cinema. A less jumpy, more interesting presentation of Hoover's life would have been nice, but there is still more to this film than some other recent movies relying heavily on an historical figure impersonation (i.e. The Iron Lady) and DiCaprio's integral performance is quite admirable. The Blu-ray delivers a solid presentation of this stylish film and just one good bonus feature. Many will probably prefer to rent than buy, but the movie certainly warrants a viewing one way or the other.
Support this site when you buy J. Edgar now from Amazon.com:
Blu-ray + DVD + UVDC / DVD + UVDC / Movie-Only Blu-ray + UVDC / Instant Video


Related Reviews:
Directed by Clint Eastwood: Hereafter • Invictus
New: The Rum Diary • The Mighty Macs • The Big Year • Rebecca • In Time • Contagion
Leonardo DiCaprio: Revolutionary Road • Body of Lies
Naomi Watts: Eastern Promises • You Will Meet a Tall Dark Stranger
Nixon • The Conspirator • Zodiac • The Murder of Mary Phagan • The Ides of March • Scarface
J. Edgar Music List: Gennady Loktionov - "Goldberg Variation No. 2", Gene Austin - "My Blue Heaven", "I'm Forever Blowing Bubbles", George Olsen and His Music - "At Sundown", Kyle Eastwood, Joe Bagg, Kye Palmer, Jason Harnell - "Red Sails in the Sunset", Kyle Eastwood, Joe Bagg, Kye Palmer, Jason Harnell - "I Only Have Eyes for You", "The Stars and Stripes Forever"
DVDizzy.com | DVD and Blu-ray Reviews | New and Upcoming DVD & Blu-ray Schedule | Upcoming Cover Art | Search This Site
Search This Site:
DVDizzy.com Top Stories:
Reviewed February 20, 2012.


Text copyright 2012 DVDizzy.com. Images copyright 2011 Warner Bros. Pictures, Imagine Entertainment, Malpaso Productions, and
2012 Warner Home Video. Unauthorized reproduction prohibited.