I don't think anyone considered Ron Howard a real filmmaker after he directed himself in the 1977 Roger Corman-produced drive-in flick Grand Theft Auto. His second time behind the camera, the 1982 Michael Keaton comedy Night Shift, gave him a little more credibility.

Even after 1984's Splash became a hit for budding film star Tom Hanks and Disney's newly-launched Touchstone Pictures, Howard might merely have been primed for a directing career like that of Leonard Nimoy, something of an interesting footnote to fame from classic television acting.

But Howard kept at it on a near-annual basis and developed a reputation as a formidable commercial helmer with hits like Cocoon, Parenthood, and Backdraft. Apollo 13 was not only Howard's biggest blockbuster to date, it also established him as someone who could deftly handle important, critically lauded fare as well. In the years since, Howard has given us a mix of art and commerce, winning a Best Director Oscar for A Beautiful Mind and remaining in the conversation with Cinderella Man and Frost/Nixon, but also being assigned large productions with big budgets and expectations, including How the Grinch Stole Christmas and The Da Vinci Code.

With Ransom, Howard added to his strong commercial track record, turning a basic R-rated Mel Gibson thriller into the fifth highest grossing film of 1996. Grossing $136 million domestically and an additional $173 M overseas, Ransom ranked second only to Apollo 13 among Howard's output in earnings and cultural impact. Howard may not yet have been appreciated as a serious artistic filmmaker, but clearly his ability to direct crowd-pleasing cinema was no fluke, ensuring he would be known in the industry for more than playing Opie Taylor and Richie Cunningham.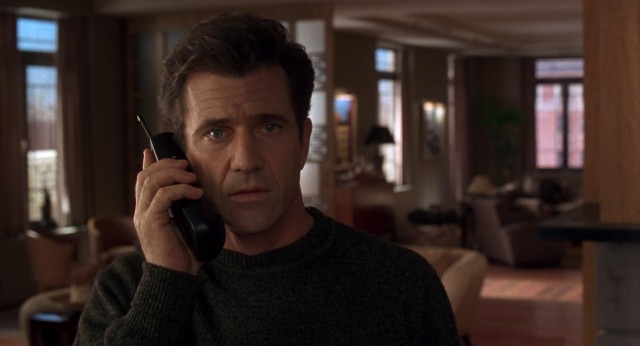 Featured in every TV ad and trailer, "Give me back my son!" is the one line everyone remembers from Ransom and it is about all you need to know in terms of plot.
Tom Mullen (Mel Gibson) is the founder and CEO of Endeavor, the nation's fourth biggest airline. A self-made multi-millionaire, Tom enjoys a moderately high profile and the luxury and comfort of the spacious Manhattan apartment where he lives with his wife Kate (Rene Russo) and their 9-year-old son Sean (Brawley Nolte, son of actor Nick). Little time is wasted before Sean is kidnapped by a group of well-equipped individuals.
Led by Jimmy Shaker (Gary Sinise), a rogue police officer with no direct connection to the Mullens, the group handcuffs Sean to a bed, placing a duct tape blindfold over his eyes. Via a call that directs them to a video e-mail (cutting edge technology for 1996!), the crooks demand a ransom of $2 million, chump change to the wealthy patriarch. Quickly, Tom and Kate are joined by an FBI team of specialists sharing their technology and experience. The team's leader, Lonnie Hawkins (Delroy Lindo), reveals that the odds are in the family's favor: seven of the last ten abductions he handled resulted in the safe return of the child.
Tom heeds the recommended plan of cooperation, following Shaker's cryptic, voice-shrouded instructions on where to deliver the money and in return collect his son. This being a two-hour feature film, complications arise. Most notable among them, Tom takes to live television and announces, against all advice and many public opinions, that he will not pay the $2 M ransom, instead offering the money as a bounty on the kidnapper's head. He later doubles that bounty, believing it to be the only way to get Sean back alive.
When we are not watching Tom and the FBI team plot their next move, we are spending time with the bad guys, who earn a bit of sympathy in the process. They include a couple of low-level criminal brothers (Donnie Wahlberg and Liev Schreiber), a tech expert (Evan Handler), and Shaker's neck-tattooed girlfriend Maris (a not especially convincing Lili Taylor), who works as a caterer for the Mullens.
While the outcome and Sean's survival are never greatly in doubt, Ransom does a good job of sustaining interest in its premise, playing upon one of every parent's worst nightmares. The tactics are believable, the circumstances are compelling, and the execution is taut. You can question Shaker's motivations, which are never really clear beyond the extended metaphor he makes with a description of The Time Machine. You can ask whether Rene Russo does anything of consequence as a distraught mother skeptical of her husband's plan. You can wonder why a subplot outing Tom as an essentially harmless white-collar criminal exists other than as an investigation mislead.

You can speculate how another director might have uncovered greater power in the material. Speaking of the material, few are aware that it dates back to the obscure 1956 film Ransom! starring Glenn Ford, Donna Reed, and Leslie Nielsen, which itself was adapted from a Season One episode two years earlier of the live anthology series "The United States Steel Hour." The screenwriters Cyril Hume and Richard Maibaum receive posthumous story credit here, though their film being loosely remade goes unmentioned.

In spite of these concerns, Ransom is a solid thriller, one shot, edited, and scripted quite effectively. As the blockbuster numbers confirmed, this is a film able to reach and entertain many who ordinarily would not have interest in a movie of this sort. The R rating is earned with violence and language, but it's not gruesome enough to make the typical adult or teen uncomfortable. This is not a film that is going to win any accolades beyond the MTV Movie Awards (which surprisingly snubbed it) and Blockbuster (which awarded Gibson and, oddly, Taylor). (It did also receive nominations from the Young Artist Awards, the genre-based Saturn Awards, the NAACP's Image Awards for Lindo, and, most notably, the Golden Globes, with Gibson vying for Best Drama Actor.) But it is a well-made and enjoyable ride that holds up fairly well.

As an action movie and one of Touchstone Pictures' all-time biggest hits, Ransom would seem an obvious choice for quick Blu-ray treatment. But it only came early last month, in time for Father's Day but a year too late for the 15th Anniversary Edition it is proclaimed to be.
Blu-ray Disc Details

1.85:1 Widescreen
5.1 DTS-HD MA (English), Dolby Digital 5.1 (French) Dolby Surround 2.0 (Spanish)
Subtitles: English for Hearing Impaired, French, Spanish
Not Closed Captioned; Extras Subtitled
Release Date: June 5, 2012
Suggested Retail Price: $20.00
Single-sided, dual-layered disc (BD-50)
Blue Keepcase with Side Snap
Still available as Special Edition DVD ($6.25 SRP; March 23, 2004)
Previously released as VHS and Widescreen VHS (November 4, 1997), DVD (December 3, 1997), and 2-Movie Collection DVD with Hostage (February 10, 2008)
VIDEO and AUDIO
Ransom's Blu-ray offers decent picture quality. The 1.85:1 transfer is probably not exorbitantly superior to the one found on the Special Edition DVD, though the latter bafflingly wasn't enhanced for 16:9 displays (in 2004!). The film has a very 1990s look to it. The video is a little fuzzy and ever so slightly soft. The element remains clean and detail is adequate. Most viewers should be satisfied but far from blown away by the presentation.
The 5.1 DTS-HD master audio soundtrack is better. It has good weight, doing an especially nice job of distributing James Horner's fine score from all channels. The mix isn't too aggressive and directional effects are minimal, but the crisp mix offers a plenty satisfying representation of the film.
BONUS FEATURES, MENUS, PACKAGING and DESIGN

Ransom is one of the few non-animated movies Disney treated to multiple DVD releases, receiving a single-disc Special Edition in early 2004. Appropriately enough, this Blu-ray hangs on to the handful of extras from that release, presenting them all in 1.33:1 standard definition.

First up from the Languages menu is an audio commentary by director Ron Howard, seemingly recorded in 2002. When he talks, he is candid, personal, and revealing, touching on both dramatic intent and technical considerations.

Unfortunately, there are numerous lulls throughout. Among the most interesting notes: Philip Seymour Hoffman auditioned for a role and Rene Russo was Howard's high school classmate (until she dropped out).

Hardly the "extensive" collection the case promises, the four included deleted scenes (3:53) are brief and unremarkable, most of them featuring Delroy Lindo's FBI agent and one of them strangely yet noticeably sanitizing via ADR a mild expletive to "bozo." On laserdisc, the movie was offered in an extended director's cut running 18 minutes longer than the theatrical version. It is inexcusable to find just a fraction of those cuts here (as on the prior DVD) and still no chance to see Howard's supposedly preferred edit on a 5-inch disc. At least you can currently watch the cuts for free on YouTube.

"What Would You Do?" (13:16) is not a clip from John Quiρones' Primetime series but a fairly typical Ransom making-of featurette. Howard and his regular editor Dan Hanley reflect on the film and their presumably 2003ish thoughts are complemented by on-set actor interviews from 1996. It's a reasonably fun and substantial piece, touching on Mel Gibson's playful demeanor as well as specific scenes of significance.
Just like the Special Edition DVD, this Blu-ray's case promises but does not deliver a "Captivating Behind-the-Scenes Special with Cast and Filmmakers", unless it is using that to describe "Between Takes", four minutes of disjointed clips showing the cast and crew having fun on set,

from Rene Russo's pantyhose talk and Ron Howard's devil stick play to recently-decorated director Mel Gibson demonstrating aspect ratios with rubber bands.

Finally, we get a short international theatrical trailer (1:05). Who knows why we get just that and not the longer domestic one too?

The disc opens with trailers for The Odd Life of Timothy Green and John Carter followed by an anti-tobacco Truth spot. The menu's Sneak Peeks listing repeats those same three items and adds a trailer for The Avengers and one for new ABC dramas on DVD.

The scored menu screen merely reformats the cover art, which itself barely updates the original theatrical poster design. The disc's authoring leaves plenty to be desired: not resuming playback, not supporting bookmarks, and not even providing Disney's usual offer to remember where you left off watching the film.

The release's lack of frills extends to the side-snapped case, which features a plainly-labeled blue disc and nary an insert, slipcover, or reverse side artwork image.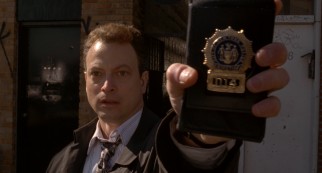 CLOSING THOUGHTS
It's very easy to call Ransom a good movie. This gripping action thriller ranks highly among the work of all involved and it holds up better today than a number of its contemporaries. Disney's Blu-ray is a fairly standard affair, transferring the Special Edition DVD supplements and upgrading the film to a decent 1080p presentation, while missing another opportunity to offer the film's extended cut or at least the significant deletions that were reinserted for it. This is not a must-have movie or disc, but it's one you probably won't regret renting or buying at a good price.
Buy Ransom from Amazon.com: Blu-ray / Special Edition DVD / Original DVD / VHS