The Squid and the Whale is an excellent piece of personal filmmaking. Written and directed by Noah Baumbach, it tells the story of a family of four undone by a painful divorce in the Park Slope neighborhood of Brooklyn in 1986.

The two sons of Bernard (Jeff Daniels) and Joan Berkman (Laura Linney) are not blindsided by their plans to separate,

but they are understandably embittered and wanting to assign blame. Under the terms of joint custody agreed upon, teenaged Walt (Jesse Eisenberg) and pre-teen Frank (Owen Kline, the son of Kevin Kline and Phoebe Cates) will spend every other day (Thursdays alternate) with a different parent.

Their father's new house across the park, which falls far short of his descriptions ("elegant... the fillet of the neighborhood") would seem to put him at a disadvantage with the boys, but in fact, their allegiances are already clearly drawn and seem unlikely to budge. Walt is entirely on the side of his intellectual father, whose snide literary assertions he repeats as gospel. In Walt's eyes, the fault must lie with their mother, whose current toe-dipping into the writing world cannot compete with Bernard's glory, as fading as that is. Frank, meanwhile, sympathizes with Mom, who lovingly calls him "Pickle."
Each boy acts out in response to the separation. Walt passes off Pink Floyd's "Hey You" as his own original creation, winning $100 for performing it at a school talent show. The inflated, judgmental nature he inherits from his father creeps into a potentially nice blossoming romance with a friendly classmate (Halley Feiffer). Meanwhile, the sensitive, often foul-mouthed Pickle starts guzzling beer at home and turns masturbation into a disgustingly messy public activity.
After seventeen years of marriage, Joan and Bernard try to move on, Joan with Pickle's admired tennis instructor Ivan (William Baldwin) and Bernard with Lili (Anna Paquin), one of his more brazen and flirtatious college students.
The writing in The Squid and the Whale is some of the most amazing I have encountered in this century. The dialogue flows with such ease. It feels much too natural to have been scripted but it is also too sharp and confidently performed to be improvised. As you can guess from the realism and tastefully subtle period setting, Baumbach is drawing from his own adolescent family experiences. Even removed twenty years, to revisit these painful, personal wounds with such grace and candor is nothing short of astonishing. If there was any temptation to minimize the imperfections and embellish the gifts of his obvious doppelganger Walt, Baumbach has resisted it altogether. Walt and the entire Berkman family are flawed individuals relying on their defense mechanisms to overcome sudden, regrettable life change. I can't think of another instance where a filmmaker opens up as thoroughly with nary a trace of phoniness.
The authenticity of the storytelling might be hard to appreciate if Baumbach's film wasn't so consistently entertaining. This is an extremely funny film, which is unusual for an indie shot on a shoestring budget (reportedly $1.5 million). The interactions and characterizations are so accessible. Daniels especially shines with his portrayal of the deluded, pretentious patriarch, a proud, competitive cheapskate who dismisses A Tale of Two Cities as "minor Dickens" and writes off people "who don't care about books and interesting films and things" as philistines.

The unfit nature of Bernard's parenting and lifestyle is plain to us, but somehow obscured to his devoted disciple Walt, who harbors great resentment towards his unfaithful mother.

The Squid and the Whale is produced by Wes Anderson, who collaborated with Baumbach on the screenplays for The Life Aquatic with Steve Zissou and Fantastic Mr. Fox. The two offbeat auteurs are clearly compatible and Squid shares rhythms and a sense of humor with what is Anderson's most substantial work to date, The Royal Tenenbaums. Both technically and structurally, Baumbach resists the urge to go storybook big like that film. But he appreciates the value of precise, cutting dialogue and the power of small details (like the way that Walt hides a discarded paper towel used, against his father's rule, merely to dry one's hands). Baumbach also recognizes the importance of music, getting great mileage out of the aforementioned appropriated Pink Floyd tune, fitting Tangerine Dream instrumentation, and even a seemingly random tune from Schoolhouse Rock! (Baumbach's A Charlie Brown Christmas?).

Writing was the most singled-out aspect of this critically acclaimed 2005 film, deservedly earning Baumbach his first (and, sadly, thus far only) Oscar nomination to date. While I can't confess to being familiar with all of that year's Original Screenplay nominees, I will say that Squid would have been a worthier choice for the honor that went to Crash, a film I respect but don't love. While it's incredibly easy to be swept up in Baumbach's prose, which even finds the beauty in profanity, it's important to notice his immense directing talent as well.

Running just 76 minutes plus end credits, Squid is impressively short and to the point while being tremendously substantial. There isn't a scene or line you can cut without harming the film; each sheds light on characters who skillfully evolve before our very eyes in profound ways that never feel false or forced. Even the title, which invites misguided expectations of marine life, comes to light with impact and grandeur, yet without a distracting sense of pride in the craftsmanship. When that first end credit -- "Written and Directed by Noah Baumbach" -- pops up, probably sooner than you wish it would but at just the right moment, there is no air of proprietary, simply an acknowledgement that this is the man whose relatably messy adolescence has been shared with us in a delectable and unforgettable fashion.

The kind of movie you can understand getting licensed out to a smaller studio, The Squid and the Whale recently made its Blu-ray debut among a wave of Sony double features distributed by Mill Creek Entertainment. It is joined by Running with Scissors, another independent dramedy from the middle of last decade. The pairing makes sense. since both films are set in the fairly recent past, based on real life experiences, and deal with the aftermath of a marriage's acrimonious dissolution via a teenaged boy protagonist.

Adapted from Augusten Burroughs' memoir and directed by "Glee", "American Horror Story" creator Ryan Murphy, Running tells the story of an unusual upbringing. After a bit of early '70s backstory establishes the close relationship of Augusten and his mother Deirdre (Annette Bening), the film takes place from 1978-79. Augusten (Joseph Cross) is the age of a junior high school student, though, sometimes with his mother's blessing, he doesn't really attend. Deirdre desperately wants to be published in The New Yorker, though it and every other literary publication has rejected her every submission. With her marriage to Norman (Alec Baldwin) on the skids, one night, Deirdre welcomes Dr. Marion Finch (Brian Cox) into her home.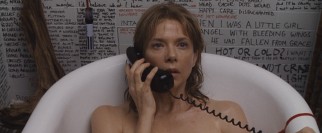 Our first impression tells us that Dr. Finch is a no-nonsense psychiatrist determined and likely to salvage this marriage. Soon, it becomes clear that he's not quite the expert marriage doctor he looked like. Fueling the seemingly irrational fears that Norman could be homicidal, Dr. Finch invites Deirdre into his chaotic, slovenly pink mansion for more intensive therapy. There, the television is set to "Dark Shadows" by Finch's aging, kibble-eating couch potato wife Agnes (Jill Clayburgh) and that is a pretty accurate analogy for this family of eccentrics and their bizarre home. Finch's adopted brood includes Natalie (Evan Rachel Wood), a fashionable teen shown less affection than the spinster humorless Hope (Gwyneth Paltrow). No longer on site but also part of the family is Neil Bookman (Joseph Fiennes), a gay, schizophrenic 35-year-old photographer, with whom Natalie sets up the aspiring cosmetologist Augusten.

Heavily sedated by Dr. Finch's seemingly randomly prescribed combination of antidepressant samples,

Deirdre leaves Augusten in this madhouse to fend for himself while she dabbles in a lesbian relationship with friend and fellow wannabe writer Fern (Kristin Chenoweth). At the doctor's advice, Augusten stages a suicide attempt to keep him out of school indefinitely.

It's easy to spot parallels to Murphy's other work, from the Gothic tones of the Finch house to the sensitive, confused, gay young hero resembling Kurt Hummel (at around the same age Murphy would have been then). An overlong parade of 1970s music with more than a few corny/pithy one-liners, Murphy's film seems to make a mockery of the real Burroughs' life, or more specifically the family life of his mother's unstable shrink. The author's approval is implied, however, both in his co-producer credit and his playful appearance in the end credits' "Where are they now" follow-up screens.
Viewers, though, are unlikely to share Mr. Burroughs' contentment by the time the end credits roll. Far too much time is spent on wacky family members exhibiting their unpredictable quirks to stay invested or interested in the relationship of Augusten and his increasingly insane mother. When the film comes around to taking the family bond seriously, it already seems beyond repair to us and neither more nor less meaningful than any of the other characters getting to share scenes with Augusten.
Bening's Golden Globe nomination for Best Actress in a Comedy or Musical, a category that seems relatively easy to crack most years, was the only major honor earned by this film, which floundered at the box office in limited fall release, grossing slightly less than Squid and the Whale did, with about four times as many theaters to boot.
Blu-ray Disc Details

Squid: 1.78:1 Widescreen; Scissors: 2.40:1 Widescreen
5.1 DTS-HD MA (English, Spanish, French); Squid's French track: 2.0 DTS-HD MA
Subtitles: English for Hearing Impaired; Not Closed Captioned
Release Date: March 26, 2013 / Suggested Retail Price: $9.98
Single-sided, dual-layered disc (BD-50) / Blue Keepcase with Side Snap
Also available on Amazon Instant Video: The Squid and the Whale, Running with Scissors
Also available in 4 Movie Collection DVDs Squid, Scissors ($9.98 SRP; November 6, 2012)
Squid previously released by Sony as Special Edition DVD (March 21, 2006)
Running w/Scissors previously released by Sony on DVD and Blu-ray (February 6, 2007)
VIDEO and AUDIO

The Squid and the Whale looks pretty good here. Reflecting the low-budget origins and a presumably desired look, the 1.78:1 picture is quite grainy most of the time. You'll notice that the 1080p transfer contains a bit more detail than DVD,

though the difference in quality isn't extraordinary. The 5.1 DTS-HD master audio soundtrack is quite satisfactory, presenting dialogue and music with no concerns.

Running with Scissors has been released to Blu-ray on its own by Sony and I'd be surprised if it didn't look better there. For the most part, the 2.40:1 picture is great, clean, and just a touch soft, but every once in a while, a bright stray line pops up across one side of the frame. Sometimes it's red, sometimes it's green, sometimes it's white. It's subtle and in fact downright subliminal, where you'll have to rewind to make sure your eyes aren't playing tricks on you. They are not. I have no idea why what looks like some kind of digital interference and other blemishes would mar the high-def transfer of a 2006 film, but they are all that keeps Scissors from a perfect video score. The 5.1 DTS-HD master audio is also largely pleasing, but also imperfect, as a prominent clipping sound on the opening sequence makes clear. Fortunately, it was an isolated incident, with only one similar intrusion warranting inspection and being indeterminate. Gladly, both films are treated to English SDH subtitles.
BONUS FEATURES, MENUS, PACKAGING and DESIGN
Unfortunately, both films are joined by zero bonus features. The Squid and the Whale loses its DVD's Criterion-esque 10-page booklet reprinting the film's New Yorker and L.A. Times reviews, 52-minute Baumbach audio commentary not attached to the film, 38-minute New York Film Festival interview of Baumbach by Phillip Lopate, and 10-minute behind-the-scenes featurette. Running with Scissors' concurrent DVD and Blu-ray editions had three short featurettes on its cast, set design, and source memoir.
In what is evidently Mill Creek's new standard, each film gets its own menu screen comprised of rectangles that change from desaturated stills into vibrant clips while some score plays. Squid's DVD screens, more in line with the poster artwork, are missed. The disc doesn't allow you to place bookmarks, but does resume unfinished playback of the films.
No inserts, slipcover or reverse side artwork jazz up the standard side-snapped blue keepcase.
CLOSING THOUGHTS

In what appears to be the best-case scenario for a Mill Creek Double Feature Blu-ray, this one includes one great movie (The Squid and the Whale) and one merely okay one (Running with Scissors).

Given the disc's low list price, it's tough to make a huge fuss about the lack of extras that should be readily available and Scissors' imperfect picture and sound. Still, as good of a deal as it may seem, extra effort would have made it much better.

Personally, I'm glad to get Squid in high definition and am satisfied with its video/audio. I would have preferred getting its DVD bonus features, though, to an unrelated film more suitable for a one-time rental. Needless to say, I'll be hanging on to my Squid and the Whale DVD, but relying on Mill Creek's feature presentation the next impulse I have to watch the movie. I'm doubtful the film will get a better Blu-ray release than this anytime soon. If you only like Scissors, you can apparently continue to pick up Sony's Blu-ray for a couple of dollars more than this.

Buy The Squid and the Whale & Running with Scissors: Double Feature Blu-ray at Amazon.com