In the mid-1990s, Disney found new project potential in its rich animated catalog. First came a few profitable, frugal direct-to-video sequels.

The studio then tried something a little different with 1996's 101 Dalmatians, a live-action remake of the 1961 animated classic.

Dalmatians assembled an ample pool of talent on both sides of the camera. John Hughes (The Breakfast Club, Home Alone) wrote the script and produced, riding the kid-oriented wave on which he would soon leave Hollywood. Director Stephen Herek wasn't a household name, but he had helmed a number of midrange hits for Disney, including The Mighty Ducks and Mr. Holland's Opus. More important to audiences was the cast, which put Oscar winner Glenn Close in the juicy villain's role of Cruella De Vil and multiple Golden Globe nominee Jeff Daniels as human hero Roger.

Then, of course, there were the dalmatians -- real dalmatians. Still aided by the occasional visual effect but speechless and not as cuddly as their cartoon counterparts, they were nonetheless sure to strike a cute, forceful screen presence.
The film begins pleasantly enough and, predictably, like its winning inspiration. In contemporary London, struggling computer video game creator Roger (Jeff Daniels) is pulled into the park by his male dalmatian Pongo for a meet-cute with fashion designer Anita (Joely Richardson) and her female dalmatian Perdita. Bonding over the public embarrassment their respective dogs put them in, Roger and Anita click and, before you know it, they're married. The two-couple family soon grows, as both Anita and Perdita become pregnant. The dog gives birth first, to a whopping pack of fifteen puppies.
Arriving instantly at the scene of the litter is Anita's icy magnate boss, Cruella (Close). With checkbook in hand, she's ready to feed her fetishes for fur and spots by adopting the whole batch. When her offer is refused, her obsession persists. And, as you likely know, she becomes the driving force behind a dognapping of epic proportions. Dim-witted henchmen Jasper (Hugh Laurie) and Horace (Mark Williams) do the dirty work, with the intended destination an entire line of black and white dalmatian fur clothing.
Very few would argue that this Dalmatians movie tops its animated ancestor and even on its own merits, this one is pretty drab. Close gives of herself in the stylish antagonist role, Daniels is amusing and acceptable as an American Roger, and Hugh Laurie (pre-American fame as "House") has a few good bits. But the strong start gives way to a disappointing middle and the film never recovers. The central adventure/mystery is never close to as rousing as it was earlier. And it does aspire to it; things that would play well as cartoons come off very broad and forced here.
The doughy movie runs 23 minutes longer than 1961's version and it would benefit greatly from losing at least that much. It doesn't help that much of the film's center is dark and free of dialogue. Granted, you get plenty of puppy antics, some of which qualify as cute or impressively-achieved, but they never captivate enough to not want more Close and Daniels. On the whole, the comedy angle falls short. To me, this Dalmatians feels less like its source film and more like a tamer and much longer version of the over-the-top climax from Hughes' Home Alone 2.
Although critics were divided, audiences unsurprisingly weren't deterred. They made 101 Dalmatians one of 1996's highest-grossing movies and one of Disney's all-time biggest live-action hits, with earnings of $136 million domestically and $320 M worldwide.
The film's success had widespread consequences for Disney. It solidified Dalmatians as a surefire franchise, reinforcing the reach of the perennial animated hit most recently reissued to theaters five years earlier. A cartoon television series entered syndication and ABC's Saturday morning line-up the following September and within a decade, both a theatrical live-action sequel and a straight-to-DVD animated one were released.
It also encouraged the company to explore other recognizable brands for live-action film treatment, something they would do voraciously over the next few years. Cartoons, sitcoms, old Disney movies, old non-Disney movies... they all re-emerged as major Disney comedy tentpoles, including Flubber, The Parent Trap, Mighty Joe Young, and Inspector Gadget. As far as tentpoles were concerned, Dalmatians' formidable first weekend and holiday season legs crystallized Disney's faith in Thanksgiving week openings. They've since debuted many high-expectations works then, most recently last year's Enchanted.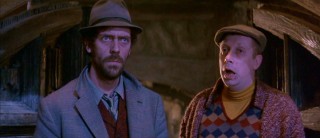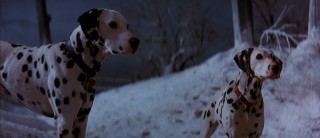 101 Dalmatians became one of Disney's earliest DVD releases, reaching stores in April of 1998, well before its animated inspiration would turn up on the format. Strangely, though, the live-action Dalmatians didn't remain available very long. When sequel 102 Dalmatians came to DVD in spring of 2001, it also turned up in 2-pack with its predecessor. Blunderingly conceived, the double feature paired the original's widescreen disc with the fullscreen version of the sequel. At the same time, the 1996 film's standalone DVD was discontinued. 101 hasn't been available on DVD in stores at all for about seven years now.

It returns to the format next week, along with individual releases of 102 Dalmatians and the animated 101 Dalmatians II: Patch's London Adventure (2003). Unlike Patch's, 101 Dalmatians receives no "Special Edition" moniker or any designation at all. That raises the question, "Why revisit the film now instead of years earlier in the out of print stage?".

I have two theories that may go hand in hand. The less plausible one is that in a tough year that's kicked them to dead last among the six major studios in box office earnings, Disney is doing anything they can to rekindle the public's affections for dog films. They've got high hopes for the two of those (Beverly Hills Chihuahua, Bolt) opening over the next two months.

My other hypothesis is that the studio simply needn't worry about diminishing the audience recognition of the original 1961 animated classic. That spent an even longer time out of store circulation and had a return accompanied by the priceless press release "The Disney Classic You Think You Own - But Do You??". Now that the Platinum Edition DVD of the animated version has sold like hotcakes, has the company ceased fearing customers will be confused and scared out of purchases and thus decided to open its Dalmatian movie floodgate?

Whatever the case may be, all three of the aforementioned Dalmatian movies reach shops next week in snazzily-packaged DVDs. Read on for the good and bad news about 101's new edition.
DVD Details

2.35:1 Anamorphic Widescreen
Dolby Digital 5.1 Surround (English, French, Spanish)
Subtitles: English
Closed Captioned; Extras Not Subtitled
Release Date: September 16, 2008
Single-sided, dual-layered disc (DVD-9)
Suggested Retail Price: $29.99
Black Keepcase in
Embossed, Holographic Cardboard Slipcover
VIDEO and AUDIO

This is the one area where this new DVD improves upon the original. As before, 101 Dalmatians appears only in its 2.35:1 widescreen theatrical aspect ratio.

This time, it is enhanced for 16x9 displays. That's all the comparison I'm able to do, but I can guess with confidence that this new transfer, utilizing Disney's latest disc-mastering standards, looks better than the old one. There are a few specks noticeable early on, but within minutes, you'll have nothing but praise for the clean, detailed, crisp images. It's too bad that the dark, bland visuals from the halfway point on themselves mostly disappoint.

In the sound department, we once again get English, Spanish, and French mixes in Dolby Digital 5.1. Peaks and valleys may yield some volume adjustment, but all the elements are expectedly audible and balanced. As was often the case for 1990s family films, an active score features largely here. This one, by the late Michael Kamen, is omnipresent and slightly schmaltzy when asked, yet completely forgotten after one viewing.
BONUS FEATURES, MENUS and PACKAGING

The best Disney can do for this blockbuster after seven years out of print is match the number of bonus features on the original DVD.

That's pretty pathetic, but it means Dalmatians' theatrical trailer (1:23) is retained despite going unmentioned on the case. In addition to that aged-looking preview, we get a funny blast from the past in an "Additional Titles" section recommending four titles that preceded Dalmatians to DVD. At least someone had a sense of humor when designing this disappointing platter.

The disc opens with promos for the Disney company, Sleeping Beauty: Platinum Edition, Beverly Hills Chihuahua, 101 Dalmatians II: London's Patch Adventure Special Edition, Tinker Bell, Hannah Montana and High School Musical DVD games, and Disney Movie Rewards. These are joined on the Sneak Peeks menu by ads for WALL•E, The Little Mermaid II: Return to the Sea Special Edition, "Phineas and Ferb", and The Chronicles of Narnia: Prince Caspian.

More nostalgia for early Disney DVD is served in the static, silent 4x3 menus, which must barely change those from the original disc.

Of course, the DVD is treated to a redundant cardboard slipcover which catches the eye with a holographic background pattern. Taking cheapness a step further, the only case insert is a Blu-ray booklet that holds your Disney Movie Rewards code.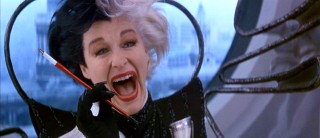 CLOSING THOUGHTS
Overdue, overpriced, and underwhelming, this new 101 Dalmatians DVD reaches stores with the impact of a tree falling in an unobserved forest. The good things to come from this disc are that the film is once again easy to buy and now sports an anamorphic transfer. The bad thing is that the blank extras slate means the opportunity for a set worthy of a blockbuster is certainly missed. To add insult to injury, you're asked to pay at least twice what you should for such a vanilla presentation of a catalogue title. I'm bothered and I didn't even care that much for the movie.
If you disagree with my assessment and see Dalmatians as more than a one-time viewing, I advise you to ignore Disney's release date deals on this and its two fellow Dalmatian films. If you can stand to wait a little longer (which should be easy, considering how long it's been out of print), you'll save more money when the disc comes down to appropriate bargain bin pricing. While it's nice to see Disney hasn't forgotten that its live-action films can be re-released on DVD also, more effort will be needed to excite customers.