Outside of children discovered through nationwide casting calls, it's rare for movie actors today to make auspicious debuts. While it still happens once in a while, most of the time looking up someone you believe to be an impressive newcomer yields an Internet Movie Database record with prior credits in television, low-budget cinema, or something else generally unknown.

This reality makes it all the more special when a breakout turn truly is an actor's first performance committed to film.

Primal Fear (1996) practically qualifies as that for Edward Norton. The only earlier work listed in his IMDb filmography is 1994's Only in America, an hour-long instructional video on American English. Watch its trailer here and I think you'll agree it doesn't really count. Which makes his Oscar-nominated supporting role in Primal Fear a breakthrough, a first, and a promise soon realized in Norton's acclaimed if erratic career as a leading man.

Although inexperience earns him sixth billing, Norton holds the second biggest role here. The first is claimed by star Richard Gere. Gere plays Martin Vail, a hotshot Chicago defense lawyer who laps up media attention and believes Truth is irrelevant to his primary goal, sparing his client conviction. If that sounds like a contemporary version of Gere's subsequent role of Billy Flynn, that's because it is, minus the singing and tap dancing.
Upon hearing news about the grisly murder of a local archbishop, Vail is the first lawyer to meet with the only suspect. Aaron Stampler (Norton) was apprehended fleeing from the crime scene covered in the bishop's blood. Vail agrees to take the case "pro bono", but Stampler's explanation that an unknown third party was in the room and carried out the act seems like a stretch. Then again, so does the idea that Aaron -- a polite, cherub-cheeked, 19-year-old altar boy and choir boy with a stutter -- could deserve the nickname "The Butcher Boy" that the public has swiftly assigned him.
Adding to the case's intrigue is the fact that it pits Vail against his former colleagues in the state attorney's office and that his opposing counsel is one-time flame Janet Venable (Laura Linney). The two sides' history makes communication between them open, but not quite friendly.
This taut drama unfolds as much in the courtroom as out of it, as a number of discoveries come to fruition, including one major twist that would make Vail and his team reconsider their defense if they could. The contradiction between all the evidence and the suspect's innocent demeanor fuels the mystery. It's not a far cry from a well-made procedural TV program, like an outstanding and unusually colorful episode of "Law & Order." Director Gregory Hoblit was no stranger to that format, having directed and produced installments of "Hill Street Blues", "L.A. Law", and "NYPD Blue" to the tune of 9 Emmy awards before making this big screen debut.
That isn't to say that Primal Fear only rises to the quality of a weekly cop-and-lawyer show. The acting here is far too good for that. The 25-year-old Norton garners attention in the film's most striking and complex role, but those around him strengthen the parts written for them. Gere is a good lead without straying far from his comfort zone. In one of her biggest roles to date, Linney is a worthy adversary.

Other fine work comes from the accomplished supporting cast, including Andre Braugher and Maura Tierney as Gere's assistants, Frances McDormand as the evaluating neuropsychologist, Alfre Woodard as the judge whose sympathy appears to lie with the prosecution, Steven Bauer as a bullied hood, and John Mahoney as the state attorney with potentially heightened interest in the case.

Some of the turns in the screenplay by Steve Shagan (Save the Tiger) and Ann Biderman ("NYPD Blue") do seem a little contrived or at least conveniently tidy. A climactic interrogation reminded me of the bad vibe slime from Ghostbusters II reacting to the rantings of Harris Yulin's judge. But on the whole, this adaptation of William Diehl's 1992 novel (his first of three centering on Martin Vail) roams between benign and proficient, keeping closer to the latter and never softening its firm grip on the viewer.

With worldwide earnings of over $100 million, Primal Fear was certainly profitable if not quite a smash hit. The movie is well regarded enough to render Paramount's revisiting of it, over ten years after its unremarkable DVD debut, logical. March 10th sees the film make the jump to Blu-ray and simultaneously get a DVD upgrade. Both versions are called Hard Evidence Edition and contain the same special features. We take a look at the standard DVD below.
DVD Details

1.78:1 Anamorphic Widescreen
Dolby Digital 5.1 (English, French, Spanish)
Subtitles: English, French, Spanish
Closed Captioned; Video Extras Subtitled
Release Date: March 10, 2009
Single-sided, dual-layered disc (DVD-9)
Suggested Retail Price: $14.98
Clear Keepcase in Plastic Resealable "Evidence" Bag
Also available on Blu-ray Disc
VIDEO and AUDIO
Presented in a 1.78:1 anamorphic widescreen transfer that approximates the film's 1.85:1 theatrical aspect ratio, Primal Fear looks pretty good. While I was unable to compare this disc to the 1998 DVD, I suspect the Hard Evidence Edition comes out ahead, even knowing Paramount's long reliable picture quality standards. Both the filmmaking style and the on-camera fashions pin this as a 1990s production, but there's little sign of age in the clean, sharp visuals. A very fine grain, perhaps unintended, appears present in some scenes. Beyond that, the image is nothing short of satisfying.
Dialogue forms the bulk of the Dolby 5.1 mix, which is generally straight and simple. Volume varies a little, but a crisp and natural sound is maintained. You'll notice some infrequent atmosphere as in the early hovering helicopter, but like most legal dramas, this one operates primarily with speech.
BONUS FEATURES, MENUS and PACKAGING

The bonus features begin with a 5-speaker audio commentary. Heard here are director Gregory Hoblit, writer Ann Biderman, producer Gary Lucchesi, executive producer Hawk Koch, and casting director Deborah Aquila. For having so many folks present, the track is pretty dry. Most of the comments center on the performances with no shortage of admiration. The mix of inside stories and screen-specific observations isn't a complete loss,

but it's of considerably less value than you might expect for a movie of this caliber. Furthermore, many of the most interesting remarks are repeated in the video extras.

On that front, we get three featurettes.

"Primal Fear: The Final Verdict" (17:55) is the most general piece. It contains new interviews with director Gregory Hoblit, actors Edward Norton and Laura Linney, screenwriter Biderman, producers Lucchesi and Koch, and editor David Rosenbloom. As you can guess, that makes the one glaring absence Richard Gere. It's still a solid piece, which covers the development, the casting of Linney, and the editing of the film. On that last point, there is the revelation of an entire deleted subplot taking Martin Vail to West Virginia to explore Aaron's past, with Wendy Crewson playing his teacher. This discussion makes the disc's complete lack of deleted scenes frustrating.

Next up is "Primal Fear: Star Witness" (also 17:55), which recalls the process of casting Edward Norton mostly through comments by Norton himself and casting director Deborah Aquila. It's a bit long-winded for the topic but also quite interesting. Among the highlights are talk of the near-hiring of Leonardo DiCaprio and, as in the previous piece, some clips of Norton's screen test.

Third piece "Psychology of Guilt" (13:35) moves away from the film but deeper into its subject matter with legal and medical experts weighing in on insanity defense, with supporting references and evidence from some famous cases. When done right, these kinds of go-beyond-the-film pieces are a nice alternative to making-of content and that's true of this one.

Last but perhaps not least is the one feature carried over from the first DVD release, Primal Fear's taut original theatrical trailer (2:25).

"Previews" plays the same two trailers that load the disc, promoting Eagle Eye and The Godfather: Coppola Restoration.

The scored, routine main menu loop juxtaposes court and church imagery with video of Gere and Norton.

Those who are disappointed that DVD packaging rarely gets more creative than a redundant cardboard slipcover will appreciate Paramount's design here. Primal Fear's clear keepcase is held in a plastic Ziploc-type bag marked "Evidence" and identified by some stickers. The stickers merely line up with the cover art below and there's no reverse cover art, chapter insert, or disc art found inside. Still, a little inexpensive touch like an Evidence bag is easily appreciated and adds to the release's specialness.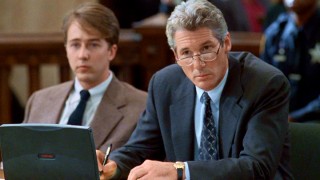 CLOSING THOUGHTS
Even if you're not wowed by Edward Norton's star-making debut or the wallop of an ending, you should still find enough arresting legal drama in Primal Fear to appreciate it plenty. Paramount's Hard Evidence Edition DVD is clearly the one to buy. Its lack of deleted scenes disappoints, but otherwise the feature presentation and new bonus features delight. On the strengths of the movie and the video supplements, this fine disc garners a recommendation at the low price with which it debuts.
More on the DVD / Buy from Amazon.com / Buy on Blu-ray / Buy The Book by William Diehl