By 1987, Michael J. Fox was a movie star. Not only had he headlined 1985's #1 blockbuster Back to the Future, he had also made less surefire material profitable in the comedies Teen Wolf and The Secret of My Success. Though still holding just third billing,

Fox was unquestionably the main attraction and chief focus of the popular NBC sitcom "Family Ties".

When aired on Thursday nights behind television's top draw, "The Cosby Show", "Family Ties" placed second in overall Nielsen ratings. In 1987, with the collegiate spin-off "A Different World" staking a stronger claim to have "Cosby Show" as its lead-in, "Family Ties" was rescheduled to Sunday nights, sandwiched between "Our House" and "My Two Dads." Unsurprisingly, it took a tumble in the ratings, though still finishing a respectable 17th for the 1987-88 season.

This was The Sixth Season of "Family Ties", which meant the writing was already on the wall to begin winding down. The series had done a European vacation television movie to start Season Four. But with lucrative offers like back-to-back Back to the Future sequels and other film vehicles coming Fox's way, he couldn't have wanted to stay committed to television's demanding schedule and the show wasn't in a position to try to live on without him.

Still, the writers weren't just churning out stories to bulk up their syndication package or stay occupied. They continued to offer Fox and viewers worthwhile material. As a traditional sitcom, "Family Ties" is subject to artifice, tropes, and frugality. It is also certainly a product of its time, a time when you could frequently talk politics in primetime without alienating half of your viewership. Considering its limitations, the show holds up quite well, largely on the basis of its characters and chemistries.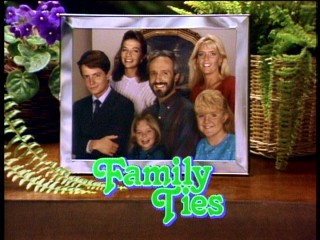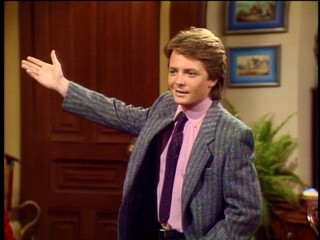 The Keatons of suburban Ohio lend themselves to the kind of earnest, sweet family portrayal you don't find anymore on television. Most focal is eldest child Alex P. Keaton (Fox), a nosy, money-obsessed young Republican overachiever. Rarely seen in anything but a preppy sweater or a jacket and tie, he idolizes Presidents Reagan and Nixon. That bold personality is somehow affable to those who find his views disagreeable. That includes the series' writers and the character's parents, former hippie Baby Boomers, hard-working architect Elyse (Meredith Baxter Birney) and public television employee Steven (Michael Gross).
Rounding out the unit are Alex's sister Mallory (Justine Bateman), a shallow, airheaded, fashion-minded undergraduate; Jennifer (Tina Yothers), a former tomboy who at this point seems unremarkably average; and Andy (Brian Bonsall, better known to my generation as the star of Blank Check), the family's baby boy, who continues to add cuteness and youth in just his second full season as a regular cast member.
With its sturdy, consistent structure, home-centric storylines, and fair distribution of episode focus, "Family Ties" offers a textbook study in Sitcoms 101. Season Six finds Jennifer starting high school and Andy beginning Kindergarten. But the young'uns still take a backseat to Alex and Mallory, who each have a serious love interest to carry them through the season. For Mallory, it is her thick-headed, dangly-earringed artist boyfriend Nick Moore (Scott Valentine), a character popular enough to spawn three spin-off pilots (none of them picked up, due to NBC not wanting "Family Ties" to lose the character). Alex, meanwhile, starts dating psychology grad student Lauren Miller (future "Friends" star Courteney Cox), a prominent recurring presence both this season and the subsequent final one.
The series doesn't shy from drama, proving itself willing to go entire episodes with just a few laughs, as in a two-parter exploring the wounds of a recent divorce and an episode diagnosing a single-episode guest star with Alzheimer's. And yet, the show also seizes choice opportunities to inject humor and lighten the tension of such heavy episodes.

Few series stay at the top of their game into a sixth season and "Family Ties" is no exception. There are signs of creative complacency, if not quite fatigue. That was reflected in 1988's Emmy Awards, which after back-to-back big years for the series extended only a single nomination, the smallest haul of its run.

That nomination went to Fox for Outstanding Lead Actor in a Comedy Series, and resulted in his third consecutive win. In the quarter-century since, no one has managed to pull off a three-peat in that category, a feat only previously achieved by Don Adams ("Get Smart") and Carroll O'Connor ("All in the Family").

In addition to Cox, Valentine, and the ever-recurring Marc Price as nerdy neighbor Skippy, this penultimate season includes guest appearances by Julia Louis-Dreyfus, Jay Thomas, jazz legend Brownie McGhee, Robert Klein, and Dan Hedaya. Two other actors you probably know pick up some of their first professional credits. A teenaged Stephen Dorff plays Jennifer's classmate, presenting a book report on an approved Yogi Berra biography, while Joseph Gordon-Levitt, more recognizable sometime around his 7th birthday, briefly portrays a classmate to Andy in two episodes.

Season Six contains 26 episodes, two of which are double-length while four others form two-parters that aired over consecutive weeks. Two other episodes were produced in earlier seasons but for some reason withheld until 1987-88 and thus are presented here.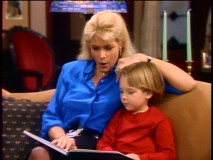 Disc 1
1. Last of the Red Hot Psychologists (Parts 1 & 2) (48:23) (Originally aired September 13, 1987)
Alex develops feelings for Lauren (Courteney Cox), the graduate student who is psychologically profiling his overachieving ways.
2. Dear Mallory (24:42) (Originally aired September 20, 1987)
Mallory begins writing an advice column and is soon swamped with submissions.
3. The Other Woman (24:41) (Originally aired September 27, 1987)
Andy is sad that Alex, preoccupied with Lauren, has no time to play with him. Steven has Lauren interpret his dreams.
4. Dream Date (24:40) (Originally aired October 4, 1987)
Jennifer attends a dance with a freshman while her sights are fixed on the sophomore she has a crush on.
5. Super Mom (24:40) (Originally aired October 18, 1987)
Elyse finds it difficult to juggle her heavy workload with her motherly duties.
6. Walking on Air (24:41) (Originally aired October 25, 1987)
Mallory starts working at her father's public broadcasting station. The rest of the family tries to win a cereal's local treasure hunt.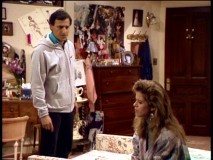 Disc 2

7. Invasion of the Psychologist Snatcher (24:41) (Originally aired November 1, 1987)
Alex is threatened by a visit by Lauren's successful ex-boyfriend (Campbell Scott).

8. The Way We Were (24:42) (Originally aired November 8, 1987)
Aunt Rosemary (Barbara Barrie) makes an unexpected visit full of stories about the Keatons' ancestors but suffering from Alzheimer's symptoms.

9. Mister Sister (24:41) (Originally aired November 15, 1987)
After becoming janitor at Mallory's sorority house,

Nick becomes highly involved in Gamma Delta Gamma life.

10. Citizen Keaton (24:42) (Originally aired November 22, 1987)
Mallory runs for student government president of her college, with Alex managing her campaign.

11. Father Time (Part 1) (24:42) (Originally aired November 29, 1987)
Steven's recently-divorced brother Richard (Norman Parker) visits for the weekend with his difficult 17-year-old daughter Marilyn (Tammy Lauren).

12. Father Time (Part 2) (24:40) (Originally aired December 6, 1987)
The strained relationship between Uncle Richard and Marilyn comes to a head.

13. The American Family (Parts 1 & 2) (48:20) (Originally aired December 13, 1987)
For an interview by Lauren, the family reflects on Andy's early days, the parents' parenting, and a number of memorable taxing moments in this hour-long clip show.
Disc 3
14. Anniversary Waltz (23:58) (Originally aired December 16, 1987)
Elyse and Steven bicker while planning their 20th wedding anniversary party. Curiously, this episode appears to have been produced back in Season 2, but didn't air until four years later. Thus, it begins with the show's old painting opening.
15. Miracle in Columbus (24:42) (Originally aired December 20, 1987)
Filling in for Skippy as a mall Santa Claus, Alex tries to give a girl a Christmas miracle.
16. The Play's the Thing (24:12) (Originally aired January 10, 1988)
Steven's autobiographical play is to be performed for two nights, bringing out jealousy in its playwright/director.
17. The Spirit of Columbus (24:43) (Originally aired January 17, 1988)
After Nick's piece of art sells for $200, Alex tries to commercialize it as his gung-ho manager.
18. The Blues, Brother (24:24) (Originally aired January 24, 1988)
Alex interviews a former blues musician (Brownie McGhee) mistaken for dead on his college's radio station.
19. Read It and Weep (Part 1) (23:53) (Originally aired February 7, 1988)
The Keatons support Jennifer in her decision to do a book report on the banned Adventures of Huckleberry Finn.
20. Read It and Weep (Part 2) (24:41) (Originally aired February 14, 1988)
The family continues to stand behind Jennifer, fighting the school board against her threatened suspension for defying the district's censorship.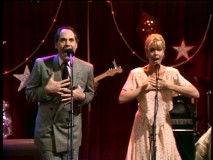 Disc 4

21. Quttin' Time (24:41) (Originally aired February 21, 1988)
After quitting on her senior thesis, Lauren has a lot more time for taking care of Alex, but she becomes more shallow in the process. Only in sitcoms could a person undergo this extreme a personality makeover in a single episode.

22. Spring Reminds Me (24:40) (Originally aired February 28, 1988)
Mallory spends time with a dead friend's mother. Steven performs magic at home.

23. The Boys Next Door (24:43) (Originally aired March 6, 1988)
Elyse attends her high school reunion, along with her old pal and doo-wop partner (Robert Klein).

24. A Sign of the Times (24:41) (Originally aired March 13, 1988)
Andy stops talking after classmates are mean towards his deaf friend (Darrell Thomas Utley).

25. Return of the Native (24:01) (Originally aired March 20, 1988)
Cousin June comes home after three years in England, prompting another clip show, as the Keatons bring her up to speed with highlights from their early seasons, including adventures with an abrasive teacher,

a kidnapped kangaroo, and the latest pregnancy. This episode was produced during Season 4, but inexplicably held back until Season 6.

26. Father, Can You Spare a Dime? (24:41) (Originally aired May 1, 1988)
Nick is reluctant to ask his estranged father (Dan Hedaya) for money to help him start an art school.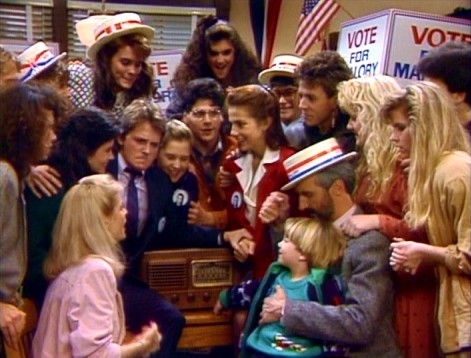 VIDEO and AUDIO
On DVD, "Family Ties" still looks like a 1980s sitcom. As the show, like most of its time, was shot on video, there is likely no getting around that ever. The picture quality to the 1.33:1 presentation is serviceable but not anything you'll marvel at, especially on a large screen that magnifies the limitations. Likewise, the Dolby 2.0 stereo soundtrack is fine, supplying the basic mix of dialogue and studio laughter fundamental to the format. The two episodes held over from earlier seasons are presented in Mono, a fact I probably would have missed if the packaging didn't state as much. On the plus side, English SDH subtitles have kindly been supplied, preferable to the closed captions CBS/Paramount used to offer.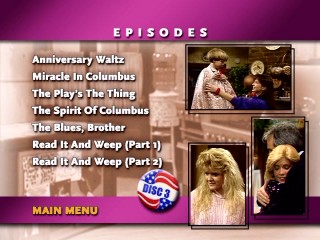 BONUS FEATURES, MENUS, PACKAGING and DESIGN
"Family Ties" gets no bonus features here. Most retired TV series come up empty in this department and CBS/Paramount still deserves credit for including a few nice treats on the last season set of this series I reviewed, Season 2, as well as gag reels and episode promos on subsequent ones. That those have stopped isn't surprising, but slightly disappointing.
The static, silent 4:3 main menu screens display headshots of the six core cast members. Beyond that, each disc offers direct episode access on a page of titles and stills.
The four gray discs share two swinging trays within a standard clear keepcase, which uses the reverse side of the cover art to display episode titles, synopses, and airdates.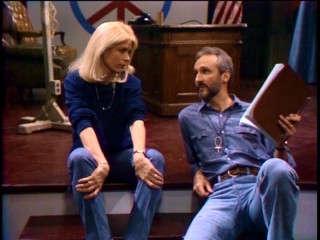 CLOSING THOUGHTS
You can tell that "Family Ties" has begun its descent by its sixth season, but the show still holds up as an appealing family sitcom with worthwhile stories it still tells sharply. CBS' plain but satisfactory DVD is kind of high-priced for having no real frills. That shouldn't keep fans waiting four years for this release from adding to their TV DVD collection.
Support this site when you buy Family Ties: Season 6 now from Amazon.com:
DVD / Instant Video