For moviegoers around the world, the first thing that comes to mind seeing Rupert Grint is "Ron Weasley." For the 18-year-old Grint to gain distance from his famous role as Harry Potter's redheaded pal, it will take time and more movies. Serving the latter is Driving Lessons, the most significant film project to come from any of the three leading Potter kids since they began their Hogwarts run early this decade.

There's a good chance you haven't heard of this little British coming-of-age dramedy. In North America, Grint's previous film, 2005's Harry Potter and the Goblet of Fire, played in 184 times more theaters than Driving Lessons and grossed over 1,200 times as much.

Without even considering the countless other avenues of global awareness enjoyed by Potter and not Driving, such differing receptions underscore the challenges Grint and castmates Daniel Radcliffe and Emma Watson will face in shedding their Gryffindor personas three years from now. I guess that's the price one pays in securing life-long financial stability as well as an indelible place in cinema and pop culture history before turning 20.

Alas, Driving Lessons deserves to be considered outside of Harry Potter's shadow, as Grint steps into the spotlight playing a meatier character than Ron, making it easy to forget any baggage the actor may bring to the part. Grint's protagonist is Ben Marshall, a quiet, introspective 17½-year-old surrounded by characters who seem quite a bit less sane by comparison. Most prominent of these is his mother Laura (Laura Linney), who quickly appears to be a villain, albeit one who smiles wide, coddles Ben, and oversees religious plays as part of her strong church involvement. Another presence in Ben's life is his father Robert (Nicholas Farrell), a parish vicar and bird enthusiast.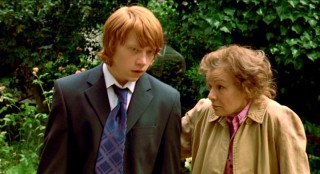 During summer vacation, Ben seeks one teenage rite of passage -- obtaining his driver's license -- while agreeing to another by taking on what appears to be his first job. Responding to an ad in a Christian paper, he becomes an assistant to Dame Evie Walton (Julie Waters, Grint's Harry Potter mom), an outspoken, thrice-divorced, middle-aged actress. Their interactions initially appear to be just as awkward as the moments Ben shares with his parents and a girl he likes (Tamsin Egerton). But over some time, Evie's weaknesses grow more and more evident -- she's got a washed-up acting career, no sign of family or friends, a propensity to drink heavily, and just weeks or months to live -- and Ben becomes sympathetic to her needs. Meanwhile, Evie, acutely aware of Ben's social shortcomings and uneasy family life, is willing to help him grow and improve himself.
The unlikely friendship between Ben and Evie forms over time before our eyes and it's more believable in seeing than it might sound on the page. The relationship is reminiscent of other odd-but-sweet pairings that have been depicted in fairly recent films like Finding Forrester and Driving Miss Daisy. (In a critical part of the film, Ben becomes an unlicensed chauffeur to the impulsive Evie's whims.)
Perhaps most similar in design is the closely-released fellow UK Film Council production Venus, which garnered praise and award nominations for star Peter O'Toole. Thankfully, no thought is given to the sexual potential of the closer-in-age couple of Driving Lessons. Nor is any great effort made to underscore the different modes of life from which Ben and Evie come. Furthermore, where Venus framed its tale from the depressing geriatric point of view, Driving is clearly seen from Ben's gawky but not hopeless perspective. Though Venus (fine in its own right) received much more critical favor, I was more convinced and touched by Driving's emotional core. Ben and Evie form a more sympathetic pair, their relationship mutually beneficial and driven by more noble forces than parasitic lust.
Driving Lessons is happily more than a tale of two lacking souls growing from their encounters. It is framed as a coming-of-age tale, in which case Grint's character feels like a younger, British version of a different Ben, The Graduate's Benjamin Braddock.

At a crossroads in life, he is easy for audiences to relate with, and though a couple of scenes feel out-of-character, Grint typically does an excellent job of making this shy, poetry-writing teen feel identifiable, alive, and real. He is equaled and then some by Walters, who shines in the flashier role, balancing obscenely juvenile antics with sincere pitifulness.

After all this discussion of the film's dramatic worth, I must point out that Driving Lessons is quite a funny film too. The humor is, for the most part, quite understated. Some of it comes in the currently-popular-in-the-UK form of Ben finding himself in highly awkward situations. There are also lines which ring amusingly out of touch with societal norms that illustrate the unusual flair of some of the central characters. Big laughs are also to be had in the presence of Mr. Fincham (Jim Norton, "Father Ted"'s Bishop Brennan), the Marshalls' silent and increasingly odd houseguest whom Laura is insistent upon helping.

Not every turn in the film hits its mark. Some of the latter scenes give the movie a sour edge. There's also what some could easily perceive as an anti-Christian air, though closer reflection reveals that it's hypocritical Christians and those whose beliefs fail to carry over into their actions that are the more specific target. The movie is moderately respectful and even somewhat defensive of the Church of England itself.

On the whole, however, writer Jeremy Brock (The Last King of Scotland, Charlotte Gray) delivers a heartfelt, personal, and witty script and, in his first directorial effort, does a fine job of bringing it to the screen.
DVD Details

1.85:1 Anamorphic Widescreen
Dolby Digital 5.1 (English)
Subtitles: French, Spanish; Closed Captioned
Release Date: July 3, 2007
Single-sided, dual-layered disc (DVD-9)
Suggested Retail Price: $14.99 (Reduced from $24.96)
Black Keepcase
VIDEO and AUDIO
Driving Lessons appears on DVD exclusively in its 1.85:1 theatrical aspect ratio. Enhanced for 16x9 televisions, it gives no visual problems whatsoever. Bright colors, terrific detail and sharpness, and a clean element all delight as well as an indie film can be expected to on this format. The Dolby Digital 5.1 soundtrack is fairly subdued and soft, though bursts of likable music from Clive Carroll and John Renbourn sometimes give reason to keep a remote handy and adjust accordingly.
BONUS FEATURES, MENUS and PACKAGING

The film is accompanied by a trio of extras. First and most significant is "The Making of Driving Lessons" (17:22), which serves up an orderly but not forced look at production by covering the cast and characters, the music, editing,

some movie tricks, and the design of a few key scenes. Its abundant use of valuable, unrestricted rehearsal and location footage is nice and, along with the standard assortment of cast/crew soundbites, sheds quite a bit of light on the film's intentions and achievements.

Four brief deleted scenes run 3 minutes and 40 seconds with the "Play All" option. Save for an extension to a sequence late in the film, they don't add much. They also probably don't offer all the film's deletions, as the featurette mentions another compressed scene that is not presented in full here.

"Outtakes" (6:48) provides a slightly longer than expected collection of bloopers. They're more funny strange than funny ha-ha, as Walters flubs lines and her scripted profanity is bleeped.

Finally, available from both the Main and Bonus Features menus is a page of Previews, which supplies theatrical or DVD trailers for six recent Sony Pictures Classics releases. The foreign and indie films showcased are Offside, The Italian, Riding Alone for Thousands of Miles, House of Flying Daggers, Riding Giants, and Dogtown and Z-Boys. Each trailer runs between 100 seconds and just over 2 minutes. Sadly, no trailer for Driving Lessons is provided.

Silent and static, the basic menus match the DVD cover with an assortment of irregular shapes, bright colors, and character photos. Their most interesting quality is a car-shaped cursor.
CLOSING THOUGHTS
I liked Driving Lessons, a sharp, engaging, and amusing comedy/drama that does well as a coming-of-age film, family drama, and unlikely friendship tale. It deserves to stand on its own merits rather than be viewed as a "What the Weasleys Did on Their Summer Vacation", but Harry Potter fans should be happy to see Rupert Grint in something outside of Hogwarts. Grint gives a strong performance and his drinking, swearing, and snogging here do less to harm his likability than to expand his acting credibility. Julie Walters is also quite compelling, making their reluctant friendship one to root for.
Sony's DVD scores high marks for picture and sound. It also provides a modest but worthwhile trio of extras, which seem comparable (if not outright superior) to Tartan's Region 2 DVD release's offering of a Jeremy Brock audio commentary, a Rupert Grint and Julie Walters interview, and the trailer, none of which are presented here. This price tag, a bit below standard asking rates, seems conducive to a blind buy and at least a rental is strongly encouraged.