Many movies center on well-off characters: individuals who are popular, attractive, glamorous, ambitious, accomplished, financially stable. Once in a while, a film comes along that bucks tradition and tracks ordinary characters in ordinary situations. Though these types of productions often earn critical praise for their realism, they rarely make a splash at the box office. Napoleon Dynamite, an extremely low-budget comedy released in 2004, nearly took this approach, but it raised the quirkiness factor -- giving its entire cast idiosyncrasies that manifested in speech, interaction, behavior, and appearance.

It paid off, to put it mildly; the little film not only grossed more than one hundred times what it cost, it also became one of the most-quoted, best-selling, and most-merchandised works of modern cinema.

I'm far from the first person to mention Napoleon in reviewing Eagle vs Shark, a recent film that appears to be New Zealand's answer to the extremely profitable Jared Hess/Jon Heder collaboration. Eagle clearly has similar sensibilities as far as offbeat aesthetics, comic timing, minimalist humor and mundane settings are concerned. In fact, many of the characters of Eagle call to mind the personalities of Napoleon's universe. Its male lead is every bit as self-confident, odd, and likely to talk nunchucks, only Jarrod (a funny Jemaine Clement) is an adult who should be past his gawky teenage phase. The heroine, Lily (Loren Horsley, also claiming story credit), is enthusiastic like Dynamite's college-bound Deb, but her job as a grown-up cashier at colorful fast food joint Meaty Boy is a lot more depressing than door-to-door boondoggle selling.

The title takes meaning early on, as Lily and Jarrod enter each other's lives when the former crashes the latter's meager costume party. Per the invitation meant for a co-worker, she's dressed like her favorite animal, a shark, and the geeky host is likewise adorned in an equally silly eagle outfit. Over a tournament of Fight Man, a fictional Mortal Kombat-type video game, and some awkward sex, the two misfits become something of a couple, with complementary eccentricities and symmetric lip moles to boot.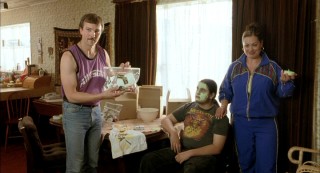 The new relationship is sped up when Lily accompanies Jarrod on a trip to his hometown. There, she gets to meet his family members, who are all peculiar in their own right and somewhat haunted by ghosts of the past, be it death, divorce, or an illegitimate daughter. True to his serious demeanor, Jarrod isn't there for fun, but to confront a very specific personal demon: the bully who led group torments against him in high school. As the culmination of hostile letters, enigmatic phone calls, hacker tracking, and rigorous training, Jarrod has finally set a date and time for a showdown with his Samoan nemesis.
The path there is a leisurely one, as we spend time with the shy, desperate Lily and Jarrod's curious kin. Short on space and social graces, the family is not the most accommodating or amiable host, and even Lily's oblivious tent-sharer helps her to feel like an outsider, putting their courtship on ice to serve his "complexities."
For being a determinedly offbeat indie, Eagle vs Shark plays well to mainstream tastes, much like Napoleon did. There is some substance to the screenplay, but those not needing it will be sufficiently diverted by the parade of oddballs engaging in odd doings. Some viewers may feel uncomfortable; the film's showcasing of misfits at their most unknowingly awkward does invite laughter at the character's expenses as much as the situations. But it's witty, light, and not too broad. Most of the humor hits its marks and even if you're not especially invested in the screenplay's inevitable destination, you are entertained.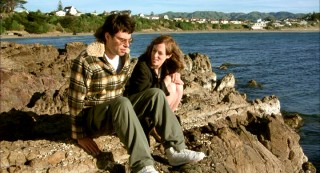 Eagle vs Shark marks the feature-length debut of writer-director Taika Waititi, whose previous short films include the Oscar-nominated, widely-awarded Two Cars, One Night

and whose subsequent efforts are topped by HBO's folk duo sitcom "Flight of the Conchords" (also starring Clement). Unlike the husband-wife team behind Napoleon Dynamite, one doesn't get the sense that Eagle is as drawn closely from influential personal experience. Instead, Waititi seems to have an eye for the odd and enough insight to make it funny. At 32 years old, he probably can relate to the delayed entrance to adulthood and attachment to past some of those in his age group feel. He grants enough sympathetic traits to his misfits, especially the top-billed Horsley, to keep them likable even when they're off-balanced and short on good judgment. For the most part, Waititi himself displays fine judgment, stumbling only mildly in attempts to inject some artsy depth like in a stop-motion scene involving animated apple cores.

This summer will mark the fourth anniversary of Napoleon Dynamite's big debut and though the window for a college-set sequel appears to be closing, Eagle vs Shark provides an experience close enough to consider it a cousin, if not an outright unofficial follow-up. To do that, one must concede that the high school students will not have grown out of their strange ways even while approaching 30. That's a scary thought, but the arrested development factor is just about the only problem cited by disapproving reviews and I think it's a pretty easy obstacle to overcome.

That said, though its style is similar and its budget comparable, Eagle vs Shark didn't come anywhere close to having the impact and draw of Napoleon. Its $221,846 North American gross was among the very lowest of any 2007 release, but then in its eight weeks on the big screen, it never expanded to more than 20 theaters. Very limited distribution would seem more responsible for the pitiful attendance than the Kiwi accents. The film should gain more notice and appreciation on DVD, where it arrives from Miramax seven months since opening in US cinemas and a year since its warmly-received Sundance debut.

Eagle vs Shark is rated R, which takes it two steps past Napoleon Dynamite's family-friendly PG designation. They're small steps, most noticeably the use of some unconventional profanity, though the MPAA makes sure to note the "brief animated violence" of Fight Man. Whether it's proof that Napoleon's luster has begun to fade or merely the byproduct of not wanting to name-drop another studio's hit, there is surprisingly no mention of Napoleon Dynamite anywhere on the case or the studio's press materials.
DVD Details

1.85:1 Anamorphic Widescreen
Dolby Digital 5.1 (English, Spanish)
Subtitles: English, French, Spanish
Closed Captioned; Extras Subtitled
Release Date: January 8, 2008
Suggested Retail Price: $29.99
Single-sided, dual-layered disc (DVD-9)
Repackaged as Lionsgate DVD ($9.98 SRP; June 14, 2011); Also available on Amazon Instant Video
Black Keepcase
VIDEO and AUDIO
Eagle vs Shark appears only its 1.85:1 widescreen original aspect ratio, enhanced for 16x9 televisions. It looks pretty good, not as stunning as other 2007 films but more than adequate for such a low-budget affair. A few scenes seem grainier than necessary, and may stand out to those with large screens, but for the most part, the picture is bright, colorful, and clean, allowing one to marvel at the unsightly home decoration and wardrobes on display.
The Dolby Digital 5.1 soundtrack is a little more active than you'd expect, delivering the okay score by local indie rock band The Phoenix Foundation well and expanding it to the rear channels. There are a few instances where island wind and atmospheric effects make an impression, but the film is largely dialogue and silent beat-driven, and the track does a good job conveying those straightforward elements in a lively fashion.
BONUS FEATURES, MENUS and PACKAGING

Bonus features begin with thirteen Deleted Scenes that run 15 minutes altogether.

Most are quirky exchanges and a few extend existing material, but one -- a grainy dream in which birds attack Lily -- is completely out there. These scenes can be viewed individually or as a group, with or without explanatory commentary by writer/director Taika Waititi. On one scene, Waititi is joined by actor Craig Hall and they end up talking (over a scratchy orange screen) for four minutes after it ends.

A reel of Outtakes (2:46) provides entertainment almost entirely with take-spoiling crack-ups.

Easily requiring the most of your time is a feature audio commentary credited to Taika Waititi "& Guests." The guests are three cast members who pop in for stretches; Loren Horsley talks over the phone for the first 35 minutes, Joel Tobeck shows up in-person at the 47-minute mark, and then Horsley returns for the final ten minutes at which point Craig Hall also joins the discussion (but Tobeck leaves). The track is a fairly easy listen, if not the most enveloping. Like most, it's better when there's company, something there almost always is. Waititi's narration to his phone guest is mildly annoying and there just isn't much in the way of insight and information, but a few production anecdotes and acknowledgements make this suitable for fans to use as background audio.

Last, we get The Phoenix Foundation's music video for "Going Fishing" (5:18), which supplies more movie clips than scenes of the offbeat band performing from a couch on the beach. I guess the video somewhat makes up for the unfortunate absence of the film's theatrical trailer.

Greeting you at disc insertion are one of those Truth anti-smoking ads, an extensive promo for the Walt Disney Company's available Blu-ray titles, the Wall-E teaser, and the trailer for Gone Baby Gone. All but the first are also found on the Sneak Peeks menu, where they're joined by previews of Becoming Jane, concurrent-to-DVD Golden Door, and the Coen Brothers' No Country for Old Men.

The menus run with a notebook motif that seems highly derivative of Napoleon Dynamite, with the main menu animating the doodle drawings and submenus only providing melancholy score selections.
CLOSING THOUGHTS
In general, I find it cheesy when the comment is made that "If you liked X, you'll love Y" because typically X is the well-known entity and Y is just trying to ride its coattails. I'm tempted to apply it to Eagle vs Shark, though, because, as many have noted, the movie is so evidently cut from the same mold as the breakout hit Napoleon Dynamite. If you appreciate Napoleon's brand of humor, you'll probably find enjoyment in its transference from backwards Midwest American teens to socially strained New Zealand twentysomethings. If not as crowd-pleasing and endearing, the misfits of Eagle are usually entertaining, while the Kiwi accents and foreign nature of production should provide little barrier to American audiences.
This is a movie that deserves to be seen by more than the few thousand people who caught it in theaters. Those open to indie fare should get enough satisfaction and laughter to sustain a rental and the DVD's standard slate of supplements doesn't leave much for fans to desire except maybe an all-purpose featurette.
Buy Eagle vs Shark from Amazon.com:
Lionsgate DVD / Original DVD / Instant Video