By Aaron Wallace

Ghost is one of those movies everyone knows. Released in the summer of 1990 and played on TV a million times since then, Ghost is a title you can comfortably reference in a conversation or even a digital short (see SNL's viral hit, "Lazy Sunday"). The Best Picture nominee has all the makings of an enduring classic.

There's an iconic scene: erotic pottery with two of Hollywood's biggest sex symbols. There's a hit song: The Righteous Brothers' "Unchained Melody", a cover made more popular than the original thanks to this very movie. There's a quotable catch phrase: "Ditto", repeated ad infinitum in the film to narrative effect. And there's also a career-changing performance, courtesy of Whoopi Goldberg as Oda Mae Brown.

Patrick Swayze stars as Sam Wheat, an innocent man gunned down during an evening stroll with his girlfriend, Molly (Demi Moore). Rather than pass on to the light side or the darkness as one might expect, Sam finds himself standing beside his own corpse, apparently invisible to everyone else, Molly included. After repeatedly failing to communicate with his grieving lover, Sam begins to figure out that he's still Earth-dwelling for a reason when the man who killed him breaks into Molly's apartment while Sam is, for all intents and purposes, home. To put the pieces together and warn Molly of potential danger, Sam turns to a con artist psychic (Goldberg) who's about to have her first encounter with a for-real ghost.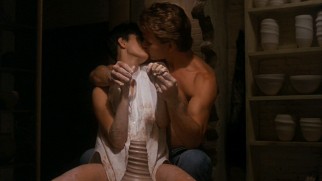 Nearly twenty years later, Ghost is unquestionably dated. Visual effects, the Oscar-nominated score, hairstyles, and fashions are all distinctively stamped by 1990. The film's central exploration of the afterlife, however, remains as vivid and provocative now as ever. Who can forget the emergence of terrifying shadow demons from the ground as they snatch the souls of the wicked, or Sam's ascent into the light? It is refreshing to see such a stark contrast between the fate of evil men and the fate of the righteous when today's Hollywood shies away from such brazenly didactic illustrations.
Swayze doesn't sell every scene as he should, his laughable reaction shots falling short of believable more than once (note that the movie's five Oscar nominations didn't include Best Actor, though Swayze was nominated for a Golden Globe). That said, he otherwise brings the urgency that his character requires. The rest of the cast performs at a higher level. Demi Moore (who also got a Golden Globe nod but zip at the Oscars) emotes in a very real and accessible way and while her character won't be confused for one of the empowered women she's played in the days since Ghost made her an A-lister, she certainly commands empathy. Supporting performances from Tony Goldwyn, who plays Molly's dubious comforter in the wake of Sam's death, and Vincent Schiavelli, who makes a small but effective appearance as a deranged subway specter, also stand out.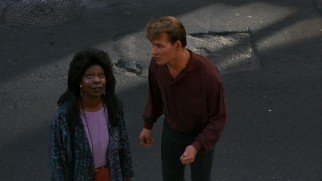 Ghost's first act is a little slow-moving, despite all of the death, haunting, and naughty pottery. But there is a point when the movie, like its protagonist, finds new life. That moment comes when Whoopi Goldberg, as Oda Mae,

interrupts her scam of a sιance to yelp, "Who IS that?", alarmed by hearing the voice of Sam, a man who is nowhere to be seen. From then on, the movie belongs to Goldberg, who kicks this poignant drama into high comedy gear.

After making her Oscar-nominated screen debut five years earlier in Spielberg's The Color Purple, Whoopi was given a series of action/comedy starring vehicles by studios who envisioned her as the female Eddie Murphy. That all changed with Ghost, one of her most uproarious screen performances and the movie that brought her not only her second Golden Globe, but also the Academy Award for Best Supporting Actress. As Oda Mae Brown, Goldberg established herself as a leading lady who could be both dramatic and comedic at the same time, a persona that shaped the rest of her remarkable career in the 1990s. As the only character who can connect Sam and Molly, Oda Mae becomes the mediator for not only the characters but also the audience, making her instantly endearing.

Paramount first released Ghost to DVD in 2001. That was followed up by a 2007 Special Collector's Edition DVD, which has now been ported over to the hi-def realm with the first release of Ghost on Blu-ray. This most recent release is profiled below.
Blu-ray Disc Details

1.85:1 Widescreen
Dolby TrueHD 5.1 (English), Dolby Digital 5.1 (Spanish, French)
Subtitles: English, Spanish, French, Portuguese
Release Date: December 30, 2008
Suggested Retail Price: $29.99
Single-sided, dual-layered disc (BD-50)
Slim-line Blue Keepcase
Still available as Special Collector's Edition DVD
VIDEO and AUDIO

With a 1080p transfer, encoded with AVC MPEG-4 and presented in 1.85:1 widescreen, Ghost looks pretty good on Blu-ray, which is exactly the appraisal I'd give the 2007 standard-def DVD release too. The print is pretty clean on the whole but noticeable artifacts pop up now and then and the picture is often a little too soft. Colors are adequately contrasted but not often as vibrant as they could be. While the enhanced resolution is apparent, the transfer from the 2007 DVD is obviously reused here

and the difference between the DVD picture and the Blu-ray picture is hardly that of night and day (or, in keeping with the theme, perhaps I should say life and death). Could Ghost look better? Most likely. A high-definition restoration with Blu-ray in mind could bring the movie more in line with the eye-popping transfers seen on Blu-rays of many movies much older than Ghost. But the picture is still quite good and as someone who watches this movie often, I'm happy to say that I'm now seeing it look better than I ever have before, even if the improvement is slight.

Audio is presented in a Dolby TrueHD 5.1 Surround Sound track. Like the picture quality, I don't notice a tremendous improvement in this track over the Dolby Digital 5.1 track on the 2007 DVD. Ghost's sound design isn't the most dynamic to begin with but this mix relies very heavily on the front channels. Even when the score swells and booms, there's not a whole lot of activity in the rear channels or subs. I never felt disappointed with the sound when watching the movie, but I never felt particularly impressed either. The track gets the job done and sounds just fine, but don't expect a whole new Ghost experience.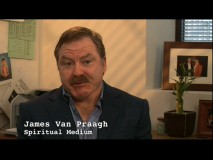 BONUS FEATURES, MENUS and PACKAGING

The bonus features kick off with an audio commentary by director Jerry Zucker and writer Bruce Joel Rubin

(the latter having won an Oscar for Ghost's original screenplay), recorded for the 2001 DVD release. The discussion sometimes wanders far off-topic, particularly when Rubin recounts the first quarter or so of his life story at the beginning (frustrating until Zucker amusingly calls him out on it). It also has a few notable gaps of silence. Many of their thoughts about the film are intriguing, though, and they are fairly candid in discussing their initial hesitations with respect to the cast and toward one another. Anyone who likes the film enough to consider the audio commentary should be entertained enough by it to listen until the end.

"Cinema's Great Romances" (19:45) (SD) strings together the relevant segment for each Paramount Pictures film represented in AFI's 2002 TV special, "100 Years... 100 Passions". Though it bears little connection to Ghost (aside from the movie's inclusion on the list and two interview segments with Whoopi Goldberg), this is one of the most valuable supplements on the disc. While their final selections are often frustrating, the AFI "100 Years" specials are among the best entertainment a film fan can ask for and their complete unavailability on home video or the web has long been a source of frustration. Given that the specials air on CBS, it may be that Paramount alone is free to do this sort of thing on their home video releases without incurring major costs. If that's the case, the studio should do it more often. Given that AFI is apparently neglecting their annual summer tradition this year without explanation, the ability to revisit the previous specials is especially appreciated. The tribute segments included here are: Roman Holiday, Love Story, A Place in the Sun, Barefoot in the Park, Sabrina, Reds, Grease, An Officer and a Gentleman, To Catch a Thief, Harold and Maude, Witness, Titanic, Breakfast at Tiffany's, and, of course, Ghost.

"Ghost Stories: The Making of a Classic" (13:06) (SD) is a standard but very good making-of featurette. Loaded with behind-the-scenes shots and cast interviews, both past and present, this is one to see for any fan of the movie. Special consideration is given to the unique casting process, which very nearly excluded both Swayze and Goldberg while including the not-yet-a-major-star Demi Moore. My only complaint is that the disc doesn't include a longer, fuller documentary.

"Inside the Paranormal" (8:35) (SD) takes the title for lamest "bonus" on the disc. Having essentially nothing to do with the movie, save for clips that are awkwardly woven in a failed attempt to establish a connection, this featurette interviews randomly selected self-proclaimed psychics who talk about their "gift" for summoning the paranormal.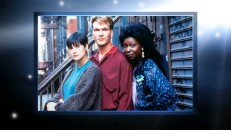 "Alchemy of a Love Scene" (6:16) (SD) is basically an extension of "Ghost Stories", focused entirely on the movie's famous pottery scene. The attention devoted to this small part of the movie is certainly warranted and the reflections cast upon the scene by the various subjects (including both Swayze in a recent interview and Moore in an older one) are definitely interesting.

The disc's Photo Gallery offers around sixty images, including stills from the movie, publicity stills, and behind-the-scenes photos. Navigation requires use of the left and right arrow keys. While a "Play All" option would have been nice, these pictures are nevertheless a treat to flip through.

The excellent theatrical trailer (2:26) (HD) is also included and it's one you can rely on to sell the film to anyone on the fence about watching the movie.

The Blu-ray release carries over everything that appeared on the Special Collector's Edition DVD except for a couple of outdated previews (there are no previews here). Like the 2007 DVD, the Blu-ray omits the "Ghost: Remembering the Magic" featurette. It is partially replaced by "Ghost Stories", but its absence means the loss of some great interview footage.

That's fortunately the only thing missing from the original release. While the total package of supplements is a pretty good one, it's a little disappointing that none of them were prepared for a HD presentation. The lone HD bonus, the theatrical trailer, is hardly reference quality, with a rather dirty picture. That said, there's enough here to celebrate the movie and satisfy this fan of the film. The only thing I'd ask for in addition to these is a gallery of deleted scenes. Note: The bonuses sometimes include an introductory text label or interview caption that inexplicably runs out of the frame.

The 16x9 main menu rotates a few images from the movie while a short clip of "Unchained Melody" plays, in keeping with the same general idea employed on the DVD. The pop-up menu rises transparently over the main menu screen and over the movie itself, but when using the latter pop-up, the special features aren't available (you have to return to the home menu screen for those). The disc is labeled with Paramount's usual plain-gray disc art and the standard blue slim-line case features the exact same cover art used for the Special Collector's Edition DVD. There's a mail-in certificate inside, but that's it.

It's worth noting that this disc is particularly slow-loading in my player and there are some occasional playback problems that were easily remedied by powering the player off and starting over. When tested in a different player, the disc was a bit faster (but still slower than most) and the playback problems were absent. The problem is probably one that a firmware update can fix if you encounter it.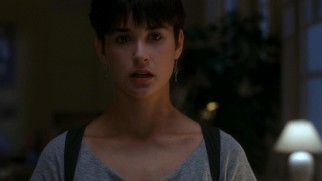 CLOSING THOUGHTS
Ghost was a tremendous box office success in 1990, grossing well over $200 million domestically and more than a half-billion worldwide. The film was second only to Home Alone in its year of release and remains the seventieth highest-grossing film of all time on the increasingly recency-biased domestic gross chart. With two Oscars, a Golden Globe, and a Best Picture nomination at both of those ceremonies, it's clear that the public wasn't alone in embracing the movie. The rare blend of comedy and drama in a screenplay that splits sides even while playing out big questions of eternity and faith makes this a movie that sticks with you and one that you unquestionably should own.
The Blu-ray Disc does a fine but not spectacular job at presenting the movie in high definition. This release at least satisfies fans with some great bonus features, all of which are carried over directly from the Special Collector's Edition DVD. Given that a major West End musical adaptation of the film is slated for next year (making this the fourth Whoopi Goldberg blockbuster to beget a stage musical), and that 2010 also just happens to be the film's 20th anniversary, there's a safe bet that a new release will be coming down the pipe in the relatively near future. That won't keep me from recommending this Blu-ray (or the 2007 DVD for those who haven't yet gone Blu) in the meantime. The American Film Institute dubbed this film one of the best romances ever captured on film. I'll just say this: Ditto.
More on the Blu-ray / Buy from Amazon.com / Buy the DVD from Amazon.com