It's hard to compare two things, especially when the things are so dissimilar. And yet, I realized, as a new voting member of the Online Film Critics Society, that every awards voter and every writer compelled to produce a Best of 2011 list is doing just that, comparing different creations against each other and ranking accordingly.

As long as we're up to that difficult task, why stop at five or ten? I decided to rank every 2011 film I saw in 2011 and the first few weeks of 2012. (Because you've got to stop somewhere and I figured right before the possibility of being influenced by the Oscar nominations made sense.)

I was already keeping track of movies seen, so it wasn't too hard to then pit each against the others and emerge with a list from best to worst. Naturally, this list is as much a reflection of me and my tastes as it is of cinema's offerings last year. But isn't that film criticism in a nutshell: opinions, supported by observation and strengthened by exposure, experience, knowledge, and expression?

By compiling this list, you get my current estimation of the middle ground, where the vast majority of films fall, never to be singled out among the best or worst of their year. You also know exactly what movies I have and haven't seen; there are definitely some big ones I'll have to catch on home video. And for insight into the rankings, I've written a sentence or two on each film to convey my feelings towards it. If you want to know more, I've written full reviews of more than half of these titles and have linked to them below.

Here they are, from worst to best:

121. Priest - Perhaps post-apocalyptic vampire-killing priests made sense in graphic novel form, but it's pretty wretched as a feature film. Full Blu-ray Review
120. Shark Night - A stupid TV-quality movie that seems oblivious to its terribleness and is therefore little fun. Full Blu-ray Review
119. The Mechanic - Jason Statham remakes a Charles Bronson movie with all the appeal of a Jason Statham vehicle. Full DVD Review
118. The Rite - After an interesting enough start, it just completely falls apart with well-researched and utterly boring exorcism depictions that it complements with a dry faith crisis story. Full Blu-ray + DVD Review
117. Dylan Dog: Dead of Night - A pitiful excuse for horror comedy, this incoherent mess deserved to flop just as badly as it did. Full Blu-ray Review
116. Transformers: Dark of the Moon - Supposedly an improvement over the previous sequel, it still is just loud, incoherent noise whose appeal continues to completely escape me. Full Blu-ray + DVD Review
115. Hoodwinked Too! Hood vs. Evil - As poorly executed as it was timed, this forgettable follow-up has none of its predecessor's cleverness. Full Blu-ray + DVD Review
114. Coriolanus - Putting Shakespeare's words in modern times usually doesn't work, as Ralph Fiennes' leaden directorial debut of warfare and politics reminds us. Full Blu-ray + DVD Review
113. Happy Feet Two - More of the same garbage that made the original the worst winner of the Best Animated Feature Oscar to date. At least neither critics nor audiences bought into this needless sequel with its mushy drama and slipshod musical numbers.
112. Battle: Los Angeles - Alien invasion as a war movie. Cold and hacky. Full Blu-ray + DVD Review
111. Monte Carlo - Girls abroad, mistaken identity, romance... you've seen this movie before and probably on TV where it belongs. Full Blu-ray Review
110. I Don't Know How She Does It - A witless celebration of working moms that wastes everybody's time. Full DVD Review
109. Melancholia - Pretentious drivel of the highest order. Can unusual opening photography really make up for lifeless storytelling? I'm more than a little embarrassed by its critical recognition.
108. The Roommate - Screen Gems repackages Single White Female as a youth-friendly PG-13 thriller. It's watchable, but not very good. Full Blu-ray Review
107. No Strings Attached - Don't let the appearance of a Harvard-educated reigning Best Actress Oscar winner throw you off. This commitment-free sex comedy is absolutely as dumb and predictable as it looks. Full DVD Review
106. The Change-Up - An unimaginative R-rated body swap comedy.
105. Justin Bieber: Never Say Never - Insulting to serious musicians and anyone who has had to endure real hardship of any kind. Full DVD Review
104. Terri - Some fine work by John C. Reilly gets cancelled out here by troublesome teen portrayals seemingly designed most to shock. Full Blu-ray Review
103. Zookeeper - I like Kevin James and Adam Sandler as much as anyone, but they don't get anything right in this lazy, soulless children's comedy. Full Blu-ray + DVD Review
102. Don't Be Afraid of the Dark - It's easy to follow the title's advice when the darkness is as dull and unclear as it is in this remake. Full Blu-ray Review
101. Red Riding Hood - Starts off bad and gets better, but this Twilight version of the fairy tale doesn't even hold our interest as those vampire movies do. Full Blu-ray + DVD Review
100. I Am Number Four - A transparent attempt for a Twilight franchise with aliens, this teen flick is shameless and stupid. Full Blu-ray + DVD Review
99. The Company Men - Well-intentioned, perhaps, but it's also insensitive exploitation of current economy and unemployment woes. Full DVD Review
98. Jumping the Broom - A wedding comedy of families clashing... what's to love? Full Blu-ray Review
97. Arthur - Dudley Moore's movie clearly didn't need a remake, much less one as dumb and broad as this one. Did this just kill Russell Brand's U.S. film career before it could really take off? Full Blu-ray + DVD Review
96. happythankyoumoreplease - Though it has a few nice moments, Josh Radnor's Garden State isn't nearly as good or original as it believes itself to be. Full DVD Review
95. Judy Moody and the NOT Bummer Summer - There is no good reason to see this low-key family film released at the height of the summer movie season, which not even Steve Urkel can render interesting.
94. The Smurfs - Though it has more good ideas than most will give it credit for and isn't as painful as some of these types of adaptations, it is still highly deficient in charm. Full DVD Review
93. Prom - The type of narrow, calculated franchise-minded project that you get when the head of Disney Channel is promoted to head of the studio. Selling Touchstone won't help avoid Disney-branded flops like this doozy of one. Full Blu-ray + DVD Review
92. Season of the Witch - Another offer accepted by Nic Cage in desperation, this January medieval fantasy offers a bit of charming bromance before devolving into stupidity. Full Blu-ray Review
91. The Beaver - Neither a comeback for Mel Gibson in front of the camera nor for Jodie Foster behind it, this dysfunctional family dramedy is void of logic and full of bad ideas. Full Blu-ray Review
90. Larry Crowne - Tom Hanks reveals that his writing and directing have fallen off even more than his acting and project picking have.
89. Warrior - It's like The Fighter if The Fighter were humorless, fictional, and more interested in fighting than humans.
88. Passion Play - Barely even given theatrical release, this little film has more stars than brains, but is better than it looks and not without some interesting ideas. Full Blu-ray Review
87. Shame - This NC-17 sex addiction drama is well-made, but terribly unpleasant, even if it is built around the most recognized performance of Michael Fassbender's breakout year.
86. Drive Angry - Nic Cage's money losses are his fans' gains, as he continues to accept every offer that comes his way. While no great film, this over-the-top 3D action flick does just what it sets out to do, a fact missed on many detractors. Full Blu-ray Review
85. Real Steel - As much of a crowd-pleaser as the father-son story is, it's about boxing robots. Full Blu-ray + DVD Review
84. Pirates of the Caribbean: On Stranger Tides - It is much too easy to forget how much fun the first of these movies was. This episode may shake things up and streamline, but the franchise is clearly past its expiration date. Full Blu-ray + DVD Review
83. Crazy, Stupid, Love. - A mushy, unsatisfying ending undoes much of the good will this twist-happy romantic comedy built beforehand. Full Blu-ray + DVD Review
82. Paul - I expected so much more from Simon Pegg and Nick Frost; Edgar Wright's input is sorely missed.
81. Martha Marcy May Marlene - Another well-made movie whose discomforting material knocks it down my list.

80. 30 Minutes or Less - Given the talented cast and directors, this action comedy was much less than I hoped for. Full Blu-ray Review

79. Dolphin Tale - I wanted to like this inspirational family drama more, but it's pretty poorly made. Full Blu-ray + DVD Review

78. Just Go With It - Moderately entertaining seems to be the best case scenario for a signature Adam Sandler comedy these days

and this farcical one just narrowly earns that description. Full Blu-ray + DVD Review

77. The Hangover Part II - More of a remake than a sequel, this shockingly unimaginative follow-up loses much of the magic of its wild and unpredictable predecessor. Full Blu-ray + DVD Review

76. Rampart - Woody Harrelson does an okay job, but this "bad cop" drama is just plain forgettable.

75. Certified Copy - Trilingual romantic drama hedges on the unclear relationship between a British author and a French antiques dealer. Either way, their navel-gazing isn't all that interesting.

74. Conan O'Brien Can't Stop - I love Conan and what NBC and Jay Leno did to him is wretched, but this underwhelming documentary on his subsequent nationwide tour is not the story begging to be told. Full Blu-ray Review
73. Gnomeo & Juliet - About what you'd expect of a garden gnome version of Shakespeare with Elton John music. It's a bit diverting, but no better than that. Full Blu-ray + DVD Review
72. Mr. Popper's Penguins - Unfaithfully adapting a classic book with Jim Carrey in this mold should be terrible, yet this isn't. Still, it's not really anything special. Full Blu-ray + DVD Review
71. Troll Hunter - Norway's take on the found footage horror genre is fun and appealing but also pretty stupid.
70. Tucker and Dale vs. Evil - Generally inspired send-up of horror movie stereotypes still plays out a lot like a bad horror movie.
69. We Need to Talk About Kevin - Certainly a compelling movie, but the most unsettling subject matter keeps me from ranking this higher.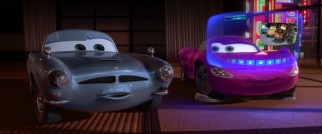 68. Hall Pass - A near even mix of funny and unfunny moments, this raunchy romp adds to the Farrelly Brothers' tradition of semi-satisfying comedy. Full Blu-ray + DVD Review
67. Cars 2 - Pixar's first mediocre movie stings most of all for fans of the original film, whose nearly every charm is lost in this wildly incongruous international espionage tale. Full Blu-ray + DVD Review
66. Miral - If you have strong feelings about or extensive knowledge of the Israeli-Palestinian conflict, you may like it less, but I thought it was an okay drama. Full DVD Review
65. Rio - A colorful but unsatisfyingly by-the-numbers effort. Full Blu-ray + DVD Review
64. Fright Night - Vampire-next-door comedy is appealing, though it can't break through the confines of its story and genre. Full Blu-ray + DVD Review
63. Page One: A Year Inside The New York Times - A riveting look at an institution struggling to remain relevant in a changing society.
62. Of Gods and Men - Monks stand their ground in the face of unrest in this somewhat engrossing French drama. Full Blu-ray Review
61. Pariah - Interesting treatment of atypical subject matter.
60. Beats, Rhymes & Life: The Travels of A Tribe Called Quest - Best enjoyed by those with a soft spot for '90s rap, but Michael Rappaport's documentary also explores a band rift of high human interest. Full DVD Review
59. Diary of a Wimpy Kid: Rodrick Rules - A bit better than its predecessor, this grade school comedy captures childhood experiences authentically and amusingly. Hope the next one is even better. Full Blu-ray + DVD Review
58. Unknown - Liam Neeson returning to his Taken mode proves to be moderately agreeable in this European mystery flick. Full Blu-ray + DVD Review
57. Last Night - This barely released indie has some interesting ideas on a young marriage withstanding unfaithful impulses. Full DVD Review
56. Tinker Tailor Soldier Spy - Bone-dry 1970s spy thriller is competently filmed, but ultimately too dull to enjoy.
55. The Iron Lady - There is no denying Meryl Streep's superb ability to embody a distinctive personality, but the allure of that vanishes without a strong story to latch onto.
54. Project Nim - The notion of raising a chimp as a human is compelling, but the experiment's results are inconclusive and in need of more compelling visuals. Still, this makes a winning companion to Rise of the Planet of the Apes.
53. The Trip - The premise may be thin and it's simply a severe trimming of a TV show, but this travelogue buddy picture is still mighty appealing on the fun, well-captured chemistry of Steve Coogan and Rob Brydon.
52. Bad Teacher - Better than it looked and than it got credit for, this dark comedy is quite funny and a bit clever. Full Blu-ray Review
51. Soul Surfer - A cut above most inspirational movies, this tale of perseverance remains appealing. Full Blu-ray + DVD Review
50. Kill the Irishman - A fine Goodfellas-lite crime movie that nobody saw. Full DVD Review
49. J. Edgar - The usual Clint Eastwood class makes it easy to tolerate this biopic's dull and jumpy nature.
48. Jane Eyre - Sure, it looks like yet another British period costume drama, but the story and its adaptation are solid enough.
47. Meek's Cutoff - Appealingly atmospheric, although many will find it overly sparse.
46. The Guard - Not as funny or sharp-witted as you want it to be, but still sufficiently diverting and agreeable. Full Blu-ray Review
45. Everything Must Go - Something different and interesting for Will Ferrell, but a little bit slight.
44. Captain America: The First Avenger - One of Marvel's most fascinating origin stories starts strong (in spite of distracting visual effects), then loses steam with an excess of drowsy action. Full Blu-ray 3D + Blu-ray + DVD Review
43. Albert Nobbs - Nice for Glenn Close to have finally gotten this reasonably compelling gender-bending period drama made, but there is a little less to it than you suspect.
42. The Conspirator - Stately and compelling, Robert Redford's Lincoln assassination courtroom drama deserves more notice than it got. Full Blu-ray Review
41. Take Me Home Tonight - Released four years after filming, this may be one of the biggest bombs of 2011, but that doesn't stop it from being a fairly fun recreation of 1980s comedy. Full Blu-ray Review
40. Mars Needs Moms - This may be one of the biggest bombs in film history, but that doesn't make it a bad movie. If you can handle the mo-cap, you should find the sci-fi storytelling fun. Blu-ray 3D + Blu-ray + DVD Review
39. Insidious - A scary and well-made horror film is rare enough to forgive a slightly weak finale and still rank this highly. Full Blu-ray Review
38. African Cats - Although some documentary purists won't dig the personification, the more focused approach improves a little on the scattershot design of prior Disneynature films and this one doesn't recycle TV footage. Full Blu-ray + DVD Review
37. In a Better World - Danish film offers a touching, disarming look at childhood and families. Full Blu-ray + DVD Review
36. If a Tree Falls - This even-handed documentary about the ecoterrorism of the Earth Liberation Front requires no prior interest in the subject matter to captivate you.
35. Our Idiot Brother - This widely-released indie certainly won't be everyone's cup of tea, but it is an appealing and human outing for Paul Rudd and company. Full Blu-ray Review
34. Paranormal Activity 3 - More frightening than any other horror movie this year, it's almost as effective as its predecessors while departing from them in slight yet creative ways. Full Blu-ray + DVD Review
33. Kung Fu Panda 2 - Not a sequel that had to be made, this nonetheless is a satisfying successor to one of DreamWorks Animation's better movies. Full Blu-ray + DVD Review
32. Exporting Raymond - A funny documentary on remaking "Everybody Loves Raymond" for Russia.
31. Hanna - An unexpectedly substantial thriller with a foreign film feel, this is much more exciting, distinctive, and intelligent than you'd suspect.
30. A Better Life - Moving, flavorful drama boasts an outstanding lead performance and only a little cornball.
29. Cave of Forgotten Dreams - Werner Herzog overcomes the confines of his subject to wax profoundly on the ancient, supremely fascinating cave drawings of prehistoric man.
28. Margin Call - Effectively dramatizes the 2008 financial crisis with strong performances and arresting atmosphere.
27. Contagion - The rare movie to deftly tread the line between artistry and commerce, this all-star doomsday thriller is most skillfully composed by Steven Soderbergh. Full Blu-ray + DVD Review
26. Into the Abyss - Werner Herzog can get intrigue from any documentary subject matter and this one's look at murderers, victims, the death penalty, and life sentences is especially compelling.
25. Beginners - A sharp and poignant independent film that deserves to be the vehicle for recognizing Christopher Plummer's enduring career.
24. My Week with Marilyn - Another Weinstein acquisition that shouts "gimme some Oscars", this behind-the-scenes look at the challenging production of a forgotten Marilyn Monroe and Laurence Olivier movie is highly accessible and expertly played. Preorder it from Amazon.com: DVD • Blu-ray + DVD
23. Bridesmaids - This smart and funny Judd Apatow-produced comedy looks like a chick flick and feels like an indie yet delights the masses with everything from heart and strong characters to poop jokes. Full DVD Review
22. Thor - Marvel Studios continues to respectfully and professionally adapt their most iconic superheroes with widely satisfying results. Full Blu-ray 3D + Blu-ray + DVD Review
21. Win Win - Tom McCarthy's tale of a financially-strapped New Jersey high school wrestling coach is as likeable and substantive as any 2011 indie. Full Blu-ray Review
20. Horrible Bosses - The funniest film of the year, this comedy excels on the charms and chemistries of a cast playing to and against type. Full Blu-ray + DVD Review
19. Winnie the Pooh - After years of being written off as kiddie fare, Pooh and friends are restored to their former glory in this warm, sweet, and faithful adaptation from Disney's top animators. I only wish it was a tad less slight. Full Blu-ray + DVD Review
18. Cedar Rapids - This witty indie comedy feels like a feature film cousin of NBC's "The Office" back at its very best. Full Blu-ray Review
17. Midnight in Paris - Woody Allen gives us something more than just "pretty good" in this winning love letter to Paris and iconic artists of the past. Full DVD Review
16. Moneyball - The best sports movies are the ones that put humans first, a fact this well-crafted drama never forgets. Full DVD Review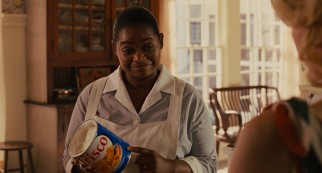 15. The Tree of Life - Like Stanley Kubrick's 2001: A Space Odyssey, Terrence Malick's ambitious drama provides a unique and haunting experience that shatters cinema conventions, but leaves us to find meaning in interpretation. Full Blu-ray + DVD Review
14. POM Wonderful Presents: The Greatest Movie Ever Sold - Morgan Spurlock delivers another entertaining documentary, this one on a subject that should interest every fan of modern film. Full Blu-ray + DVD Review
13. Rango - What looked like just another talking animal 'toon and quirky mainstream Johnny Depp vehicle was in fact a sharply written and visually stunning Western/mystery. Full Blu-ray + DVD Review
12. The Green Hornet - An underrecognized underperformer, Michel Gondry, Seth Rogen, and Evan Goldberg supply an inspired, stylish, and highly entertaining new take on the ubiquitous superhero movie. Full Blu-ray 3D + Blu-ray + DVD Review
11. Super 8 - J.J. Abrams mixes the magical feel of Steven Spielberg's early masterpieces with his own childhood adventures to create the type of high-quality popcorn blockbuster that's become too scarce. Full Blu-ray + DVD Review
10. The Ides of March - Sharply-written drama is more interested in corruption of the human soul than in politics. Full Blu-ray Review

9. The Help - This crowd-pleaser may be a tidy representation of Southern civil rights quandaries,

but its flavorful story and strong performances are utterly appealing. Full Blu-ray + DVD Review

8. The Descendants - Alexander Payne's latest and greatest is superbly human, connecting on a very real emotional level with characters and scenarios that resonate. Full Blu-ray + DVD Review

7. Harry Potter and the Deathly Hallows, Part 2 - The culmination of ten years and countless efforts was bound to carry weight, but this finale brought satisfying closure to a series unrivaled in size and scope without overindulgence or any suffering from its novel's split. Full Blu-ray + DVD Review

6. X-Men: First Class - Another demonstration of the allure of putting new spins on very old characters, Matthew Vaughn's origin film is full of style and substance. Full Blu-ray Review

5. Drive - As stylish, involving, and moving as crime action gets. Full Blu-ray Review

4. Rise of the Planet of the Apes - Not much was expected of this reboot/prequel, which made its potent story told with dazzling visual effects all the more a revelation. Full Blu-ray + DVD Review

3. Hugo - A 3D Martin Scorsese family film sounds bizarre, but the director does not suppress his immense craft on this enchanting, uplifting tale whose subject matter is as dear to his heart as any. Full Blu-ray 3D + Blu-ray + DVD Review

2. The Artist - A silent movie about the transition to talkies is a gimmicky path to Oscar glory, but when it's done this cleverly and magically, who can mind?

1. The Muppets - This undoubtedly benefits from forty years of backstory, which it wisely and respectfully uses to fuel a contemporary tale both nostalgic and profound. Quite simply, it is the most fun film of 2011. Full Blu-ray + DVD Review
Fun Facts and Distinctions:
Number of films shot in the 1.37:1 Academy Ratio, last regularly used in the mid-1950s: 2 (The Artist and Meek's Cutoff)
Number of films featuring Coolio and LV's "Gangsta's Paradise" that cast Cameron Diaz as love interest to a "Freaks and Geeks" cast member: 2 (The Green Hornet and Bad Teacher)
Shortest non-IMAX feature of the year: Winnie the Pooh, which at 63 minutes was ineligible for the Golden Globes' Best Animated Feature award (70 minute minimum) without anyone really noticing it. (It is eligible for the Oscars, which only require a 40-minute runtime for feature consideration.)
Longest feature I saw this year: Transformers: Dark of the Moon, which I would have greatly preferred at half the length.
Blue-eyed orphan looks for key: Hugo, one of the best movies of the year. Blue-eyed orphan looks for keyhole: Extremely Loud and Incredibly Close, in defiance of expectations, evidently not one of the best movies of the year.
Busy in a good way... Ryan Gosling's best reviewed film of 2011: Drive. Just plain busy: Nicolas Cage's best reviewed film of 2011: Drive Angry.
Cars 2, streak ender: This is the first year that Pixar won't win the Best Animated Feature Oscar since the 2006 Academy Awards, when the original Cars lost to Happy Feet. The Scottish fantasy Brave will look to start the streak again next year.
Continue >>
See our 2012 Academy Award Predictions and Watch the Nominations Announced Live!