In basic plot structure, Disney's 1978 sequel Return from Witch Mountain hardly departs from its predecessor, the 1975 hit Escape to Witch Mountain.

The film opens with the psychic siblings Tony (Ike Eisenmann) and Tia (Kim Richards) returning to California for a week. Their spaceship lands at the 50-yard line of the Rose Bowl in Pasadena and their Uncle Bene (Denver Pyle) soon bids them farewell.

Once again, a life-saving act gets them in trouble. This time, Tony is the hero when he foresees and, with his "energization" gift, prevents a man (Anthony James) from falling off a building. Tony alone is drugged and taken by Dr. Victor Gannon (Christopher Lee) and Letha Wedge (Bette Davis), who, like the bald men from the first film, see the powerful youth as the key to wealth and personal gain.

Separated from her brother, Tia soon encounters the Earthquake Gang, a nonthreatening band of four prepubescent boys who welcome her into their ranks when she helps thwart a cornering from rival gang the Goons. With names like Rocky and Dazzler, the Earthquakes try to assist Tia in reuniting with Tony. That is no easy task because the uncharacteristically unreceptive Tony has his mind completely controlled by Dr. Gannon, who commands him via an ear chip and transmitter.
Tony helps the baddies do their bidding, first catering to the finance-craving Letha with a museum gold heist. Then he becomes the center of a major stunt that will earn Letha ransom money and Dr. Gannon his desired prestige while delivering widespread panic to the world. The target is a plutonium plant and the threat is nuclear chaos.
Meanwhile, Tia and her new buddies team up with their usual nemesis, Mr. "Yo-Yo" Yokomoto (Jack Soo, "Barney Miller"), a truant officer bent on getting them back in school. A battle of powers ensues, as levitation and telepathy are used for evil and good, pitting helpless Tony and well-intentioned Tia against one another.
Return offers another fun outing in the spirit of the first film. With a larger cast and fuller story, there is quite a bit more going on in this one. And even though the plot points align with those already experienced, there are enough variables to distinguish this movie and to watch it with little sense of déjà vu.
Sequels today often seem to get darker than the more fun and flexible works they follow. Despite villains plotting a nuclear destruction, that's not the case here. In fact, Return is rarely menacing and quite often silly. Believability levels are tested a number of times. A highly-guarded mining gold museum exhibit is tapped in broad daylight without a single witness. Yo-Yo's minibus turns over and rolls down a city hill for a tumultuous quarter-mile, only to have all six passengers swiftly step out unscathed. And the few animal antics of the first film are handily surpassed when Alfred the goat single-handedly saves the day.
The acting isn't the greatest either. Bette Davis was certainly a screen legend and by 1978, she had won two Academy Awards and multiple lifetime achievement awards. Yet, she doesn't stand out as being especially effective in the material. On the one hand, it shows she found the right tone for the film, but on the other, anyone could have played the part (and would have looked a lot less haggard and made-up).

Ike Eisenmann doesn't get to open his mouth much, but Kim Richards does and she seems to have forgotten the wonderment of her situation. None of her many young co-stars are any better but you may be too amused by their studded black wristbands to notice. Christopher Lee, then best known as Count Dracula of Hammer Horror films and today familiar for his work in the Star Wars prequels and Lord of the Rings movies,

is an exception to the rule, as he brings an air of authority to his antagonist. In his final film role, Jack Soo also stands out for his amusing facial expressions and ability to deftly ring dramatic poignancy out of potentially throwaway dialogue.

Though it's easy to point out the ways in which Return from Witch Mountain is lacking, it nonetheless registers as an entertaining, satisfying, and sometimes more exciting follow-up to the winning Escape. Whether you consider such a movie dull or exhilarating, you've got to admit Disney doesn't make them like this anymore.

Three days before Race to Witch Mountain becomes Disney's fifth "Witch Mountain" project (and the first to see theaters in over 30 years), Return returns to DVD as part of a new line dubbed Walt Disney Family Classics. The disc restores most of the extras found on Return's first DVD (a Special Edition issued in 2003), which have been out-of-print in favor of a barebones 2-Movie Collection disc with Escape. The new Witch Mountain DVDs are only available separately.
DVD Details

1.75:1 Anamorphic Widescreen
Dolby Digital 5.1 (English), Dolby Stereo 2.0 (Spanish, French)
Subtitles: English for Hearing Impaired, Spanish, French
Closed Captioned; Extras Subtitled
Release Date: March 10, 2009
Single-sided, dual-layered disc (DVD-9)
Suggested Retail Price: $19.99
Black Keepcase with Side Snaps in Reflective Cardboard Slipcover
VIDEO and AUDIO
Like the handful of other yesteryear films treated to Vault Disney or Special Edition designation, Return has received a widescreen presentation that shows more care than your typical live-action Disney film DVD. It doesn't look as good as Escape, with grain maintaining an infrequent presence and a few mild artifacts turning up. But it's still clean and sharp enough to be bothered by Bette Davis' close-ups. (Kids, don't smoke!) The Dolby 5.1 soundtrack rarely feels like a surround experience. The simple, clearly dated mix is sufficient, but it sounds like basic stereo, which the alternate French and Spanish dubs are encoded as. Comparing the Family Classics disc to the Special Edition yielded no difference to my eyes (even with screencaps) and ears; the few shortcomings are recreated and everything looks and sounds the same.
BONUS FEATURES, MENUS and PACKAGING
As on Escape, the bonus features begin with an audio commentary by Iake Eissinmann, Kim Richards, and -- recorded separately -- director John Hough. Everyone talks about shooting in the tough areas of downtown L.A. Hough, who pronounces Bette Davis' first name as it looks and mentions that he's kept in touch with the one Earthquake gang member not featured in the supplements, is more serious and aware of his techniques. Actors Eissinmann and Richards opt for a lighter tone, as they admit the first movie is more memorable to them and has been revisited more often.
They also chat about being recognized and having the films mentioned to them by fans. Some good stories are heard as they inevitably would be on a film being revisited 25 years later.

The solid featurette "Making the Return Trip" (22:45) doesn't give this sequel short shrift. It welcomes reflections from Eissinmann, Richards, Hough, producer Kevin Corcoran (who's known more for his run as a '50s/'60s Disney child actor), special effects man Danny Lee, and actors Brad Savage, Erik Yothers, and Christian Juttner. Among the topics discussed are reuniting for the film, working with the accomplished cast members, achieving the special effects, the nature of the movie and its locations, and -- over the end credits -- Alfred the goat.

"Lost Treasure: Christopher Lee, The Lost Interview" (10:53) differs from the interview featurettes on other Vault Disney and Special Edition DVDs. That's because it's from 1978. Lee is questioned by Spanish reporter Pepe Lupi about Return from Witch Mountain and his other work. The entire piece is in Spanish, which Lee tries his best to get through and is translated by burned-in subtitles. It's extremely interesting and a nice alternative to newer, more formal sitdowns.

"Disney Kids with Powers" (2:45) is this disc's montage piece, which excerpts studio films that mostly reflect its title. Among the sampled are Bedknobs and Broomsticks, The Sword in the Stone, Mary Poppins, (misidentified) Honey, I Blew Up the Kid, both Witch Mountains, and the original Freaky Friday.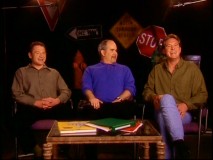 "The Gang's Back in Town" (8:11) reunites three of the actors who portrayed the Earthquake gang: Erik "Poindexter" Yothers (brother of "Family Ties"' Tina Yothers, he played Crusher), Brad Savage (Muscles), and Christian Juttner (Muscles). (Jeffrey Jacquet, "Rocky", is a no-show.) There's a warm camaraderie among the three, as they funnily recall their experiences and answer questions telepathically expressed by someone pretending to be young Tia.
"1978 Disney Studio Album" (3:00) gives us a taste of the dozen or so projects (most of them live-action comedies) released or developed by the studio around the same time as Return from Witch Mountain. Curiously, the much-requested and well-remembered Child of Glass is not among the TV movies mentioned.
The Eyes Have It (7:23) is the animated short that preceded Return in theaters. In this 1945 cartoon, Donald Duck uses his newly-acquired hypnotic goggles to convince Pluto he's a mouse, a turtle, a chicken, and so on, to interesting effect.
Last, we get the one all-new bonus feature: a Pop-Up Fun Facts track. This one seems more active than the one on Escape. Once again, it shares a number of tidbits about onscreen actors and their other credits. As much of it talks about things connected to the film than actually pertaining to it. Does it tremendously enhance the viewing experience? No, but it's still a fun and welcome inclusion.
Like Escape's new DVD, this one drops the Galleries section from the Special Edition. With that move, we lose 70 or so production stills, well-written biographies and filmographies for the director and six stars, and 13 images of posters, lobby cards, and tie-in merchandise.

The new menus do away with the somewhat awkward Film/Vault arrangement of the old Special Edition DVD. These more ordinary selection screens have a main menu montage run below a flying saucer while secondary screens are static.

The sounds pack quite a punch for your subwoofer, much more than the film itself.

There is no chapter insert in the case, but there are a Disney Movie Rewards code sheet and a booklet promoting Blu-ray. Arguably more exciting is the sticker on the slipcover that provides a unique code for downloading and printing a Race to Witch Mountain movie ticket (up to a $12 value).

The DVD is equipped with the same trailers and promos (Disney, Blu-ray, Disney Movie Rewards, and Disney XD) as Escape's new DVD. Promoted movies include Snow White and the Seven Dwarfs, Race to Witch Mountain, Bedtime Stories, Bolt, Morning Light, and Tinker Bell and the Lost Treasure.
CLOSING THOUGHTS
Return from Witch Mountain won't satisfy every fan of its predecessor, but I can't imagine it will disappoint many. It's good, clean '70s family fun that offsets the increase in silliness with heightened suspense and a more complex story.
This new DVD edition is quite comparable to the 2003 Special Edition. If you own that, you won't need to bother with this, as the differences are rather minor (a foil slipcover is added, colorful disc art lost; image and text galleries dropped, fun facts subtitle track gained). If you don't own the movie or only own the budget 2-Movie Collection, then this is worth picking up at some point, and soon if you intend to see Race to Witch Mountain in theaters. Taking advantage of the Hollywood Movie Money offer bumps the cost of this fine disc to just a few dollars. At that price, just about anything is easy to justify and certainly a movie and DVD of this caliber.