Early last decade, Studio Ghibli and Pixar Animation Studios seemed to be on the same wavelength. The two relatively animation houses on opposite sides of the Pacific Ocean were building their reputations on critical acclaim and box office success.

Each seemed content to try to put out one new movie a year and to trust the instincts of a small pool of talent. The relationship was fortified in the fact that North American distributor Disney, not yet taken over by John Lasseter and company, entrusted Pixar's filmmakers to oversee the English language translations of Tokyo-based Ghibli productions, resulting in voice actors and creative personnel in common.

The Pixar-Ghibli synchronicity got downright eerie in November 2004, when Pixar's The Incredibles opened in US theaters just two weeks before the Ghibli film Howl's Moving Castle opened in Japanese ones. Both studios were coming off of record-setting blockbusters. Director Hayao Miyazaki was following up Spirited Away, which had set the box office ablaze in Japan and certain other markets beginning in 2001, en route to winning the 2002 Academy Award for Best Animated Feature. The next year, that Oscar went to Pixar's Finding Nemo, a global sensation bigger than any animated film since The Lion King. Both Howl's and The Incredibles did outstanding business and yet each felt like a little bit of a letdown in being unable to eclipse their predecessors' grosses.

The two studios have kind of gone in different directions since that alignment. Pixar saw a slight dip in commercial returns and an increase in critical fervor, winning the Animated Feature Oscar for The Incredibles, then four consecutive years from 2007 to 2010 output, and once more last winter for Brave. Pixar set new box office records on 2010's Toy Story 3, but since then have drawn cooler reviews while becoming uncomfortably reliant on sequels for a studio long heralded for its originality.

Ghibli, meanwhile, has seen diminishing returns at the box office as Miyazaki, their most revered and successful filmmaker, has often allowed others, including his son, to handle directing duties. Films like The Secret World of Arrietty and Miyazaki's own Ponyo have still been tremendously popular in their native Japan, but not nearly to the degree of past hits. Though still largely receiving glowing reviews, they have not featured in Western award shows, sometimes due to release date disqualification. And Disney, after setting a modest North American box office record on Arrietty in 2012, has begun relinquishing their theatrical and home video distribution rights to the niche studio GKIDS.
Representing in a way the beginning of Ghibli's creative and commercial descent, Howl's Moving Castle at the same time comprises an apex with Spirited Away of raising global awareness of Miyazaki and his studio's fine tradition of fantasy animated filmmaking. Though it is adapted from the 1986 British novel of the same name by Diana Wynne Jones, Howl's bears the unmistakable imprint of its director and may indeed be considered the quintessential Miyazaki film. It isn't the most highly regarded, the most coherent, or the most personal work in the director's remarkably strong filmography, but it serves up a potent representation of the themes that fascinate Miyazaki and the colorful artistry that defines him.
Howl's centers on Sophie (voiced by Emily Mortimer in the Disney dub), a plain young woman who works hard in the hat shop her father built. One night after the shop is closed, the blobby Witch of the Waste (Lauren Bacall) places a curse on Sophie to give her the appearance and body of a 90-year-old woman and the inability to explain her plight to anyone. The weak, elderly Sophie (now voiced by Jean Simmons) is led by a hopping turnip-headed scarecrow to the titular walking, mechanical castle belonging to Howl (Christian Bale), a private and mysterious young wizard who is the subject of local folklore. Sophie makes herself at home, claiming she is the new cleaning lady hired by Calcifer (Billy Crystal), a fire demon who powers the castle and keeps the master alive despite his heart having been removed by a curse.
In this vaguely European land, an outbreak of war troubles Howl and requires him by order of the King to fight. He sends Sophie to pose as his mother and plead his cowardice. But Howl sets aside his pacifist nature and uses his magic to transform himself into a large bird-like creature and involve himself in the war, while also protecting Sophie and his home.
I think a major part of Miyazaki's allure for American critics and fans is his different way of storytelling. Even when adapting a children's novel, Miyazaki opts for unconventionality, off-the-wall ideas, and bizarre imagery. I disagree with those who declare something great purely because it is unlike what they are used to. It'd be even worse, however, to dismiss Miyazaki's fantasies for their unusual aspects. On my latest viewing of the film and first in over seven years, I am reluctant to call Howl's a great film.

But it is a very good one, full of ideas, many of them compelling and original, some of them even adding up clearly and actually making sense. A worthy nominee for the Animated Feature Oscar (more so than Disney's other 2005 releases, Valiant and Chicken Little), Howl's did not deserve the award as much as the winner crowned, Wallace & Gromit: The Curse of the Were-Rabbit.

The characters of Howl's are the not the same old archetypes we're used to. The vain, effeminate Howl resembles a glam rock star. The cursed Sophie barely looks human, her face riddled with wrinkles and deformed into grotesque proportions. Then there's a talking fire, the boy who dons a beard to do Howl's business for him, a wheezy dog with a human face, and a nasty old sorceress virtually melting before our eyes. Sophie's appearance fluctuates in relation to her behavior, at times restoring her youthful face but maintaining her white braid.

The story is easier to follow and invest in than many of Miyazaki's original tales. Even if you can tell this is departing wildly from Jones' text to incorporate trademarks of Miyazakian fantasy (including some social commentary), it never defies comprehension or loses sight of its story. Even at its best and most focused, though, Howl's does not resonate with me in the way that The Incredibles and Pixar's other top tier efforts do. I assume some of it is cultural. You can read explanations to attach significance to certain Miyazaki flourishes, but unless you're recognizing and understanding such touches on your own, there is certain to be some disconnect. I am certain that even with their universal themes and comparably thoughtful region-friendly makeovers, Pixar films do not always speak as strongly to international audiences as those sharing the cultural vocabulary of their creators.

Narrowly predating the introduction of the Blu-ray format in its home video debut, Howl's Moving Castle makes the leap to high definition this week alongside Miyazaki's purer, more grounded My Neighbor Totoro, each film treated to a two-disc Blu-ray + DVD combo pack.

Watch a clip from Howl's Moving Castle:

Blu-ray & DVD Details

1.85:1 Widescreen (DVD Anamorphic)
Blu-ray: 5.1 DTS-HD MA (English, Japanese), Dolby Digital 5.1 (French)
DVD: Dolby Digital 5.1 (English, Japanese, French)
Subtitles: English, English for Hearing Impaired; BD-only: French
DVD Movie and Extras Closed Captioned; Extras Subtitled
Release Date: May 21, 2013 (DVD originally released March 7, 2006)
Suggested Retail Price: $39.99
Two single-sided, dual-layered discs (BD-50 & DVD-9)
Blue Side-Snapped Keepcase in Embossed Cardboard Slipcover
Still available as 2-Disc DVD ($29.99 SRP; March 7, 2006)
VIDEO and AUDIO
In general, animation seems to lend itself to high definition better than live-action and that is as true for the less busy and dynamic visuals of Studio Ghibli as it is for the CGI cartoons we've all come to take for granted. Miyazaki's films may be hand-drawn but their 1080p presentations boast the same perfection of digital productions. At all times, the frame is stable, sharp, and spotless. Colors are vibrant without bleeding. Lines remain bold and well-defined. The DVD transfers of this and other Ghibli may have seemed practically perfect back in the mid-2000s, but this Blu-ray unearths a new definition of perfection, improving considerably upon the standard definition transfer and leaving absolutely nothing more to be desired on this format.
As usual, you get to choose between the original Japanese soundtrack and Disney's respectful English translation. Each is presented in terrific 5.1 DTS-HD master audio, which keeps dialogue crisp and the sound field active. Subtitles supply both a transcription of the English dub and a more literal translation. French subtitles and a Dolby Digital 5.1 dub are also provided.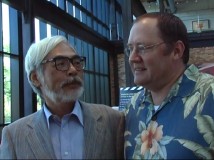 BONUS FEATURES, MENUS, PACKAGING and DESIGN

Ghibli films have gotten a pretty standard supply of bonus features from Disney over the years. Howl's sticks to that tradition and does not add anything new to the mix like the extras that have been turning up on Ghibli film reissues since 2010.

"Behind the Microphone" (9:02) is a typical English voice cast featurette providing glimpses of the famous actors recording their lines as well as some thoughts from them on the process.

Most notable are the bits showing John Lasseter directing Billy Crystal by video conference and giving a jokey interview together.

"Interview with Pete Docter" (7:23) has the Monsters, Inc. and Up helmer answer questions about Howl's Moving Castle and directing its English translation. It's a good little chat, if clearly promotional in nature.

"Hello Mr. Lasseter: Hayao Miyazaki Visits Pixar" (16:29) documents a trip made by writer-director Miyazaki and producer Toshio Suzuki to Pixar's campus, as the acclaimed animated filmmakers exchange gifts, express their mutual admiration with help from an interpreter, and introduce a screening of the English language version at the Emeryville studio. That is followed up by an interview of Lasseter exalting Howl's and the translation. It's a fun video unlike any other attached to Disney/Ghibli collaborations.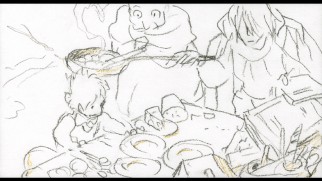 Six Japanese TV spots and trailers (8:15) of varying lengths are presented in HD with optional English and French subtitles. It's worth noting that nine additional promos amounting to nearly another four minutes were (and still are) included on the DVD.
Finally, "Original Japanese Storyboards" (1:59:10, HD) should more than satisfy your appetite for conceptual visuals. The entire film is presented in Miyazaki's rough black, gold and white sketch form with you able to select English or French subtitles over the Japanese soundtrack. A novelty more ripe for sampling than a full viewing, Ghibli has likes to include this feature and since there is ample space for it, who are we to complain?
The Blu-ray opens with trailers for The Little Mermaid 3D, Monsters University (a nifty spot resembling a college recruitment video), Iron Man & Hulk: Heroes United, and a Pinocchio-themed anti-smoking spot. All but the last are repeated from the menu's Sneak Peeks listing after ads for Disney Movie Rewards, Disney Infinity, Radio Disney Sweepstakes, and The Many Adventures of Winnie the Pooh are played.
The DVD included here is the first disc of the film's original 2006 DVD release. Its files and label art are completely unchanged. You get dated sneak peeks and all of the same extras as the Blu-ray plus a few additional trailers and minus the storyboard version of the film (which alone occupied the dropped Disc 2).

The aforementioned sneak peeks advertise Ghibli DVDs, The Little Mermaid Platinum Edition, Cars, Chicken Little, and, via menu, The Chronicles of Narnia: The Lion, The Witch and the Wardrobe, and Air Buddies. Basically, if you already own the film's DVD, that copy can be passed on or resold without much concern even from completists (so long as they're okay with not having the storyboards on DVD).

The Blu-ray's new menu matches the other recent Disney/Ghibli discs, displaying three rotations of stills against a parchment backdrop. Though it's 2013 and most studios have caught on, Disney continues to author its Blu-rays without the ability to resume playback, although this one at least remembers where you left off once you get past the previews and logos and such. The recycled DVD's menu is a simple, static 4:3 screen.

Holding the two colored discs and a Disney Movie Rewards code insert, the side-snapped blue keepcase is topped by an embossed cardboard slipcover recycling the film's original home video artwork within Ghibli's now uniform blue banner and gold spine design.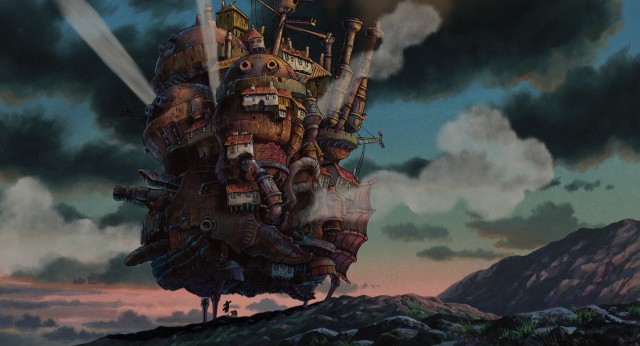 CLOSING THOUGHTS
An important entry in the canons of Studio Ghibli and Hayao Miyazaki, Howl's Moving Castle deserves a spot in any serious animation collection. This Blu-ray combo pack is unquestionably the film's best American release for the time being. It doesn't offer many surprises, but it doesn't lose anything and gains quite a bit in its stunning hi-def feature presentation.
Buy Howl's Moving Castle from Amazon.com: Blu-ray + DVD / 2-Disc DVD