At first glance, My Neighbor Totoro seems light and childish,

but this 1988 film winds up being one of Hayao Miyazaki's most touching, meaningful, and personal works.

Pre-teen Satsuki and her four-year-old sister Mei move with their father to a new home in the countryside. The two girls are excited by what they find there: acorn seeds and scampering little black things their Dad calls "dustbunnies" (their Nanny later identifies them as "soot spreaders"). As their mother lays sick but slowly recovering in the hospital from an undisclosed illness, the sisters are excited by the idea that their house is haunted.

One afternoon while playing in the tunnels formed by trees, young Mei discovers three forest creatures: the big gray, whiskered gentle giant of a monster she dubs a Totoro and his two tiny translucent tagalongs. The creatures are nowhere to be found when Mei tries to show them to Satsuki and father. But the big guy resurfaces one rainy night at a bus stop, where the girls await their father.
Miyazaki's best-known films are complex fantasies full of imaginative imagery and social commentary. Totoro may seem quaint compared to them, but I think it's probably his finest film. Here, the fantasy is a small but integral part of a coming-of-age story. Totoro doesn't show up until 30 minutes in and thereafter is put to scarce but great use. The lovable nonverbal creature has limited but unforgettable screentime, as he lets Mei sit on his chest, sheepishly accepts an umbrella in the rain, and then re-emerges as a final act hero, when a hospital telegram breeds fear in the girls and inspires Mei to go missing.
In some ways, Totoro is two films in one. The simple drama involving a small family is Miyazaki's most human creation and the idyllic portrait subtly set in the 1950s incorporates aspects of Miyazaki's own childhood, as spinal tuberculosis kept his mother away for large portions of his upbringing. Fitting together with that in a seamless and complimentary way are the fantasy elements, which are simple and easily attributed to children's imagination.
There's a little bit of a Winnie the Pooh vibe to the relationship of the girls and their friends unseen by adults, which plays out with understatement. It wouldn't be a Miyazaki film without inspiring some questions and you might wonder about this Catbus that comes to the rescue and his anatomy (FYI, 36 people on Facebook "like" the page "Catbus' Balls"). But this is Miyazaki's purest tale (at least until Ponyo) and there is no bizarre imagery or large-scale conflict to prolong or muddy this taut piece of storytelling.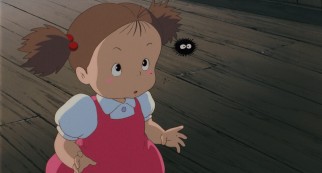 For some reason, Disney waited a long time to record a new dub for Totoro, one of Miyazaki's most popular films. Strangely, that resulted in one of the studio's weakest dubs, if only largely because there had been over a decade for viewers to become attached to another English dub, the one that had been given limited US theatrical release in 1993 and distributed on home video by Fox. There's something to be said for casting real-life sisters Dakota and Elle Fanning as Satsuki and Mei, but hearing and understanding those young voices in some way robs the film of some maturity and subtlety. Gladly, as always, Disney retains the original Japanese soundtrack, which you may well prefer.
With this week's release of Totoro in a Blu-ray + DVD combo pack, another key entry in the Studio Ghibli canon is made available in the high definition format, leaving Kiki's Delivery Service as the last of Miyazaki's '80s output to make that leap.
Watch a clip from My Neighbor Totoro:

VIDEO and AUDIO
My Neighbor Totoro is treated to an excellent 1.85:1 Blu-ray presentation. The somewhat simple 2D visuals are rendered flawlessly here. The colors are not quite as deep and vibrant as subsequent Ghibli works. The imagery isn't as busy, either, but that ensures there's nary a concern to this admirable transfer.
English, Japanese, and French soundtracks are all offered in 2.0 DTS-HD master audio. While the technology was certainly there to upgrade the film to 5.1 at least for Disney's mid-noughties dub, this surround mix does just fine. It commands notice on occasion, as when a wind sweeps across the sound field from front to back. Those wanting to watch the original Japanese but do not speak the language have two subtitle tracks to make use of: an English SDH transcription of the dub and a more presumably more literal translation of Miyazaki's screenplay. Typical for a Disney/Ghibli disc, toggling the audio changes the language of the opening and closing credits.
BONUS FEATURES, MENUS, PACKAGING and DESIGN

Nearly all of the extras from Disney's two double-disc DVD releases of My Neighbor Totoro make it to the Blu-ray, where they aren't joined by any new features but are presented in HD unless otherwise noted.

If you didn't pick up Disney's seemingly pointless 2010 reissue, you'll encounter a number of things you haven't seen before.

First up come the obligatory "Original Japanese Storyboards" (1:26:22), which present the entire film in the crude fashion of Miyazaki's two-color pencil drawings (camera moves and all) with Japanese audio and optional English or French subtitles. Actually, not quite the entire film; the musical opening and closing credits sequences are presented in finished form minus text, as an opening remark explains there were no storyboards for them. (This makes up for the clips not getting their own bonus feature listing, as they did on the film's first Disney DVD.)

The next four shorts were first released on the 2010 DVD. "Creating My Neighbor Totoro" (2:58) gathers reflections from Miyazaki about appreciating Japan's natural beauty and a time before TV when children played outside. "Creating the Characters" (4:24) has producer Toshio Suzuki recall his decision to delay Totoro's appearance (citing E.T.), while Miyazaki explaining some things that went into writing and designing the cast. "The Totoro Experience" (2:00) explains how the movie went from box office disappointment to television sensation, spawning a boom of dolls and toys in the process. "The Producer's Perspective: Creating Ghibli" (1:23) has Suzuki wax on the studio's formation and naming.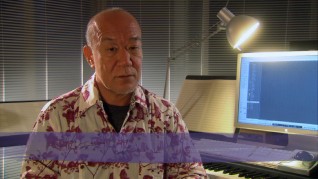 "Scoring Miyazaki" (7:18) considers the musical contributions of the director's regular collaborator Joe Hisaishi in everything from Nausicaä to Ponyo, primarily in Hisaishi's own words. It's fun to move through Miyazaki's work and get a few thoughts on most of their scores.
"The Locations of Totoro" (28:38, SD) is a Japanese television special which takes us and actress Mayu Tsuruta to the country locations outside Tokyo that inspired and are depicted in the film. It really delves deep into the subject, interviewing developers and residents, smelling fertilizer, and cooking rice in an old-fashioned way.
Featuring among a fun collection of mostly SD original Japanese trailers (2:51) are two short newly-included HD previews advertising Totoro's unlikely emotional roller coaster double feature of Grave of the Fireflies.

Finally, "Behind the Microphone" (5:39) interviews the English voice cast actors (including "Wings"' Tim Daly and Disney veterans Lea Salonga and Pat Carroll)and shares footage of them recording their lines.

It's a standard inclusion, but always fun to see. My, how young those Fanning girls were!

The Blu-ray opens with trailers for The Little Mermaid: Diamond Edition, Monsters University, and Iron Man & Hulk: Heroes United. Before repeating those, the menu's Sneak Peeks listing runs promos for Disney Movie Rewards, Disney Infinity, Radio Disney Sweepstakes, and The Many Adventures of Winnie the Pooh.

The DVD is simply the first disc in the 2010 edition, unchanged in any way. That renders it a movie-only disc, since all the bonus features were relegated to the second disc of that set, including a few things that become lost with this release: three "Behind the Studio" shorts on the concurrently-(re)issued Ponyo, Kiki's Delivery Service, and Castle in the Sky as well as the interactive "Enter the Lands" map of clips, montages, and personality quizzes. The former aren't especially relevant and the interactive latter content would have required some tailoring to work on Blu-ray.

The easiest way to have salvaged this content would have been for Disney to reauthor a new DVD combining the dropped extras with the movie. As is, it's no great loss, though some might have preferred Disney using the first disc of the film's 2006 DVD, which contained the voice cast featurette, trailers, and the credit sequence animation.

The DVD opens with trailers for Toy Story 3 and 2010's Studio Ghibli DVD wave, while its additional Sneak Peeks promote Disney Blu-ray combo packs, Disney Movie Rewards, Genuine Disney Blu-rays and DVDs, Ponyo, the Blu-rays of Toy Story and Toy Story 2, The Princess and the Frog, Tinker Bell and the Great Fairy Rescue, Disney Friends for Change, and Beauty and the Beast: Diamond Edition.

In line with all of Disney's Ghibli discs from the past few years, both the Blu-ray and DVD menu slowly display stills (and a few clips on the DVD) against an artistic backdrop while a couple of score excerpts play. The Blu-ray remembers where you left off if you didn't finish watching the film.

The side-snapped keepcase holds a Disney Movie Rewards code insert and is topped by a nice, embossed slipcover.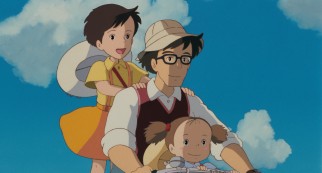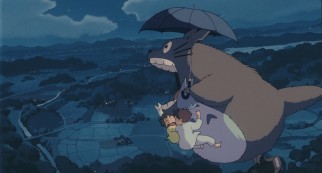 CLOSING THOUGHTS
My Neighbor Totoro, Hayao Miyazaki's shortest film, is also his sweetest and most accessible. This G-rated family drama may strike some Miyazaki fans as lacking in action or complexity, but its simple, poignant fantasy to me exceeds everything else in the director's sterling oeuvre.
This Blu-ray combo pack is a straightforward upgrade from DVD and easy to recommend on the strengths of its feature presentation and nice assortment of retained extras. The recycled Disc 1 DVD is barebones and therefore a few of the 2010 reissue's interactive and minor extras are dropped, but it's unlikely you'll miss any of that.
Buy My Neighbor Totoro from Amazon.com: Blu-ray + DVD / 2-Disc DVD