In the summer of 1995, all eyes at Disney were on Pocahontas. The film was arriving on the heels of the record-smashing hit The Lion King to huge expectations. With this, the studio confirmed June as the preferred month for releasing their latest animated movie to theaters, a tradition they'd hang on to through the end of the '90s.

Meanwhile in Japan, Studio Ghibli had long favored the month of July. The 1995 movie Whisper of the Heart became their fifth July release in seven years (opening a week before Pocahontas got there).

To this day, the company continues to like that timing, employing it on almost every new film.

Though arriving on schedule in the middle of summer, Whisper of the Heart differed from past Ghibli output in a number of ways. It was only the studio's second film made without one of the studio's two creative heads, Hayao Miyazaki and Isao Takahata, directing. Whisper marked the feature directorial debut of Yoshifumi Kondτ, an animation director, character designer, and supervising or just plain old animator on previous Ghibli efforts including Takahata's Grave of the Fireflies and Miyazaki's Kiki's Delivery Service.

Miyazaki is credited with the screenplay and storyboards, which he adapted from Aoi Hiiragi's 1989 manga of the same name, known locally as Mimi o Sumaseba (literally If You Listen Closely). Despite his involvement, Whisper is almost altogether void of Miyazaki's signature fantasy. This is perhaps Ghibli's most down-to-earth production.
The film centers on Tsukishima Shizuku (voiced by Brittany Snow in Disney's oh-so-2005 English dub), a 14-year-old girl aiming to read twenty books over summer break. Her parents and older sister (Courtney Thorne-Smith) would prefer she spend a little more time preparing for her upcoming high school entrance exams.
One day, a cat wanders onto a train and sits down next to Shizuku. The fat, quiet feline doesn't say anything or pay notice to anyone, but Shizuku decides to follow him and winds up at an antique shop whose offerings inspire her. Shizuku later discovers that the friendly shopkeeper's grandson Seiji (David Gallagher) is the same Seiji whose name has appeared in all of the books she's borrowed from the library. Shizuku has romantic feelings for her fellow bibliophile, but not the boy her best friend (Ashley Tisdale) has been crushing on, who has secretly been interested in Shizuku. Alas, Seiji is about to go off to become an apprentice violin maker, a calling that could keep him distant for ten years.
Meanwhile, Shizuku pours all of her passion into writing a story around The Baron, a captivating cat statue inside Seiji's grandfather's shop. She has also, for some reason, been working on new lyrics for John Denver's "Take Me Home, Country Roads", a song both she and this film seem strangely enamored with.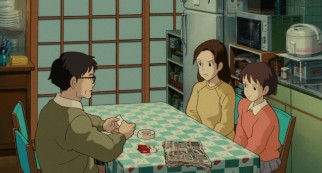 Whisper is thin and leisurely for its 111-minute runtime and rather juvenile for a film carrying Miyazaki's name. Most of Miyazaki's films focus on a girl protagonist on the cusp of teendom and accordingly they assume the world view of such a character. But whereas his works typically have fans of both genders and all ages, this one seems to more narrowly target preteen Japanese girls with its reddened cheeks and intersecting crushes.
Still, there is a lot to admire about this film, from its flavorful depictions of contemporary adolescence and family life to its appealing portrayals of reading and writing as suitable creative outlets. Those themes and the looming responsibility of high school preparation give off a faint air of didacticism, but fortunately it does not overpower the seemingly chief objective to capture the thrills and feelings of an exciting young age.
Studio Ghibli hoped that director Kondτ could become a successor to Miyazaki and Takahata, but this would be the only film he completed before his 1998 death at age 47 due to a ruptured aneurysm attributed to excessive work, an incident that led Miyazaki to announce retirement but settle on a more relaxed pace.
In 2006, Whisper became a part of the third wave of Ghibli films to reach DVD in North America from Disney. Next week, it becomes among the first of the studio's catalog titles to appear on Blu-ray, arriving alongside Castle in the Sky and the 2012 US theatrical release The Secret World of Arrietty.
Watch a scene from Whisper of the Heart:

VIDEO and AUDIO

The Blu-ray's 1.85:1 widescreen picture is basically flawless. The minimal animation style really shows off the hi-def visuals, with clean lines, vibrant colors, and a spotless element producing stunning results. (You can even tell when some long shots used less detail than they should have.)

The 5.1 DTS-HD master audio is also quite potent. There's a compelling case to be made both for the original Japanese audio and the tasteful English dub, both of which boast crisp, weighty recordings with minimal atmosphere save for the opening (Olivia Newton-John) and closing (Yoko Honna) incarnations of "Country Road."

Switching from one language to the other does cause the screen to black out momentarily, but for a good reason; the switch causes the opening and closing credits to switch languages as well to English or Japanese. As always, Disney deserves credit for giving you two subtitle options, a transcription of the English dub and a more literal translation of the original Japanese dialogue.

Though the file dates are from 2012, the new DVD did not seem different from Whisper's original one, with the disc's average bit rate remaining virtually unchanged. In other words, the SD presentation is just about perfect by 2006 standards, but no substitute for the increased resolution of 1080p.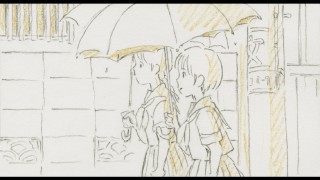 BONUS FEATURES, MENUS, PACKAGING and DESIGN
On Blu-ray, Whisper of the Heart is joined by the three bonus features of its DVD in standard definition and a new one in HD.
The new HD one is "Four Masterpieces of Naohisa Inoue" (34:45), which shows four paintings take shape in a painstaking, nonlinear way. You may question the relevancy, but what the feature and case fail to tell you, and what you might figure out on your own anyway, is that Inoue was the art director on Whisper's Baron fantasy scene. It is kind of cool, but just as easily enjoyed as a screensaver or in fast-forward.
Another feature that's nice to have but you probably won't feel compelled to view in full is a standard Studio Ghibli inclusion: the entire film in storyboard form (1:50:50). Knowing that Miyazaki himself drew these adds some value and you have the ability to watch them with all the same audio and subtitle options as the film. Still, there is good reason why movies aren't released in this crude state.
Next up and perhaps of greatest interest to the typical American viewer is "Behind the Microphone" (7:59), a standard featurette on the English voice cast. Brittany Snow, Ashley Tisdale, David Gallagher, Martin Spanjers, Courtney Thorne-Smith, Jean Smart, Cary Elwes, Harold Gould, translation producer Ned Lott,

and director Rick Dempsey add their thoughts, with each actor getting a chance to talk about their character and performance. The comments and faces are essentially interchangeable with the corresponding piece from every other Ghibli film, although Elwes establishes The Cat Returns as a prequel to this and explains how he voiced The Baron accordingly.

Finally, we get a reel of 1.33:1 letterboxed "Trailers & TV Spots" (10:45), which treat us to excerpts of Yoko Honna's "Country Road" chorus again and again. It's interesting to see how this was marketed with references to young girls' comics, an economic bubble burst, and release "5 years before the 21st century." It's almost like the Japanese were targeting businessmen and historians!

Though it must have been tempting for Disney to simply slap a new label on the first DVD in Whisper's two-disc set, the combo pack's DVD is in fact a newly-authored disc. Aside from updated trailers, though, its contents are the same, meaning you only get "Behind the Microphone" and the trailers & TV spots on the DVD here, this time both fitted with English subtitles.

Both discs open with trailers for Disney Studio All Access, Brave, and Cinderella: Diamond Edition. The menu's Sneak Peeks listing repeats those three and adds promos for Disney Movie Rewards, "Austin & Ally", Secret of the Wings, Planes, The Aristocats: Special Edition Blu-ray, and The Rescuers (35th Anniversary Edition) & The Rescuers Down Under: 2-Movie Collection.

The Blu-ray's menu takes the now-standard Ghibli approach of a slideshow of images and clips against a pale backdrop. Though the Blu-ray does not resume playback, it does remember where you left off in the film, should you not finish it in one sitting. The DVD's recycled menus play full clips and looped animated scenery from the film, with listings atop sheet music and musical notes as cursor.

Reinforcing an apparent term in their agreement, both the DVD and Blu-ray feature full-color artwork. They claim opposite sides of a side-snapped Blu-ray case, which holds a Disney Movie Rewards booklet and is topped by an embossed cardboard slipcover compatible with the past two years' Ghibli/Disney Blu-ray combos.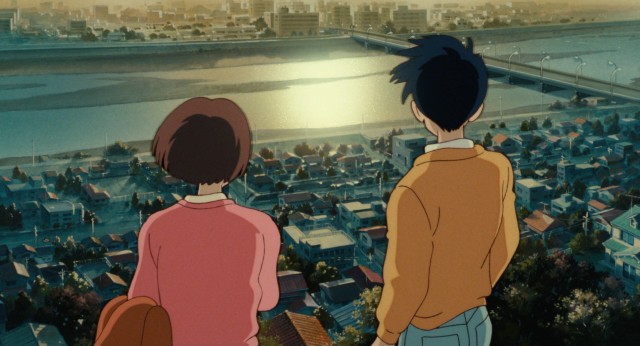 CLOSING THOUGHTS
Whisper of the Heart is not one of Studio Ghibli's most widely satisfying films, but this grounded coming-of-age story cannot easily be dismissed. It boasts more art and more heart than a lot of animation and thus warrants some consideration and appreciation.
Disney's Blu-ray feature presentation is truly top-notch, leaving no room for improvement on the format. The standard extras are good company, and in spite of some drawbacks, each is highly welcome. Though this combo pack is kind of expensive, Disney has not permanently lowered prices on any of the Ghibli films, so there's no point in waiting for that to happen here. There are better anime films more worthy of owning yet to come, but as this film's clearly best release to date, anyone going for a complete Ghibli collection need not hesitate to pick this up.
Buy Whisper of the Heart from Amazon.com: Blu-ray + DVD / 2-Disc DVD