This year marks the thirtieth anniversary of the launch of Jim Henson's still beloved children's television series "Fraggle Rock". That milestone is prominently celebrated on the packaging of a new 21-disc complete series DVD collection available May 14th, but it is less the motivation behind the release than the fact that last fall,

"Fraggle Rock" and other classic works from The Jim Henson Company got a new distribution deal with Gaiam Vivendi Entertainment (GV). Ownership of the "Fraggle Rock" library has switched hands a number of times in the DVD era, with HiT Entertainment once self-distributing, then collaborating with Fox, and then Lionsgate. Now, the series that first aired on HBO in the United States comes to Gaiam Vivendi, a company born out of a 2012 merger between two indie labels, one of them specializing in yoga products.

GV did not make the complete series' Anniversary Collector's Edition available for review, but they did supply a screener of Meet the Fraggles, a single-disc compilation streeting the same day. As someone who bought HiT's Season 1 DVD over seven years ago, and who enjoyed it but never finished watching it or felt compelled to, the idea of a single disc compiling the highlights from all five seasons sounded appealing to me, both as an easy review to write and a nice way to revisit the series. In fact, holding just six episodes from the first two seasons, Meet the Fraggles seems more designed to be the first of several compilations spanning the series' 1980s run.

The value of such discs and, for that matter, GV's new "Fraggle" season and series collections, is called into question by the fact that Lionsgate's now-discontinued DVD season sets (each holding 10 hours of episodes plus substantial extras) are selling for as little as $9.39 each via Amazon partners, several dollars less than the price this measly 2½-hour compilation currently commands. You can argue that the new editions are in print and can be found in brick & mortar retailers, but that might overstate their availability at a time when retailers continue to devote less and less space to physical home media. The odds seem to be against a haphazard DVD of a television series that hasn't been in production for over a quarter-century or in regular US syndication since 2001.
"Fraggle Rock", as you probably know, takes us inside the world of the Fraggles, colorful little creatures whose universe is contained within a hole in the wall of the house/workshop of human tinkerer Doc (Gerry Parkes) and his loyal, nonverbal dog Sprocket. The furry, tailed Fraggles are but the most focal of several species on display.

They are best represented by a quintet of personalities: practical leader Gobo, energetic and pigtailed Red, self-described "little wimp" Wembley, earthy Mokey, and the nervous Boober, whose red hair covers his eyes. Though small to us, the stature of Fraggles falls in between the tiny industrious Doozers, construction workers whose architecture the Fraggles eat, and a family of large, Fraggle-hating Gorgs.

In the canon of Jim Henson productions, "Fraggle Rock" falls in between the all-audiences appeal of the Muppets and the edutainment of "Sesame Street" you wouldn't feel right watching without a kid in the room. Featuring smart writing and many original songs, it's a fun series, although your enjoyment hedges largely on your age. If you didn't grow up on this kind of fare in the '80s or on reruns in the '90s, you very well might find this more dated than heartwarming. Today's kids, accustomed to the interactivity and didacticism of shows like "Dora the Explorer", might not take to this less fashionable brand of entertainment.

Still, "Fraggle Rock" is easy to commend and appreciate, even if you're content in adulthood to just take a few tastes of it and remember the joy it brought you. The complex universe, which the Fraggles have believed themselves to be at the center of, shows imagination and creativity. Lessons are taught and values instilled with some degrees of subtlety and artfulness.
The highlight of the series remains the postcards Gobo receives from his uncle Traveling Matt, who in the premiere episode takes the bold step of venturing into Outer Space (our world, to Fraggles). The postcards arrive with short video reports as Matt describes in clinical terms the ordinary human behavior he witnesses in kids and grownups, who for some reason don't pay him much notice. From Traveling Matt's ill-informed perspective, everything from drive-in theaters to ice cream cones assumes amusingly exaggerated significance.
The series features impressive puppetry on different scales, from the tiny Doozers to adult actors in burdensome costumes. You often wonder how Henson's ace team brought certain characters to life, like the Doozers who leave no room for human hands. Much of the camerawork and many of the illusions are quite special. Only scenes in which Fraggles are superimposed, most glaringly over the Gorgs' gardens, show seams and undercut the series' reality at all.
Here's a closer look at the six featured episodes, all of which retain their original opening and closing credits, while being fitted with a new Jim Henson Company logo at their end. Beyond the premiere, a different one of the five lead characters claims the foreground of each episode.
1. 1.01 - Beginnings (24:45) (Originally aired January 10, 1983)
In this, the series' premiere, Uncle Matt becomes Uncle Traveling Matt when he ventures into "Outer Space"

and establishes his plan to correspond via postcard with Gobo, who's afraid to check for mail.

2. 1.13 - We Love You, Wembley (24:37) (Originally aired April 4, 1983)
Wembley is moved by the help of a nice stranger named Lou, who he may or may not be in love with. He gets a love potion that makes everyone temporarily in love with him. Meanwhile, Doc upgrades a chandelier.

3. 2.06 - Boober's Dream (24:45) (Originally aired February 6, 1984)
Boober is troubled by Sidebottom, the fun, reckless side of him that shows up in his dreams. Everyone else journeys into Boober's dreams to experience Sidebottom's entertainment, but a disapproving Boober prefers to be safe and boring.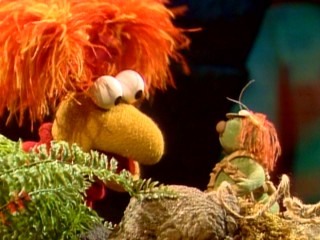 4. 2.13 - Red's Club (24:43) (Originally aired March 26, 1984)
Wanting to be the leader for once, Red starts a Helping Club. Doc and Sprocket try to start their own dog club.
5. 2.07 - Mokey and the Minstrels (24:43) (Originally aired February 13, 1984)
When nomadic minstrels arrive, Mokey thinks it is her destiny to become one of them. While missing her friends, she tries to pass the music makers' test.
6. 1.21 - Gobo's Discovery (24:45) (Originally May 30, 1983)
Gobo isn't sure he still wants to be an explorer like his uncle. Rejected once too many, Doc considers returning to his old profession: a barber.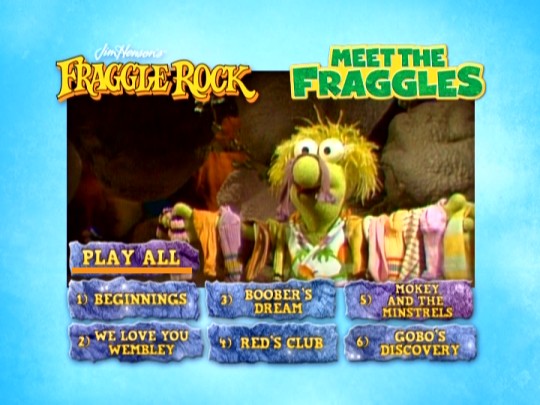 VIDEO and AUDIO

"Fraggle Rock" appears in its original 1.33:1 aspect ratio, television's old standard. The picture is clean but limited by its original format, looking blurry compared to contemporary programming. This seems comparable to past season sets' transfers and

is probably about the best we can expect from mid-'80s children's television shot on video. The Dolby Stereo 2.0 soundtracks are quite satisfactory, but again limited somewhat by their original recordings. One troubling pop marred the presentation slightly, as did the unfortunate use of closed captioning instead of English SDH subtitles.

BONUS FEATURES, MENUS, PACKAGING and DESIGN

Aimed at true fans, the season sets have included a number of substantial bonus features and nifty touches. Aimed at the casual fan, impulse buyer, and nostalgic parent, this disc doesn't include anything of the sort.

The one animated menu screen gives you the option to view one episode or all six while clips and the theme song play. Each episode is broken into around five chapter stops. The standard black keepcase isn't joined by any insert or slipcover.
CLOSING THOUGHTS
Meet the Fraggles isn't easy to recommend to anyone. There are lower-priced compilations of the show for those wanting to take a short trip down memory lane. Meanwhile, more devoted fans would do better with certain complete season sets that can be easily obtained for the same price or less. While it's definitely a good thing that "Fraggle Rock" DVDs will now be more readily available, it does largely seem like anyone who wanted to collect the series has already done so and those who haven't would be smarter starting anywhere but here.
Buy Fraggle Rock from Amazon.com:
Meet the Fraggles / Complete Series 30th Anniversary Collector's Edition / Instant Video