DVDizzy.com | DVD and Blu-ray Reviews | New and Upcoming DVD & Blu-ray Schedule | Upcoming Cover Art | Search This Site
Grown Ups DVD Review
Grown Ups

Theatrical Release: June 25, 2010 / Running Time: 102 Minutes / Rating: PG-13 / Songs List

Director: Dennis Dugan / Writers: Adam Sandler, Fred Wolf

Cast: Adam Sandler (Lenny Feder), Kevin James (Eric Lamonsoff), Chris Rock (Kurt McKenzie), David Spade (Marcus Higgins), Rob Schneider (Rob Hilliard), Salma Hayek Pinault (Roxanne Chase-Feder), Maria Bello (Sally Lamonsoff), Maya Rudolph (Deanne McKenzie), Joyce Van Patten (Gloria), Ebony Jo-Ann (Mama Ronzoni), Di Quon (Rita), Steve Buscemi (Wiley), Colin Quinn (Dickie Bailey), Tim Meadows (Malcolm), Madison Riley (Jasmine Hilliard), Jamie Chung (Amber Hilliard), Ashley Loren (Bridget Hilliard), Jake Goldberg (Greg Feder), Cameron Boyce (Keithie Feder), Alexys Nicole Sanchez (Becky Feder), Ada-Nicole Sanger (Donna Lamonsoff), Frank & Morgan Gingrich (Bean Lamonsoff), Nadji Jeter (Andre McKenzie), China Anne McClain (Charlotte McKenzie), Dan Patrick (Norby the Ride Guy), Tim Herlihy (Pastor), Blake Clark (Coach Bobby "Buzzer" Ferdinando), Norm MacDonald (Geezer), Jonathan Loughran (Robideaux)
Buy Grown Ups from Amazon.com: DVD • Blu-ray + DVD Combo Pack • Blu-ray Disc



Adam Sandler can't be accused of always playing it safe. Since becoming a certified big screen draw, the actor has stepped out of his comfort zone a number of times.

The atypical leading turns and the more serious films that housed them have both earned rave reviews. And every time, Sandler has then returned to the type of marketable comedy he's known for. Appear in Paul Thomas Anderson's Punch-Drunk Love, then follow it up with Anger Management. Impress in the post-9/11 drama Reign Over Me, then it's off to domestic partnership ruse romp I Now Pronounce You Chuck and Larry. Team up with friend and once roommate Judd Apatow on the ambitious Funny People and then do Grown Ups.

One can't fault Sandler for proceeding this way. While he's clearly proven his dramatic chops, people are crazy about his standard vehicles, making him as reliable a presence at the box office as any entity beyond powerhouse computer animation studios. Following 2000's Little Nicky, every one of his signature PG-13 comedies has crossed the $100 million mark domestically.
Easily extending that streak, Grown Ups returns Sandler to broad appeal. It earns him an eighth feature screenwriting credit and reteams him not only with frequent director Dennis Dugan (Happy Gilmore, Big Daddy, You Don't Mess with the Zohan) but several of the funnymen from the early-to-mid-1990s "Saturday Night Live", Sandler's career launching pad. Joining him as co-leads here are Chris Rock, Rob Schneider, David Spade, and Kevin James. It takes very little to notice that James has assumed the appealing fat guy opening left by Chris Farley's passing.
As Lenny Feder, Sandler is less like the buffoon that he honed in his early projects and more like the sarcastic everyman he's embodied in more recent years. The death of his old CYO basketball coach (Sandler regular Blake Clark in the prologue) is reason enough for Lenny to reunite with his 1978 championship-winning team. It's also reason enough for Sandler to round up his longtime pals and get them the high-profile gig they need more than he does. The coach's funeral leads to an open-ended memorial at the boathouse where they celebrated victory as New England kids. I feel some summer hijinks coming on!
In addition to wealthy, powerful movie agent Lenny, there is organic living yoga master Rob (Rob Schneider), whipped househusband Kurt (Chris Rock), immature partier Marcus (David Spade), and bearded family man Eric (Kevin James). Also present but kept at a distance are the guy's wives: Lenny's career-oriented fashion designer Roxanne (Salma Hayek... Pinault), Kurt's wisecracking pregnant lady Deanne (Maya Rudolph), Eric's overly nurturing Sally (Maria Bello), and Rob's elderly partner Gloria (Joyce Van Patten). A couple more generations are thrown into the mix as well, care of Kurt's gassy, difficult mother-in-law (Ebony Jo-Ann) and eight young kids.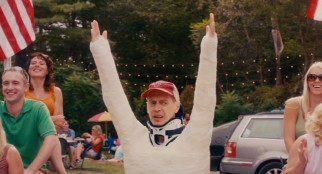 There is a plot, but it doesn't offer anything too urgent. Instead, we revel in the camaraderie of the five former teammates,

who are more deserving of the title label than you might suspect. Inevitably, there are jokes about aging and family life. More substantially, there are musings upon the differences between a childhood in the 1970s and one today. The fathers long to share their fondly-recalled outdoor experiences with kids hooked on texting and video games. A water park, a swinging rope, and styrofoam cup telephones all feature. Conveniently, there are also members of the opposing team who unreasonably still contest Lenny's team's defeat of them. Played by the likes of Colin Quinn, Steve Buscemi, and Tim Meadows, they want a remake and get one.

Not too much thought went into Grown Ups beyond the premise that called for building a comfortable ensemble around Sandler. It's not a smart film and rarely can it be considered uproarious. But it definitely offers a good time in the tradition of Sandler and his Happy Madison Productions collaborators. So many of today's comedies are founded upon a high-minded concept or racy outrageousness that this one seems tame and quaint by comparison. Even though it was chided by reviewers -- who haven't really gotten behind any of Sandler's star projects, no matter how entertaining -- I think there is a place for a movie like Grown Ups to be made and enjoyed. And though the critic in me recognizes that the film doesn't hit all of its targets (it's definitely corny and unfunny in stretches), it hits enough to acquit.

Of course, I'm an unabashed fan of Adam Sandler; I find him among cinema's most likable comedians and the appealing stylings of his mainstream works leave me more forgiving than I would be with most entertainers. I also appreciate his co-stars here, less from the headlining projects that have elsewhere seemed to dry up for them and more for their contributions to Sandler movies and '90s "SNL" (which will always be my "SNL", thanks to their well-timed Comedy Central reruns).

When news first broke of Sandler teaming with Spade, Schneider, Rock, and James, I was sold. Nothing else really mattered; it'd just be fun to gather these guys and give them a chance to be witty together. I think my initial thought process was eerily close to the ones that shaped Sandler's scattershot screenplay with Fred Wolf (Joe Dirt, Black Sheep) and Dennis Dugan's sloppy direction. They all must have assumed just putting these old friends together in front of a camera and incorporating aspects of life they've encountered in their early 40s would be enough. To many viewers, it isn't. For me, it is.
DVD Details

1.85:1 Anamorphic Widescreen
Dolby Digital 5.1 Surround (English, French, Descriptive Service)
Subtitles: English, English for Hearing Impaired, French, Spanish
Not Closed Captioned; Most Extras Subtitled
Release Date: November 9, 2010
Suggested Retail Price: $28.96
Single-sided, dual-layered disc (DVD-9)
Black Eco-Friendly Keepcase
Also available on Blu-ray Disc ($34.95 SRP)
and in Blu-ray + DVD Combo Pack ($38.96 SRP)
VIDEO and AUDIO
Grown Ups looks great in its DVD's 1.85:1 anamorphic widescreen presentation. The picture is a touch softer than you might expect, but other than that, it's satisfyingly clean, colorful, and detailed. While the Dolby 5.1 soundtrack won't give your home theater a major workout, it doesn't fail the film in anyway, crisply reproducing the dialogue that drives the picture as well as the prominently featured yesteryear rock (full song list at the bottom of the review).
BONUS FEATURES, MENUS and PACKAGING
On DVD, Grown Ups is joined by a paltry supply of three short bonus features. This is sadly another all too common instance of a studio withholding standard inclusions from the majority of customers by reserving them for the Blu-ray. It's unfortunate for Sony to contribute to a trend they had largely previously avoided, particularly on a title that is so clearly destined to do most of its business on standard DVD.
"Laughing is Contagious" (4:05) proves its title with looks at the friendly atmosphere on set including general goofing around and some cast/crew sound bites.
The gag reel (3:50) provides bloopers, outtakes, hijinks, and a bunch of bleeped profanity.
"The Cast of Grown Ups" (7:05) is more of a standard making-of featurette, letting the actors describe their characters and speak highly of one another. It also includes unused alternate lines and behind-the-scenes B-roll footage.

What do Blu-ray customers get that standard DVD owners miss? Deleted scenes, an audio commentary by director Dennis Dugan,

the blooper reel "Riff-o-Rama", and three featurettes ("Dennis Dugan: Hands on Director", "The Lost Tapes of Norm MacDonald", and "Busey and the Monkey"). In addition to that promising material, the Blu-ray also adds movieIQ+sync and BD-Live for real-time cast information and trivia during playback (otherwise obtainable by visiting IMDb). There's no good reason for anything but the movieIQ and BD-Live stuff not to show up, as clearly space was not a consideration with over 20 minutes of previews.

Grown Ups is one of a growing number of new non-family-oriented films treated to a Blu-ray + DVD combo pack. Its DVD, which the press release touts as including the "full feature film" (as opposed to, say, half of it), would appear to drop the three supplements of the standalone disc in favor of a digital copy of the film.

The DVD loads with promos for "make.believe", Sony Blu-ray, The Other Guys, Salt, The Karate Kid (2010), Stomp the Yard: Homecoming, and Easy A. The Sandtastic Previews menu holds the movie trailers plus ones for Eat Pray Love, Beastly, "Community": The Complete First Season, Rust, Mrs. Miracle, Big Daddy, Mr. Deeds, Click, and 50 First Dates. Grown Ups' own effective Bob Seger-featuring trailer is sadly not included.

The main menu loops a 50-second display of themed photos and clips in moving Polaroids. The only keepcase insert promotes Sony's "make.believe" philosophy and 3D.
CLOSING THOUGHTS
Having not been crazy with several of Adam Sandler's recent signature comedies, I was relieved to find Grown Ups doesn't really contribute to the downward trend. It may not rank up there with the star's best (a class that for me includes Happy Gilmore, Big Daddy, Click and Billy Madison), but it's almost on par with his other positively enjoyable works (such as Mr. Deeds and Bedtime Stories). If you haven't gotten sick of Sandler's shtick (and he has made sure it's not stale or overly familiar), you should enjoy this enough to see it.
While the feature presentation is up to Sony's high standards, the DVD is quite a disappointment in the extras department. That's all the more unfortunate when the Blu-ray exclusives sound as worthwhile as they do.
More on the DVD / Buy from Amazon.com / Buy Blu-ray + DVD Combo Pack / Buy Solo Blu-ray


Related Reviews:
New: The Hangover (Extreme Edition) • Elf (Ultimate Collector's Edition) • Toy Story 3 (Blu-ray + DVD) • Mrs. Miracle
Starring Adam Sandler: Grown Ups 2 • Bedtime Stories • Funny People | Happy Madison Productions: Paul Blart: Mall Cop • Strange Wilderness
Summer Movies: The Karate Kid (2010) • Prince of Persia: The Sands of Time • Marmaduke • Winter's Bone
Death at a Funeral (2010 • Deuce Bigalow: Male Gigolo • The Emperor's New Groove • Madagascar: Escape 2 Africa • Away We Go
Wild Hogs • Caddyshack • Old Dogs • The Even Stevens Movie • Hot Tub Time Machine • Semi-Pro • She's Out of My League • Four Christmases
Tyler Perry's Why Did I Get Married Too? • Modern Family: The Complete First Season • Cougar Town: The Complete First Season


| | |
| --- | --- |
| | Grown Ups Songs List (in order of use): J. Geils Band - "Come Back", Cliff Richard - "Devil Woman", Global Operator featuring Mike West - "I'm a Gangsta", Kamal Engels - "Raga for a Whale", Rob Schneider - "Ave Maria", The After After Hours - "Still Dreaming", The After After Hours - "To the Night", Aerosmith - "Last Child", Joe Walsh - "A Life of Illusion", The Romantics - "A Night Like This", Gary Wright - "Love is Alive", 707 - "I Could Be Good for You", The Del Fuegos - "I Still Want You", Robin Lane & The Chartbusters - "When Things Go Wrong", Bob Seger & The Silver Bullet Band - "Rock and Roll Never Forgets", Triumph - "Lay It on the Line", Rupert Holmes - "Escape (The Piña Colada Song)", AC/DC - "Walk All Over You", REO Speedwagon - "Time for Me to Fly", J. Geils Band - "Just Can't Wait", Bad Company - "Ready for Love", Redbone - "Come and Get Your Love", Paul McCartney - "Goodnight Tonight", Cheap Trick - "Just Got Back", Journey - "The Party's Over", Bob Welch - "Sentimental Lady", Fleetwood Mac - "Monday Morning", Eddie Money - "Two Tickets to Paradise", J. Geils Band - "I Do", Hot Chocolate - "Every 1's a Winner", The Kinks - "Better Things", The Stompers - "American Fun", Jefferson Airplane - "Count on Me", Adam Sandler - "Stan the Man" |
DVDizzy.com | DVD and Blu-ray Reviews | New and Upcoming DVD & Blu-ray Schedule | Upcoming Cover Art | Search This Site

DVDizzy.com Top Stories:


Reviewed October 23, 2010.



Text copyright 2010 DVDizzy.com. Images copyright 2010 Columbia Pictures, Relativity Media, Happy Madison Productions, and Sony Pictures Home Entertainment.
Unauthorized reproduction prohibited.