"Rankin/Bass" is a name forever associated with television for the company's long line of animated specials. But six months after Rudolph the Red-Nosed Reindeer first aired in 1964, founders Arthur Rankin Jr. and Jules Bass brought their talents to a theatrical feature film called Willy McBean and His Magic Machine. Willy wasn't much of a hit, nor were the primarily live-action Hans Christian Andersen musical The Daydreamer and the traditionally-animated The Wacky World of Mother Goose.

While Rankin/Bass was soon to become a fixture in holiday television, a fact we're all reminded of every December, the studio tried once more for cinematic success with 1967's Mad Monster Party, made in their signature stop motion animation, a technique they dubbed "Animagic."

Mad Monster Party, which for unclear reasons includes a question mark in its onscreen titling (perform Ron Burgundy teleprompter-reading impression here), assembles a number of famous horror characters from print and screen. Baron Boris von Frankenstein (voiced by and faintly modeled after Boris Karloff, cinema's most iconic Frankenstein's monster) has just made a breakthrough and invented a fast-acting dematerializing agent. Realizing he won't be able to top that discovery, he plans to retire from his position as head of the worldwide organization of monsters. He and his busty redheaded secretary Francesca send out invitations for a gathering at his Caribbean Isle of Evil to a variety of infamous baddies: Dracula, the Mummy, the Werewolf, Frankenstein's Monster and his wife, Dr. Jekyll and Mr. Hyde, The Invisible Man, The Hunchback of Notre Dame. (He draws the line at "It", who most definitely is not invited.)

Standing out on the guest list is one mere human, clumsy pharmacy employee Felix Franken, the Baron's nephew and only living relative. Frankenstein intends to make Felix his successor. With that position of great power comes all of the doctor's secrets. None too happy with that plan, Francesca joins forces with Dracula to get the nerdy, allergy-prone, Jimmy Stewart-esque nephew out of the way. The monster's mate (unmistakably voiced by and resembling Phyllis Diller) also learns of the scheduled succession and makes a plan for her husband and her to instead assume the Baron's power.
At 95 minutes, Mad Monster Party runs twice as long as one of Rankin/Bass' typically hour-long TV specials and that certainly shows. This film is padded, often feeling more like a series of gags than a single story being told. That prevents it from reaching the lofty heights of Rudolph; if it provided a comparable amount of entertainment (which it does not), it would have needed twice as long to do so. One doesn't get the impression that producer Rankin, director Bass, and their three screenwriters (who included Mad magazine founder Harvey Kurtzman and, uncredited, sci-fi fan and collector Forrest J. Ackerman) set out to make a great film that would stand the test of time. They seemingly had the more modest goal of amusing a large portion of the public for an hour and a half.
That goal is realized, for Mad Monster Party does prove to be a regularly diverting experience, one sending up broad, easy targets with a decent amount of wit and success. Phyllis Diller gets to crack jokes and unleash her signature cackle while having Frankenstein's monster be the "Fang" of her stand-up act. Besides Jimmy Stewart's aw-shucks persona in the one non-evil, non-monster character, Peter Lorre gets personified in Yetch, a head-losing Igor-ish servant who hopelessly pines for Francesca. There's also a stretch of Italian caricature courtesy of Chef Mafia Machiavelli, who needlessly informs us of all the hideous courses that will be served at this spooky October shindig.
There are a number of songs composed by Bass and his recurring collaborator Maury Laws. These generally do not advance the plot nor do they deepen our understanding of the characters. They exist mainly to break up and complement the comedy, from Ethel Ennis' Shirley Bassey-style title theme to a performance by skeletal mop-topped Beatles parody group Little Tibia and the Fibias. Music is an integral part of the Rankin/Bass tradition and it's tough to imagine them forgoing such an element in a production that already is slim for feature length.
While Mad Monster Party supplies diversion on the order of a typical Rankin/Bass special for much of its runtime, it comes close to eliminating the good will it has built with an oddly dark and grim ending. It's more understandable here than in the Christmas specials that are always to certain leave you smiling. But it's still kind of puzzling to see a kid-oriented movie, even one as irreverent as this, take such a bizarre turn.
As you may have heard, in late July, DreamWorks Animation bought a company called Classic Media at a price of $155 million. The name Classic Media might be familiar to you for its large library of acquired family entertainment, which includes the works of such varied creators as Jay Ward ("George of the Jungle"), Shari Lewis ("Lamb Chop's Play Along"), Filmation ("He-Man"), Harvey Comics ("Casper the Friendly Ghost"), and UPA ("Mr. Magoo"). The library, already renamed DreamWorks Classics, also includes Rankin/Bass' pre-1974 library, which covers such heavy hitters as Rudolph, The Little Drummer Boy, Frosty the Snowman, and Santa Claus Is Comin' to Town'. What it does not include, however, is Rankin/Bass' theatrical film library, which, with two exceptions, belongs to French distributor StudioCanal. As a StudioCanal property, Mad Monster Party has its television rights owned by Sony Pictures Television and its home video ones handled by Lionsgate.
In time for its 45th anniversary, Lionsgate brings Mad Monster Party to high definition this week with this two-disc Blu-ray + DVD Combo Pack.
Blu-ray & DVD Details

1.33:1 Fullscreen
Blu-ray: 2.0 Mono DTS-HD MA (English); DVD: Dolby Digital 2.0 Mono (English)
Blu-ray Subtitles: English, English for Hearing Impaired, Spanish
DVD Closed Captioned; Extras Not Subtitled or Captioned
Release Date: September 4, 2012 / Suggested Retail Price: $14.98
Two single-sided discs (BD-25 & DVD-9) / Blue Eco-Friendly Keepcase
Still available as standalone Special Edition DVD ($9.98 SRP; September 8, 2009) and Amazon Instant Video
Previously released by Anchor Bay on DVD (August 23, 2005), DVD (September 9, 2002), and VHS (July 23, 2002)
VIDEO and AUDIO

Although the entire film industry had shifted to widescreen by the late 1950s, Mad Monster Party is presented in pillarboxed 1.33:1 on this Blu-ray Disc. While IMDb only lists the film's aspect ratio at 1.37:1, that doesn't exactly put to rest the possibility that this would have at least been theatrically exhibited in wider dimensions. The framing does not seem suspect; it's neither cramped nor plagued by disposable space at the top and bottom of the frame.

Even if we're to assume that Rankin/Bass was producing everything in the standard television aspect ratio at the time, this Blu-ray's presentation disappoints in other ways. The hi-def picture is plagued by a good amount of debris.

There are lots of tiny scratches throughout and sometimes more prominent ones, like a white splotch over several frames that occupied what felt like 1/9th of the frame. Even the reel change marks (the so-called "cigarette burns" that Tyler Durden explained in Fight Club) remain present and distractingly so.

Many of these intrusions would be easy fixes with today's digital tools; as simple as replacing the marred bits with the corresponding portions of untroubled frames. This movie just hasn't been treated to such restoration. Even colors fluctuate from light to dark on certain sequences (on the whole, it's very dark). You'd think a studio taking the time to release this movie in 1080p would have spruced it up more, but that they didn't perhaps explains why this has come to Blu-ray ahead of many a better-known and more popular film. What's especially curious is that I just read a rave review of the movie's 2002 Anchor Bay DVD release; obviously standards were lower then, but it's tough to believe such praise being poured on something resembling this underwhelming transfer.

The Blu-ray skips the standard 5.1-channel remix, presenting the film only in 2.0 monaural DTS-HD master audio. There isn't much of concern about the soundtrack. It's simple, but sufficiently crisp and intelligible. English, English SDH, and Spanish subtitles are kindly provided.
BONUS FEATURES, MENUS, PACKAGING and DESIGN

The all-standard definition extras begin with three featurettes produced for Lionsgate's 2009 Special Edition DVD release of the movie.

"Mad Monster Party? Making of a Cult Classic" (14:48) includes interviews with Arthur Rankin, Jr., Rankin/Bass historian Rick Goldschmidt,

storyboard artist Don Duga, and voice actor Allen Swift. Goldschmidt leads the discussion, giving us background on the production, reflection on the stop-motion technique, and even touching on the film's padded length.

Next up is "It's Sheer Animagic! Secrets of Stop-Motion Animation" (9:36), a piece on the medium offering a behind-the-scenes look at frame-by-frame puppet photography. The two guys of L.A.'s Screen Novelties giving the presentation aren't the most accomplished of subjects, but they add some comments on Mad Monster Party and show off a Rankin/Bass character they somehow have.

"Groovy Ghouls! The Music of Mad Monster Party" (3:45) gathers thoughts from composer Maury Laws on his contributions to the film.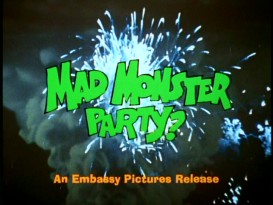 Two of the film's musical numbers ("Our Time to Shine" and "One Step Ahead") are presented as sing-along songs (4:47), playing in a small window within a 16:9 frame with a skull moving across the lyrics.

Extras close with Mad Monster Party's welcome original theatrical trailer (1:30), which twice confirms the deliberate nature of that puzzling titular question mark.

"Also from Lionsgate" plays the same four HD trailers with which the disc loads, promoting Astro Boy, Battle for Terra, the first three Spy Kids movies, and The Adventures of Sharkboy and Lavagirl.

The DVD in this combo pack is the same one called a Special Edition on its own. It contains all the same extras except for the disc-opening trailers. Its more embarrassing ones promote Gotta Catch Santa Claus, Wallace & Gromit: A Matter of Loaf and Death, and Happily N'Ever After 2: Snow White - Another Bite at the Apple.

Anchor Bay's 2002 DVD release of the film included galleries of production art, posters, and stills,

as well as a 24-page booklet with notes by Rick Goldschmidt. Naturally, none of that resurfaces here.

The Blu-ray's menu plays clips amidst the rear cover's character poses while music and sounds flow. The DVD's main menu is similar, only without the static character images. The Blu-ray disc both supports bookmarks and resumes playback.

The gray DVD and full-color Blu-ray claim opposite sides of an eco-friendly keepcase and are not joined by inserts, slipcover, or reverse side artwork.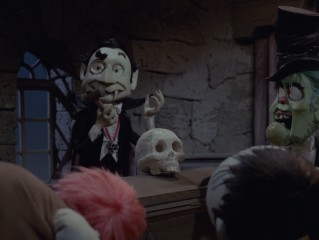 CLOSING THOUGHTS
Mad Monster Party offers fun, just less than you would expect from giving classic horror characters the Rankin/Bass stop-motion treatment. It's a film that's easy to like, but tough to love.
Lionsgate's combo pack is a straightforward upgrade of the studio's 2009 DVD, offering the same picture concerns in high definition along with the same appealing handful of extras. While the movie and Blu-ray aren't strong enough to recommend rebuying, the price is low enough to make this a solid first-time purchase for fans of Rankin/Bass animation and classic horror monsters.
Support this site when you buy Mad Monster Party now from Amazon.com:
Blu-ray + DVD / DVD / Instant Video / Anchor Bay DVD #1 / Anchor Bay DVD #2 / VHS