"Christmas" appears in the keyword lists of a staggering 3,468 titles on the Internet Movie Database, making it unsurprisingly the most frequently celebrated holiday in the history of television and film. In a distant second place is "Halloween", which shows up in 633 entries.

One studio doing its part to keep the macabre autumn occasion ahead of romantic and familial feasts is DreamWorks Animation, who in recent years has produced more Halloween shorts than seemingly the rest of the entertainment industry put together.

DreamWorks' fascination with holiday specials intensified after Shrek the Halls drew 21 million viewers in its Thanksgiving Eve 2007 premiere broadcast on ABC. The studio has hardly let a major holiday pass since without producing something to observe it. None of the subsequent works have reached anywhere near as large an audience. Still, the cartoons seem to make business sense, in that they keep the studio's popular franchises and characters alive without the expenses, pressures, and expectations of full-blown sequels, not that DreamWorks has been one to shy from those.

After releasing two of their Halloween specials to DVD last year, this year DreamWorks embraces high definition, sending Blu-ray combo packs of those and others to stores during retail's busiest seasons. DreamWorks Spooky Stories, released at the end of August and recently made available for review, promises three creations and delivers twice that for 75 minutes of animation and an additional 15 minutes of end credits. As far as I can tell, all of this content makes its Blu-ray debut on this release, which includes a virtually identical DVD version (which should be, but isn't, also available on its own) as a second disc.

Since this material varies in length, composition, original audience, and even production era, it is easiest to discuss each creation on its own. The "Play All" treats us to the following order, differing from the menu's arrangement, with end credits wisely all relegated to the end of the entire playlist.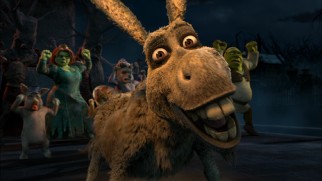 Thriller (5:05; 6:09 with end credits) (Originally released September 13, 2011)

Directors: Gary Trousdale, Sean Bishop (co-director) / Writers: Sean Bishop (screenplay); William Steig (book); Elaine Bogan, David Feiss, Tom Shannon, Mark Walton (story) / Songs: Matt Mahaffey - "Thriller", "The Lonely Goatherd"

Voice Cast: Michael Gough (Shrek), Dean Edwards (Donkey), Holly Fields (Princess Fiona), Andre Sogliuzzo (Puss in Boots), Cody Cameron (Pinocchio, Three Pigs), Conrad Vernon (Gingerbread Man), Walt Dohrn (Rumpelstiltskin), Bobby Kimball (Headless Horseman) Titled Thriller Night on IMDb and Wikipedia, this short premiered as a bonus feature on last year's Scared Shrekless DVD. Shrek objects to spending Halloween night watching The Music of Sound (a transparent stand-in for The Sound of Music) in a theater. Donkey and Puss in Boots give him something more suitable, performing Michael Jackson and Vincent Price's parts from "Thriller", as Princess Fiona and they are joined by the series' resurrected dead characters for the familiar zombie dance of the 1983 song's iconic music video.
Scared Shrekless (21:02; 25:32 with end credits) (Originally aired October 28, 2010)

Directors: Gary Trousdale, Raman Hui (co-director) / Writers: Gary Trousdale, Sean Bishop (screenplay); Claire Morrissey (Bride of Gingy), Robert Porter (Boots Motel), Sean Bishop (Shreksorcist); William Steig (book) / Songs: Patty Cornell & Susan Fitzer - "Welcome to Duloc", The Turtles - "Happy Together", "Symphony Fantastique, op. 14", Rene Garza Aldape & Alejandro Valencia - "The Murder" from Psycho, "Brahm's Lullaby"

Voice Cast: Mike Myers (Shrek), Cameron Diaz (Princess Fiona), Antonio Banderas (Puss in Boots), Kristen Schaal (Sugar), Dean Edwards (Donkey), Cody Cameron (Pinocchio, Three Pigs), Christopher Knights (Blind Mice), Conrad Vernon (Gingerbread Man, Muffin Man), Aron Warner (Wolf), Patty Cornell & Susan Fitzer (Creepy Clockwork Chorus), Sean Bishop (Geppetto, Prince Charming, The Cricket, Dwarves, Waffle) This 2010 half-hour NBC Halloween special stands as the best thing on the disc. In it, after Shrek and Fiona enjoy their kids' first Halloween out, they return to find Donkey, Gingy, and others in their house. Shrek leads the lot to Castle Duloc, the abandoned residence of the late Lord Farquaad, whose ghost supposedly haunts it. There, they see who can withstand the most spooky stories without being scared off.
Gingy goes first with The Bride of Gingy, an allegedly true story about the time the Muffin Man disastrously baked him a girlfriend (voiced by the distinctive Kristen Schaal) with too much sugar. Boots Motel finds Donkey and Puss co-telling an improvised story that begins as a Psycho homage and changes shape as they try to write one another out. Finally, Shrek shares The Shreksorcist, a parody of The Exorcist, in which he has his hands full as the babysitter of the crazy, out of control Pinocchio.
The Pig Who Cried Werewolf (5:30; 6:48 with end credits) (Originally released October 4, 2011)

Directors: Gary Trousdale / Writers: Gary Trousdale, Sean Bishop (screenplay); Ken Bielenberg (story); William Steig (book)

Voice Cast: Sean Bishop (Heimlich, Dieter, Chef), Cody Cameron (Horst), Aron Warner (Wolf) Seemingly a cousin production to Thriller, this short made its premiere on the Nintendo 3DS video service. Another Hitchcock classic (Rear Window) is paid tribute and sent up in this peripheral addition to the Shrek universe. The Three Little Pigs see the Big Bad Wolf move in next door.

Spying with a telescope, the injured Heimlich grows increasingly concerned about their neighbor, to his fellow pigs' shrugs. But he is right that something is amiss and it involves an obvious caricature of Julia Childs. This is the set's weakest effort.

Monsters vs Aliens: Mutant Pumpkins from Outer Space (21:05; 27:07 with end credits) (Originally aired October 28, 2009)

Director: Peter Ramsey / Writers: Adam F. Goldberg (screenplay); Rob Letterman, Conrad Vernon (characters) / Songs: Mark Ayres - "Halloween Theme", Bobby "Boris" Pickett and The Crypt-Kickers - "Monster Mash", Bernard Herrmann - "The Murder" from Psycho

Voice Cast: Reese Witherspoon (Susan Murphy/Ginormica), Seth Rogen (B.O.B.), Hugh Laurie (Dr. Cockroach Ph.D), Will Arnett (The Missing Link), Kiefer Sutherland (General W.R. Monger), Rainn Wilson (Wicked Jack), Julie White (Wendy Murphy), Jeffrey Tambor (Carl Murphy) Tying Shrekless for the honor of the disc's most substantial cartoon, this 2009 NBC special also avoids segments in favor of one single narrative. Halloween brings trouble to Modesto, California, the hometown of human turned giant Susan Murphy, in the form of -- you guessed it! -- mutant pumpkins from outer space. Susan, B.O.B., Dr. Cockroach, and The Missing Link hit Modesto, with Susan checking in on her party-throwing parents and the others trying to blend in with some trick-or-treating. Once those pumpkins reveal themselves and start growing exponentially larger with candy, the monsters respond.
Night of the Living Carrots (11:30; 12:30 with end credits) (First part released October 13, 2011)

Director: Robert Porter / Writers: Bill Riling (screenplay); Robert Porter, Spencer Filichia (additional screenplay material); Rob Letterman, Conrad Vernon (characters)

Voice Cast: Seth Rogen (B.O.B.), Kiefer Sutherland (General W.R. Monger), James Horan (Dr. Cockroach Ph.D), David Kaye (The Missing Link), Julie White (Wendy Murphy), Jeffrey Tambor (Carl Murphy), Bret Marnell (Zombie Carrot), Stephen Kearin (Cowboy Guy) Another Nintendo 3DS premiere, this realizes the sequel potential posed in Mutant Pumpkins' closing shot. This time, it is zombie carrots posing a threat to mankind, with the immune blob B.O.B. having to face his dislike of the vegetable to save his fellow monsters. (Though immediately following the previous special chronologically, Susan is nowhere to be seen here.) It's an entertaining follow-up, but really just offers more of the same.
The Ghost of Lord Farquaad (12:32) (Originally opened May 23, 2003)

Director: Simon J. Smith / Writers: William Steig (book), David Lipman (screenplay)

Voice Cast: Mike Myers (Shrek), Eddie Murphy (Donkey), Cameron Diaz (Princess Fiona), John Lithgow (Lord Farquaad), Christopher Knights (Thelonious, Blind Mouse), Conrad Vernon (Gingerbread Man), Cody Cameron (Pinocchio, Three Pigs) Alternately called Shrek 3-D (on its 2004 DVD release alongside Shrek 2) and Shrek's Never Before Seen Adventure, but most commonly known as Shrek 4-D, this short was created as a 3D attraction for Universal Parks & Resorts before Shrek 2 even came to fruition. You can sense that age in the less polished animation. It also differs from its company here in screen and sound formats.
A textbook example of wanting to give the public something but not yet having a worthy story to tell, this padded short finds Lord Farquaad's ghost kidnapping Fiona, requiring Shrek and Donkey to heroically rescue her. It's more dramatic and adventuresome than most things Shrek. (Too bad they didn't stick a 3D version of this short on here. Still, Disney could take a hint from DreamWorks as to the viability of a home video release of a theme park movie, even one that is still running.)
After running Lord Farquaad's credits, the "Play All" mode then proceeds to conclude with a succession of all the other shorts' end credits, an unnecessarily slow scroll running 14 minutes and 22 seconds overall. After this, you understand that DreamWorks had viewers in mind by pushing these all to the end.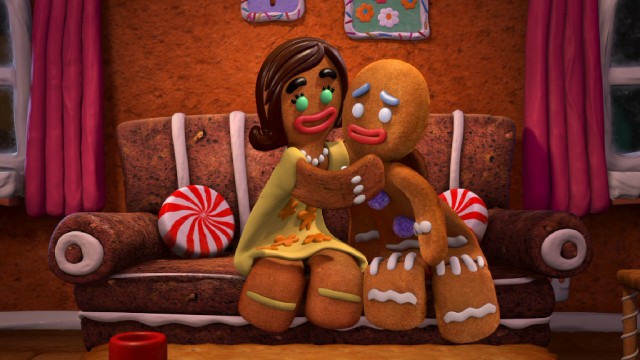 VIDEO and AUDIO
Among this Blu-ray's greatest strengths is the eye and ear candy it provides. The direct digital transfers unsurprisingly offer perfection and these works have come a long way from the frugal television specials of yore, looking about as polished as the studio's theatrical efforts. The predominantly 1.78:1 imagery (Ghost of Lord Farquaad appears in 2.40:1) is sharp, colorful, and quite pleasing aesthetically, making for suitable demo material and an appropriate use of a television screen during your family's Halloween party.
The Dolby TrueHD soundtracks are equally stunning, with all but one encoded in 7.1 (Farquaad, which is in 5.1) and each of them supplying a really nice, robust mix with crisp dialogue, fitting directionality, potent atmosphere and strong sound effects. Paramount's standard four subtitle options are offered on BD, with closed captions replacing the English SDH on DVD.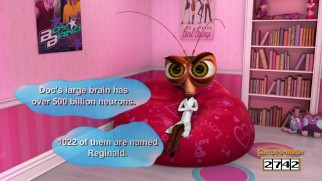 BONUS FEATURES, MENUS, PACKAGING and DESIGN

The one main bonus feature is the chance to watch Night of the Living Carrots with animated pop-ups (12:30).

These comic colorful facts pertain to what is onscreen. A Carrot-o-Meter keeps count of living carrots (with sound effects), a carrot cake recipe appears momentarily, and the majority of the other blue graphics make jokes about the characters and the short's creation. They aren't very funny, but at least they show some effort.

"Previews" supplies direct individual access to the two trailers with which the discs open, for Rise of the Guardians and Madagascar 3: Europe's Most Wanted.

Finally, the standard "World of DreamWorks Animation" section serves up five music videos and seven ads from five of the company's most active properties: Shrek, How to Train Your Dragon, Kung Fu Panda, Madagascar, and Megamind. It's promotional content you don't mind using disc space that would otherwise be wasted.

Two extras from the Mutant Pumpkins from the Outer Space DVD fail to make the cut here, but both the Karaoke Music Party and "Modern Monster Movie-Making" were created for the original Monsters vs Aliens DVD and Blu-ray and did not directly apply to this special.

The scored menu uses clips exclusively from Scared Shrekless. Disappointingly, the Blu-ray does not resume playback, support bookmarks, or utilize pop-up menus. At least everything on the disc is presented in HD.

The plainly-labeled blue Blu-ray and gray DVD claim opposite sides of a Blu-ray case, which is unaccompanied by insert or, somewhat surprisingly, slipcover. No digital copies are included here.
CLOSING THOUGHTS
The cartoon shorts of DreamWorks Spooky Stories comfortably align with the studio's quantity over quality approach. They are sharply animated and moderately diverting, but none too creative or memorable. Still, these works are a lot easier to recommend buying collected here in a value-carrying compact combo pack over their three separate DVD releases. In fact, any fan of either the Shrek or Monsters vs Aliens franchises ought to be tempted to check this out at the right price. None of it is essential viewing but it all offers some degree of fun and contributes something to the respective film universes. Plus, families will be hard-pressed to find a Halloween Blu-ray with snazzier picture and sound.
Support this site when you buy DreamWorks Spooky Stories: Blu-ray + DVD now at Amazon.com