In the 1950s, when television was in its relative infancy, Walt Disney found quick success with two different programs. The first was "Disneyland", an hour-long weekly series that Walt himself hosted. Launched in 1954, "Disneyland" offered a mix of original programming (sometimes slickly designed to promote current ventures in an entertaining fashion), the studio's vintage shorts and films, and regular updates on the theme park of the same name which was long in development and finally opened in July of 1955. Just three months after another of Walt's dreams was realized and the public was able to experience Disneyland in person, another television series was attempted. "The Mickey Mouse Club" made its debut in October of 1955 and quickly won over audiences. This daily variety show starred a head Mouseketeer and a cast of charismatic but ordinary children. It was comprised of ongoing serials, past and original cartoon shorts from the Disney studio, a newsreel from different parts of the globe and no shortage of on-set hijinks, from musical performances to comic vignettes.
"The Mickey Mouse Club" was immensely popular and one of the tenets widely held in the entertainment industry is that no popular property is out of bounds to revisit. That is precisely what Disney did in 1977, more than a decade since production had ended on the beloved first incarnation of the series. Just over ten years since Walt had passed away, "The New Mickey Mouse Club" made its debut at somewhat of a low point for the Disney studio. It was a time when the magic of Disney animation seemed to be missing (with only three wholly animated features theatrically released since Walt's death) and the studio's live action fare seemed mostly unable to appease audiences the way it had a decade earlier. Television proved to be a less than successful domain for the company as well and faced with low ratings and high costs, "The New Mickey Mouse Club" was short-lived. It can now be deemed a particularly unremarkable chapter in the history of Disney's television programming, the product of an era when Disney management looked vicariously to the past, asked "What would Walt do?", and widely failed audiences who preferred the original charms and thrills of Star Wars and the Muppets.
Disney fared better in 1989 when it attempted a third incarnation of "The Mickey Mouse Club" on cable TV's then-premium Disney Channel. This "Mickey Mouse Club", or "MMC" as it was frequently called, succeeded by blending a reasonable interpretation of the original series' format with a firm grasp on late '80s/early '90s pop culture. Making use of "hip" presentation techniques and amplifying the aspect of music, "MMC" was embraced by a significant part of the population. Youthful viewers who appreciated Disney Channel programs with a similar feel (like the long-running "Kids Incorporated") took to "MMC", which explains both its seven-season run and now its DVD debut. Mickey Mouse Club: The Best of Britney, Justin & Christina is part of three new collections coming to Disney DVD this month in a home video promotion loosely tied to the 50th Anniversary celebrations occurring at Disneyland.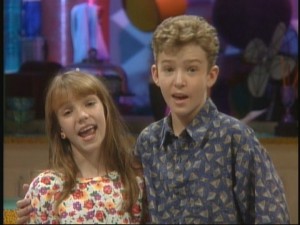 The DVD's title refers to arguably the most famous current owners of their respective first names: Britney Spears, Justin Timberlake, and Christina Aguilera. In 1993, five years before each made various splashes in the pop music scene, Spears, Timberlake, and Aguilera were preteens with potential and three of the seven new "MMC" cast members. Casting three kids who would become major celebrities would seem like some grand stroke of fortune for Disney and one assumed it was only a matter of time before the Mouse would capitalize on having rights to each singer's first professional television credit. Though none of the three appears to be enjoying the same popularity and media attention they were five years ago, clearly, Disney feels that now is the time to tread back down memory lane and revisit what Britney, Justin, and Christina were like before the platinum records, controversial performances, tabloid romances, and reconfigured images.
The truth is, twelve years ago, they were just kids and if not quite "ordinary" the way the original '50s cast may have been, not too much stands out about Britney, Justin, and Christina among a talented cast of twenty-two, even in these shows supposed to be "The Best" of their days as Mouseketeers. This 98-minute compilation houses four complete episodes from the sixth season of "MMC." It is easy to understand why these four episodes were selected, as they contain "hometown profiles" of each of the three young stars-to-be and two musical performances which foreshadow the careers they would eventually find. But like the original "Mickey Mouse Club", no individual segment from this '90s "MMC" runs too long. The content which prominently features Spears, Timberlake, and Aguilera makes up only a portion and not a majority of the disc. While their three names may give Disney a title which sells, a more accurate name for the DVD might have simply been "The Best of MMC" or better yet, "The Best of MMC's Season 6", only I doubt either alternate would be perfectly accurate.
The four episodes that are presented in full are not particularly outstanding or indicative of the series as a whole. "MMC" utilizes a somewhat similar format to the original '50s program and likewise, it has become dated very quickly. That is not altogether a bad thing, but it means that now, twelve years after first airing, nostalgia has become as reasonable a factor for enjoying these episodes as anything else. The focus of the selected shows is often on music, and like any live performance, these ones lose a lot of their luster simply being taped and transported to the small screen. Furthermore, one questions just how much luster was there to begin with. The early '90s sensibilities in music and fashion on display here seem so out of style today that as popular as this series was in its heyday, one understands why the Disney Channel wouldn't subject its tween audiences to reruns. Even with its newfound appeal of recognizing familiar faces before they were famous, the show hasn't held up fantastically and simply won't work so well for modern youths.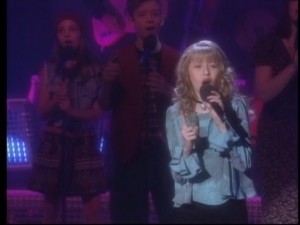 Similar complaints can be lodged against other family-oriented shows from yesteryear and that has not prevented many of them from coming to DVD and being purchased in great numbers. The Best of Britney, Justin & Christina is a revelation and it's quite nice to take a look back at a show that has been off the air for years. Such a pleasure was not a frequent occurrence before this booming age of television content being given new life on collectible five-inch discs. For many, particularly those who could not or would not tune in weekday afternoons twelve years ago, this DVD will hold minimal appeal. But for a great number of those who remember the "MMC", whether or not their fanhood spreads to other Disney affairs, this low-priced compilation is an offer that can't be refused. Old television programs on DVD are the closest thing we have to time travel today and this disc wholeheartedly proves that even unspectacular episodes from just 12 years ago can fulfill that nostalgic purpose.
Like the original "Mickey Mouse Club", the '90s "MMC" had its share of formulas. Each day of the week represented a different theme, though these were slightly updated along with most other conventions. On this disc's four episodes, we only get to see three different motifs. There are two Hall of Fame days, in which ordinary teens are honored for their achievements and receive Golden Mickey statues, somewhat of a callback to the "Honorary Mouseketeer" procedure in the original series' "Talent Round-Up Day." The Music Day on display is easily the weakest show of the lot, consisting almost entirely of live music which has been rendered dull by twelve years and being taped. Finally, there is Guest Day, in which an ordinary "MMC" viewer who has written in has their wish granted and meets a hero, a process tweaked from the original's Guest Star Day. What we don't get here on the DVD are Anything Can Happen Day or Party Day, presumably because the three kids in focus never received an abundance of airtime on those days.
The most evident trademark of the show is its distinctly early '90s visual style. From the opening credits' fast-paced montage, the show employs just about every color in the rainbow and an abundance of video effects. There's asymmetrical split screens, the weaving in and out of black-and-white, and the upbeat tempos of pop/dance music that are a backdrop to much of it. The enthusiastic young audiences (all adorned in bright colors as well) who showed up at Disney MGM Studios in Lake Buena Vista, Florida seem to approve of everything the cast did; applause and laughter flow fast and furiously. Though it's usually tough to pinpoint cultural fads until they have passed altogether, such a liberal use of contemporary technical sensibilities rendered "MMC" with plenty a faux pas just shortly after it left the airwaves.
In addition to the highlighted trio, "MMC" produced other future celebrities and also on display in Season 6 (nearly as much as the titular trio) are Keri Russell ("Felicity"), JC Chasez (Timberlake's fellow *NSYNC bandmate), and Ryan Gosling (Remember the Titans, The Notebook). While the rest of the cast may not have graduated onto bigger and better things in the entertainment industry, they too do not run short on charisma. In fact, even if you do not remember much about the nearly two dozen cast members, several make some kind of impression on you in just the four short episodes included here, from the two goofy grownups Fred Newman and Terri Misner to longtime Mouseketeers Lindsey, Jennifer, and Josh.
Each episode features an opening and closing that resembles the original series' method of checking in and signing off, with the Mouseketeers introducing themselves by first name and later singing their slow "see ya real soon" number before breaking into a rad end credits dance session which is worlds apart from even the liveliest medleys of the original series. Certain elements make up each show regardless of the day's theme. Though the original "Mickey Mouse Club" featured a daily "Mousekartoon" short, this one nearly entirely avoided animation. Serials were around from time-to-time but not a one is glimpsed at on this disc. Instead, these episodes revolve around footage from "the MMC Concert" (which apparently provided nearly a season's worth of musical footage in one day) and short sketches, often either family-oriented comedy bits or parodies of other media like commercials and game shows. Between these two aspects, the recurring opening and closing sequences, the portion of the show devoted to the day's theme, and a hometown profile of a cast member, these episodes move briskly and familiarly to conclusion in less than 25 minutes.
We conclude this section on the disc's featured content with an overview of the four episodes included: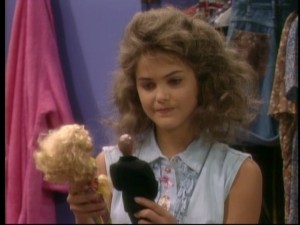 "607: Hall of Fame Day" (24:35)
This show opens with a sketch about a mom (played, of course, by the female adult Mouseketeer, Terri Misner) who acts like a drill sergeant, as she lines up her son (Ryan Gosling) and friends (including Britney Spears and Christina Aguilera) and shouts them into submission. Next, Britney's profile of her country life in a small Louisiana town follows, and she discusses and illustrates her hobbies (go-cart racing, basketball) and working at her great-grandmother's deli which is renowned for its crawfish. Animal trainer Joel Slaven visits with some reptiles, bringing a four-year-old Florida alligator, a much smaller yearling as well, and later an astonishing 75-year-old alligator snapping turtle. The subsequent segment fulfills the day's theme, and a California girl who came up with an "Adopt-a-Family" plan to help the homeless is inducted into the MMC Hall of Fame. The episode concludes with footage of Britney and Justin singing "I Feel For You" at the MMC concert, and Dale comes in for some hip-hop breakdown.
"618: Music Day" (25:03)
This episode lives up to its name and delivers a lot of music. First, there's the MMC concert footage of the Club's hit single "Real Talk" performed by Rhona, Ricky, and J.C. among others. Terri gets to lampoon another kind of mom in the next skit, where a son (played by Marc) is embarrassed to be seen shopping for clothes with his mother. Justin's profile of his hometown (Memphis, Tennessee) follows, and it's fairly similar to Britney's; there are sports (basketball, golf) and a tour of the local sights like the Mississippi river and an amphitheater where he and his boys chill. The remaining half of the show is devoted to Brian McKnight, who performs "One Last Cry" and "I Can't Go for That" and talks with some Mouseketeers about his inspirations. Riveting television, this is not.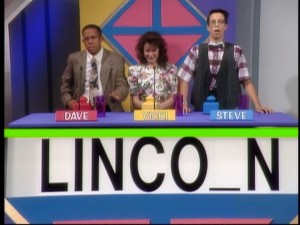 "619: Hall of Fame Day" (23:50)
Fred (who looks a little bit like a sane Gary Busey) gets to show off his polished skills in the game show parody "Everybody's a Winner." Think of Saturday Night Live's "Celebrity Jeopardy" sketch and eliminate most of the humor, and that's what it's like. Next, a car commercial is satired in a fake promo for a hound. The laughter seems to suggest that the youthful audiences approve, but these sketches seem mostly unfunny today and it's not clear who they're geared to. Christina gets her moment on the stage singing "I Have Nothing", with Britney and Justin supplying backup vocals. Then, "MMC" gets serious with a three-teenager panel on depression and suicide with a surprisingly open discussion of homosexuality. Naturally, all three once-depressed teens are inducted into the Hall of Fame.
"629: Guest Day" (24:00)
This last episode on the disc opens with a sketch called "The Teenage Zone", a parody of "The Twilight Zone." In it, Keri Russell plays a girl who yearns for the clothes and hair of her doll. She turns into "Darby" and finds out a doll's life isn't all it's cracked up to be. Christina Aguilera finally gets her shot at a profile, but rather than her Pennsylvania hometown, she takes us around Orlando and shows us some of what she does for fun when working on "MMC", like horseback riding, playing with her dog, and a bit of Sega Genesis. An aspiring gymnast gets to meet and spend a day with the episode's featured guest, Olympic champion Mary Lou Retton. The final segment is Nita, Rhona, and Keri performing "Time" from the MMC album. Also sprinkled throughout this show are three semi-amusing "Chewer's Choice" gum commercial parodies.
VIDEO and AUDIO
The four episodes are presented in their original 1.33:1 "fullscreen" aspect ratio and they look very good. The element is flawlessly clean and though the transfer doesn't offer the type of dazzling depth that feature films might, you'll have to look long and hard for any shortcoming that's not inherent to its origins. The biggest issue is softness, as the picture lacks the sharpness we've come to expect from our present day DVDs. Nonetheless, for video of twelve-year-old cable television programs, the disc definitely delivers as satisfying a presentation as you might hope for. The bright colors and various visual techniques have all held up well to the point where it's the content that reveals its age and not the disc's appearance.
Audio is provided in a Dolby Surround track and it too does not merit any complaints. The oft-employed contemporary music is handled capably, as is the brunt of dialogue recorded from the set and on location pieces. Again, you can't expect the digital dynamo of your latest multi-million dollar movie, but considering the source and the production values, the disc's soundtrack does not disappoint in any way.
BONUS FEATURES and DESIGN
Unfortunately, there are no bonus features to be found. A menu called "Highlights" links directly to the episode segments which most prominently feature Britney, Justin, and Christina, specifically their three profile shorts and two musical performances. Other than these, there is no way to directly access a segment, since each episode is presented as one chapter stop. Some will be disappointed to find that there is no standard insert inside the keepcase either; instead of any attempt to put this "Mickey Mouse Club" incarnation in context, there is only a double-sided ad and a fold-open application for the Disney Movie Club.
The animated 16x9 Main Menu is pretty cool; it plays the theme song and cycles through footage from the disc. The rest of the menus aren't animated or accompanied by music, but they too maintain the bright colors and general feel of the show's busy opening credits sequence.
At the start of the disc, the ubiquitous previews for Cinderella Platinum Edition and Chicken Little play, as do spots for a newly-revealed Old Yeller: Special Edition (which will include Savage Sam, though it's mentioned only in passing), and Lilo & Stitch 2. From the Sneak Peeks menu, additional promos can be found for Disneyland's 50th Anniversary celebrations and for two 50th Anniversary audio CDs, A Musical History of Disneyland and Happiest Celebration on Earth. As usual, all of these previews can be easily skipped. Annoyingly, the FBI warnings cannot be; some reward you get for the legal purchase of a DVD.
CLOSING THOUGHTS
Mickey Mouse Club: The Best of Britney, Justin & Christina is not the highlight reel you might expect nor it is an expansive enough compilation to satisfy fans of the '90s "MMC." Instead, this disc offers an inexpensive taste of the series' sixth season with four full episodes that feature pre-fame musical performances and unjaded appearances by three talented kids who would go on to much more. Disney could have just as easily included twice as many episodes or not limited the disc to the debut season of Spears, Timberlake, and Aguilera, and that probably would have pleased those with fond memories of "MMC." As it is, the DVD will disappoint that demographic with how tiny a tease they are given from this long-running show. It may also let down those who are interested only in the three biggest names, as they share screentime with a large cast. For the entirely unacquainted, the unmistakable early '90s style and format have aged the show considerably and made it less than potent programming for those lacking the nostalgia factor.
With all things considered, including the satisfying audio/video quality and the utter lack of bonus features, the studio could have done a better job producing this DVD, but for under $10, your memories of the series may overshadow any shortcomings of the disc. Furthermore, fans can always hope that strong sales of this could pave the way for more substantial "MMC" DVD releases.