My first thought upon seeing the trailer for Dallas Buyers Club was that Matthew McConaughey would definitely win the Best Actor Oscar for this film. It wasn't just the dramatic weight loss,

which had been reported about for what seemed like years in advance, though such drastic action has never hurt actors' chances. Nor was it the fact that this true drama looked like a serious movie with historical weight. Both of those award-friendly qualities complemented the fact that McConaughey was in the midst of a career renaissance, the kind that Hollywood loves.

Dallas casts McConaughey as Ron Woodroof, an electrician and rodeo bull rider. His life of sex, drugs, and friendship gets challenged at the start of the film with a completely unexpected diagnosis of HIV-positive in July 1985. His T-cell count down to single digits, Ron is given thirty days to live, an outlook he dismisses despite some severe supporting evidence and a rise in symptoms. Lacking the strength to enjoy his usual lines of coke and unprotected trysts, Ron hits the local library where he researches the autoimmune disorder he'd (like many others) assumed was strictly for homosexuals.
Not admitted into double blind human trials of promising new drug AZT, Ron arranges to secure the pharmaceutical from a Dallas Mercy Hospital janitor for a fee. When the supply runs out, Ron is referred to a newly-unlicensed American doctor in Mexico (Griffin Dunne) who swears off AZT and puts Ron on a drug called DDC as well as Peptide T protein treatments. Possession of the substances, which are not approved for sale in America, gets Ron into hot water with the Federal Drug Administration, but he finds the prescribed helping him shatter the life expectancy his local doctors gave him.
With help from the newly-befriended transgendered Rayon (Jared Leto), Ron forms the Dallas Buyers Club. For a monthly fee of $400, members can get all the helpful unapproved DDC and Peptide T they need. Business booms on desperate clientele unable to get anything better from more conventional medicine. The experiences not only soften Ron's edges, easing his vocal bigotry and homophobia, they also line his pockets and inspire him to do what he can. He gets a brick cell phone and even travels to Japan to secure potentially helpful treatments.
The progress is deemed a threat by the medical industry and the FDA, who take action against him, even getting the IRS involved. Caught in between her profession and her calling is Dr. Eve Saks (Jennifer Garner), who sympathizes with the plight of Ron, Rayon, and their common patients and starts to wonder if their disbelief in AZT could be well-founded.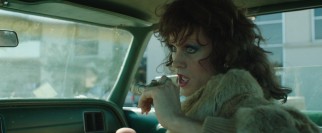 Drawing six Academy Award nominations, Dallas Buyers Club fared much better than many expected it to. While it seemed like a shoo-in for lead and supporting actor recognition, the film also picked up nods for Best Picture, Best Original Screenplay, Best Editing (a category often reserved for the real Best Picture contenders), and Best Makeup and Hairstyling.

Perhaps the Oscar consideration should not have surprised; this was, after all, one of the best-reviewed films of the year.

Still, though true stories with big performances have historically pulled their share of accolades, Dallas did not come from perennial contenders, but two inexperienced writers and a French-Canadian filmmaker not especially well-known or respected. The height of director Jean-Marc Vallιe's prior exposure was The Young Victoria, a fairly forgettable 2009 Emily Blunt costume drama that won the Oscar for costume design and lost in two other minor technical categories.

Dallas is also not the most viewer-friendly of films, its hero a reckless, foul-mouthed bigot who flips off and curses out just about everyone he encounters. A movement so central to the gay community was being dramatized in a movie whose lead character was somewhat brutal to them. Of course, Ron is redeemed and Rayon is one of cinema's most sympathetic, non-judgmental portrayals of an alternative lifestyle rarely represented. Still, the film's limited public appeal saw it wrapping up its thus far domestic-only run around $16 million. The Oscar nominations have since given the film a re-expansion and new life. Closing in on $23 M, its gross now represents one of 2013's highest for a film barely exceeding the 1,000 theater count, though it's not a great deal above the shallow end of the major contenders pool, represented by the challenging yet excellent Her and Nebraska.

Assuming the film follows the path that many are charting for it and wins McConaughey that Oscar on his first nomination, it will represent a welcome and extreme turnaround for him. Here is an actor whose first decade of the 21st century amounted to a creative nadir, with a mix of mindless romantic comedies marketed on his leans (e.g. Fool's Gold, Failure to Launch, Ghosts of Girlfriends Past, The Wedding Planner) and vacant action bombs (like Sahara and Reign of Fire). Promise McConaughey had shown in movies like A Time to Kill, Contact and Amistad had faded as he seemed content to play the slacker who loses his shirt and wins the girl.

He began to turn things around in the past couple of years, with bold performances in critically respected films like Bernie and The Lincoln Lawyer. Then, he kicked things up to another level in 2013, with Mud, still standing as one of the year's finest films, and a brief but memorable appearance in fellow Best Picture nominee The Wolf of Wall Street. Things are looking up in 2014, between starring in the warmly-received HBO series "True Detective" and the lead role in Christopher Nolan's thus vague but probably great space travel drama Interstellar, opening in November. Reversed, McConaughey's career path would depress, with acclaimed small films giving way to vapid pairings with Kate Hudson and J-Lo. As is, his trajectory inspires and makes us feel good all over. Whether the talent was there and going to waste or he just finally got serious about his craft, McConaughey's redemption gives hope to every actor whose career has looked like a joke: your Zac Efrons, Ashton Kutchers, and Josh Duhamels all have a chance to turn things around, and with past co-stars in tow.
Leto, meanwhile, might be an even surer Oscar winner and he represents a different kind of rebound, this being his first and only film in six years. Leto too had shown promise, transitioning from teen heartthrob status on "My So-Called Life" to buzzed-about performances in films like Prefontaine, Fight Club, and Requiem for a Dream. After hitting rock bottom with Lindsay Lohan on and off-screen in 2007, Leto now seems likely to join a class of Oscar winners that includes such legends as Robert De Niro, Jack Nicholson, Jack Lemmon, and Morgan Freeman. Not bad for someone whose previous film, a $47 million international sci-fi drama, could only muster four American screens last fall, six years after being shot.
One wonders if Focus Features' parent company Universal would have chosen this Tuesday to release Dallas Buyers Club to Blu-ray combo pack and DVD if they had known how much Oscar attention the film would be getting. The home video debut does feel kind of premature, following a weekend where the film took 13th place at the box office. Then again, as only the second Best Picture nominee to hit disc, Dallas stands to get noticed by renters and buyers planning to be up to speed by Oscar night.
Blu-ray & DVD Details

2.40:1 Widescreen (DVD Anamorphic)
BD: 5.1 DTS-HD MA (English); DVD: Dolby Digital 5.1 (English)
Subtitles: English for Hearing Impaired, Spanish
Not Closed Captioned; Extras Subtitled
Release Date: February 4, 2014
Two single-sided, dual-layered discs (1 BD-50 & 1 DVD-9)
Suggested Retail Price: $34.98
Blue Keepcase in Embossed Cardboard Slipcover
Also available as standalone DVD ($29.98 SRP) and Amazon Instant Video
VIDEO and AUDIO
Relatively low-budgeted at an estimated $5.5 million, Dallas Buyers Club still looks great on Blu-ray Disc. The 2.40:1 transfer is sharp, spotless, and full of detail, making it easy to notice that sets haven't always been redressed and extras costumed to suit the 1980s period setting. The 5.1 DTS-HD master audio catches your attention with some piercing sounds. Also springing to life with music from T. Rex and others, the mix does a fine job of presenting dialogue, score, and some atmospheric noises.
BONUS FEATURES, MENUS, PACKAGING and DESIGN

Both discs include just two brief bonus features, which the Blu-ray presents in HD.

First, we get a reel of three deleted scenes (4:55),

the stagey longest and most notable of which features Ron, Rayon, and Eve all in the same place (Eve's house). Brief lost moments with Rayon and Eve are also preserved.

The other extra is "A Look Inside Dallas Buyers Club (3:56), a Matthew McConaughey-introduced short that adds on-camera comments from him, Jared Leto, and Jennifer Garner to what feel like trailer clips. Needless to say, it barely scrapes the surface of a film twenty years in the making.

The discs open with a Focus Features promo and trailers for The Best Man Holiday, Rush, About Time, and Closed Circuit. Previews section add the same full Closed Circuit trailer and shorter home video ads for The World's End, Admission, The Place Beyond the Pines, Hyde Park on Hudson, Promised Land, and Moonrise Kingdom. Dallas' own trailer is regrettably not included.

The menu attaches score to the poster's static McConaughey shot retooled for the cover art. The Blu-ray does not support bookmarks and its playback resuming feature was spotty, which frustrated since twice, the menu loaded with no listings in sight. At least Universal does equip the BD with uHear, which allows you to clarify a missed line with the press of a single button, though you probably won't have to make use of it.

Joining the two plainly labeled discs inside the slipcovered keepcase is an insert supplying directions and a unique code for redeeming the digital copy, an HD UltraViolet stream/iTunes download that's kindly included with your purchase.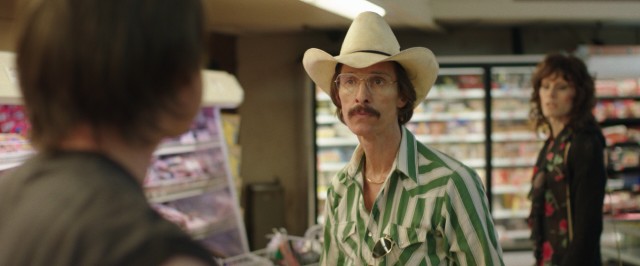 CLOSING THOUGHTS
The weakest of the eight Best Picture Oscar nominees that I've seen, Dallas Buyers Club still succeeds on the basis of its performances, especially the excellent, transformative McConaughey (whose emaciation is far from the extent of his acting here). Though the material departs from the facts (which indicate that the real Woodroof was neither homophobic nor heterosexual) and flirts with TV movie-type inspiration, it's hard-hitting and powerful enough to stir and serve a greater good.
Universal's Blu-ray combo pack is definitely lighter on extras than you expect for what is almost certain to become a multiple Oscar winner, but then Focus Features releases have often asked the films to more or less speak for themselves. Whether or not you're compelled to give it a spot in your collection, you are encouraged to see the film and preferably before its Oscar wins shape your judgment.
Buy Dallas Buyers Club from Amazon.com: Blu-ray Combo / DVD / Instant Video