Steven Soderbergh's decision to retire from filmmaking at the young age of 50 has garnered both attention and doubt. In the couple of years since he cemented it, the retirement plan has evolved from strange to preposterous as the director has resurged with an acclaimed and remarkably productive phase of his career.

Leaving on top and with the public wanting more is something fellow half-centurion Michael Jordan tried twice and it didn't take either time. Soderbergh's proposed back-up profession -- painting -- hardly seems more realistic or promising than Jordan pursuing minor league baseball.

Like His Airness, southern boy Soderbergh broke through in the 1980s. His feature debut, Sex, Lies, and Videotape (1989), won the Palm d'Or at Cannes, making the 26-year-old writer/director the youngest person to win that prestigious honor. While that drama is credited with ushering in the 1990s indie film movement, Soderbergh himself kind of floundered for the better part of that decade with little-seen movies that lost money now matter how low their budgets and how warm their reviews. Soderbergh bounced back in 1998 with Out of Sight, a critically and commercially well-received Elmore Leonard adaptation that teamed him for the first time with George Clooney, then in the process of transitioning from television heartthrob to serious movie star.

Soderbergh had a legendary 2000, directing two of the year's five Best Picture Oscar nominees in Erin Brockovich and Traffic, becoming the first person to earn simultaneous Best Director Oscar nominations in over sixty years, and winning that honor for Traffic. Instead of gravitating towards award bait, Soderbergh next reunited with Clooney on Ocean's Eleven (2001), a highly successfully and tremendously fun remake of a 1960 Rat Pack musical caper. Soderbergh and his star-studded cast would reassemble twice to diminishing returns over the next six years and those sequels would become his only commercially significant releases of a decade that saw him experimenting with distribution methods, styles, and budgets.

While Clooney was becoming an Oscar season fixture, his serious reunions with Soderbergh (Solaris, The Good German) fizzled. The Informant! (2009), a funny true story of a misguided whistleblower played by Matt Damon, was Soderbergh's first non-Ocean's wide release in seven years and despite strong reviews, it too flopped.

Just when it seemed like Soderbergh's days as a commercial draw were numbered, and he began reiterating his desire to leave filmmaking, he gave us Contagion, a well-made fall thriller full of famous actors he'd previously worked with and others any director would want to. This kicked off a stretch too inspired and esteemed to be a farewell tour, consisting of Haywire, a rare January release and wrestler-turned-actor vehicle of value; Magic Mike, a summer hit reportedly much better than advertised; and Side Effects, another creative bright spot in a typically desperate winter.
After all this, Soderbergh's purportedly final film as director came not to American theaters, but television. Well, "not TV", i.e. HBO. And the long-discussed, finally materialized Liberace and gay lover biopic Behind the Candelabra did get to premiere at Cannes and later receive theatrical release in the UK, Australia, and other parts of the world, where it put up fairly formidable numbers. The film's telemovie status in its native United States has made it a frontrunner in many categories at this month's 65th Annual Primetime Emmy Awards, for which it picked up fifteen nominations, tied with "Saturday Night Live" for the ceremony's third most-nominated title.
Adapted from the 1988 memoir (subtitled My Life with Liberace) of Scott Thorson co-written by Alex Thorleifson, Behind the Candelabra gives us an inside look at the man who publically was known and loved around the world for his piano playing, singing, and colorful showmanship. While his flamboyant nature drew suspicion and gossip, Liberace repeatedly denied being homosexual, taking those who reported otherwise to court on libel charges and winning. No openly gay individual was winning fame, fortune, and adoration in Liberace's heyday. By remaining closeted, the Wisconsin native of Italian and Polish descent managed to become the highest-paid entertainer in the world during the 1950s through 1970s, while being romantically linked to high-profile women.
In 1977, 18-year-old movie dog wrangler Thorson (Matt Damon) gets to meet Liberace (Michael Douglas) backstage after yet another well-received Las Vegas performance from "Mr. Showmanship." Taking an instant liking to his fellow Wisconsinite, dog-toting diva Liberace ("Lee" to his inner circle) invites Scott to his mansion proudly self-decorated with "palatial kitsch." Soon after, Lee is paying for Scott to fly out from West Hollywood to medicate his dog. When he discovers just how good a hot tub listener Scott can be, Lee instantly decides to hire him as a personal companion.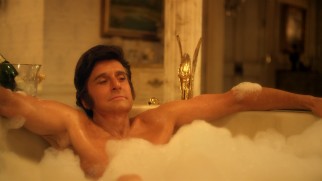 Scott immediately moves in, though more as Lee's lover than employee. In exchange for fulfilling the musician's frequent sexual needs, the young man is given flashy rings, a new car, and bejeweled suits. It's kind of a strange arrangement and it's about to get a lot stranger.

Shocked by his appearance on Johnny Carson, Lee turns to his grotesquely mangled

plastic surgeon (Rob Lowe) and arranges for a facelift for himself. Lee also narcissistically decides he'd like to make Scott look more like him, something the doctor achieves with a nose job, chin restructuring, and diet pills. Lee even considers adopting Scott, adding an air of incest to their sexually active cohabitation.

The relationship goes downhill from here. Scott grows jealous as a result of Lee's wandering eye for young men and his suddenly uncharacteristically satiable sexual appetite. For his part, Lee is upset at Scott's prudish boundaries and concerned with his continued dependency on weight loss pills. Before long, Liberace's protective, standoffish manager (Dan Aykroyd) and other confidantes are showing Scott the mansion door, with the young man having nothing to show for the four-year experience.

The scorned Scott explores his legal options, filing a $113 million palimony lawsuit that cast doubt over his ex's artificial public persona. He would settle out of court for just $75,000 and some possessions, though, as the movie shows, he reconciled with Liberace shortly before the entertainer's AIDS-related 1987 death.
Behind the Candelabra is in the vein of The Informant!, with Soderbergh displaying no greater reverence for a world-famous showman than for a long-incarcerated nobody.

The film lives up to its title by taking us inside Liberace's private life and revealing it to be every bit as fabulous as his stage act that we get very few glimpses of. The movie has a very clear sense of humor about it, refusing to sensationalize the story as presumably the 1988 CBS biopic Liberace: Behind the Music did.

At 42, Damon is more than twice as old as the real Thorson was during the time in question. Though efforts are taken to make Damon look younger (and like most modern celebrities of his generation, he's naturally managing to hide his age quite well), the casting makes the central romance a lot less sordid. It's not that Soderbergh is giving us the Hollywood version of Liberace's love life, but there's something comforting about having two famous, completely grown-up, married, heterosexual movie stars play these gay men and bridge the pronounced age gap. They may be convincing in their roles, but it'd take some strong homophobia to object to the movie's depictions.

The film truly does not sugarcoat Liberace's lifestyle. If anything, Thorson's account breeds some skepticism, with Liberace having opted to never tell his side of the story. The unceasingly troubled author (most recently arrested last week for a parole drug test violation) is a saintly naοf, taken advantage of and left for (somewhat) broke. Liberace, meanwhile, is seen as a charming, two-faced predator, who can be cold-blooded when needed. That the movie can convincingly pull off that portrayal while feeling more like a celebration of, than an assault on, a yesteryear pop icon is a testament to its thoughtful, level-headed design.

That design extends juicy but limited supporting roles to many an accomplished actor, including the legendary Debbie Reynolds, who's unrecognizable as Liberace's mother, and Scott Bakula, who earned an Emmy nomination with no more than five minutes of screentime.

VIDEO and AUDIO

You expect a 2013 HBO movie to look and sound terrific on Blu-ray and Behind the Candelabra does. The sharp 1.78:1 picture uses every pixel available to 1080p, showing off the many polished, Emmy-nominated technical facets, like art direction, cinematography, and make-up. The 5.1 DTS-HD master audio mix is equally pleasing, distributing dialogue and music with all the competence and precision of a theatrical release (which in many parts of the world, this is).
BONUS FEATURES, MENUS, PACKAGING and DESIGN

The Blu-ray includes just one on-disc supplement. "The Making of Behind the Candelabra" (14:03, HD) is a solid companion featurette, which gathers comments from cast and crew

(strangely, not Soderbergh), some behind-the-scenes clips, and footage of the real Liberace. This thorough piece comes to detail The Liberace Foundation's assistance to production design, shooting in Zsa Zsa Gabor's house, and costumes.

The disc opens with a two-minute promo for HBO original movies and miniseries.

The menu drops piano keys and confetti while piano score and movie clips play. The Blu-ray neither supports bookmarks, nor resumes playback, which is poor form.

The unslipcovered eco-friendly keepcase supplies directions and a unique code for accessing the digital copy that's included with your purchase. Apparently, you can download the movie in iTunes, VUDU, or UltraViolet format (through at least September 2015), depending on your needs.
CLOSING THOUGHTS
One suspects and hopes that Behind the Candelabra is not the last we've seen of Steven Soderbergh the director. This HBO movie is a decent outlet for his talents and proves to be a relatively compelling and entertaining look at Liberace's messy, secret off-stage excesses.
Well-timed to the Emmys, HBO's Blu-ray is straightforward but satisfying, offering a strong feature presentation, a good making-of featurette, and a digital copy for those so inclined.
Buy Behind the Candelabra from Amazon.com: Blu-ray with Digital Copy / DVD