Jerry Bruckheimer has been considered one of Hollywood's premier producers since the 1980s when blockbusters like Beverly Hills Cop and Top Gun made him known.

Based at Disney for the past twenty years, he's been behind more of the studio's live-action hits than practically anyone since Walt himself.

Bruckheimer's eponymous production company quickly became a cornerstone for Disney in CEO Bob Iger's franchise-driven business model. But Bruckheimer has been on a losing streak lately. His 2010 tandem of Prince of Persia: The Sands of Time and The Sorcerer's Apprentice revealed the potential down side to tentpole filmmaking in suffering back to back steep losses. Even his 2011 return to his flagship Disney franchise, the Pirates of the Caribbean series, saw significant declines in the domestic market (though ones more than offset by the foreign gains eased by the use of 3D).

Adding the brands of Star Wars and Indiana Jones to an already formidable stable that includes Marvel and Pixar, Disney allowed Bruckheimer's longtime first-look deal to expire, prompting him to recently land a new distributor in Paramount, another fan of big budget-movies. That new arrangement, which begins April 2014 and does not affect Pirates and National Treasure sequels, did not come before Disney had to endure another summer Bruckheimer box office bomb.

Like the original Pirates, The Lone Ranger sought to turn a long-famous property into a cinematic big screen adventure with Gore Verbinski directing, a script credited in part to Ted Elliott and Terry Rossio, and Johnny Depp in a leading role. Though that was a recipe for success in 2003, 2006, and 2007, audiences seem to have tired of that template this decade.

The commercial disappointments of Lone Ranger, which required a $190 million write-down for Disney, were comparable to Prince of Persia and John Carter, only the blame had to be placed at the feet of proven talent on both sides of the camera. Depp has been one of the business' biggest stars for a while, his blockbuster triumphs not limited to Captain Jack Sparrow's outings as Alice in Wonderland and Charlie and the Chocolate Factory both proved. While Depp did not hold the title role, instead playing the Lone Ranger's loyal sidekick Tonto, he still took top billing and a lion's share of the marketing over The Social Network's less experienced Armie Hammer.
The film opens in a fair in 1933 San Francisco, where a masked young boy is startled to find museum exhibit The Noble Savage alive (Depp, heavily aged to look frail but have a paunch) and wanting to tell a story. The story is set in 1869 Colby, Texas and involves John Reid (Hammer), a by-the-book district attorney who is an adamant believer in justice. When captured notorious outlaw Butch Cavendish (William Fichtner) gets loose on a train, Reid does what he can and winds up seeing to it that fellow prisoner Tonto remains in custody. Reid and Tonto save one another's life at different times. A newly deputized Texas Ranger, Reid becomes the lone survivor of a Cavendish massacre that ends with him cutting out and eating the heart of Reid's brother Dan (James Badge Dale). Dan's death not only motivates Reid to capture Cavendish, but it also puts Dan's widow and Reid's former flame, Rebecca (Ruth Wilson, an Australian who makes you wonder how Michelle Monaghan is staying so young and not getting higher billing), back on the market.
Reluctantly, Reid and Tonto team up, with the lawman taking the Indian's advice to wear a mask around his eyes. Reid's close brush with death has Tonto proclaim him a Spirit Walker, someone impervious to death. That belief only slightly boosts the confidence of Reid, who can't fire a gun for the life of him.
Over the next two hours or so, we get Tonto's backstory, multiple action set pieces, a brothel madam with an ivory leg that doubles as a gun (Helena Bonham Carter), and a duplicitous villain who is determined to keep hostile the relations between the white man and the Comanche Indians, who have banished Tonto.
As the trend at Jerry Bruckheimer Films has been lately, The Lone Ranger is overblown. The film runs two and a half hours and carries a production budget of $250 million, a number Disney initially lowered to $215 M during a brief shutdown. That's 18 minutes shorter than the longest Pirates installment and fifteen shorter than Sergio Leone's epic western Once Upon a Time in the West, but it's longer than every other wide American theatrical release last summer and longer than it needs to be.

The Lone Ranger's earliest film serials ran under twenty minutes each. His two feature films in the 1950s each clocked in at 80 minutes. It seems ludicrous to nearly double the runtime of an old-fashioned adventure.

Then again, this Lone Ranger seems quite determined not to be an old-fashioned adventure but a new-fashioned one set in the distant past. It's the latest in a long line of unsuccessful attempts to do that. Nowadays, audiences get their thrills from superheroes and super spies. With the right talent and material, they warm to films like Pirates, Sherlock Holmes, and Django Unchained that put modern spins on old settings. But this is a stretch.

Depp's penchant for eccentricity has grown tiresome. The once widely respected actor has become the equivalent of a clown who performs children's birthdays. An extremely wealthy clown who won't work for less than $20 million these days. Tonto is right up his alley; his interpretation of the character -- often seen pouring birdseed in conjunction with the dead crow he wears atop his head -- is short on charm and creativity. Probably out of political correctness, this version makes Tonto the hero and the Lone Ranger the fool. A potentially star-making role for Hammer instead becomes the thankless, flavorless second fiddle, the young actor either unwilling or unable to upstage Depp.
Though technically sound, The Lone Ranger is laborious. It is by far the most violent Disney-branded movie we've ever seen, its hard-PG-13 carnage making this a poor choice for kids who might still be able to find Depp's shtick entertaining. As a buddy comedy, this falls flat. As an action film, it's only sporadically effective. The appreciation for Leone westerns that Verbinski displayed in Rango is present again here, but the ensuing unfavorable comparisons quickly fade from mind as the director still has to uphold the Bruckheimer hit factory mold with drained colors, quick cuts, and an excess of action sequences. Hans Zimmer contributes a nice score (which is best when it includes a flute) and, perhaps inevitably, the William Tell Overture is summoned for a big, long climax, which of course involves fisticuffs atop moving trains.
The Lone Ranger is not a bad movie. It's just a movie that doesn't excite you as it should. It's Bruckheimer, Verbinski, Elliott & Rossio, and Depp giving us more of the type of cinema that has made them all rich without even thinking to ask if the public wants it. Tastes are always changing. Successful actors and filmmakers are expected to challenge themselves. Cashing in on an old famous property seems shameless, desperate, and lazy. If you're spending a quarter of a billion dollars on a movie, it really should be better than okay.
After being one of the summer's biggest flops with an under-$90 million domestic gross, Lone Ranger hit home video a week before Christmas in a single-disc DVD and the two-disc Blu-ray + DVD + Digital Copy combo pack reviewed here.
Blu-ray & DVD Details

2.40:1 Widescreen (DVD Anamorphic)
BD: 7.1 DTS-HD MA (English); DVD: Dolby Digital 5.1 (English)
Both: Dolby Digital 5.1 (French, Spanish), Dolby Surround 2.0 (Descriptive Service)
Subtitles: English for Hearing Impaired, French, Spanish
Not Closed Captioned; Extras Subtitled
Release Date: December 17, 2013
Two single-sided, dual-layered discs (1 BD-50 & 1 DVD-9)
Suggested Retail Price: $40.99
Blue Keepcase with Side Snap in Embossed Cardboard Slipcover
Also available as standalone DVD ($29.99 SRP) and on Amazon Instant Video
VIDEO and AUDIO
The Lone Ranger shows off its technical superiority in the Blu-ray's flawless 2.40:1 feature presentation. As stated above, the film is heavy on style, favoring a washed-out look most of the time that makes things like Tonto's bird and even the Lone Ranger's white hat really pop. A showcase for a mix of digital and practical effects as well as action, the sharp, clean video serves the film well.
The 7.1 DTS-HD master audio might impress even more, with its distribution of atmosphere, directional effects, crisp dialogue, and Hans Zimmer's appealing score. Between the two engaged senses, the Blu-ray clearly emerges as demo material, especially since certain scenes work much better than the entirety.
BONUS FEATURES, MENUS, PACKAGING and DESIGN

The Lone Ranger gets less in the way of bonus features than Verbinski's past Disney films, though most viewers should still be satisfied in this regard.

"Armie's Western Road Trip" (14:37) tags along with the not-leading man as he takes in the sights of New Mexico, Utah, Arizona, and Colorado, where this film was shot with the documented blessing of multiple actual Native Americans.

"Becoming a Cowboy" (8:03) looks at the cowboy boot camp that actors went through to look authentic riding horses and firing guns.

"Riding the Rails of The Lone Ranger" (10:39) turns our attention to the film's use of newly-constructed vintage trains and railroads, designed to uphold period authenticity even when driven down ordinary roads.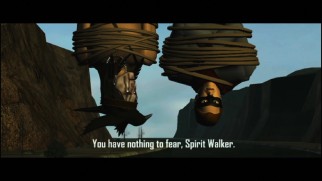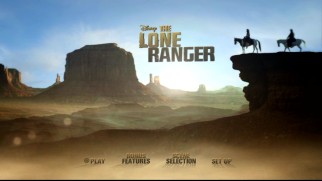 A lone deleted scene (3:49), presented primarily in subtitled CG animatic with a bit of frame story footage and a touch of concept art,

shows the Lone Ranger and Tonto being saved from certain death by a storm of locusts.

The listed all-HD extras conclude with a promotional reel of bloopers (3:51), which shows us the many things that could and did go wrong while the cameras rolled while revealing some moviemaking tricks and trotting out the William Tell Overture.

Digging around the Blu-ray, I uncovered two brief Easter eggs; one (1:14) deconstructs the layers of visual effects in a number of shots, while the other (0:44) shows the attempts to get a flip stunt right.

Unsurprisingly, the DVD doesn't even offer that much. Though close to capacity, it only includes the bloopers for bonus features, an insult to those accustomed to loaded two-disc editions of past Bruckheimer productions.

The discs open with menu-inaccessible trailers for Saving Mr. Banks and Muppets Most Wanted.

The menu scans across settings in a creative fashion, playing short clips on passing mountains. The Blu-ray remembers where you left off watching the movie, but doesn't automatically resume or let you set bookmarks.

Joining the two plainly-labeled discs in a slipcovered, side-snapped keepcase are a Disney Movie Rewards/digital copy code booklet and a Disney Movie Club ad.
CLOSING THOUGHTS
The Lone Ranger might seem fun and fresh had Johnny Depp, Jerry Bruckheimer, Gore Verbinski, and Disney not spent much of the twelve previous years making this exact kind of big-budget adventure. The move from sea to the Old West and from pirates to cowboys and Indians somehow doesn't even matter. The resulting bloated, dark, violent, dirty, overly stylized experience is too familiar and not entertaining enough whether or not you enter with any appreciation for this iconic yesteryear hero.
Disney's Blu-ray combo pack is light on bonus features for such a big production, but delivers absolutely terrific picture and sound. The movie warrants a single viewing for those who see a lot of movies. Otherwise, only action junkies and western fans ought to check this out.
Buy The Lone Ranger from Amazon.com:
Blu-ray + DVD + Digital Copy / DVD + UltraViolet / Instant Video