In Captain Phillips, director Paul Greengrass applies the fact-driven docudrama approach he took on United 93 to a more intimate, less earth-shattering hijacking. Whereas on that Academy Award-nominated 2006 film,

made between two improbably highly-regarded Jason Bourne sequels, Greengrass deliberately opted for a no-name cast, here he fills the title role with one of the biggest names in Hollywood over the past quarter-century: Tom Hanks. That doesn't do anything to diminish the authentic feel that pervades this sea adventure.

Hanks is Rich Phillips, a Vermont man who isn't crazy that his work regularly pulls him away from his nurse wife (Catherine Keener) and now collegiate children. But he takes his work as a cargo ship captain seriously. When he boards the Maersk Alabama in the spring of 2009, he is prepared to transport its contents efficiently and according to plan. The trip requires passing through some waters off the coast of Northern Africa where the threat of piracy is real enough to warrant cautionary e-mails and Phillips running his crew of twenty through a drill.

Though they've prepared for such a scenario, Phillips and his crew are understandably unsettled by their radar's indication of two skiffs rapidly approaching their vast container ship. The Alabama is able to lose the ships and one turns away altogether. But the other one eventually catches up and after making the necessary calls, there's not much more Phillips can do but cooperate and hope for the best. While much of his crew finds places to safely hide, Phillips does the talking to the four armed young Somali men who are able to hook a ladder onto the side of the ship and climb aboard.

Phillips is happy to hand over the $30,000 cash inside the ship's safe and send the pirates on their way. But that is not a plan that Abduwali Muse (Barkhad Abdi), the foursome's bony, English-speaking leader is willing to accept. Muse figures it will take millions to satisfy his bosses and that the Alabama should be able to yield that kind of money. Phillips agrees to give the intruders a tour of the ship, secretly tipping off his crew as much as he can. The generally easygoing and scarcely defined crew puts up as much a fight as they can in hiding and it's enough to send the hijackers away on the ship's covered lifeboat. They do so with Captain Phillips as their willing hostage, believing he can fetch a ransom to make the experience worth their while.

While the Alabama follows the lifeboat, authorities eventually get involved, with the U.S. Navy and Navy SEALs plotting to rescue the kidnapped captain.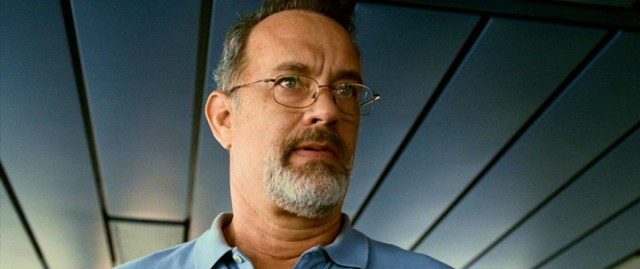 The pirates' approach unfolds with more tension and suspense than any horror movie idea. The crew has a couple of miles and a few minutes of notice to prepare for the invasion, and the ship isn't entirely helpless against such small fishing vessels. Still, it's clearly a harrowing experience and merely the first of many that Captain Phillips will personally face. Greengrass' knack for gripping action is on fine display and the entire conflict feels about as well-researched as his 9/11 film was. The stakes aren't as high, the wounds aren't so large, and the story isn't as familiar as the one told in United 93, giving this film less weight but greater unpredictability. Even if you think a sad ending would make this an unusual film subject, such an outcome seems possible without full knowledge of the particulars.
While Tom Hanks is generally considered one of the most popular movie stars of our time, a look at the figures suggests his everyman appeal to the American public started to dip around the middle of last decade. Though he undoubtedly deserves some credit for reeling in moviegoers to The Da Vinci Code, the scandalous material was the real draw there. Likewise, Toy Story 3 wouldn't have been the same without him, but how many tickets were purchased explicitly to hear him voice Woody once more? Prior to this, Hanks' three most recent on-camera appearances have all bombed, finishing around the $30 million mark domestically.
Although Captain Phillips probably would have been a huge hit during Hanks' heyday of the '90s through the early 2000s, it's done plenty well in the 2010s, grossing over $105 million domestically and another $110 M overseas. The domestic gross is comparable to and slightly better than those of fellow 2010s Sony award-contending dramas The Social Network and Zero Dark Thirty, though neither of those boasted star power on the order of even the present-day Hanks.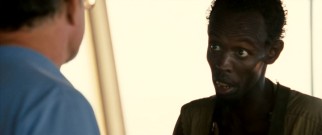 The film does manage to revive the accomplished actor's diminished credibility. Extremely Loud & Incredibly Close was a Best Picture nominee, but it wasn't Hanks' movie and nobody seems to have been all that crazy about it.

Excluding the wonderful Toy Story 3 for obvious reasons, we have to go back a ways to find a Hanks movie that was truly respected by both critics and the public. Perhaps all the way back to 2002, when Hanks made both Road to Perdition and Catch Me If You Can. Last year similarly had two Hanks movies feature in year-end lists and award discussions with this and Saving Mr. Banks.

Many were shocked not to hear the names of Hanks and Greengrass announced among the Oscar nominees. I was not, correctly predicting both would narrowly miss the cut (while former limo driver Barkhad Abdi would land a Supporting Actor nod). Both the actor and the filmmaker bring obvious value to the project, just not the kind that lead voters to rank them first on their preferential ballot.

Hanks can't be accused of playing himself, for he adopts a New England accent and an all-business demeanor different from his usual fun, avuncular presence. But, though the movie bears his name, it is more about the hijacking than Captain Phillips. The story, approached from all pertinent angles, is always the main event, not the few characters who make it up. Aside from his final scene, Hanks doesn't get to do any real heavy lifting as an actor. He hits the appropriate emotional notes, but with understatement and while sacrificing substantial screentime to his Somali captors. The actors portraying them, especially ringleader Abdi with his otherworldly face, impress. Greengrass displays his welcome restraint not to damn them anymore than the accounts themselves do. It's certainly interesting that we don't hate these pirates as much as you think we would. The movie doesn't push us in any direction, allowing us to judge as we see. It's even possible to sympathize a bit with these misguided hijackers without hating ourselves for doing it. That is one of the great joys of Greengrass' documentarian instincts. He crafts a taut and effective movie, but respects us enough to let us form our own conclusions and interpret the facts he carefully recreates.

On the heels of its recently announced six Oscar nominations, most notably Best Picture, the film just received a huge theater count boost, claiming over 900 screens for the first time since late November. That gives moviegoers who missed it last fall another chance to see it on the big screen, although this week's DVD and Blu-ray combo pack releases will be more appealing to many.
DVD Details

2.40:1 Anamorphic Widescreen
Dolby Digital 5.1 (English, French, Spanish)
Subtitles: English, English for Hearing Impaired, French, Spanish
Not Closed Captioned; Extras Subtitled in English
Release Date: January 21, 2014
Single-sided, dual-layered disc (DVD-9)
Suggested Retail Price: $30.99
Black Keepcase
Also available as Blu-ray + DVD ($35.99 SRP) and on Amazon Instant Video
VIDEO and AUDIO
Captain Phillips is a film that even choosy customers might prefer on Blu-ray. Unfortunately, review copies of those ran out, leaving us to cover this DVD. For standard definition, the 2.40:1 anamorphic widescreen presentation isn't bad, exhibiting nothing worse than some probably deliberate grain. You miss the detail and clarity of 1080p, but that might not be this release's most glaring shortcoming. Sony uses yellow player-generated subtitles to translate the fairly regularly spoken Somali dialogue. Not true to the theatrical presentation, they're blocky and clumsy. Burned-in subtitles might have presented their own problems, but I have no doubt that the Blu-ray's cleaner, higher resolution translations make for a better viewing experience.
On the plus side, while presumably no rival for the Blu-ray's lossless master audio, the DVD's Dolby Digital 5.1 soundtrack is itself no slouch. Sound accounts for two of the film's six Oscar nominations, so it's important and pleasing that this mix is as potent and engaging as it should be.
BONUS FEATURES, MENUS, PACKAGING and DESIGN

The DVD's extras begin with an audio commentary by director Paul Greengrass. He is thoughtful and soft-spoken regarding what is seen and heard, discussing the shoot's challenges, his tactics for heightening authenticity,

his admiration for Hanks' everyman roles, and the significance of the story. It's not a must-hear track, but then that seems somehow expected for Greengrass, whose well-made docudramas don't inspire a wide range of reactions or an outpouring of analysis and commentary.

On the video side, there is the excellent three-part documentary "Capturing Captain Phillips" (58:17). It opens with news coverage of the event itself and soon moves to Greengrass' authentic recreation of it. We get looks at the awkward rehearsal process and at the filming on the Maersk Alabama's sister ship on the Mediterranean off the coast of Malta. Cast and crew weigh in on the unique creative process from a variety of perspectives, adding up to a fine companion to the film.

The disc opens with an ad for the Sony Ultra 4K HDTV and trailers for The Monuments Men, American Hustle, and Last Vegas. The Previews menu adds Inside Llewyn Davis and The Armstrong Lie trailers to the individually-accessible other three. Captain's own trailer is regrettably but characteristically absent.

The main menu attaches score to a portion of poster art. Submenus are also static but silent as well.

The unslipcovered black keepcase's only insert supplies the unique code that will land you an UltraViolet stream/download of the film and some Sony Rewards points.
CLOSING THOUGHTS
Captain Phillips is a very good movie which reminds us of Paul Greengrass' gift for docudrama and that Tom Hanks can still act in a big, serious production. With minimal embellishment and fiction, Greengrass turns real events into gripping action cinema. The ending is a little overlong and the story lacks the human interest and characterization of similar, recent pulled-from-the-headlines/case files dramas. While those qualities may keep this from being one of your all-time favorites, they're not enough to avoid recognizing this film as one of 2013 cinema's taller achievements.
It's nice that Sony hasn't neglected the Captain Phillips DVD in terms of bonus features, with the hour-long documentary proving highly insightful. Still, if you like the movie enough to buy it, you'd be wise to spend a few extra dollars for superior picture, sound and subtitles on a film that makes exemplary and extensive use of all three. If your collection is anything like mine, it will make room for the Blu-ray combo pack in the near-future.
Buy Captain Phillips from Amazon.com: DVD / Blu-ray + DVD / Instant Video