For a while, Shia LaBeouf seemed like one of the child stars who would turn out all right. LaBeouf, who grew up on the unusually excellent single camera Disney Channel sitcom "Even Stevens", transitioned into adult acting in glorious fashion.

After a number of supporting roles and a couple of Disney leads, LaBeouf was tapped for movie stardom by no less than the legendary Steven Spielberg.

Within a couple of years, LaBeouf had starred in two of the biggest films of their time, Transformers and Indiana Jones and the Kingdom of the Crystal Skull. While no one was seeing these as "the new Shia LaBeouf movie", the barely 20-year-old actor was impressing the masses. He even proved his drawing power in Eagle Eye, carrying an unremarkable original conspiracy thriller to over $100 million at the domestic box office. Inevitably, two Transformers sequels followed, and though none too well received by critics or moviegoers, they were phenomenally profitable.

Alas, LaBeouf has left that mega franchise and the serious dramatic performances he put in over the years supplemental to Spielberg-produced, Michael Bay-directed adventures (e.g. Lawless, Wall Street: Money Never Sleeps) do not seem to be doing him any favors. Of course, the brunt of the blame for LaBeouf's documented descent falls squarely on him. LaBeouf's been in the news lately and served as the punchline of a very funny Jim Carrey joke at the Golden Globes because of a pattern of plagiarism.

The most flagrant display came in an original short film LaBeouf made without acknowledging it was virtually a direct adaptation of a charity anthology comic by Ghost World author Daniel Clowes. Called out on the appropriation, LaBeouf confessed and apologized. Or did he? His apologies themselves were plagiarized, a fact confirmed by the simplest of search engine queries. LaBeouf has since taken to the clouds, hiring a skywriter to apologize to Clowes, while continuing to mock apologize in others' words.

Tweeting cease and desist letters from Clowes' attorneys and announcing his retirement from "all public life", LaBeouf perhaps considers his antics akin to Joaquin Phoenix's mockumentary stunt or James Franco's stint on "General Hospital", performance art from an artist. To the rest of the world, though, his very public meltdown seems more comparable to those of Charlie Sheen and Amanda Bynes. While LaBeouf should be in the news for Lars von Trier's pair of upcoming Nymphomaniac films he's starring in, instead he's adding strong evidence to the ongoing case against child stardom with stunts like a recent London pub headbutting caught on camera. For every Natalie Portman and Jodie Foster, there seem to be three or four kid actors you can only wish found peace in obscurity.

Whether or not LaBeouf is truly leaving the limelight -- a question his now-daily tweets of "I AM NOT FAMOUS ANYMORE" hardly answer -- the actor still has a few films making their way to general release. He'll appear in David Ayer's thus-untitled World War II drama, a presumed contender in next year's Oscar race. And there's also Charlie Countryman, a thriller treated to a blink and miss release in fifteen theaters last November that recently came to DVD and Blu-ray.
Retaining its working title, The Necessary Death of Charlie Countryman, onscreen, this film casts LaBeouf in the lead role, the outlandishly-surnamed, messy-haired young man from Chicago. At the start of the film, Charlie must witness his mother (Melissa Leo) being taken off life support. Immediately after her death, Mom appears to Charlie and recommends he go to Bucharest. With nothing more pressing to attend to in Chicago (there's an ex-girlfriend played by Aubrey Plaza we barely get a look at), Charlie follows the vision of his mother's command and boards a flight for Romania.
He's seated next to Victor Ibanescu (Ian Caramitru), a Romanian widower who dies in his sleep after a brief conversation. Compelled to deliver the silly wool hat Victor has bought for his daughter, Gabriela (Evan Rachel Wood), pill-popping Charlie ends up meeting the young cellist and falling for her. In doing so, Charlie catches the attention of Nigel (Mads Mikkelsen), a tough middle-aged criminal who happens to be Gabi's unlikely husband.
Charlie finds himself in the middle of international intrigue, motivated by love and threatened by death.
Charlie Countryman is an interesting mix of highs and lows. The highs are as spirited as any moments in modern cinema. The egregious lows bring us just as far in the opposite direction. The film marks the feature directorial debut of Fredrik Bond, whose past credits include a 1999 Moby music video, a 2004 short film, and recent commercials for Puma and Budweiser.

That résumé and his IMDb profile photo suggest Bond is not fresh out of film school. At the same time, his feature debut reveals him to be full of energy, cinematically gifted, and technically nimble and inventive. A few sequences drip with the kind of fleeting power and beauty you might encounter in an unusually creative music video. Others compare to portions of run-of-the-mill, direct-to-video action movies, a class into which Charlie only appears to gain admittance.

Bond's film recalls the attention-grabbing early work of directors like Danny Boyle and Guy Ritchie. There are no limits or abandon and the experience is creatively mind-trippy even as we fail to find a single a character worthy of our sympathy. Like those millennial movies, Charlie has its share of bad ideas, such as the British comic relief (Harry Potter's Rupert Grint and "Inbetweeners" star James Buckley) assigned as Charlie's roommates at the Marco Polo Youth Hostel who get him in trouble with unexpected ecstasy and a problem brought on by an overdose of Romanian Viagra. For all the film's visual flair, it's difficult to hear and understand much of the dialogue, not only because of the cast's assortment of natural and adopted accents.

LaBeouf remains a capable leading man, though we don't fully buy into his hasty romance with Gabi (Wood's unflattering hairdo and unconvincing accent don't help). Heavies like Mikkelsen (of Casino Royale and this year's Foreign Language Film Oscar nominee The Hunt) and Til Schweiger (Inglourious Basterds) add some weight to the proceedings, lifting them above the immature amateurish vibe they often flirt with.

The results are so uneven that with minimal editing of these 100 minutes, you could end up with either a 1-star or a 4-star film. If you must assign a score, you've got to split the difference and give a middle-of-the-road rating that feels both less and more than what this film deserves. The movie will likely produce stronger feelings of approval or disapproval than your typical movie that's branded with mediocrity.
Blu-ray Disc Details

1.78:1 Widescreen
Dolby TrueHD 5.1 (English), Dolby Stereo 2.0 (English)
Subtitles: English for Hearing Impaired, Spanish
Not Closed Captioned; Extras Not Subtitled
Release Date: January 21, 2014
Single-sided, single-layered disc (BD-25)
Suggested Retail Price: $29.99
Blue Keepcase in Embossed Cardboard Slipcover
Also available on DVD ($24.99 SRP) and Amazon Instant Video
VIDEO and AUDIO
Stylish filmmaking is one of the main draws of Charlie Countryman, so it's good that Millennium's Blu-ray appears to present the film with the utmost care. But, wait, the film's deleted scenes appear in 2.40:1 and the feature presentation is in 1.78:1. Yes, it certainly looks like Charlie is the latest Millennium film to be compromised with a 1.78:1 Blu-ray transfer. This is at least the third film from the studio that I've encountered treated to the kind of cropping that seemed to disappear with the introduction of Blu-ray. It's an unacceptable practice and one that warrants criticism both from filmmakers and consumers. To date, that has yet to happen, possibly because their releases fly under most radars. While cropping to 16:9 may be considered acceptable for broadcast on FX or TBS, it's not okay on Blu-ray. That decision mars what is otherwise a highly satisfactory presentation, with picture remaining sharp, clean and detailed throughout.
The default Dolby TrueHD 5.1 soundtrack makes an even bigger impression with its considerable bass and potency. As mentioned above, you'll probably need to consult subtitles on occasion. That's partly due to the accents, but the dialogue levels do get somewhat lost in the midst of the electronic score and sound effects. It's presumably a shortcoming of the production and nothing to do with how the movie was transferred to home video.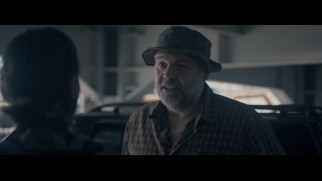 BONUS FEATURES, MENUS, PACKAGING and DESIGN

Joining the film on Blu-ray are a couple of twenty minute extras, presented in standard definition.

First up is "The Making of The Necessary Death of Charlie Countryman" (21:19), a featurette composed primarily of enthusiastic remarks

from the cast and crew. Writer Matt Drake shares the interesting origins of his script, LaBeouf discusses keeping this project "in his pocket" for years (raising questions of his sanity), and everyone voices their attraction to the project and shares praise for their fellow actors, their director, and for Bucharest's ability to support location filming.

Next comes a group of ten deleted scenes (21:00). The majority of the batch comes from an alternate opening and ending narrated by John Hurt. Other bits include an extended scene establishing Vincent D'Onofrio as Charlie's stepfather and stranger moments.

Finally, a Previews section adds Charlie Countryman's trailer (2:32, HD) to the four disc-opening ones for Parkland, As I Lay Dying, Ninja II: Shadow of a Tear, and Hell Baby.

The menu attaches an excerpt of the appealing score to a montage of clips from the film. Like other Millennium Blu-rays, this one regrettably neither lets you set bookmarks nor resumes playback.

Though no inserts are included alongside the poster art-featuring disc, the plain keepcase is topped by a nice embossed foil slipcover.
CLOSING THOUGHTS
Great at times and terrible at others, Charlie Countryman evens out to an average film but is more interesting than that. First-time director Fredrik Bond's obvious cinematic flair elevates the strange material which widely varies in quality. Chances are you'll respond strongly to the material, but whether favorably or unfavorably I can't confidently decide.
Millennium's Blu-ray sports great picture and sound plus a pretty good bunch of extras (most interestingly, alternate versions of scenes with John Hurt narration) that ought to be in high definition, but it objectionably seems to crop the film from its intended 2.40:1 ratio to screen-filling 1.78:1. While I doubt the film will get a corrected disc anytime soon, it's a practice that needs to stop right away.
Buy Charlie Countryman from Amazon.com: Blu-ray / DVD / Instant Video