Howard Hughes has been dead for over thirty years, but the eccentric billionaire has remained a presence in American cinema thanks to Hollywood's continued interest in portraying him in biopics and historical fiction. Miramax's 2007 drama The Hoax is neither and though Hughes is only seen briefly in real archive footage, he looms large over the entire film. That's because it tells the story of Clifford Irving, a writer who in the early 1970s purported to collaborate with the reclusive Hughes on a news-making autobiography.

As the title makes abundantly clear and the movie does too, the high-interest project that Irving (played by Richard Gere) brings to his Manhattan publisher McGraw-Hill is completely fabricated.

Irving has never even met Hughes, let alone exchanged words, but that doesn't prevent him, following a fallen-through novel, from pitching the proposal on specific, secretive terms, cashing in on a hefty advance check, and setting out with his pal, confidant, and fellow writer Dick Suskind (Alfred Molina) to figure out how to pull off this elaborate hoax.

The unflinching con man and his nervous sidekick make an unusual pairing in what almost plays out like a buddy comedy. Clifford and Dick are comparable to Fear and Loathing in Las Vegas' Raoul Duke and Dr. Gonzo, with a trail of lies that's ever ready to unravel filling in for rampant drug use and hallucinogenic visions. In other ways, they feel like a couple of boys playing pretend, only instead of a lazy afternoon, there are hundreds of thousands of dollars, titanic corporations, and the reputation of a cultural icon at stake.
At its heart, The Hoax is a drama that's divided between a professional workplace setting and an individual character. It works reasonably well as both. The literary world of suits, polished tables, and politeness-wrapped power is the site of intrigue. There, Irving's scam narrowly avoids suspicion through handwriting tests, another author's competing claim, and stakes that keep rising with the participation of big businesses and sharp, important executives (well-played by Stanley Tucci, John Carter, and Željko Ivanek). The conference room confrontations over the project's validity are countered by effectively suspenseful and compelling scenes of Clifford and Suskind gathering research, often in illicit or unethical ways. The book may be bogus, but the two men are fervent about getting facts and Hughes' voice right.
The passionate but deceptive pursuits inevitably lend themselves to a study of Clifford's personality. The issues in his personal life paint a complicated but somewhat humdrum picture. At home, there is Clifford's wife Edith (Marcia Gay Harden, adopting a cartoonish Northern European accent not unlike the German maid from "Benson"), whose lacking English and cheesy plight (fearing a recurrence of her husband's infidelity streak) make it tough to take her seriously, even when she gets involved in the criminality. There's also Mediterranean baroness Nina van Pallandt (Julie Delpy), whose ongoing affair with Clifford doesn't seem to believably align with the rest of the film. Meanwhile, a very dramatic scene late in the game involving Suskind is nearly rendered incoherent due to the movie's failure to establish his marital status as an important plot point.
The film enforces its early 1970s setting in period fashions and apt musical selections. The former is done in subtle and tasteful ways, the latter is a lot more prominent but no less appropriate. Heard and sometimes reprised here are Richie Havens' "Here Comes the Sun", Creedence Clearwater Revival's "Up Around the Bend", and The Rolling Stones' "You Can't Always Get What You Want", among others.
There is some clear evidence of The Hoax taking artistic liberty with its source material, which it cites as the real Irving's 1981 confessional book of the same name. Though credited as a technical advisor, Irving himself disowned the film and has taken it to task on his official website. Most troubling is the seemingly baseless assertions that Irving's deception sought to discredit America's current President Richard Nixon and would directly lead to the infamous Watergate break-in.

The arrival of a mysterious parcel and surreal nighttime encounters with hostile, enigmatic former CIA officers are the stuff of hokier, more conventional suspense flicks. The Hoax is marred slightly by such clearly imagined tactics, but not in any major way.

The cast and crew help keep the movie engaging and likable, even through its mild missteps. Gere's characterization isn't pitch-perfect, but he fares very well in the juicy actor's role of the rationalizing swindler. He is complemented by Molina, who competently fills the voice of reason part. Harden gives the performance her all, but she can't lift it above the silly thanklessness of her altered appearance and speech. A few of those in smaller roles lend credibility to the proceedings. Although he gets just one scene, it's great to see Eli Wallach still getting work and continuing to impress now in his 90s. Stanley Tucci and John Bedford Lloyd also deserve kudos for the authenticity and flair they bring to their parts. Director Lasse Hallström thrives in departing from the mundane, sentimental settings of much of his work.

Though critics largely approved of this bouncy tale, The Hoax failed to break out of its independent roots with the public; its worldwide earnings failed to earn back half of its reported $25 million budget. The film's off-season opening suggests that Miramax doesn't have too much hope in it winning awards, though Gere's performance could get singled out at the end of the year. In any event, Buena Vista Home Entertainment released the R-rated flick to DVD this week, six months after its debut in US theaters.
DVD Details

1.85:1 Anamorphic Widescreen
Dolby Digital 5.1 (English, Spanish)
Subtitles: English, French, Spanish
Closed Captioned
Release Date: October 16, 2007
Single-sided, dual-layered disc (DVD-9)
Suggested Retail Price: $29.99
Black Keepcase
VIDEO and AUDIO
Hallström and his now-regular cinematographer Oliver Stapleton opt for a 1.85:1 flat widescreen aspect ratio, in a departure from their usual 2.35:1. It renders the compositions a little less remarkable, but like most modern movies, the film looks quite good in its transfer to DVD. The 16x9-enhanced presentation provides a little more grain than usual, but everything else about the picture satisfies.
The Dolby Digital 5.1 soundtrack isn't too aggressive, but it provides sufficient atmosphere where it's called for and even expands the period rock tunes that are prominently sampled. In short, it doesn't merit high, unusual praise, but it doesn't disappoint.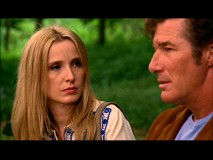 BONUS FEATURES, MENUS and PACKAGING

In the featurette "Stranger Than Fiction" (9:04), we hear from many of the principal filmmakers

(including Marcia Gay Harden, weaving in and out of her goofy accent) plus reporter Mike Wallace on the subject and the filming of it. It's shorter than satisfactory and certainly so are the brief excerpts of Wallace's "60 Minutes" interviews with Irving Clifford, who is otherwise absent here.

Next are six Deleted Scenes (13:15), most of which spend more time with Clifford and Dick. There's also an extended version of an existing scene and another appearance by Julie Delpy's character. The group can be viewed with audio commentary from director Lasse Hallström and writer William Wheeler and though they seem generally unclear about exactly why each was deleted, Hallström reveals elsewhere that 55 minutes of footage was trimmed to get the movie under two hours, making these offerings a tiny fraction of what could have been provided.

The extended scene "Business as Pleasure" (6:25) shows more of Irving and Dick at their restaurant lunch talking of Hughes (and sometimes floundering). It's mostly one set-up and clearly improvised, complete with breaks from character and laughter, but there's no context to explain exactly why it's included here (for a little of that, you'll have to listen to the first commentary).
Two feature audio commentaries are found.

The first track features director Hallström and writer William Wheeler. Their reserved discussion doles out information sporadically. Wheeler likes to point out plot holes and liberties taken, while Hallström mainly agrees and defends the inaccuracies. Sizable stretches of quietude and mediocre judgment of what to talk about keep this track from meeting its potential and make it one not to sweat skipping.

Uniting producers Leslie Holleran and Joshua D. Maurer, the second commentary is a little more insightful and spirited, at least for the first hour. By the second, the two seem to have run out of articulate observations and production anecdotes. They recover and by the end, one must grant that their screen-specific thoughts sustain interest. Still, it's not enough to recommend to someone who doesn't listen to multiple commentaries a week or consider The Hoax a new favorite film.

As the title suggests, "Mike Wallace: Reflections on a Con" (4:30) allows the longtime "60 Minutes" correspondent to reflect a little more on his interactions with Clifford Irving, complete with more brief excerpts of their 1972 interview, and the phenomenon surrounding the Hoax focus.

An Easter Egg found on the Bonus Features menu takes one to a menu to hear a full 3-minute, 40-second recording of "Nixon's the One", the campaign song for Richard Nixon's 1968 presidential run which is satirically excerpted in the end credits.

The main menu marries Gere's Hughes-channeling with a typewriter that transcribes his extemporizing before settling on a more standard montage. Submenus feature neither music nor animation. A keepcase insert lists scene selections and bonus features (while promoting a couple of upcoming Miramax DVDs); a smaller one vouches for authentic DVDs.

The disc opens with previews for National Treasure: Book of Secrets, the Coen Brothers' typically odd-looking No Country for Old Men, and Becoming Jane, which are followed up by the beloved anti-piracy promo. Don't worry if you didn't pay attention to the trailers, because they're also available from the Sneak Peeks menu, along with spots for Eagle vs. Shark, concurrently-released The Invisible, and Golden Door.
CLOSING THOUGHTS
The Hoax tells a fascinating true story in an interesting way. It gets a little bogged down in broad accents and imagined scenarios, but when it plays its cards straight, it succeeds at keeping viewers engaged and entertained by Clifford Irving's improbable quest to write an unreal autobiography of Howard Hughes. The performances of Richard Gere, Alfred Molina, and a few supporting players help elevate the proceedings and make viewers overlook the rare misstep.
Miramax's DVD is kind of disappointing. The deleted scenes represent a tiny fraction of what was cut, the two commentaries aren't the most stimulating, the absence of the real Irving is fairly unconscionable, and the brief excerpts of Mike Wallace's interviews with the con man are a cruel tease. Still, the bonus features do add a little value and the movie is worth seeing.