Since their ratings resurgence three seasons ago, Disney's broadcast TV network (ABC) and production arm (Touchstone Television) have believed firmly in the hour-long drama. It's the format that got them back in business and has helped, along with hit reality show "Dancing with the Stars", to keep them there.

Most of the new series that ABC debuted last fall were of the one-hour variety and though none could instantly claim the vast audience size of "Desperate Housewives", "Lost", and "Grey's Anatomy", a few came close and thus were spared a fate of cancellation at the network's annual cleaning in May.

The two new shows that fared best with audiences and critics were "Ugly Betty" and "Brothers & Sisters". While award ceremonies have designated "Betty" a comedy and "Brothers" a drama, each delivers a mix of the medium's two most common genres while looking quite similar in design to ABC/Touchstone's other young hour-long successes. What distinguishes "Brothers" from the pack is that it focuses on a family. Not the funny dad, patient mom, and mischievous three kids of many family sitcoms, but rather a large, affluent family, in which the kids number five and range in age from their mid-twenties to late-thirties.

The makeup of the California-based Walkers leads one to envision a meeting -- between people with either the word "executive" or "producer" in their titles -- making sure that no valuable demographic would go unmet. And so we're treated to Kitty the single conservative pundit (Calista Flockhart), Rebecca the mother/wife/businesswoman (Rachel Griffiths), Kevin the principled gay lawyer (Matthew Rhys), Justin the young, pill-popping Afghanistan veteran (Dave Annable), and Tommy the sterile businessman (Balthazar Getty) whose limited screentime suggests he's only there to remove any question that this is a large family.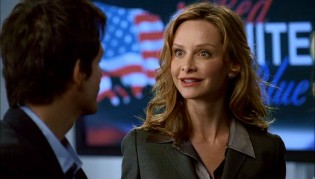 Rounding out the clan are three members from an older generation: the opinionated liberal mom Nora (Sally Field), her brother Saul (Ron Rifkin) the shady uncle, and paterfamilias William Walker (Tom Skerritt) who dies in the very first episode, leaving behind a trail of flaws which produces enough secrets and problems to fuel a fair amount of this season. Among the closet skeletons which surface in this freshman year are scorned mistress Holly Harper (Patricia Wettig), illegitimate college-age daughter Rebecca (Emily VanCamp), and far-reaching embezzlement that threatens the very foundation of Ojai Foods, the Walkers' family business.
Upon watching "Brothers & Sisters", you may be surprised to learn that the folks in the most powerful creative positions are not the same people who have given us a show like "Desperate Housewives." Creator Jon Robin Baitz is primarily a playwright, whose handful of hour-long episode scripts seem to qualify him for his duties here. Baitz's two fellow executive producers are more seasoned in television; Ken Olin was a regular cast member on "thirtysomething" (a phrase that regularly applies here) and a producer of ABC's "Alias" (which ended the spring before this began) while Greg Berlanti was the showrunner for the four-season drama "Everwood", among other WB properties. Though these and other key crew members have backgrounds largely outside of Touchstone's award-winning "Lost"/"Grey's"/"Desperate" family, they've read up on the rules and have followed suit.
"Brothers" provides a lot of talking, the making and breaking of secrets that have a unique effect on each character in the large cast, wry humor, stylish editing and multiple plot juggling. That the show succeeds at holding any viewer's attentions seems a given; its success is both clear and effortless-looking. But while audience members may be watching, whether they're enjoying what they see is a bit more open to interpretation.
In this reviewer's opinion, "Brothers & Sisters" is a pretty mixed bag. As someone who's easily fascinated by television's depiction of life, I'm intrigued by the series' take on the 21st century American family. What it shows of the Walkers and how it shows it are both interesting. In addition to the commonplace theme of explored romances (at least a quarter of which are quite frankly gay), there is the family business which invokes Enron-type creative accounting in a suspenseful way. There's also the career of Kitty, who seems to be the series' primary focus, especially early on. A hardcore conservative in a politically diverse family, Kitty's beliefs are cause for clash in her strained relationship with her mother. Kitty's prominent position on the CNN-type show "Red, White & Blue" appears significant and it initially seems that differing points of view will be an important theme for the entire series. Gladly, the series' treatment of politics is pretty even-handed and doesn't cast a sour tone on the proceedings. While September 11th and the war in Iraq (to which Justin is called back) are regularly mined for dramatic purposes, the series isn't overly into preaching or even finding harmony to contradictory opinions.
Whether it's dealing with the United States' military affairs or plain old extramarital affairs, "Brothers" keeps its greatest interest in the human element. At times, this can render the series a primetime soap opera, especially because the Walkers experience more drama in a single week than similarly-sized families do in an entire year. Kitty goes through three serious love interests (two of which deal out proposals) and her sudden job change midway into the season eliminates realism from the equation. What respected journalist would bribe a U.S. Senator, unexpectedly admit it on-air, then accept a job from said senator, and fall into romance with him? Only Kitty Walker, but this is forgiven because A) people don't watch TV, especially ABC's new breed, expecting absolute realism and B) it's clear that the producers of "Brothers & Sisters" were making decisions based on ratings. As California's Senator Robert McCallister, "West Wing" veteran Rob Lowe proves especially comfortable with fast-paced banter and offbeat wit; his recurring role clearly grows from its midseason debut to its end-of-the-season prominence.
While it's entirely captivating as a drama, "Brothers" fares considerably worse as a comedy. Asked to deliver a lot of the humor is Sally Field, who has been a television star longer than most of her co-stars have been alive. She's obviously a very talented woman and her Emmy victory for this series last week illustrates how highly thought of she's in the role of the widowed Walker. Still, the writing she's relying on doesn't secure the laughs it expects to. The humor of a bickering family that can't keep a secret is too obvious and not clever enough. As with anything on this over-scored series, comedy sequences are cued by silly pieces of sporadic score, as if viewers aren't bright enough to figure out the intended tone of a scene.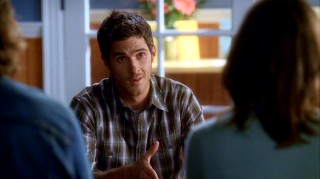 In weighing the good with the bad, "Brothers & Sisters" leans more to the former than the latter. It's emotionally manipulative, melodramatic, a little over-reliant on pop songs to provide proper punctuation and marked by the kind of manufactured suspense that's designed to keep you tuning in. But such shortcomings are fairly easy to overlook based on how well the cast performs and how the engaging storylines force you to care about characters you may not necessarily even like.
For the third year in a row, Buena Vista Home Entertainment's fall DVD schedule is filled with complete, chronological box sets of the previous TV season's hour-long series, designed to narrowly precede the new season's premiere. In expectation of the Season 2 debut scheduled for September 30th, BVHE's six-disc The Complete First Season of "Brothers & Sisters" arrived in stores last week, happily spared of any hokey edition name like the ones given to its brethren. Only those who have avoided even walking past a DVD aisle this decade will be surprised by what's offered here: all 23 episodes presented in high quality and by original air date, with a few choice bonus features thrown in.
In the hopes that this review can also serve as an episode guide reference, I've written succinct synopses as free of spoilers as possible. These follow, with a few standout episodes designated by a star (

). Like most of its kin, the value of individual episodes tends to pale in comparison to the series as a whole, though "Brothers" at least supplies episodes that are fairly easy to distinguish in one's mind and somewhat self-contained.
Disc 1

1. Patriarchy (41:36) (Originally aired September 24, 2006)
Upon returning to California for her new political TV show, Kitty finds distance between her and Nora.

Meanwhile, questions arise over some of the family's business practices, with suspicions pointing at Uncle Saul. And of course, the head of the Walkers dies in a dramatic poolside conclusion.

2. An Act of Will (42:54) (Originally aired October 1, 2006)
The Walkers attend William's funeral and hear his will, which leaves some miffed. Sarah and Tommy contact Kevin while deciding how to proceed with the company in its post-embezzlement financial state. Also, Justin goes missing after meeting Holly, Sarah has trouble finding a grass skirt for her daughter's school presentation, and Kevin meets Scotty (Luke McFarlane), an openly gay man who's to be a key witness in a case.
3. Affairs of State (43:31) (Originally aired October 8, 2006)
Kitty's rough TV debut is followed by an impromptu fling with her co-commentator Warren (Josh Hopkins). After meeting the other woman in her late husband's life and looking at her house, Nora reveals herself to be less naive than believed, at an already trying family party no less.
4. Family Portrait (43:08) (Originally aired October 15, 2006)
Nora prominently hangs a framed photograph of the family, from which Kitty is conspicuously absent. Tommy gets Justin a job as a bellboy, Nora makes Kevin tag along with her everywhere, and babysitting leads Kitty to suspect (correctly) that something is wrong with Sarah's daughter Paige (Kerris Lilla Dorsey).
Disc 2
5. Date Night (43:04) (Originally aired October 22, 2006)
This episode makes good on its title's promise, as Nora accompanies family contractor David (Treat Williams) at a restaurant opening (where Saul and Holly are spotted together), Kevin dines with Scotty, Kitty and Jonathan double-date with Warren and young new intern Amber (Keri Lynn Pratt).
6. For the Children (43:07) (Originally aired October 29, 2006)
With great reluctance, the Walker children all attend their mother's favorite annual charity event. There, Nora is accused of husband-stealing, Kevin upsets Scotty by offering to pay him so he doesn't have to work the event, and Kitty is miffed by Warren bringing Amber. Meanwhile, Tommy learns that he's sterile and Nora finds out about the company's money troubles.

7. Northern Exposure (43:09) (Originally aired November 5, 2006)
Despite the fond memories they have, the family must sell their ranch house, which encourages each Walker to sneak up there (with a significant other) for one last weekend. Though it's not what they anticipated, fun, misadventures, and relationship problems are in store for all, as is Tommy's request for a surrogate father.

8. Mistakes Were Made, Part 1 (43:06) (Originally aired November 12, 2006)
As Justin is summoned to Iraq, he contemplates getting out of it, while flashbacks depict what led him to enlist in the wake of September 11th. Sarah asks Holly about her daughter, who may be the key to unlocking the money in their father's account; at home, she notices stepson Gabriel (Tyler Posey) feeling left out. Meanwhile, there are developments in the series' four unwed romances.
Disc 3

9. Mistakes Were Made, Part 2 (43:06) (Originally aired November 19, 2006)
Sarah, Tommy, and Kevin take a road trip to Nevada to see the piece of land their father inexplicably bought. Back in California, Justin returns home from rehab, Kitty's interview with Senator Robert McCallister (Rob Lowe, in his first of fourteen episodes this season) puts her in a moral pickle, and Nora reconsiders her blossoming relationship with David, and the flashbacks continue.

10. Light the Lights (42:10) (Originally aired December 10, 2006)
Paige's request to learn more about Chanukah prompts Nora to celebrate the Jewish holiday with vigor.

Kevin pursues legal action to delay Justin's scheduled arrival in Iraq. With her services still in demand for TV, Kitty contemplates her future.

11. Family Day (43:03) (Originally aired January 7, 2007)
After taking turns to saddle Justin with news of their issues, the Walkers collectively show up at his lush rehab center for Family Day. Nora tries working at Ojai side-by-side with Holly; Sarah catches Gabriel swiping vodka; Kitty and McCallister bond over rifles.

12. Sexual Politics (42:59) (Originally aired January 14, 2007)
Kitty begins working for Senator McCallister and their relationship soon expands beyond work. At the gym, Kevin meets Chad Barry (Jason Lewis), a soap opera star who doesn't seem as straight as he claims to be. Sarah is upset at catching Joe teaching guitar to Paige's friend's single mother.

Buy Brothers and Sisters: Season One from Amazon.com

Page 1: Show Discussion, Discs 1-3
Page 2: Discs 4-6, Video/Audio, Bonus Features, Menus & Packaging, and Closing Thoughts