By Kelvin Cedeno

It's been said that truth is stranger than fiction. That's debatable considering how many fictional pieces have a basis in reality. Studios tend to keep a watchful eye out for extraordinary accounts that could make for compelling dramas. Sometimes it's done because they truly feel a story is worth being told, and other times it's in hopes of raking in Oscars. After all, the Academy has an affinity for films based on real events, perhaps because of the greater level of responsibility involved when depicting history and someone's life.

A potential candidate for such acclaim, though released too early for memory-challenged voters to recognize, is The Soloist. Or rather, too late, for the film was originally positioned to be a player at last year's Oscars, but wound up getting bumped from its Christmas opening for business reasons.

Based on the memoirs of Steve Lopez, The Soloist follows him (as played by Robert Downey Jr.) as he searches for a story for his Los Angeles Times column. He comes across a peculiar homeless man (Jamie Foxx) playing a cello in the park and is astounded to learn the man once attended Julliard. It is here he finds his story, determined to know how someone from such a prestigious school can wind up in such a lowly state. Pursuing this story ends up becoming more difficult for Lopez as the cellist, Nathaniel Ayers, clearly suffers from a mental disability that prohibits him from cooperating fully. Lopez takes things step by step, from getting Nathaniel his own apartment to setting up public venue opportunities. Throughout this, the two men slowly connect.
The Soloist is the type of feature where the performances are the main draw. Robert Downey Jr., as usual, turns in seemingly effortless work. With no disrespect intended to the real Steve Lopez, the character as written could very easily become unlikable if given to a lesser actor. Downey infuses enough charm and depth to make the character both appealing and dimensional.
It's harder to pinpoint Jamie Foxx's portrayal of Nathaniel. Mentally challenged characters often interest actors as they give perhaps the most extreme chance to flex one's acting muscles, and catch the eye of Academy voters as well. One can't help but sense the latter motivation here, especially after seeing how relatively nonchalant the real Nathaniel Ayers is in the supplements. Intentions aside, it's still a fine performance.
Foxx, for the most part, avoids the pitfalls of reducing Ayers to a caricature or even making him too sympathetic. He doesn't shy away from the more awkward moments, and his nuances make the performance believable.

The film also excels at the level of realism it brings. It doesn't feel like a glossy or romanticized account of the events. The world as depicted is gritty and uncomfortable, and the problems and questions the characters have aren't always answered, at least not in the tidy way expected. This, however, also works against the film's favor in some way. Without a traditional narrative structure, there's no real hook that makes the audience feel like the story is going anywhere. Obviously there's only so much that can be done with something based on true events, but director Joe Wright (Atonement) admits to taking artistic license with certain plot points. Without a concrete crutch to latch onto, the film loses steam halfway through.

The performances are still strong enough to carry the movie through till the end. Those, joined with a somewhat quirky tone, help keep the film grounded rather than being overwrought. It may not lend itself well to repeat viewings, but it does enough right to be engrossing. Whether or not it garners any Oscar nominations should be irrelevant since in the end, it tells a story more honest and important than any accolades showered upon it.
DVD Details
2.35:1 Anamorphic Widescreen
Dolby Digital 5.1 (English, French, Spanish),
Subtitles: English for Hearing Impaired, Spanish
Closed Captioned; Extras Subtitled
Release Date: August 4, 2009
Single-sided, dual-layered disc (DVD-9)
Suggested Retail Price: $29.98
Black Keepcase with Side Snaps
Also available on Blu-ray Disc
VIDEO and AUDIO
The Soloist comes to DVD in an anamorphic 2.35:1 aspect ratio. For the most part, the transfer pleases. Colors appear natural, and the image is free of print flaws. Some softness appears on occasion, but not enough to distract. The same goes for the mild edge enhancement. Overall, viewers should be satisfied by the solid, if not excellent, image.
The Dolby Digital 5.1 surround soundtrack also works well. The most obvious component is the music itself. Whether it is in grand concert halls or Nathaniel's solo pieces, the music comes across rich and robust. Sound effects utilize the surrounds lightly, though the voices Nathaniel hears in his head offer a surprisingly enveloping experience. Dialogue is clean and even offers some directionality at times. In all, it's a more active track than expected from a character-based drama.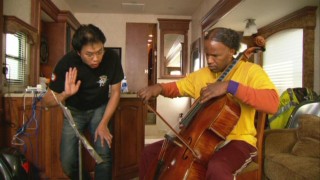 BONUS FEATURES, MENUS and PACKAGING
The Soloist comes with a few supplements, beginning with an audio commentary by Director Joe Wright. He discusses a mix of topics, though he mostly focuses on what's been improvised and what symbolism there is in the film. These are good notes, but they're hampered by dead space throughout the track, and it would've been nice to learn more about the real story the film is based on.
"An Unlikely Friendship: Making The Soloist" (19:37) is the disc's general behind-the-scenes featurette. Here, the genesis of the project is revealed from both the filmmakers and the actual Steve Lopez. More sound bites about the production process are included from cast and crew, interspersed with on-set footage. While there's quite a bit of praise on board, some interesting comments do turn up that make this more valuable than the usual EPK fluff.
"Kindness, Courtesy and Respect: Mr. Ayers + Mr. Lopez" (4:48) centers on the real-life duo whose friendship inspired the picture. It's painfully short, allowing only enough time for Ayers and Lopez to express how fond they are of each other. Still, it's fascinating to watch, especially with an impromptu performance by Ayers.
Next comes "One Size Does Not Fit All: Addressing Homelessness in Los Angeles" (9:45), which is essentially a public service announcement. Steve Lopez, crew members,

and representatives of LAMP all reflect on both how this subject is utilized in the film and what citizens can do about it. One can't really refute the inclusion of such a supplement since not only does it relate to the main feature, but it's for an undeniably good cause.

"Beth's Story" (2:02) follows in the same vein. The story of how a particular girl became homeless is told via a child's narration and animation. Its presentation and brevity actually makes it more effective and chilling than the previous one.

Finally, there are five deleted scenes (9:47). One can only assume they were cut for time as there's nothing here that seems noticeably poor. Only one stands out in particular as going on for too long, but the others probably wouldn't have harmed the final cut.

The disc opens with trailers for Defiance, Shutter Island, The Curious Case of Benjamin Button, and Revolutionary Road. A special message from Steve Lopez is also included, along with an anti-smoking ad. All of these can be accessed in the bonus material.

The menus for The Soloist are rather lazy, to put it bluntly. The main menu replicates the cover art while one of Nathaniel's cello pieces plays. All other menus feature character headshots in a similar style, only without musical accompaniment. A treble clef is used as a cursor on each menu.

Unsurprisingly from Paramount, the disc is gray and artless. It comes in a standard Amaray case with sidesnaps, and no insert of any kind is included inside.
CLOSING THOUGHTS
The Soloist is not the exaggeratedly dramatic film others of its kin have shamelessly become. It's a smaller, more personal affair that's highlighted by two exceptional performances. The actual narrative meanders a bit, but not enough to take away from the presentation and tone. The DVD presents the feature with satisfying video and audio and a passable roster of supplements. The Soloist is not a film for everyone, but those who enjoy character dramas (or are fans or either of the two leads) are recommended to rent this.
More on the DVD / Buy The Soloist from Amazon.com: DVD / Blu-ray / The Book by Steve Lopez