Mickey's Twice Upon a Christmas is an aptly-named follow-up to Mickey's Once Upon a Christmas, a direct-to-video feature released in November of 1999. Like the first one, this one offers about an hour of Christmas-themed shorts featuring Disney's longest-lasting and most widely-used characters. Last time there were three shorts each running about 20 minutes. This time, there are five and each runs shorter.
The other major difference is that Twice Upon a Christmas marks the debut of these characters in 3-D computer animation. Two different computer animation production companies worked on animation for this DisneyToon Studios feature. This medium change is the most distinguishing quality to the film, and a reflection on it follows the sequence-by-sequence overview of the film.
In the film's opening sequence "Belles on Ice", Minnie Mouse and Daisy Duck can't keep their figure skating egos in check as they duel on the ice to win the audience's favor. This short reaches its obvious resolution quickly (it runs about 7 minutes), but in the process makes use of "Carol of the Bells" with a number of different takes.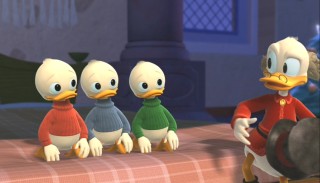 "Christmas: Impossible" (18 minutes) stars Scrooge McDuck and his nephew triplets Huey, Dewey, and Louie. Acting as their usual mischeivous selves (which riles up their uncle Donald, as usual), the boys get scared that they haven't been good enough to get the Christmas presents they want. They mail themselves to the North Pole to make sure they're on Santa's good list and encounter a number of obstacles before they begin to see the error of their selfish ways.
"Christmas Maximus" relies heavily on pop-style singing to vocalize Max's growing concerns about how his father Goofy's normally clumsy behavior may ruin things when Max brings home his girlfriend Mona on their break from college. It's very short (6 minutes), takes a tone quite different from most Goofy/Max cartoons, and will probably fall under either "hokey" or "cute" for you. Pete is noticeably absent from this one, which will disappoint his loyal following.
In "Donald's Gift" (8 minutes), the irascible duck is getting frustrated by the holiday season. The song "We Wish You a Merry Christmas" has been plaguing Donald, and a reluctant trip to the mall has him hearing the song everywhere, captured in an effective dialogue-less sequence. While in general I think the Donald Duck formula may be pretty thin, this one works fairly well and may be the best portion of the film.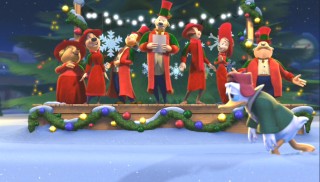 The closing segment, "Mickey's Dog-Gone Christmas" (18 minutes), has Mickey Mouse overdoing his living room with lights and decorations. When Pluto wrecks things, Mickey gets mad and sends him to his doghouse. Wrapped up in the superficial display rescue

operations, Mickey doesn't even notice that his upset dog has run away. While Pluto finds himself at the North Pole among Santa's reindeer, Mickey finally notices his dog is missing and sets off on a journey to find his pal. Beyond the predictable reunion, all of the characters get together for a jolly conclusion.

Like last time, rhyming introductions and little follow-up lessons provide transition between the structurally unrelated segments. Once Upon a Christmas's narrator Kelsey Grammer has been replaced by someone more British sounding. New this time are pop-up book animations of characters and locations which set up each story and reinforce the sometimes muddled moral of the short.

The new look takes some getting used to. These famous Disney characters have existed in 2-D form for a very long time (some for more than 75 years) and it's unsettling to see them in 3-D computer animation. Still, there is an odd visual appeal to the CGI animation. It certainly lacks the refine of Pixar or DreamWorks' computer-animated productions, and sometimes it assumes an appearance closer to a well-designed computer game. The medium serves to bring some impressive settings, far more vast and realistic than these characters have been placed in before. (Even if realism kind of undercuts everything these animals are about.)

Seeing these Disney personalities in 3-D is a unique and somewhat jarring, even emotional experience. While it was easy to take my personal appreciation for the characters, the medium and all things Christmas, and enjoy the film, I think if there's a Mickey's Thrice Upon a Christmas, I'd prefer a return to 2-D.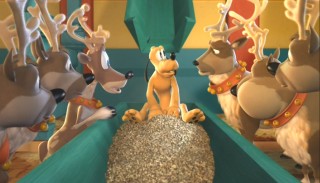 VIDEO and AUDIO
Mickey's Twice Upon a Christmas is presented in 1.78:1 anamorphic widescreen. Outside of a tiny bit of motion blur (which is due to the animation more than the digital transfer), there's a pristine (almost sterile) perfection to the video quality. Colors are bright and rich, and any fault you find with the visuals is on account of the animation, not this excellent transfer.
Offered in both Dolby Digital and DTS 5.1 surround tracks, there's a pleasing audio experience here. The environmental sound effects are appropriately distributed through the various speakers and help immerse you in the settings if you find the visions cold and uninviting. The likable instrumentals depart a bit from the classical holiday tunes they resemble (such Nutcracker Suite excerpts), but are nicely conveyed. The DTS track sounds a bit fuller, but both tracks are solid.
BONUS FEATURES
For a major Disney DVD release, Mickey's Twice Upon a Christmas is very light on bonus features, even more so than the most recent direct to video feature Mickey, Donald, Goofy: The Three Musketeers released this past August
The first section of the scant offerings is Deleted Scenes, which has been given the title "All Things Deleted." This really means that there aren't really deleted scenes so much as concepts and snippets. Like the "scoop" featurette on The Three Musketeers, this alternates between a tongue-in-cheek tone and an earnest look at abandoned ideas.
It feels a bit like they're scraping to find material; there doesn't seem to be much content that was worked on and deleted. A trio of filmmakers appear (creative exec Jeff Howard, producer Pam Marsden, and director Matt O'Callaghan) to discuss stories that were considered for the film. The most significant "deleted scene" is 18 fully rendered seconds of Mickey hanging up "Lost Dog" signs of Pluto, which would have showed up in the last short. Outside of a few brief clips from story reels for abandoned concepts, the rest of this contains the three filmmakers discussing and contextualizing the few snippets that were discarded or modified. With the "Play All" option, this section runs 12 minutes.
Next we come upon Games & Activities. First is "Santa's Workshop", an elaborately-designed but very simple quiz on what makes good behavior. Aiming squarely for children, ten questions provide two choices (often "true" and "false") in response to hypothetical situations narrated by an overexcited Santa. While a surprise is promised for getting all the questions right, it's definitely not worth the effort if you're not completely enamored with the questions from the start.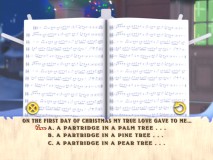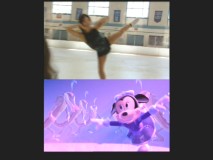 "What is Donald Singing?" plays audio clips of Donald singing parts of familiar Christmas tunes in his familiar and often indecipherable quack. After each clip, you're prompted to guess the correct lyric from three choices, making this activity test not your ability to understand Donald, but your knowledge of Christmas song lyrics. There's only a handful of songs and lyrics tested, and it's not as fun as it might sound.
"Santa's Sort" is quite stupid. You have to guess which of the three slides the next parcel in Santa's mailroom will come down. If you guess right, you win. If you don't, you lose. Worst. Game. Ever.
In the DVD-ROM section of the disc, we find "Create Your Own Holiday Cards" and a "Great List" certificate (this was the surprise from that Santa's Workshop game). The former lets you choose from a few different selections of artwork to make a simple greeting card. The latter requires a password which wasn't given at the end of the quiz, so unless you're good at guessing, this feature is useless.
Backstage Disney just hosts one feature, "Inspiration on Ice." Here, Olympic ice skater Michelle Kwan provides live action reference for Minnie and Daisy in the "Belles on Ice" sequence. Split-screen footage shows how Kwan influenced the moves seen in the film, and we hear from both the skater and animator Ray Shenusay on the process. This lone featurette runs a brisk 3 minutes and 11 seconds.
This disc opens with previews for Bambi "Special Edition", Pooh's Heffalump Movie, and Mulan II. From the Sneak Peeks menu, you'll also find trailers for Mary Poppins: 40th Anniversary Edition, Eloise at Christmastime, and the Aladdin Trilogy (which focuses on January's "special edition" releases of the two '90s direct-to-video sequels.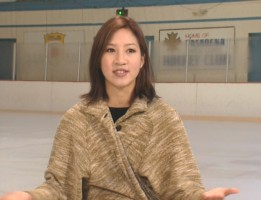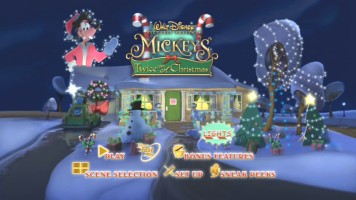 MENUS and PACKAGING
The 16x9 menus offer pleasing instrumentals and simple but nice-looking artwork that matches the look of the film. On the Main Menu, choosing the "Lights" button alternates between two different patterns of the Christmas lights adorning Goofy's house or turns them off. (Unfortunately, I guess this is what is referred to by the "Decorate your DVD Menu" on the package; no such listing appears in the Games & Activities menu.) Transitions are achieved by passing cars.
In addition to the graphical EasyFind menus system, the DVD features Disney's FastPlay viewing mode. In short, this will play through the trailers, the feature, and some extras without you pressing buttons...just like VHS. This is third DVD to include this play mode; Disney seems to be reserving this for direct-to-video titles with more child-based appeal, whether or not that's justified for The Three Musketeers and this.
Mickey's Twice Upon a Christmas comes in a white keepcase, which is packaged within an embossed, partially-holographic slipcover that does not open like a book. It merely slips and covers...and provides full color reproduction of the case artwork. The two-sided insert presents chapter listings, an overview of bonus features.
A coupon booklet provides a number of ads, a "Buy 3 Get 1 Free" mail-in certificate, and coupons for Mickey & Friends plushes, Eloise at Christmastime, A Wrinkle in Time, The Three Musketeers, That's So Raven: Supernaturally Stylish, Kim Possible: The Villain Files, and $2 off any Walt Disney Records CD.
CLOSING THOUGHTS
Mickey's Twice Upon a Christmas is not a particularly inspired production, but it will entertain those who love these time-tested Disney cartoon characters and those who gobble up all the holiday viewing material they can. The film's unspectacular but decent writing ultimately doesn't seem as significant as the medium change, which puts Mickey and company in three-dimensional computer animation for the first time with odd results. Video and audio quality are terrific, but the lightweight bonus features leave quite a bit to be desired.
In the end, Mickey's Twice Upon a Christmas will meet your expectations, and probably not surpass them. They may look different, but these characters have not changed much over the years, and these holiday-themed shorts provide reasonable entertainment.