The Classic Cartoon Favorites line was launched this past January as an offering of Walt Disney's vintage animated shorts on DVD. Disney collectors already know that most of the cartoons on these discs were previously released as part of the Walt Disney Treasures series. As an inexpensive alternative to those comprehensive and collectible Treasures tins, the Classic Cartoon Favorites DVDs are content to deliver an hour of old shorts sans bonus features but with mostly the same video/audio quality provided by the satisfactorily-remastered Treasures.
The first wave of Classic Cartoon Favorites gave us four compilations sorted by character, an approach similar to short collections released to DVD overseas. With this second wave, though, shorts are thematically arranged. Volume 5 - Extreme Sports Fun provides eight cartoons from the late '30s and '40s that all center on different sports.
More than half of the selections (five) feature Goofy demonstrating and satirizing popular athletics of the era, most of which remain widely played and viewed more than half a century later. The additional three cartoons showcase Mickey, Pluto, Donald, and his three mischievous nephews. These depart from the Goofy "How to" formula, but adhere to different conventions of the characters' canons. The one exception is Mickey's Polo Team, the oldest and most unique short of the bunch, which features Mickey, Donald, and other early Disney personalities competing against recognizable actors who also occupied '30s theater screens.
Here is a look at the eight shorts included:
"Canine Caddy" (1941) (7:28)
This short lives up to its title, depicting Pluto as Mickey's caddy during a day of golf. The comedy flows from Pluto's adaptation to the game and unconventional aid, culminating with the dog tearing up the course in pursuit of a troublesome gopher.
"How to Play Baseball" (1942) (8:00)
Goofy's popular "how to" format gets applied to "America's favorite pastime" here. With exaggeration, visual humor, and plenty of gags, Goofy illustrates how to pitch, bat, and field by playing all the roles.
"The Hockey Champ" (1939) (7:30)
Donald Duck revels in being an ice princess until his three rambunctious nephews squabble over hockey, at which point former champion player Donald shows the boys a few moves. But the nephews are never agreeable for too long and typical hijinks ensue...on ice.
"Double Dribble" (1946) (7:19)
Basketball is lampooned in this Goofy short, highlighting a game between rival colleges U.U. and P.U. in front of a one-sided crowd. Contributing to the comedic chaos: a referee with failing eyesight, towering, dim-witted jocks, and a tiny substitute with lots of spunk.
"How to Play Football" (1944) (7:37)
The next short is very similar in its format to the previous cartoon, only this one covers football and was made two years earlier. Two colleges made up entirely of Goofys strut their stuff on the gridiron. Football rituals are parodied from the multi-faceted coach to rulebook-consulting referees. This cartoon was nominated for an Academy Award.
"Mickey's Polo Team" (1936) (8:47)
This, the oldest and most dated short on the disc, may also be the most fun-spirited. It's the Movie Stars vs. the Mickey Mousers in a game of polo, with Jack Holt as referee. There are early renditions of Disney's first cartoon stars including Mickey, Donald, the Three Little Pigs, and the Big Bad Wolf, plus caricatures of a number of '30s silver screen icons including Laurel and Hardy, Charlie Chaplin, Shirley Temple, and Clark Gable (whose oversized ears flitter for Clarabelle Cow). As much fun comes from recognizing the celebrities as it does from the "plot" which mostly consists of fast-paced back-and-forth in this gag-filled cartoon.
"Tennis Racquet" (1949) (6:59)
Two Goofys square off in a tennis match, neither too distracted by an overly obtrusive groundskeeper. Like the others, this is filled with gag, most memorably a scene in slow-motion.
"Goofy Gymnastics" (1949) (6:31)
Goofy sends away for and immediately receives his own home workout kit. Of course, getting in great shape is not as easy as the newspaper ad claimed. Goofy follows the exercise program closely, but each part results in pain but no gain, from weights and chin-ups to cable expanders.
VIDEO and AUDIO
All eight of these sports-themed shorts have already come to DVD as part of the Walt Disney Treasures line and this new DVD presentation resembles those earlier ones in video quality. Each cartoon is presented in the 1.33:1 "fullscreen" aspect ratio that essentially replicates the Academy ratio it was theatrically exhibited in. There are some imperfections, such as a persistent hair early on and some other marks throughout, but they don't mar the screen much. The picture here is practically identical to the pleasing Treasures releases, which is especially satisfying considering their age.
Colors remain strong and vibrant, lines are well-defined but never artificially sharpened. Those who might be hoping for a higher bit rate than the Treasures may be a little disappointed to know that the hour of content is spread across just a single-layered disc. That means the average bit rate, 7.65 Mb/sec, probably doesn't differ from the similarly-compressed dual-layered, dual disc Treasures sets that offer greater running times.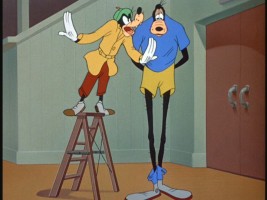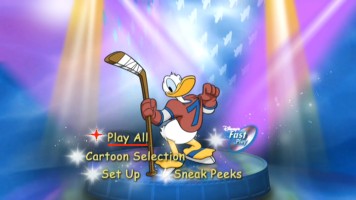 A couple of minor notes: the oldest short on the disc, Mickey's Polo Team, is slightly windowboxed on all four sides. This won't be noticeable on a television or monitor with a tiny bit of overscan. There's also a lack of consistency as far as the studio logo at the start of each cartoon goes; half are preceded by the standard "Buena Vista" distribution logo, but two are without a studio screen and two have a "Walt Disney Educational Media Company Presents" card. Without being able to do a comparison, I'd guess that this is precisely how the cartoons are presented on their respective Treasures DVD. But I doubt such a tiny thing would create bother or question from the disc's target audience (i.e. someone not interested in a complete collection of shorts).
The most noticeable trait of the two-channel Dolby Mono soundtrack is that it needs to be turned up really high to hear it. Once that is accomplished, the audio is comparable to the Treasures and without much incident. The monaural recordings are somewhat flat sounding, but that's not entirely unexpected for cartoons of this age. Some sound effects sound softer than they should be too, so really, be sure to crank this up high to enjoy. A French dub of all the cartoons is also offered.
BONUS FEATURES and DESIGN
Bonus features? No, that wouldn't be the Classic Cartoon Favorites' style. But like the last batch of these DVDs, Extreme Sports Fun is 'equipped' with Disney's FastPlay, a kid-friendly playback mode which requires not a button to be pressed. A screen at the disc's start asks you if you want FastPlay to do its thing or to go directly to the Main Menu. Selecting neither, and the disc wisely takes your passivity for a "FastPlay" shout.
If you select the Menu option, you won't be treated to automatically played previews of Cinderella: Platinum Edition and Tarzan II, but these two and five others are located in the Sneak Peeks menu. There, you'll also find a brief first teaser for upcoming direct-to-video Kronk's New Groove, plus promos for Lilo & Stitch 2, fall's new Winnie the Pooh Learning Adventures, Pocahontas: 10th Anniversary Edition, and the next batch of Disney Princess DVDs due in September.
The 16x9 menu screens match the first wave's design. Amidst sparkles, loud music, and an animated background that circumnavigates the color spectrum, Donald Duck in a hockey uniform adorns the Main Menu, a somewhat odd choice considering the prevalence of Goofy on the disc. (At least the Goof got the most cover space.) The menu offers a FastPlay listing, so if for some reason you made a wrong turn, you can find your laziness-embracing "do for me" course, complete with painfully unskippable FBI warnings.
CLOSING THOUGHTS
All of the shorts included on Extreme Sports Fun have been released elsewhere to DVD as part of the terrific Walt Disney Treasures line. As such, collectors would need to have a tiny budget, external recipient, or another quirky reason to get this. There are no bonus features to entice, so perhaps if you missed out on The Complete Goofy tin and are unwilling to track one down, this could appeal to you. (Yes, that might be a stretch.)
That said, the shorts hold up pretty well and are capably presented in terms of picture and sound. The sampling may appeal to sports fans who like classic Disney animation but not enough to collect 'em all via the Treasures. An hour of entertaining cartoons in the neighborhood of $10 sounds fair enough. What's most disappointing, then, is the inexplicable absence of the elusive featurette-length 1987 Goofy short "Soccermania", which is included on the Region 2 and 4 DVD versions of this title but has to date never been released on home video in the U.S. Then again, a dilemma like that isn't going to affect the target audience: casual fans and those looking to educate others on vintage Disney.
Buy Walt Disney Treasures: The Complete Goofy from Amazon.com Marketplace
Buy Extreme Sports Fun Region 2 DVD from Amazon.co.uk (includes "Soccermania")