Earlier this decade, "Teacher's Pet" was a briefly popular animated series that aired as part of ABC's "One Saturday Morning" lineup. In 2002, a big-screen project was greenlighted, but by May, the last new episode of "Teacher's Pet" had aired. After a number of delays, Teacher's Pet finally came to theaters early this year, three Daytime Emmy awards later, with the show just a fading memory in a long line of short-lived Saturday morning cartoons.
While the inexpensive, low-budget animated features that Disney has put in theaters the past few years have generally done modest to surprisingly successful business at the box office, Teacher's Pet went largely ignored. The film managed to gross just over $6 million, less than half of its budget, and a far cry from The Tigger Movie's $45 million or even the $19 million that Doug's First Movie earned.
As in the series, talking dog Spot (voiced by Nathan Lane) dreams of being a boy and even disguises himself as 4th grade boy Scott Leadready II. Spot's owner and best friend, 8-year-old Leonard Helperman, is in the same class as him and the teacher just happens to be Leonard's mother (voiced by Debra Jo Rupp of "That '70s Show.") While the show mostly focused on Spot's adventures in school, when the film opens, it's June and the last day of school, setting up a clear departure from the series' confines.
As the students are contemplating the summer vacation that awaits them, Principal Strickler arrives with the news that Mrs. Helperman is a finalist for the National Excellent American Teacher Organization (N.E.A.T.O.) Teacher of the Year award. As a finalist, Mrs. Helperman is off to Southern Florida in the principal's own personal "Wentawaygo" motor home.
But per the principal's wishes to keep his Wentawaygo dog-free, Spot isn't allowed to come on the trip. Instead, he's left behind with the Helperman's bird Pretty Boy (voice of Jerry Stiller), cat Jolly (David Ogden Stiers), and oblivious pet-sitter Mrs. Boogins (voiced by Estelle Harris). Spot's plans for a sad summer at home away from Leonard change courses when he learns of the unorthodox scientist Dr. Ivan Krank on a Jerry Springer-type television talk show.
To cheers of "wacko," Dr. Krank explains his belief that he can turn animals into real life human beings. Spot suddenly sees an opportunity to realize his lifelong dream. To make things even better, Spot will have to travel to Florida to see the mad scientist.
Spot catches up with Leonard and his mom on the road to the Sunshine State, and in a funny sequence, the aspiring dog disguises himself as student Scott and a variety of family members to convince Mrs. Helperman to take him for the trip.
Back at home, when Pretty Boy and Jolly see the mutated results of Dr. Krank's experiments, they too set off for Florida to save Spot.
Leonard and Spot find Dr. Krank at his rundown swampy shack at 666 Acko Way. The procedure to turn Spot human works, but he isn't turned into a boy as imagined. Instead, he's a man, a hairy man with lower back pain who is Spot's age in dog years.

At first, being an adult human seems like a good deal for Spot and Leonard. Spot gets his wish to be a person, and Leonard has the freedom and power of having an adult at his hands. The two come into some money, and have a great time spending it.

But, Dr. Krank wants to get his first success back to exploit to the world and establish him as a legitimate scientist.

Being an adult provides some unexpected challenges for Spot and a lot of funny circumstances for viewers. Spot has to pretend that he's one of the other Teacher of the Year finalists, who also happens to be named Scott. Things take an even stranger turn when Mrs. Helperman begins to fall for adult Spot. While it might not be a surprise where the film is eventually going, it's quite the ride getting there.

Energetic and funny, Teacher's Pet maintains its Saturday morning TV feel but works as a clever feature film. One can debate whether Disney's early year low-budget animated film belongs in theaters, but in this case, I think the answer is a definite yes. There's sharp writing, excellent pacing, and lots of genuine humor that arise from the film's situations. It's just disappointing that audiences greatly ignored this clever comedy. While it doesn't ascend to the quality of Feature Animation's output or the practically flawless Pixar pictures, Teacher's Pet consistently entertains and delivers real laughs.
The voice cast really makes the film's comedy effective. Nathan Lane brings the same kind of sarcastic humor and charming personality that made his Lion King meerkat Timon a favorite with fans. Kelsey Grammer's role feels quite a bit like the mad scientist he played in the 1995 Mickey Mouse short "Runaway Brain" and he brings the appropriate oddballness to Dr. Krank. The rest of the cast, most of them no strangers to voicing Disney characters, give depth and personality to the supporting roles.

The visual style renders the animation limited, but there's a certain warmth and appeal to Gary Baseman's artwork. As an added bonus, from the opening scene which duplicates Pinocchio's beginning practically shot-by-shot,

complete with Cliff Edwards performing "When You Wish Upon a Star," Teacher's Pet is rife with amusing references to a number of Disney animated films.

The idea of songs in a film that succeeds with irreverent humor may not sound so good, but these consistently pack the high-speed and wit that make the rest of the film work. The song "A Whole Bunch of World" about the fifty states of America is particularly inspired and sharp. An extended version of the show's theme song "I Wanna Be a Boy" also effectively becomes an opening number for the film.

I'm not really sure what Disney could have done differently to make moviegoers check out this smart, funny little film. Its trailers (unfortunately not included on the DVD) were funny and in addition to the usually-embraced Disney name, it had surprisingly strong critical reviews in its favor. Maybe the film's poor performance is just the product of poor timing, but I do hope it finds more of an audience on home video.


DVD Details

1.66:1 Anamorphic Widescreen
DTS 5.1 (English),
Dolby Digital 5.1 (English)
Subtitles: English
Closed Captioned
Release Date: June 15, 2004
Single-sided, dual-layered disc (DVD-9)
Suggested Retail Price: $29.99
White Keepcase
VIDEO and AUDIO
Teacher's Pet is presented in 1.66:1 anamorphic widescreen and it looks terrific. The unique look of Gary Baseman's artwork is wonderfully conveyed in this transfer. Colors are vivid and consistent. The picture is always sharp and never excessively or artificially. There are no flaws of any kind on the print; the video always maintains a clean, crisp look that is sure to please even those who demand the highest level of perfection.
The film is presented in 5.1 surround tracks of both the Dolby Digital and DTS varieties. There didn't seem to be much difference in the tracks, but those with the capability will probably opt for the DTS track and be satisfied. The audio presentation isn't the most theatrical; Teacher's Pet isn't filmed with dynamic sound effects. Much of the audio comes from the front speakers. Dialogue is crisp and discernible, and the recordings always match the actions perfectly in terms of timing and feel. There is some subtle enforcement from the rear speakers to create atmospheric sound, such as in the scenes where it's raining. Musical numbers also make good use of the soundfield, and they don't offer such an increase in dynamics as to ever make you have to adjust volume. While the soundtrack is more subdued than most newer animated films, it is aptly reproduced on DVD with a consistency and faithfulness that is most satisfactory.
BONUS FEATURES

While not overflowing with supplements, the DVD does offer a few nice treats.

The most exciting bonus feature is "Muttamorphosis" (22:08), the premiere episode of the TV series that came before the movie. As Leonard dreads starting fourth grade in his mother's class, Spot can't stand the thought of staying home another year. And so, he shows up at Fala D. Roosevelt Elementary School on the first day of school, and joins Mrs. Helperman's class disguised as Scott Leadready II. There, he revels in long division, wows his classmates, and signs up to run for Class President.

This very funny episode sets up the premise for the series and entertains with its keen sense of humor and fine use of classical music.

There are two short Deleted Scenes, in which a series of storyboards are edited together, with recorded dialogue and sound effects. "Pretty Boy & Mr. Jolly on the Road" (1:51) gives us a bit more of the adventures of bird and cat on their way to Florida. "N.E.A.T.O. Awards" (0:50) resolves one other complication near the end of the film involving Pretty Boy and Jolly.

"The Art of Gary Baseman" is a short featurette (6:15) in which a number of the filmmaker discuss the visual style and tone of the Teacher's Pet creator. We hear very briefly from cast members Nathan Lane, Shaun Fleming, Jerry Stiller, David Ogden Stiers, Megan Mullally, and Wallace Shawn, in addition to Christy Carlson Romano, director Timothy Björkland, writers Bill and Cheri Steinkellner. Baseman himself talks about his inspirations (his Cocker Spaniel and "Superman"), the development of some of the film's characters and the ideas he wishes to convey. Briefly mentioned are the references to other Disney animated films. Clips from the film oddly appear to be stretched to windowboxed fullscreen from the widescreen DVD presentation. It's an interesting and slick piece, and we get to see some of Baseman's other artwork, but it's far too short.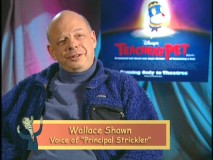 There is a 3-minute music video for "Teacher's Pet" performed by Christy Carlson Romano. In this, Romano, of the Disney Channel's "Even Stevens" and "Kim Possible" shows that she can play bubble gum pop star just as convincingly as overacheiver big sister. Hopefully, it is an act and not a new crossed-over image. Written for the 1958 Clark Gable/Doris Day film of the same name, the song doesn't really fit this Teacher's Pet at all, but lyrics like "take home a/diploma" are still catchy enough.
Last and least is "Disney's Song Selection" which provides a list of the twelve songs from the film. Clicking on a song title takes you to the musical number with colorful subtitles for you to sing along with. A "Play All" option plays all the scenes with songs.
The disc opens with previews for Aladdin (debuting on DVD this fall), The Incredibles (teaser), The Three Musketeers, and The Lion King II: Simba's Pride Special Edition. Though it doesn't tell you this, as usual, pressing the Menu button will skip all previews and take you to the main menu. From the Sneak Peeks menu, you can also see previews for Mulan Special Edition and the Disney Channel series "Dave the Barbarian."
CLOSING THOUGHTS
A quick-witted and boisterous comedy, it's disappointing that audiences mostly passed on Teacher's Pet in theaters. This amusing animated adventure is well worth checking out, whether or not you've seen the TV series that preceded it. The DVD presents the film with first-rate video and audio and though it's somewhat light on bonus features, the premiere episode is a nice inclusion.