Page 1: Show and Season 4 Discussion, Disc 1, and Disc 2
Page 2: Disc 3, Video/Audio, Bonus Features, Menus & Packaging, and Closing Thoughts

After finishing its third season as the most-watched half-hour program on television with an average viewership of over nineteen million people, "Home Improvement" returned to ABC in the fall of 1994 and began expanding its hold on American and international audiences. The show would move from Wednesday night back to Tuesday night, keeping the 9:00 Eastern/Pacific timeslot and again being asked to support one of the network's first-year sitcoms as its lead-in.

(Despite sturdy ratings, this year's offering, the Steve Harvey-headlined "Me and the Boys", would survive only to the end of February, which was still longer than the previous year's lead-in made it.) Its follow-up, Carsey-Werner's Brett Butler sitcom "Grace Under Fire", moved to Tuesdays to stay behind it and enjoyed a slight ratings increase to hold strong in its sophomore season.

"Improvement" itself endured a mild drop in viewership in its fourth season, requiring the Tim Allen comedy to give up its Nielsen crown to "Seinfeld", a show which had relocated to Thursdays rather than continue to face off with, and fall short of, "Improvement." This move had significant effects on the primetime landscape at large, with "Seinfeld"'s new night dealing NBC a winning lineup supported by the arrival of much-discussed first-year phenomenons "Friends" and "ER."

If you've been reading this review carefully thus far, you may now be befuddled. The opening paragraph claimed that "Home Improvement" expanded its hold, while the second pointed out that the show endured a minor dip in ratings and its formerly chief competition pulled ahead. Now before you deliver one of Tim Taylor's signature grunts of confusion, let me explain. Both are true: "Improvement" lost a little over 600,000 average viewers in its fourth season (that amounted to merely 3% of its audience, which remained larger than Seasons 1 or 2) and NBC was indeed pulling in its best numbers since the beginning of the decade, when the Thursday trifecta of "The Cosby Show", "A Different World", and "Cheers" was at its strongest. But, you see, "Home Improvement" was making new waves beyond the living room box it had already conquered.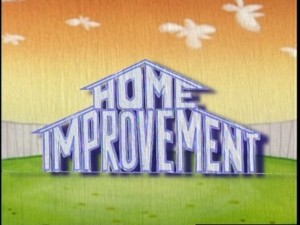 Specifically, the 1994-95 season proved especially successful for two of the show's cast members, who stretched their muscles in other parts of the Disney studio and emerged with bona fide celeb power. The previous summer had given Disney its top-grossing film in company history with the release of the animated mega-hit The Lion King. Voicing the lead character for the first half of the film was none other than Jonathan Taylor Thomas, known to TV viewers as the Taylor family's middle son Randy. Thomas, who was enjoying major teen icon status with the letters "JTT" (as the teen magazines always referred to him), spent the summer hiatus filming the live action comedy Man of the House, which would open #1 at the box office in early March.
Meanwhile, a #1 seemed to greet "Home Improvement"'s star Tim Allen at every turn. In September, Allen's debut book, Don't Stand Too Close to a Naked Man, was published through Disney's Hyperion Books and quickly became a best-seller, topping the New York Times' chart. In November, his first major film, The Santa Clause, was released (by -- you guessed it -- Disney) and became one of the year's highest grossers and the biggest blockbuster of the season. 1994 was good to Allen, whose stand-up act was a major source of inspiration for "Improvement", giving him a hot streak (#1 book, movie, and TV show all in the same year) that is unlikely to be replicated anytime soon.
As for the show itself, it underwent some of its biggest changes yet that ardent fans could observe. But, on the surface, it was still the same sitcom about '90s family life, with its attentions divided between the home and workplace of its sarcastic, accident-prone protagonist Tim Taylor (perfectly portrayed by Allen). From exploration of the always-amusing differences between the sexes to reliable characters including the wise but weird neighbor Wilson (the late Earl Hindman), Tim's flannel-clad, by-the-book sidekick Al (Richard Karn, currently the host of "Family Feud"), and the level-headed super-ego to Tim's id, his long-time wife Jill (Patricia Richardson), "Home Improvement"'s formulas continued to find favor with viewers of various ages. As such, it would end the season among the three most-viewed series on the tube.
Curiously, the distinguished status of JTT did not elevate the actor to much in the way of major plotlines this season. The same could be said for his young co-stars Taran Noah Smith and Zachery Ty Bryan. With his cute stage behind him, Smith, who was bumped two credits down to fall beneath his on-screen brothers, began to stand out this season as a weak link among the cast. Bryan and Thomas handled increased screentime more confidently. But, as was the case in the first three years and perhaps even more so, the Taylor boys remained relegated to "B" storylines and passing jokes this season, especially through the first half. While the boys become slightly more integral after this, one can still best chart their contributions by noticing the advancing length of their "stylish" hair. The show continued to belong to Tim and, on occasion, Jill.

Noteworthy for Season 4 are the handful of recurring characters who are introduced to be a part of the Taylors' universe. Curiously, all of the personas fitting this definition hold five-letter names that end with the "e" sound. There are a few holdovers from Season 3: Debbe Dunning returns as Heidi the "Tool Time" Girl who would appear in most episodes but only in brief stretches; Mariangela Pino is back as Jill's friend Marie

(the only half of the Mortons, a neighbor couple who moved in last year, ever seen again); Sherry Hursey reappeared as Al's orthodontist girlfriend Ilene (whose last name inexplicably changes from Markham to Martin, according to this season's credits); and Jim Labriola, who had made two brief appearances in Season 3, had his latter character Benny Baronny, become a recurring loafer.

New to "Home Improvement" and figuring semi-largely were Tim's younger brother Marty (William O'Leary), his attractive wife Nancy (Jensen Daggett), and, to a lesser degree, their infant twin daughters. Perhaps the most significant recurring character launched in the fourth season is Harry (Blake Clark, of "Boy Meets World" and Adam Sandler film fame), the owner of Harry's Hardware (Tim's shop of choice), a locale unveiled this year which enabled Tim to hang out around guys and sew his macho oats beyond his local cable show. At the other end of the spectrum are the least memorable repeat guests: car guy Eddie (Tom LaGrua) and another guy named Larry (Murray Rubenstein), who both fulfill the unspoken naming convention. While many of the minor personalities that the show invented never stayed on for longer than a season, this year's additions seemed to take and their roles serve the show's needs in a modestly refreshing manner.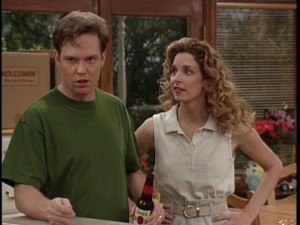 As for Season 4's one-time guest stars, two of the most famous today are ever so briefly glimpsed:

recent Oscar nominee Michelle Williams appears in literally only the final minute of the season as Brad's love interest, while Lucy Liu gets about five seconds of on-screen time as "Woman #3." Comedians Dave Chappelle (of the extremely popular but mostly defunct Comedy Central series "Chappelle's Show") and Jim Breuer (three-season cast member of "Saturday Night Live") appear together on "Tool Time" in an episode which predates most of their success. With a few exceptions (such as M. Emmet Walsh and Polly Holliday, both returning as Jill's parents, though appearing together for the first time), guest stars given more substantial screen time are television veterans of lesser notoriety. Still, there are noteworthy turns made by late night talk show host Jay Leno, and experienced big screen performers James Cromwell, Bruce McGill, and Mark L. Taylor.

But enough of the small-time "did-ya-notice" observations, how does "Home Improvement" stand in Season 4? Pretty well, though it's not quite as consistently terrific as it was in Season 3 or would be for most of Season 5. As was the case with the two previous seasons, the show opened up 1994-95 with a streak of what were definitely not the show's most memorable episodes and appeared to be going through the motions a bit. Fortunately, the year's Halloween episode (which moves away from the spooky to a funny plot involving Al becoming part-owner of Harry's Hardware) put the show back in stride. Three additional holiday-themed episodes (the Thanksgiving-flavored "My Dinner with Wilson" plus the Christmas-colored "Some Like It Hot Rod" and "'Twas The Night Before Chaos") closed 1994 on a high note and provided some of the show's best moments. This hot streak mostly continued into 1995, though for every classic, there are one or two forgettable or merely benign shows. Overall, Season 4 cannot be considered the show's absolute finest, but it is a solid entry to the canon and reaching the half-way point of the sitcom's eventual run, there are no signs whatsoever of the proverbial shark being jumped.

Like last year's Season 2 release, Buena Vista Home Entertainment sent this three-disc The Complete Fourth Season set to stores just before Father's Day as a promising gift idea for dads. It now seems well established that the studio has "Home Improvement" DVDs on a biyearly release schedule. Assuming sales remain strong (and that may require some added-value material going into future sets) and Disney's plans don't change (a big assumption), one can expect the show's final four seasons to arrive just before the next two Thanksgivings and Father's Days.

A star (

) denotes ten favorite episodes from the season.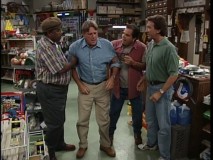 Disc 1
1. Back in the Saddle Shoes Again (23:02) (Originally aired September 20, 1994)
Jill loses her job and ponders going back to college, an idea that Tim isn't very supportive of. Tim and Al try to outdo each other in dealing with drywalls.
2. Don't Tell Momma (23:01) (Originally aired September 27, 1994)
After Tim lectures Jill for covering up a scratch on her car with nail polish, he winds up doing far more damage and fails to keep it a secret. On "Tool Time", Al's lifelong passion for cranes comes in handy.
3. Death Begins At Forty (22:54) (Originally aired October 4, 1994)
When his friend Harry has a heart attack, Tim begins worrying about his health and rethinks his much-anticipated 40th birthday plans. (This marks the first of 23 appearances made by Blake Clark as the gravelly-voiced hardware shop owner.) At work, Tim and Al inexplicably shrink down to explore a car engine.
4. The Eyes Don't Have It (22:59) (Originally aired October 11, 1994)
Mark comes home with his first note from a teacher, leaving Tim and Jill to wonder what the problem is. It turns out he needs glasses, a fact which will largely be forgotten henceforth. Al's historical lessons on "Tool Time" put Tim and others to sleep.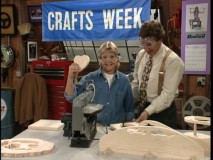 5. He Ain't Heavy, He's Just Irresponsible (23:02) (Originally aired October 18, 1994)
Tim's brother Marty is in town and reveals that he is considering leaving his wife and newborn children. This news creates tension between Tim and the one brother he gets along with. (This is the first of 28 episodes in which Marty, played by William O'Leary, will appear.)

6. Borland Ambition (23:02) (Originally aired October 25, 1994)
Like the year before, it wasn't until this sixth/Halloween episode that the season kicked back into high gear. Harry asks Tim to become part-owner of his hardware store, but when Jill won't go for it, Al steps up to the plate. The new position quickly goes to Al's head as he tries to initiate change, promotes the shop on "Tool Time", and begins putting his new job before his girlfriend Ilene. Brad and Randy's gory getups get upstaged by Mark, who dresses as Al, in a costume contest.
7. Let's Go to the Videotape (22:47) (Originally aired November 8, 1994)
Comments that Tim made to the guys at Harry's Hardware -- about how boring a speech Jill gave -- are accidentally taped and seen by her. Needless to say, she is not pleased.

8. Quibbling Siblings (23:02) (Originally aired November 15, 1994)
Brad gets to fill in for Al as the co-host of "Tool Time", leaving Brad to feel very proud and Randy to feel a little jealous. Jill and Tim (with some help from Wilson) decide the best way to intervene with their bickering boys.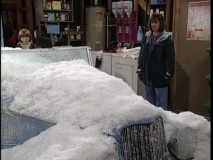 Disc 2

9. My Dinner with Wilson (23:21) (Originally aired November 22, 1994)
The Taylor house smells bad and Tim suspects a dead rat in the walls. The family's Thanksgiving dinner at Wilson's is soured by the news that their trusty neighbor may be moving.
10. Ye Olde Shoppe Teacher (23:02) (Originally aired November 29, 1994)
Tim's old shop teacher Art Leonard (Dick O'Neill) visits for some fond recollections. His appearance on "Tool Time", however, isn't quite blissful.

11. Some Like It Hot Rod (23:03) (Originally aired December 6, 1994)
Christmas episodes regularly offered "Home Improvement" at its very best, so it's to Season 4's credit that it holds not one but two. The first and less official of the pair, this one finds Jill working around the clock to get things ready for Mark's Christmas pageant. In the process, she leaves Tim's hot rod outside and a sudden winter storm leaves it filled with snow. Complicating matters is the fact that the car is scheduled to soon be featured in an auto magazine. This is one of the show's all-time best episodes and even its outtakes are more memorable than most.

12. 'Twas The Night Before Chaos (23:01) (Originally aired December 13, 1994)
Christmas figures even more prominently in this episode, in which Jill's bickering parents and Tim's brother Marty's family of four both stay with the Taylors. Tim again competes in the town lighting contest and gets some help from The Colonel. Meanwhile, Jill must decide between staying out of her parents' problems and trying to keep everyone happy.

13. The Route of All Evil (22:57) (Originally aired January 3, 1995)
Brad takes on the job of a newspaper delivery boy, but those early mornings soon take a toll on him. Not wanting to let down his parents, Brad enlists the aid of his two brothers. Security Week brings surveillance equipment to "Tool Time."

14. Brother, Can You Spare A Hot Rod? (23:02) (Originally aired January 10, 1995)
Tim's hot rod gets invited to a car show, but before they can attend, pizza magnate "Papa Mia" makes him an offer one can't refuse and Tim sells the labor of love for a large amount of money.

With his family disappointed, Tim soon regrets the decision and tries to get the car back. Meanwhile, Randy experiences the embarrassment of shopping for clothes with his mother.

15. Super Bowl Fever (23:02) (Originally aired January 31, 1995)
While Jill is sick and bedridden upstairs, Tim has a bunch of guys over for a Super Bowl party. He soon realizes that trying to keep everybody's enthusiasm in check (enough to not upset his ill wife) is no easy task. Three members of the Detroit Lions -- Dave Krieg, Kelvin Pritchett, and Chris Spielman -- show off their cooking skills on "Tool Time."

16. Bachelor of the Year (23:02) (Originally aired February 7, 1995)
A magazine names Al one of Detroit's 10 Most Eligible Bachelors. The influx of female attention that the article brings him threatens Al's relationship with Ilene. Assigned to write a paper on the most interesting person he knows, Mark approaches Wilson.

17. It's My Party (23:02) (Originally aired February 14, 1995)
After Randy decides against a snowmobile birthday party, Tim heeds Wilson's advice and tries to become a part of the planned boy/girl festivities in the basement. Unfortunately, the part he plays (putting 16 layers of wax on the dance floor) leads to Michelle, a girl interested in Randy (and vice versa), going to the emergency room with a sprained ankle.
Order Home Improvement: Season Four DVD from Amazon.com