Adapted from the first of Kay Thompson's best-selling series of children's books, Eloise at the Plaza made its debut on ABC's Wonderful World of Disney in the spring of 2003. Since Thompson was fervently against adapting her books, it was not until her death in 1998 that film rights became available. With a cast headed by an Academy Award winner and a higher budget, from the outset, Disney had high hopes for its unlikely screen version of a popular picture book, complete with supplementary drawings from the book's illustrator Hilary Knight.
Eloise is a precocious and energetic six-year-old girl. With her mother in France, she's staying the Plaza Hotel with her British Nanny (Julie Andrews) and her pet dog and turtle. Eloise is well-known by the hotel manager Mr. Salomone (Jeffrey Tambor) for her mischeivous adventures around all parts of the Plaza.
When she's not trying to get out of French lessons from her snooty tutor, Eloise enjoys setting ahead the hotel clock a few minutes and making noise in the halls. She's also quite fond of room service, and never hesitates to use her mother's hotel credit for anything. Through it all, Eloise remains adorably optimistic, inspiring those around her, while making a mess.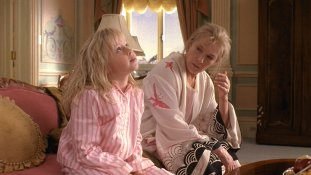 Eloise is excited about the Debutante Ball that the hotel will be holding, and is even more excited to learn that a prince will be in their midst, whom she just assumes will take her to the dance, regardless of the fact that she hasn't yet technically been invited.
In her efforts to find the prince or at least find out more, she comes across a 9-year-old boy named Leon. After making the appropriate wardrobe changes for him, Eloise makes Leon her assistant spy as they search for clues about the Debutante Ball and the Plaza's special guest.
When Eloise learns that her new friend hasn't fully explored New York City, she takes it upon herself to give Leon the royal tour, complete with a horse and buggy ride through Central Park. When she returns to the Plaza, Eloise is surprised to learn that no one knows where the prince is, and young Eloise has quite a few open ends to tie for those around her.
I think most viewers will agree that Eloise at the Plaza is a colorful and well-paced comedy. It avoids sappy moral lessons almost altogether, and yet it possesses a Pollyanna-esque spirit at its center.
Much praise must go to Sofia Vassilieva, the young star, who does an excellent job at bringing the title character to life. This film adaptation could very easily have added Eloise to the long list of annoying child characters that the movies have given us. Fortunately, the young actress carries the film and delivers both comedy and cuteness.
Thanks to Vassileva's charismatic lead, solid supporting performances, and benign direction from Kevin Lima (Tarzan), Eloise should please fans of the books. Not only that, but the film even ascends beyond the second-tier quality that most television movies are satisfied to achieve. Eloise deserves praise not merely as a more bearable Wonderful World of Disney presentation, but as a genuinely entertaining family film, regardless of format.
VIDEO and AUDIO
Eloise at the Plaza is presented in a 1.78:1 anamorphic widescreen transfer. This matches the ratio of its High Definition broadcast. Even though it is a made-for-television film, it was clearly framed for 16x9.
Picture quality was just about perfect. The vibrant color palette is wonderfully rendered, and the video is consistently sharp and free of any problems whatsoever. The film is nicely shot, particularly for a television movie, and the transfer is certainly praiseworthy. The film's image is so vivid and crisp that it seems to leap off the screen.
The movie is presented in Dolby Digital 5.1, and it actually is a 5.1 surround track. The film's soundtrack aptly balances Bruce Broughton's upbeat and elegant score with an abundance of sound effects. When used, the rear speakers do a great job at creating a wide sound environment. For instance, an early scene involving a washing machine is effectively mixed. Dialogue from the front speakers is crisp and always discernible. This is a most pleasing soundtrack and surprisingly active for a telemovie.
EXTRAS
There is a surprisingly satisfying amount of extra features here. First and foremost is "From Page to Screen: The Making of Eloise at the Plaza." This well-done 17-minute making-of featurette tackles the film's background, namely Thompson's Eloise books, covering characters added to the film and changes to the text. Illustrator Hilary Knight reflects on how he anticipated an animated film, but feels the result was even better. Also discussed is the finding of the young star Sofia Vassilieva, who, director Lima reveals, is even more like Eloise in real life. The filmmakers also cover their efforts to replicate the book's artwork in the design of the film.
In "Hilary Draws Eloise: An Art Lesson" (3 minutes, 36 seconds), Hilary Knight, the male illustrator of the Eloise books, whose distinct drawings contribute to the film adaptation's add flavor and faithfulness, briefly explains how he met author Kay Thompson and how they collaborated on the books. The real focus, though, as you can guess from the title, is about how to draw Eloise. Hilary shows us just how he does that in a very quick and rudimentary fashion. It's a short but nice bonus feature.
Finally, "See The Books" simply provides the titles and covers of the eight Eloise books on the market - there are five unique stories. (For the list of books and links to buy, see below.)
Inside the case, there is a thick card of an Eloise drawing by Hilary Knight plus a booklet promoting a special Plaza hotel package called The Eloise Experience. There is also a chapter insert which advertises Lizzie McGuire DVDs on the back.
The book-themed menus are 16x9 screens with animation, even on the scene selections page (unusual for Disney). They're nicely done, but the music that accompanies them is rawther loud. Too loud.
Trailers at the start of the disc are for Home on the Range, Freaky Friday (2003), Special Editions of Pocahontas, Alice in Wonderland, Lilo & Stitch, and Mary Poppins. The Sneak Peeks menu also includes a preview for Eloise at Christmastime, which aired on ABC last December.
CLOSING THOUGHTS
There may be better Wonderful World of Disney movies than Eloise at the Plaza, but none have been given such great DVD treatment. Featuring first-rate picture and sound, plus a nice offering of supplements, Disney's DVD release of this mirthful and zippy family film is highly recommended.