102 Dalmatians, Disney's 2000 sequel to its hit 1996 live-action remake, opens with institutionalized baddie Cruella DeVil being released from prison. Her past wrongdoings are forgiven as she is deemed rehabilitated,

the subject of a miraculous treatment uncovered by a Dr. Pavlov. It is, of course, only a matter of time before the famous villain (portrayed again by Glenn Close) returns to her malicious ways.

Chloe Simon (Alice Evans), Cruella's Dalmatian-owning probation officer, has serious doubts about her convict's change of heart and thus objects to the parolee's self-assigned community service vocation. Nevertheless with court-imposed terms, Cruella saves the 2nd Chance dog shelter from being evicted. The salvation is welcomed by down-to-earth owner Kevin Shepherd (Ioan Gruffudd).

Bearing some resemblance in physicality and personality to the first film's human heroes Roger and Anita, Kevin and Chloe enter into a romance. Naturally, though, it takes backstage to animal antics and another dognapping plot. This time around, the affected dogs are from two groups: Chloe's Dalmatian puppies born to the oddly-inherited and now-grown Dipstick as well as Kevin's lot of assorted breeds. Standing out from the blend are the conspicously spotless female Oddball and talking parrot Waddlesworth (voiced by Eric Idle), who insists he's a Rottweiler.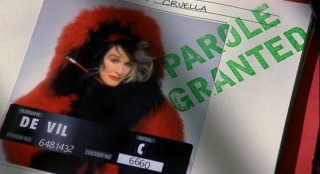 Although the bumbling henchmen Horace and Jasper of the first film and its animated inspiration are dropped, things don't get any less broad here. The dogs still don't get to talk (excluding Waddlesworth), but that's as far as realism and subtlety go. Cruella's inevitable return to the Dark Side, depicted as her straightened hair begins springing wildly, cues a central adventure that's both familiar and instantly forgettable. She is once again accompanied by her sycophantic assistant Alonzo (Tim McInnerny) and they're now joined by French fashion icon Jean-Pierre Le Pelt (Gerard Depardieu).
102 Dalmatians is at its best when doling out its one unforeseen plot twist and doing a shot-by-shot recreation of the famous spaghetti scene from the extensively-showcased Lady and the Tramp. At its worst, it's merely dragging on with uninspired buffoonery, as in the prolonged climax that plays out with a barrage of gags involving Cruella and creamy cake filling.
The entire movie boasts the sensibilities of a made-for-TV or direct-to-video sequel. And yet, there is a 5-time Oscar-nominated actress in the middle of it all. This has to rank among the most embarrassing credits not just for Ms. Close but any actor who has achieved considerable acclaim. And yet, she does nothing to elevate the proceedings, merely hamming it up without a trace of menace or comedy. That's more than can be said for anyone else in the cast, who see to it that this cheesy production moves viewers to lethargy. If nothing else, the film is noteworthy for bringing together Ioan Gruffudd (Hollywood's Mr. Fantastic) and Alice Evans, whose onscreen romance spilled into real-life and yielded one of the industry's least famous and, judging from IMDb boards, least popular marriages.
It's surprising that this was directed by Kevin Lima, a man who previously helmed the above-average A Goofy Movie and stellar Tarzan and would go on to direct the cinema-worthy Eloise telemovies and last year's spirited multimedia fantasy Enchanted.
The strong attendance levels on the first live-action film and presence of Glenn Close guaranteed this one a theatrical release. The reported budget of $85 million, quite unbelievable considering the polished but plain visuals, surely must have included a hefty payment to the actress. That high number is the only thing to justify Disney debuting the movie in theaters during the heavily-trafficked Thanksgiving week of 2000. Its box office performance might have impressed on another live-action sequel, but the $65 million domestic gross failed to earn back the expenses or qualify Dalmatians as anything but a flop. The film was much better received overseas, where it made $116.7 M, or nearly two-thirds of its $183.6 M worldwide sum. Nevertheless, 102 failed to match its predecessor despite its amplified costs.
Although 102 Dalmatians fared alright on home video, particularly in VHS sales where it did most of its business, its return to DVD this week is more the result of cross-promotional Disney strategy than public clamor. It is true, however, that the movie has been unavailable in stores for several years. Accordingly, it is treated to a new release but which can only be deemed an upgrade by its packaging and inclusion of Disney Movie Rewards points.
DVD Details

1.85:1 Anamorphic Widescreen
DTS 5.1 (English),
Dolby Digital 5.1 Surround (English, French, Spanish)
Subtitles: English, Spanish
Closed Captioned; Extras Not Subtitled
Release Date: September 16, 2008
Single-sided, dual-layered disc (DVD-9)
Suggested Retail Price: $29.99
Black Keepcase in
Embossed, Holographic Cardboard Slipcover
VIDEO and AUDIO
Initially released in separate widescreen and fullscreen versions (the latter being the more widely available), 102 Dalmatians now appears exclusively in its 1.85:1 theatrical aspect ratio on its new DVD. While I can't compare, I would guess from the general lack of effort, that the transfer on this disc is similar, if not identical to that of the one issued in 2001. It's more than adequate for the film, presenting it in a clean, sharp, and colorful way. Though it's not as wide as its predecessor, the sequel does offer a fuller and brighter palette and it is admirably conveyed here.
Four soundtracks are offered, most important the original English in your choice of DTS and Dolby 5.1. There were no concerns with the audio and I'd be shocked if they differed in any way whatsoever from the tracks on the prior DVD.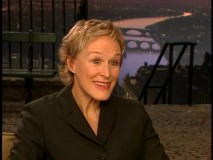 BONUS FEATURES, MENUS and PACKAGING

In contrast to the live-action 101 that's asked to stand almost completely without supplements, 102 is given a pretty substantial slate of extras, all of which were on the original DVD release.

They begin with a feature audio commentary by director Kevin Lima, animal coordinator Gary Gero, animal trainer David Sousa, and lead puppy trainer Julie Tottman. It's a good thing it was recorded back when the film was fresh, because I'm sure Lima at least has by now forgotten the specifics (or at least tried to).

The discussion leans squarely on moviemaking tricks, with the animal workers commenting on all the film's challenges and achievements. It sounds like the speakers are edited together from two separate sessions, as little group energy emerges. Dryer than the subject matter should entail, this dull track isn't worth rewatching the film to hear.

Next come three brief featurettes. "Creating Cruella" (4:39) is a surprisingly thoughtful look at the villain's transition from animation to live-action, complemented by clips of both, interview sound bites, and behind-the-scenes production footage. "Animal Actors" (7:00), of course, centers on canine cast members and the trainers that help them take direction, while also touching upon CGI dogs. "Designing Dalmatians" (5:55) addresses the film's sets and costumes, the latter of which earned the film an improbable Academy Award nomination. It also provides insight on more effects work.

"Visual Effects 102" delves further into movie magic with four demonstrations. Eric Idle narrates as CG tricks are detailed in their various stages with split-screen comparisons and other progressions. Although you're done with the section quickly, it at least attempts to inject some interactivity into standard making-of topics.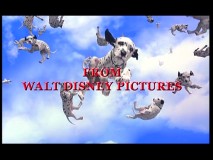 The short, lonely deleted scene "Cruella's Release" (0:55) depicts Ms. DeVil leaving prison and being appalled by the possessions she's supposed to reclaim. It's offered with optional explanatory commentary by Kevin Lima.

"Puppy Overload" (1:10) is a pointless montage of canine-centric action scenes set to the P-Funk-sampling "Digga Digga Dog" by Oren Waters.

"Dalmatians 101" (1:49) is a short piece meant to discourage frivolous dalmatian purchases.

It's composed of Eric Idle narration and film clips.

"Whatcha Gonna Do" (0:40) looks like it will be a music video for the song by Nobody's Angel but it lives up to its "soundtrack promo" description by stopping short.

Closing out the video extras is the film's full theatrical trailer (2:20), an artifact rarely encountered on today's Disney DVDs and one noteworthy for employing much of the disc's deleted scene.

A product of when Disney tried to encourage customers inserting DVDs in their computer, Dalmatians also boasts two DVD-ROM extras. Well, the second -- a link to the film's still active official website -- hardly counts. The first, "Cruella's Costume Creator", is only a little better. This dinky activity, featuring still more Idle narration, lets you mix and match costume sketches divided into three parts. Winning merely cues a miniscule, heavily-pixelated clip of the costume as seen in the film. Although there are three difficulty levels offered, most will agree none of them is worth the effort and software.

The menus appear to offer little change from those on the movie's original DVD. They're created in fullscreen dimensions and offer minimal animation and an excess of looped score selections.

The only in-case insert is an 8-page booklet devoted almost entirely to Blu-ray, the high-def format holding Disney's high public hopes. That's also where your Disney Movie Rewards code is found, but a scenes list is absent. Mildly retooled from the previous release, the red-dominated artwork is recycled for a slipcover that boasts some embossing and holographic effects.

The disc loads with a Disney promo and trailers for Sleeping Beauty: Special Edition, Beverly Hills Chihuahua, 101 Dalmatians II: Patch's London Adventure Special Edition, Tinker Bell, High School Musical and "Hannah Montana" DVD games, and Disney Movie Rewards. Joining these on the Sneak Peeks menu are spots for "Phineas and Ferb", The Chronicles of Narnia: Prince Caspian, WALL•E, and The Little Mermaid II: Return to the Sea Special Edition.
CLOSING THOUGHTS
I was largely unimpressed by Disney's live-action version of 101 Dalmatians, but it certainly didn't offend as much as this amateurish slapdash sequel. Eight years since it was released, the movie raises a number of questions, not pertaining to the mundane story but to the costly, misguided execution that's poor by any standard and unusually weak for a theatrical Disney release.
The DVD is definitely satisfactory as far as picture, sound, and bonus features are concerned. But it's practically identical to what was available years ago. While the movie is weak enough to recommend avoiding in any circumstances, Disney's audacious decision to put this out as a standalone disc in 2008 with a $30 price tag merits disapproval with a little more sting. I'm not exactly sure how that can be achieved, but simply disregarding this ridiculous rerelease is a good start.