UltimateDisney.com | DVD and Blu-ray Reviews | Disney Animated Classics Page | New and Upcoming DVD & Blu-ray Schedule | Search



Disney's Platinum Edition DVDs: Snow White and the Seven Dwarfs • Beauty and the Beast
The Lion King • Aladdin • Bambi • Cinderella • Lady and the Tramp • The Little Mermaid
Peter Pan • The Jungle Book • 101 Dalmatians • Sleeping Beauty • Pinocchio
101 Dalmatians: Platinum Edition DVD Review
One Hundred and One Dalmatians

Theatrical Release: January 25, 1961 / Running Time: 80 Minutes / Rating: G

Directors: Wolfgang Reitherman, Hamilton S. Luske, Clyde Geronimi / Writers: Bill Peet, Dodie Smith

Voice Cast: Rod Taylor (Pongo), J. Pat O'Malley (Jasper, Colonel), Betty Lou Gerson (Cruella De Vil, Miss Birdwell), Martha Wentworth (Nanny, Lucy, Queenie), Ben Wright (Roger Radcliff), Cate Bauer (Perdita), Dave Frankham (Sgt. Tibs), Fred Worlock (Horace, Inspector Craven), Lisa Davis (Anita), Tom Conway (Collie, Quizmaster), Tudor Owen (Towser), George Pelling (Danny), Ramsay Hill (Labrador, TV Announcer), Sylvia Marriott (Two-Tone), Queenie Leonard (Princess), Marjorie Bennett (Duchess), Micky Maga (Patch), Barbara Beaird (Rolly), Mimi Gibson (Lucky), Sandra Abbott (Penny), Thurl Ravenscroft (Captain), Bill Lee (Roger - singing), Max Smith, Bob Stevens (Thunderbolt), Paul Wexler (Fidget), Mary Wickes (Freckles), Barbara Luddy (Rover), Lisa Daniels (Perdita), Helene Stanley (Pepper), Don Barclay (Truck Driver), Dal McKennon (Dipstick), Jeanne Burns

Songs: "Cruella De Vil", "Kanine Krunchies", "Dalmatian Plantation"

Page 1: The Movie, Video and Audio
Page 2: Bonus Features, Menus and Packaging, Closing Thoughts

Walt Disney's studio spent almost the entire 1950s working on Sleeping Beauty and when it was released in January of 1959, nearly four full years had passed since a previous animated feature's debut. The ambitious, costly Tchaikovsky-flavored fairy tale nearly bankrupted Disney, so it was quite opportune that the already-in-progress next animated feature wouldn't take nearly as long or much to produce.

That film, 101 Dalmatians, harked back to Sleeping's immediate predecessor, the 1955 hit Lady and the Tramp, by centering on a cast of talking dogs. But even compared to that CinemaScope canine comedy, it was decidedly down-to-earth.

Adapted from Englishwoman Dodie Smith's 1956 novel The Hundred and One Dalmatians, the film launches with one of the livelier credits sequences to head an animated Disney feature, before moving to an equally spirited sincere start. We are introduced to a pair of London bachelors: the lovesick dalmatian Pongo and his pipe-smoking songwriter "pet" Roger Radcliff. Pongo narrates as he scopes out and assesses human/dog pairs of females parading down the sidewalk. When he spots a pretty lady and her equally fetching dalmatian, Pongo pounces on the opportunity to drag Roger out to the park for a walk. Not all goes as planned, but love wins out and, very soon, Roger and the woman, Anita, are exchanging marital vows while Pongo and his lady, named Perdita, enter a similar arrangement.

The newly-formed four-member Radcliff family isn't overflowing with space or money (though they are able to afford the warm, loving Nanny), but they do seem to have an abundance of love, as evidenced by news of a pregnancy (Perdita's). With the puppies' birth just a few weeks away, Anita is paid a visit by her old schoolmate, the hideous Cruella De Vil, who wishes to lay claim to the newborn dalmatians.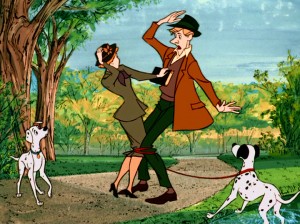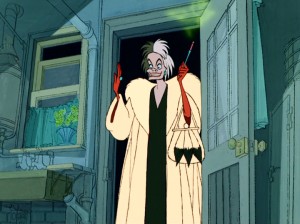 When Roger refuses to let any of Pongo and Perdita's fifteen pups leave their custody, Cruella decides to take matters into her own hands, hiring henchmen Horace and Jasper to commit that most wretched act of dognapping. The remainder of the film details the efforts of the pups and their parents to reunite, with some help from other animals who are summoned by that classic canine communication system, The Twilight Bark.

The title count is realized when the young victims are joined by 84 additional dalmatians (these being of the uncollared variety).

101 Dalmatians is probably the best example of a film that embodies the phrase "Disney animated classic" without being especially like its kin or telling a grand story. Particularly in the winning first half, the screenplay is airy, the mood is light, and the setting is downright ordinary. Spending time with the two pleasant couples and the spunky lot of pups is a most welcome task, even if the humor is as gentle as "Rolly" insisting he's still hungry and the offspring investing in a Lassie-type TV program.

In the skeletal, judgmental, chain-smoking, fur-loving Cruella De Vil, the movie uncovers a larger than life villain whose impact lingers, even if she only claims about as much screentime as her British thugs. Horace and Jasper are naturally doltish, but not in the most expected of ways, and they're written well enough to rank highly on the long list of dim-witted baddies. Still, their duty is mostly performed in the film's latter, more routine portions. It's Cruella who makes the big splash and who is easily distinguished not just as the film's boldest personality but as an antagonist for the ages.

Far from daring or melodramatic, Dalmatians is brisk, breezy, and always very appealing. The turns in the rescue plot sustain interest but don't make the ongoing chase as unforgettable as hoped. Instead, it's the smaller moments and gags that win us over, like the owner/dog pairs who reflect one another (a joke later put to good use in live-action for The Ugly Dachshund), the family dynamic that quickly emerges (and, one wishes, weren't set aside so soon), and the affectionate but still on-target satire of television programming.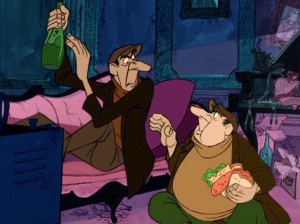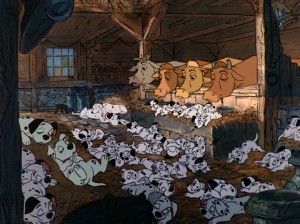 Sometimes, you don't need more than a functional concept, a good story, and durable characters. With little music and only slightly more action, 101 Dalmatians handily becomes one of Disney's best animated features. Cruella De Vil stands as the film's most memorable creation, both from the angular woman herself and the tune Roger pens in her honor. The most recent Disney character to crack the American Film Institute's 100 Heroes and Villains list, Cruella ranked 39th among cinema's scoundrels. (Interestingly, the heroic counterpart for her rank was none other than Lassie.) The film certainly does have more than just a good villain to offer and it has stood the test of time, wielding the power to charm today's audiences nearly 50 years since its initial release.
101 Dalmatians first appeared on DVD in the fall of 1999 among the nine animated Disney films released as barren "Limited Issue" discs. This week, it becomes the penultimate of those nine to be revisited as a two-disc set, getting the 2-Disc Platinum Edition treatment it has long deserved by its consistently strong home video sales.
Purists will balk at the fact that the movie is preceded by the high-tech computer-animated 21st century Walt Disney Pictures logo, where the 1980s blue castle screen is regularly substituted, and followed by a much-abbreviated version.
DVD Details

1.33:1 Fullscreen (Full Animation Aspect Ratio)
Dolby Digital 5.1 Disney Enhanced Home Theater Mix (English,
French, Spanish), Dolby Digital Mono 1.0 (English)
Subtitles: English for Hearing Impaired, French, Spanish
Closed Captioned; Extras Subtitled
Release Date: March 4, 2008
Two single-sided, dual-layered discs (DVD-9s)
Suggested Retail Price: $29.99
Black Dual Amaray Keepcase in an
Embossed, Holographic Cardboard Slipcover

VIDEO and AUDIO

In contrast to the widescreen treatment given fellow '60s Disney cartoon The Jungle Book on its Platinum Edition DVD just five months ago, 101 Dalmatians is presented exclusively in the 1.33:1 "full screen" aspect ratio.

The film's Limited Issue DVD claim (that 1.33:1 is "the original theatrical aspect ratio") is not reiterated anywhere on the Platinum DVD's case. No doubt that will lead some (especially those who blindly subscribe to the "wider is better" belief) to think that the ball has been dropped here.

It's not easy to confirm or deny that, because Dalmatians was born out of that twenty-year period where Disney animated features seem to be viably watched in either matted 1.75:1 widescreen or unmatted 1.33:1 fullscreen. Indeed, since the framing doesn't seem cramped (as it was vertically on Jungle Book) or padded, one can assume that the makers of Dalmatians intended for the film to be seen in this way, at least on television if not also in theatrical exhibition.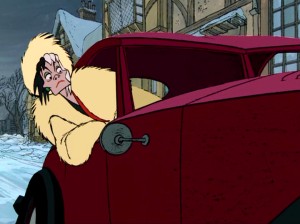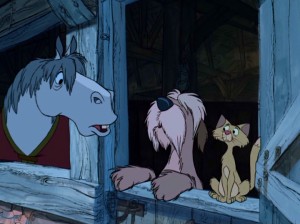 Of course, when you've got an 80-minute movie and a light menu of bonus features claiming space (particularly on Disc 1), it should be a no-brainer to offer Dalmatians in both 4:3 and 16:9 versions and allow the viewer to choose from them.

As is, Dalmatians doesn't even take advantage of all the available space, its modest 5.97 Mb/sec average bit rate reflecting that Disc 1 only barely makes use of a second layer of data.

Nevertheless, the film looks practically perfect. The element is entirely immaculate. The colors are consistent and generally appear to be accurate. A few shots look slightly soft, but for the most part, the video quality is stunning. Some may bemoan the appearance of some (infrequent) pencil lines, but this is true to the production process and thus rightly upheld.

Par for the line, the movie has been given a Dolby Digital 5.1 remix with the Disney Enhanced Home Theater Mix label assigned to it. This default track (which is also offered in French and Spanish) clearly separates the sound elements and with acceptable results. No matter how it's encoded, though, Dalmatians is a fairly low-key film aurally, meaning that George Bruns' fine instrumental score is the most prominent component. Dialogue is absolutely crisp and the movie's standout song is presented well. But even during the busy climax, the soundtrack is not a room-shaker and no tinkering changes that. Purists will be pleased to find a single-channel Dolby Mono track is provided as an alternate audio option.

Buy 101 Dalmatians: Platinum Edition from Amazon.com

Continue >>
Related Articles:
Report from Disney's California Press Junket, held for the 101 Dalmatians: Platinum Edition DVD Release
Interview with Lisa Davis, the voice and reference model for 101 Dalmatians' Anita
Interview with Alice Davis, legendary Disney costume designer and wife of Cruella De Vil animator Marc Davis
Interview with Andreas Deja, legendary Disney animator on 101 Dalmatians' legacy

Related Reviews:
Lady and the Tramp: Platinum Edition • Sleeping Beauty: Platinum Edition • The Jungle Book: Platinum Edition
Peter Pan: Platinum Edition • Cinderella: Platinum Edition • The Little Mermaid: Platinum Edition
Snow White and the Seven Dwarfs: Platinum Edition • Aladdin: Platinum Edition • The Lion King: Platinum Edition
Bambi: Platinum Edition • Beauty and the Beast: Platinum Edition • Oliver & Company • Teacher's Pet • Old Yeller
The Aristocats: Special Edition • 101 Dalmatians II: Patch's London Adventure • 101 Dalmatians (1996) • 102 Dalmatians
New to DVD: Smurfs: Season One, Volume One • Warner Bros. Home Entertainment Academy Awards Animation Collection • Snow Buddies
Sing Along Songs: Pongo & Perdita - 101 Dalmatians • Disney DVD Game World: Disney Dogs Edition
Disney Dog Films: The Ugly Dachshund • The Shaggy Dog • My Dog, The Thief • Greyfriars Bobby
Early 1960s Disney: The Parent Trap (1961) • The Absent Minded Professor (1961) • Big Red (1962)
UltimateDisney.com | DVD and Blu-ray Reviews | Disney Animated Classics Page | New and Upcoming DVD & Blu-ray Schedule | Search
Search This Site:
UltimateDisney.com/DVDizzy.com Top Stories:

Reviewed March 3, 2008.