By Aaron Wallace

Bambi is a film of suggestion, a mighty epic that finds its power in the hinted and unseen. It is brief and minimalist, yet also beautiful and majestic. Developed in the earliest days of Disney, the movie bears the master strokes of Walt in his filmmaking prime, when animation was new, exciting, and the primary object of his personal and professional focus.

With Snow White, Walt had been intent on proving that feature-length animation could be commercially viable. After that, he grew increasingly interested in its potential as high art.

He was an innovator, and in just a few years, he pushed his studio toward incredible advances in their craft. Even Pinocchio, their second feature, made technical leaps and bounds over the already impressive drawings in Snow White. That continued with Walt's most classically cultured film, Fantasia, its marriage of music and animation making distinctive marks on Bambi, which was in production at the same time.

A coming-of-age story with broader meditations on life, Bambi follows its title character from the moment of his birth. He is the new prince of the forest, but his royalty is of little consequence. The animals are overjoyed by his arrival, but his nobility serves only to persuade us that he's someone to pay attention to. This is the first of many traits distinguishing Bambi's tone from that of The Lion King, a film that otherwise bears striking structural and thematic similarities to this one.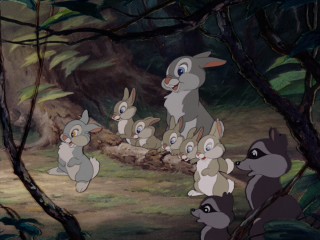 Bambi's journey is captivating; not because he has a great destiny, but simply because he's alive. At a leisurely and doting pace, the early parts of the movie are quietly observational. Bambi learns to stand on his own wobbly legs. He pushes flowers around with his nose, makes young friends, and eventually stammers a few first words. We see him chase butterflies, slip and slide on ice, nestle with his mother, and frolic. These encounters won't lead him to glory, but watching them inspires a feeling of great affection and contentment.

These are the elements of life; discovery, error, learning, perseverance. Bambi believes in the beauty of living, and that sentiment translates universally to the audience, even with very little dialogue.

The stark naturalism wouldn't work so well if it weren't for the humanity in the characters. All of the animals, including the central deer, rabbits, skunk, and owl, are drawn with a realism that far surpasses anything seen in Snow White's forest friends. At the same time, though, their facial characteristics are distinctly human and expressive. They're voiced by child actors whose buoyant personalities break through the painted glass and cels and warm our hearts to the point of melting. These authentically human touches ensure that we see ourselves in Bambi, that his journey of growing up resonates with our own. I suppose children take to the movie, but it's surely easier to appreciate with more life experience to relate it to. Despite the studio's reputation, Disney movies are often complex and sophisticated, and Bambi is one of Walt's most mature creations.

The story is fittingly spread across the span of several seasons, the change in weather symbolizing the new experiences in Bambi's life. That notion is never more apparent than in the winter, when Bambi learns about loss. The scenes that ultimately pave the way for his mother's death demonstrate Walt's talent as a storyteller. The first time Bambi visits the meadow, his mother speaks ominously of the potential danger there. She ventures out to make sure it's safe for him. The foggy landscape, coupled with the urgency in the music, convinces us she's about to be shot. But she isn't. Everything's fine. Later, there's a close call when Man enters the forest and they make a narrow escape. But again, all is well.

Eventually, Bambi's mother is shot. We don't see it happen, but the empty, unrequited echoes of Bambi's cries, "Mother?... Mother?" tell us all we need to know. We'd practically forgotten about those earlier scares in the meadow, but they've served their purpose. Showing neither man nor fallen doe, the film arrestingly impresses upon us the gravity of what has happened. We've been given the 2 and 2's and must put them together for ourselves. That empowers the scene with an intangible gravity that couldn't have been nearly so impactful had we seen a body on the ground. The literal dead silence that follows Bambi's realization, a suffocating silence that seems to go on forever, must surely be one of the most heartbreaking, devastating moments on film. And for the creators of a family movie, an incredibly brave but creatively rewarding decision.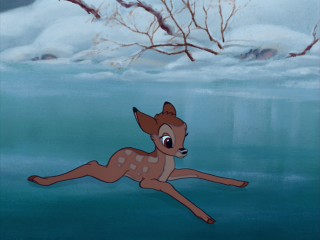 Much is made of Man's role as the enemy. The American Film Institute named Bambi's Man the twentieth greatest film villain of all time. The movie does not, however, cast Man as evil in any essentialist way. He is the antagonist from the animals' perspective, just as many of the wild animals would be dreaded adversaries from man's. As intimate as it is, Bambi's outlook on nature is an objective one. For the animals, at least, it is a struggle to survive against one's weaknesses and natural enemies. Bambi does not overcome Man, he merely escapes him. When the film ends, the antagonist has been pierced by neither ship nor sword. He is not imprisoned, hurled from a cliff, or devoured by hyenas. He is still out there and Bambi is not, so to speak, out of the woods. Danger will always be a part of his and the others' existence. We've just watched him grown up, and in that we've seen both an intimation of ourselves and a snapshot of the real world we live in.
Bambi therefore can't be understood as only a plot with a beginning, middle, and end. It is that, but it is also much more -- a means of lovingly celebrating the constants of our world, the facts of life that will persist throughout many lifetimes, long after Bambi is gone. Perhaps that's why the film feels so classically timeless. Its impressionistic backgrounds and resplendently symphonic score (one of Disney's best) accentuate that sentiment. Only the rarest of films stay with our culture from one decade to the next, and Bambi is one of them. Like its title character, it has survived, compelling generation after generation for nearly seventy years.
Now having spent the last few of those years out of print, Bambi is at long last returning to home video. Its first and only DVD release was 2005's two-disc Platinum Edition, part of Disney's deluxe line reserved for its best-selling animated classics. In the era of Blu-ray, the Platinums have gone by the wayside, the new Diamond Editions now taking their place. Bambi's Blu-ray debut is Disney's third Diamond Edition combo pack, which includes the film on both Blu-ray and DVD. The studio will also issue a two-disc, DVD-only set on April 19, 2011. In the meantime, let's take a closer look at this legendary film's debut in high definition and the many, many bonus features that accompany it on this new Diamond Edition release.
Blu-ray Disc & DVD Details

1.33:1 Original Aspect Ratio (Fullscreen)
BD: DTS-HD HR 7.1 (English), Dolby Digital 2.0 Mono (English), Dolby Digital 5.1 Disney Enhanced Home Theater Mix (French, Spanish)
DVD: Dolby Digital 5.1 Disney Enhanced Home Theater Mix (English, Spanish, French)
Subtitles: English for Hearing Impaired, Spanish, French
Closed Captioned; Extras Subtitled and Captioned
Release Date: March 1, 2011
Two single-sided, dual-layered discs (1 BD-50 & 1 DVD-9)
Suggested Retail Price: $39.99
Also available in Deceptive DVD Packaging and, starting April 19th, New 2-Disc DVD
Previously Released as 2-Disc Platinum Edition DVD
VIDEO and AUDIO

Animated in the Academy Ratio, Bambi is appropriately presented with an aspect ratio of 1.33:1. The film has undergone a new digital restoration for its hi-def debut and the 1080p/AVC-encoded transfer to Blu-ray is just amazing. You'll never have any doubt that the movie was filmed in the 1940s but at the same time, you'll never believe the film cells have survived the better part of a century and still produce a transfer like this.

This is one of those occasions where the increased detail of high definition can substantially increase our appreciation for a movie. Every brush stroke is visible in the highly impressionistic backgrounds and their beauty is easier than ever to behold. Colors are vibrant and bold but never artificially so. Most impressive are the subtle but abundant changes in color and shade in the backgrounds.

Film clip - "Kinda wobbly":


These help lend Bambi its natural appearance, and they're readily apparent in this new transfer. The picture is consistently clear, only barely and occasionally soft, and the contrast levels are superb.

A slight and healthy level of grain is discernible, as it should be. In every other regard, the picture looks spotless. The colors had to be redone for the digital restoration, as they were with 2005's as well. In one of the many A/B comparisons I performed, I found an instance where the colors in the mother's fur had clearly been smoothed out, doing away with inconsistent coloring and shading evident in the 2005 transfer. After catching that one outstanding frame, I then found other instances of the same practice that were barely noticeable on close inspection. The new appearance is certainly more pleasing to the eye, but it also raises a question about the fidelity of this latest restoration. Of course, it could be that the 2005 transfer is the inaccurate one, but since it appears to leave the uneven artistry intact, I doubt that. I can't stress enough that these changes are neither prominent nor pervasive. I don't mean to be forgiving of revisionism; Disney should clean the picture to the best of their ability without completely painting over things. But if they have been tampering -- and I'm not entirely confident that they have -- they've at least done it quite sparingly.

That infrequent concern notwithstanding, I can't otherwise call this transfer anything but perfect. There are no artifacts, edge enhancement, color bleeding or banding, unwanted obtrusions, or any signs of compression. Leaving the issue of possible repainting aside, this new restoration and transfer easily add up to some of Disney's best home video work. Bambi has never looked better.

Those comments generally apply to the bonus DVD as well. Obviously, the standard definition transfer doesn't offer as high a level of detail, contrast, and clarity, but it is produced from the same digital restoration. How does it compare to the well-reviewed transfer on 2005's Platinum Edition? The two are actually quite similar. The Platinum just didn't leave much room for improvement. Where there are differences, the Diamond transfer wins out. The new restoration is just slightly darker and less faded than the previous one. The difference is most noticeable in Bambi's fur, which is now a slightly deeper and less reddish shade of brown. The new DVD does suffer from signs of compression, including some mild ringing and aliasing, but that was true of the Platinum too. The video here fares much better than the bonus DVD included with Beauty and the Beast's recent Blu-ray.
| | |
| --- | --- |
| | |
| Screencap from Bambi's 2005 Platinum Edition DVD | Same frame from 2011 Diamond Edition Blu-ray's DVD copy |
As is now common practice for animated films in the 1.33:1 ratio, the Blu-ray offers an option called Disney View, which fills the black bars on the sides with newly drawn art, designed to blend in with each scene. Purists tend to abhor this practice, but as it doesn't actually distort or interfere with the original picture, I can't see the harm in it. Just think of it as a fancy curtain on either side of the screen with gentle lighting effects cast upon it. The images are never too similar to the actual film, so that you'll never be confused about where one begins and the other ends. Generally speaking, they aren't distracting either, although I find that Bambi's are more noticeable than most (especially during the "Little April Shower" scene). That's probably because the Disney View art is not nearly as impressionistic as the film's backgrounds are. Whatever your feelings about this wholly optional feature, artist Lisa Keene must be applauded for her beautiful work in these new creations. Two quick notes: (1) You cannot seamlessly bounce back and forth between Disney View and black bars, (2) as always, Disney View is not available on the DVD.
On both the Blu-ray and DVD, the film opens with the newest Walt Disney Pictures logo. This replaces the '90s-era blue castle logo seen on the Platinum transfer, which itself had replaced the Buena Vista Pictures logo used since the 1950s, that in turn having replaced the film's original RKO Radio Pictures logo. All of the other, original opening and closing credits screens remain intact, including the original "Walt Disney Presents." Note that the stylized DVD credits that were tacked onto the end of the film in 2005 have been removed and aren't replaced by any new Blu-ray/DVD credits.
The Blu-ray offers two English audio options, starting with a new 7.1 DTS-HD HR surround soundtrack (we don't see HR tracks often, but just know that they aren't lossless like DTS-HD MA tracks are). Bambi was originally produced with a monaural audio track, so obviously, a 7.1 surround sound experience requires a considerable expansion of the sound field. Reviewing it on a 7.1 HD audio system but with only 5 speakers and a sub, I couldn't be more pleased with the results. The front three channels dominate, but there's a surprising degree of support from the rears. Not only is the sound crystal clear, but amazingly, it doesn't feel like it's been stretched thin. On the contrary, even without much directionality, this is actually quite an enveloping mix, but never too artificially enhanced. It certainly doesn't compete with today's movies in the sound department, but for a 69-year-old film where music plays a pivotal role, it's incredible.
The other English track is the Restored Original Theatrical Soundtrack, a Dolby Digital 2.0 monaural track that would seem to be a pretty close approximation of the original single-channel experience. This track is similarly excellent. Switching between them, one notices an immediate boost in volume levels on the Original Theatrical Soundtrack, no doubt the result of it not being spread across seven channels. That said, volume levels are plentiful and consistent on the 7.1 track too, so that's not an issue.
The DVD also offers two English audio tracks: a Dolby Digital 5.1 Disney Enhanced Home Theater Mix (apparently the same one used on the Platinum Edition) and the same Restored Original Theatrical Soundtrack found on the Blu-ray. I'm again pleased to report that these both sound great. The Enhanced Home Theater Mix is similar to the 7.1 DTS-HD HR track, just less crisp on the whole and obviously not capable of the two additional rear channels. I believe I detect a slight layer of hiss in the 5.1 mix that isn't as present in the HD one, but it's not very noticeable.
DISNEY SECOND SCREEN

The most advertised feature on the Blu-ray is a new technology called Disney Second Screen. This requires some explanation and extensive commentary, so even though it's technically a bonus feature, I think it deserves its own section before we go any further.

Here's how it works... or at least how it's supposed to: First, you open the Second Screen website or app on either an iPad or a computer (iPods and iPhones won't cut it).

Instructions for doing this are included in the case and on the disc itself... note that you'll need your Disney Movie Rewards Magic Code for access. Then, you choose "Play Movie with Disney Second Screen" on your Blu-ray. You'll find this on multiple menu screens, so it's not hard to miss.

Be sure your TV is turned up nice and loud. Follow the on-screen instructions and your computer/iPad will now listen to your Blu-ray (using the computer's microphone) and sync your mobile screen with your TV. Once they're aligned, the movie will play as usual on your TV while your computer/iPad shows concept art corresponding to each scene. "Couldn't they just have used Picture in Picture for that," you ask? Sure, but then you wouldn't have all of the interactive image galleries and games that also pop up on your Second Screen.

It's a pretty cool idea in theory. Here's the only problem: it doesn't really work. Despite many attempts, I could not make the auto-sync work properly. My home theater speakers were plenty loud and my computer's mic was on and picking up the audio at a high level, but to no avail. Fortunately, there's also a Manual Sync option, which allows you to input a frame number provided by the Blu-ray and sync it that way. You're able to swap from Audio Sync to Manual Sync at any time, but I never had much success with that transition either. The only thing that finally worked was using the Manual Sync from the very beginning, though even that was never quite perfect.

During all of this, I was using an Apple laptop. I suppose I might have had more luck with an iPad. Certainly, Disney seems to be pushing that as the preferred method of Second Screen playback. Unfortunately, I don't have one, so I couldn't test that. It's always worth noting that should Disney at any point in the future decide to deactivate the Second Screen website, this entire feature would be rendered void. There's no reason to think that will happen at this point, but it's always a concern with web-based supplements.

Let's move on to the actual content, which is concept art-heavy. If you're into that sort of thing, you'll like this. I thought I'd had my fill after wading through the disc's art galleries (more on those in the next section), but I must admit that seeing near-instant pairings of early drawings on one screen and their end result on another is pretty cool. Meanwhile, the trivia and other activities are diverting but not worth your while on their own.
You also have the option of exploring all of Second Screen's content without using the movie or the syncing controls at all. In that mode, you're basically playing around in an extensive art & games gallery. It just isn't as much fun without the movie keeping pace, and Second Screen's transitions are still a tad sluggish that way.
Disney clearly invested a lot of effort in this, and there's a ton of awesome content. Some of it can be found elsewhere on the Blu-ray, but some of it can't. I'm therefore hesitant to be too critical of Second Screen. The intentions are noble enough and it's certainly preferable to anything involving BD-Live. (By the way, your Blu-ray player does not require an internet connection to use Second Screen, though your computer obviously does.) I just wish the whole process was easier and more functional. I suspect that the average Blu-ray consumer will be confused and overwhelmed within the first few minutes and will just give up.
Buy Bambi: Diamond Edition Blu-ray + DVD from Amazon.com in...
Blu-ray Packaging • DVD Packaging / Preorder Upcoming 2-Disc Standard DVD
Continue to Page 2 >>