Review by Michael Miller

In 1959, The Shaggy Dog moved Walt Disney Productions in a brand new direction for their films. Prior to this date, Disney made primarily adventure movies. A year earlier, Walt Disney proposed a new series to ABC about a boy with a cryptic ring that turned him into a dog. Of course, this untried idea got the response Disney heard much of his career: it would never work. Well, Disney ignored ABC and decided to release The Shaggy Dog as a feature. As you probably know, The Shaggy Dog was a big hit. Thus, the Disney comedy was born.

Walt Disney discovered a formula that audiences loved and he decided to use it again on The Absent-Minded Professor. If The Shaggy Dog put Disney films on a new course, then The Absent-Minded Professor kept it there, ensuring this type of small town family comedy would be used for many years to come.

This film opens with Professor Ned Brainard (Fred MacMurray) teaching his science class at Medfield College. With a tone that pretty much lasts for the duration of the film, he is conducting an experiment which he explains with vocabulary few of us understand. This is followed by his trumpet blowing that breaks much of the glass in the classroom (including the eyeglasses of one of his students). The title and credits come in which are followed by an explosion that occurs in Professor Brainard's classroom. Right before he attempts to assign homework to his students he looks in his plan-book to discover he is supposed to get married this night. And so, Prof. Brainard is too smart for his own good: he is brilliant when it comes to physics and chemistry, but when it comes to everyday life he is, errr, absent-minded.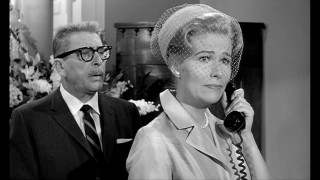 The story continues at someone's house where Brainard's fiancée, Betsy Carlisle (Nancy Olson), is waiting for the third time to have her wedding in hopes that this time the Absent-Minded Professor will remember to attend.
Meanwhile, back in his garage Brainard is hard at work trying to create an anti-gravity. His housekeeper attempts to remind him of his wedding but he seems oblivious to what she is talking about. His experiment explodes and he is knocked out. He misses the wedding for the third time and frustrated Carlisle decides she has had enough.
After waking up the next morning, Professor Brainard discovers he has discovered something extraordinary: flying-rubber-Flubber! He discovers his gooey stuff more or less defies the Second Law of Thermodynamics. In other words, when it bounces, it bounces higher and higher and higher.
Next we are introduced to the amusing antagonist: Alonzo Hawk (Keenan Wynn). Mr. Hawk is a not-so-nice alum whom the school owes a great deal of money. Mr. Hawk decides to shut down the school. In response, Professor Brainard decided he can use his discovery to save the school. Furthermore, he must use the Flubber to win back the heart of Miss Betsy Carlisle.
This film has many memorable moments. Few can forget the Absent-Minded Professor flying around in his old Model T. Perhaps the most recalled scene is when Brainard puts the Flubber on the bottom of the shoes of Medfield's basketball players.

Brainard even nearly gets blown out of the sky when he tries to fly his car over D.C.! Watch out for a cameo from Disney's beloved Ed Wynn who happens to be the antagonist's father in real life! This is the first Disney film with a Sherman brothers' song.

Absent-Minded was successful enough to warrant the sequel Son of Flubber in 1963, a distinguishing fact because it marked the first time that Walt Disney chose to make a sequel to one of his films which marked an alteration in his previous anti-sequel persuasion. This film was remade in 1997 into an inferior production called Flubber starring Robin Williams.

If anyone is interested, Time magazine once gave the recipe for Flubber: "To one pound of salt water taffy add one heaping tablespoon polyurethane foam, one cake crumbled yeast. Mix till smooth, allow to rise. Then pour into saucepan over one cup cracked rice mixed with one cup water. Add topping of molasses. Boil till it lifts and says 'Qurlp.'"
DVD Details

1.66:1 Anamorphic Widescreen
Dolby Surround 2.0 (English, Spanish)
Subtitles: English, Spanish
Closed Captioned
Release Date: September 2, 2003
Single-sided, single-layered disc (DVD-5)
Suggested Retail Price: $14.99 (Reduced from $19.99)
White Keepcase
VIDEO and AUDIO
The Absent-Minded Professor is presented in 1.66:1 widescreen and enhanced for 16 x 9 televisions. Full-screen presentations of this film have cut off some of the sides of the picture compared to this widescreen presentation, making this not simply a matting of what we have already seen. It is possible the theatrical presentation was actually a slightly wider ratio that was reduced in size because 1.66:1 is "family-friendly" according to Disney. Sometimes they can't make up their mind which widescreen should be used: just look at what they did with Mary Poppins. The picture seems to be framed very well so it is likely this is the original aspect ratio. (There are a few shots that would probably look a little better a little bit wider.)
Despite being released in 1961, this film was actually made in black-and-white. This was no mistake. At this point the special effects people over at Disney weren't sure they could make the movie look real enough in color, so they opted to use black-and-white. Speaking of the picture, this movie looks very clean. The picture doesn't really look very grainy or dirty. This might just be because the film is presented in black-and-white.

The DVD is in Dolby Digital Surround Sound. The sounds are consistently clear and crisp. There is nothing to complain about in this department. If you would like, you can also watch this film in Spanish.

Being an English-only speaking person I don't normally listen to films in other languages, but it seems to me the overdubs that were done on this movie were terrible. They were clear but they were recorded much louder than the music and they just sound really odd.

BONUS FEATURES

It won't take long to talk about this one because there are none. This is a surprise because The Absent-Minded Professor has been very good to Disney. It was a huge success upon its initial release and again when it was reissued in 1967 on a double bill with The Shaggy Dog. It would be nice if they had added on some special feature about the special effects. Not to mention little has been said on any of Disney's DVDs about Robert Stevenson who was arguably Walt Disney's favorite director. Fred MacMurray should have also been the subject of a special feature seeing he has been in more than a few other Disney pictures. But alas, there aren't even previews on here; nothing except for a FBI warning and the opening Walt Disney Home Entertainment screen. The menu is a static picture of Brainard in his car.
CLOSING THOUGHTS
The absence of more than just the Professor's mind on this DVD is certainly a disappointment. This is not one of Disney's films that were ignored by the public, but rather a movie that has been loved by just about everyone who has lived since the making of this film.
Nonetheless, this is the first time on home video we get to watch this film as it was originally intended: both black-and-white and in widescreen. If you like any Disney films, I am sure you love the Disney comedies. If you like any Disney comedies, you must own this film. This film is absolutely fantastic and easy for anyone to love.