By Kelvin Cedeno

Disney's animated sequels have inspired strong feelings in fans. All of the films are created on considerably low budgets, and most feature stories that either remake the original with minor deviations (The Little Mermaid II: Return to the Sea) or are so banal and contradictory that they bear little resemblance (The Hunchback of Notre Dame II). It's a relief, therefore, when a sequel to an animated classic

comes along that manages to be decent in its own right. One such noteworthy work is 101 Dalmatians II: Patch's London Adventure.

This new story picks up shortly after the events of the original, as Roger and Anita are planning to move with their "Dalmatian Plantation" to the English countryside. With so many family members crammed into one household, it's inevitable that much attention can't be given to each one, a sentiment Patch laments wholeheartedly. After accidentally being left alone while his siblings are whisked away to their new home, Patch decides to go off and meet his television hero Thunderbolt.

The canine star has problems of his own, however, when he discovers his character is about to be killed off. Using Patch's vast knowledge of each episode of the show, Thunderbolt goes around London attempting heroic deeds in hopes of fueling up positive publicity. Elsewhere, Cruella De Vil lurks about on probation. Unable to purchase furs as part of her restriction, she attempts to fill her desire with art, hiring an eccentric painter named Lars to create artwork reminiscent of Dalmatian spots. When this proves to be unsatisfying, she bails Horace and Jasper out of prison to finish the job they were once hired to do.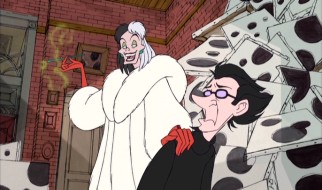 Patch's London Adventure displays a surprising level of quality across the board, more so than the majority of Disney's direct-to-video sequels. The most noticeable example is in the animation.

It replicates the look of the original very well, as the characters are consistently on-model, and the backgrounds emulate the same sketchy ink outlines that defined the first film's style. The tone also remains consistent. The filmmakers remember the British origins and therefore retain those sensibilities. All of the characters' lines and actions are in tune with their previous incarnation, a claim few of the studio's sequels can make.

Another aspect of the production that sets it apart is its story. It dares to tell its own story, however vaguely familiar it may be. It manages to cram in quite a bit of material into its running time. Most of Disney's animated sequels tend to feel like half-hour stories stretched and padded to just a shade over an hour. That feeling is not present here since there is always something occurring to propel the plot forward. The last third admittedly feels reminiscent of the original picture's climax, but there is enough fresh material to make the follow-up distinctive.

101 Dalmatians II: Patch's London Adventure is not a great film, but it's a solid one. When compared to its direct-to-video brethren, "decent" becomes far more exceptional than usual. The animation is fluid and true to the established world. It shows unexpected restraint in regards to Cruella's screentime, allowing Patch and the other characters more opportunity to develop. This may not be a necessary sequel, but it's an entertaining one that gels with its predecessor better than one would expect.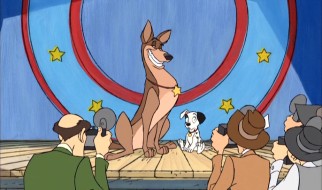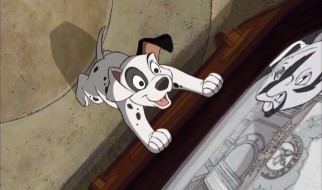 VIDEO and AUDIO

101 Dalmatians II arrives in anamorphic widescreen preserving its original 1.66:1 aspect ratio. One problem that mars an otherwise fine transfer is edge enhancement.

There's some ringing around many of the solid outlines, which is a shame since there are no other flaws to speak of. Colors are bright, and the image is free of any other defects. The edge enhancement isn't enough to become a major distraction, but it's noticeable, none the less.

The DTS 5.1 track from the original 2003 DVD is dropped on this release, but it doesn't go missed as the Dolby Digital 5.1 track satisfies. Speech is clear, and the score is robust and vivid The mix doesn't go all-out with the surround usage, but it uses it a fair bit, mostly for ambience effects.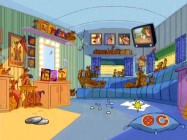 BONUS FEATURES, MENUS and PACKAGING

This Special Edition re-release contains all of the extras from the 2003 DVD, starting with two music videos. "Try Again" (2:14) features singer Will Young in the recording studio. Though not very memorable, it's a pleasant tune nonetheless.

It's certainly better than LMNT's "You're the One" (2:16). Its video is comprised completely of film clips, and the song is a shallow imitation of late-'90s boy bands.

Three games and activities come next, starting with "Thunderbolt: An Inside Look." The interior of Thunderbolt's dressing room/trailer is showcased, and clicking around leads to either narration by Thunderbolt himself, or a brief video clip. The most notable part of the latter is an outtakes reel with "flubbed" takes dubbed over existing film scenes. It's mildly diverting, but not much more than that.

The next game so happens to be the only thing exclusive to this Special Edition. "Patch's Twilight Adventure" asks the player to track down the keys needed to free the Dalmatian puppies from their cages. First, puzzle pieces must be fitted together, revealing where on a map a key has been hidden. At that area, a mini game completion will earn a key. These mini games range from counting what's on screen to pressing arrow keys at the correct time. While credit should be given for this being a bit more elaborate than most set-top games, it still isn't all that much fun, especially considering the sheer lack of reward.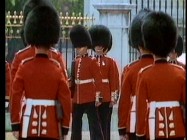 The original DVD's supplements continue with the "Lost in London" game. Here, the player must answer questions about famous London landmarks in order to track down the puppies. With each right answer, footage is shown of the monument in question,

and a narrator gives some trivia regarding it. Once again, no reward is given for winning, but this at least isn't as time-consuming as the newer one.

The extras wrap up with a "Making of 'Dogumentary'" (7:00). Hosted by several canines, this featurette covers the production process. Storyboarding, animation, layouts & backgrounds, and vocal work are all quickly touched upon. Directors Brian Smith and Jim Kammerud are interviewed, and behind-the-scenes footage shows the cast at work. It's a silly little piece that gives only a basic outline of how an animated movie is made, with little that's specific to this one.

Via Disney's Fast Play, the disc opens with trailers for Sleeping Beauty: Platinum Edition, Beverly Hills Chihuahua, Tinker Bell, WALL-E, and Disney Movie Rewards. All of these can be accessed from the Sneak Peeks menus along with previews for The Little Mermaid: Return to the Sea - Special Edition, "Little Einsteins": The Christmas Wish, "My Friends Tigger & Pooh": Tigger & Pooh and a Musical Too!, and "Phineas and Ferb" on Disney Channel.

The main menu features animated silhouettes of the puppies watching their television, which so happens to be displaying clips from the film. All other menus are static, containing different London vistas accompanied by unique score excerpts.

The DVD's black Amaray keepcase is housed in shiny, embossed slipcover. Inside the case, a two-sided insert advertises the newest Art of Disney stamps and the magazine Disney and Me. A booklet on Disney Blu-rays is also found, holding the requisite Disney Movie Rewards code, but no chapter insert is provided.
CLOSING THOUGHTS
101 Dalmatians II: Patch's London Adventure stands as one of the better of Disney's direct-to-video efforts. It's obvious more care than usual was given to this production, and it pays off. Those expecting a picture that rivals the original classic are being impractical, but those looking for a modest and pleasant follow-up should be pleased. The transfer features a bit more edge enhancement than wanted, but the soundtrack pleases. The supplements are mostly throwaways and the newly-added game nothing special. Those who own the previous DVD have no real reason to upgrade. For fans of the first film, a rental of this newer installment is recommended.